BaseFEX is a cryptocurrency derivatives exchange which provides traders with instant access to 100x leverage crypto futures trading on a range of different coins including Bitcoin, Ethereum and XRP. BaseFEX was founded in late 2018 and has since become a popular venue for margin trading cryptocurrencies. In this review of the BaseFEX exchange, I'm going to be covering each and every aspect of the exchange in order to provide you with an unbiased overview, and hopefully help you figure out if the exchange is right for you. I'll also be showing you exactly how to use BaseFEX to trade cryptocurrencies with leverage in the simplest way possible.
Bitcoin and cryptocurrency futures exchanges like BaseFEX are an extremely popular way of participating in the crypto market as they allow you to profit from both upwards and downwards price movements in addition to increasing profits through leveraged trading.
What's crypto leverage trading?
In order for you to be able to understand exactly how BaseFEX works, you need to have a basic understanding of leveraged crypto trading. In layman's terms, leveraged cryptocurrency trading allows you to trade with more than your account balance by borrowing money from an exchange or other traders. The leverage allows you to profit more from price movements as you are using more money to trade with and you profit on that amount rather than your balance. It's also important to note that leverage trading comes with a higher risk than regular trading as losses are increased just as profits are – although you can never lose more than your account balance with the majority of margin exchanges. Now that we've got the boring bit out of the way, let's get onto why you're here; to learn about the BaseFEX exchange.
BaseFEX Overview
In order to get a general overview of the BaseFEX cryptocurrency exchange, here is some basic information about the exchange for you below before we jump into the main review content.
| | |
| --- | --- |
| Name | BaseFEX |
| Official Website | basefex.com |
| Logo | |
| Founded | 2018 |
| Mobile App | Yes (IOS & Android) |
| CEO | Jesse Wu |
| HQ | Hong Kong |
| Company Name | Base Investing Corporation |
| Company Registration No. | 205276 |
| Company Country | Republic of Seychelles |
| KYC | No |
| Fees | 0.005% – 0.06% |
| USA Citizens | No |
BaseFEX is a well-designed, secure and beginner-friendly crypto exchange which is used by thousands of traders every month. It is owned and operated by Base Investing Corporation which is a legally registered company in the Republic of Seychelles. Having been founded in October 2018, BaseFEX is regarded as a newer exchange than it's main competitors like BitMEX or Deribit; that being said, it has quickly developed a solid reputation within the digital asset trading community. I have personally used BaseFEX several times for trading cryptocurrencies and enjoyed every moment of the experience. From making a deposit to trading and making a withdrawal, the exchange is almost flawless and seamless.
The BaseFEX exchange is headquartered in Hong Kong; one of the world's main blockchain hubs and according to CrunchBase employs 11-50 people – which is pretty average for an exchange of its size.
BaseFEX was the brainchild of serial entrepreneur Jesse Wu along with 'kick-ass engineer' Isaac Zeng who both co-founded the exchange in a bid to fix the most commonly found issues with cryptocurrency derivatives exchanges like server overload.
About BaseFEX's CEO – Jesse Wu
According to an interview conducted by TechBullion; BaseFEX's CEO Jesse Wu acquired a masters in Software Engineering before creating his own video streaming app which made $1.5M USD revenue per month and was offered to be bought by Google. Having experience in forex & crypto trading, Jesse Wu wanted to create a crypto leverage exchange and used his skill set to do so in 2018 when BaseFEX was born.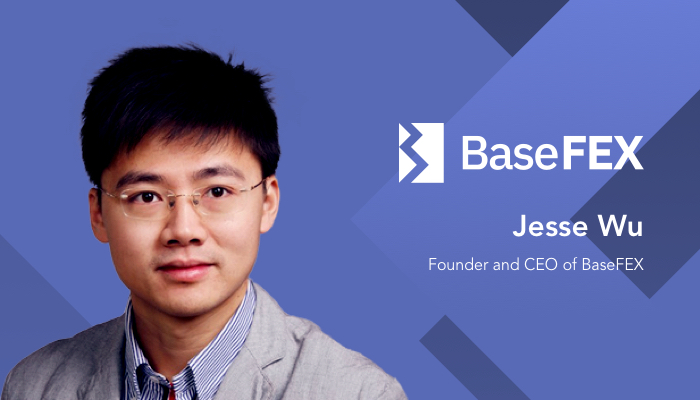 Features
So you might be wondering why you should trade on the BaseFEX trgading interface over other cryptocurrency derivatives exchanges. Here are a few of the main reasons why I personally choose to trade on BaseFEX:
BTC & USDT contract settlement
No KYC
Responsive mobile app
24/7 live chat support
Up to 100x leverage
Clean and easy-to-navigate design
Pros & Cons
I'll now be highlighting some of the pros and cons of the BaseFEX cryptocurrency derivatives exchange. Overall, there are very few downsides to the exchange, in my opinion, it's a great all-rounder.
Pros
Low fees
No overload
Cold storage
No minimum deposit
Cons
Lower volume than other exchanges
Only 6 tradeable coins
Is BaseFEX legit?
Before you trade on any exchange, it's vital that you know its safe to do so. I have to say, at first, I was a bit sceptical about BaseFEX – as I am with any new exchange that pops up. So, I did some digging into the exchange to find out if BaseFEX was legitimate or not.
Yes, BaseFEX is known as a legitimate cryptocurrency derivatives exchange run by Base Investing Corporation, a legal entity of the Republic of Seychelles. In addition to being legally registered, the exchange is transparent about who is behind it. Since BaseFEX is based in Seychelles, it does not require a licence to operate, therefore it is not an illegal exchange.
That being said, you should be cautious when using exchanges like BaseFEX since you wouldn't be protected very well should your funds be stolen by hackers as the exchange is based offshore. The main benefit of derivatives exchanges is that they usually don't require any ID checks, but with that comes less security, so you have to way up what is more important to you; privacy or security. In addition, if the owners were to close the exchange, you may struggle to get your funds back as they are based offshore. These are all things you need to consider when assessing your risk exposure in your crypto trading activities. This is by no means me saying that I don't trust BaseFEX, it's just pure facts regarding crypto margin exchanges which aren't located in highly-regulated jurisdictions.
I have traded on BaseFEX with reasonable amounts several times in the past with no issues and know many others who have also had good experiences making deposits, trades or withdrawals. The BaseFEX support team is pretty quick too, so if you do run into any issues, you should get sorted quickly.
I couldn't find too much personal information on the owners of BaseFEX, but I presume this is because of the security of the exchange rather than malicious intent. A lot of exchanges like to keep the information about the private lives of those in control limited in case people put them in danger to gain access to the exchange, so this is pretty smart of BaseFEX in my opinion.
To add to the aforementioned factors which make me feel safe trading on the exchange, BaseFEX is also backed by several well-renowned companies in the industry such as InBlockchain and ZhenFund.
BaseFEX has not been hacked at the time of writing and uses the latest security methods in order to ensure your account funds are kept safe, so let's take a little deeper look at the security features of BaseFEX in the next section of the review.
BaseFEX Security Features
As you'd expect, since BaseFEX is handling thousands of customers cryptocurrencies, it's so important that the right security features are in place to prevent account compromisation. With several hacks having taken place on cryptocurrency exchanges over the years, it's sensible to say that this is the most important part of this review – you want to know that you're money is safe on the exchange right?
BaseFEX employs the upmost levels of highly-secure practices to protect customer's assets. For a full list of the security features on BaseFEX, see the bullet points below.
SSL encryption (HTTPS)
Email notifications
2-factor authentication (2FA)
Cryptographically hashed passwords
Encrypted data
Multi-sig cold storage
Anti-phishing code option
As you can see, BaseFEX has gone to extreme lengths to make sure that it is as hard as possible for anyone to gain access to customer's coins. I really like the IP & device login notifications as well as the fact you can set up an anti-phishing code which adds a unique code to the emails you get from BaseFEX so that you can be sure that it isn't a phishing email – I've never seen this feature on other crypto exchanges, so kudos to BaseFEX for thinking of this.
I feel just as secure using BaseFEX as any other crypto derivatives exchange, if not more secure considering the sheer amount of safety nets put into place in the exchange, it's very well thought out.
Which coins can you trade?
So you're probably keen to trade on BaseFEX's trading interface by this point of the review, but wait up, there's much more I need to cover first. Most importantly, which cryptocurrencies can you trade on BaseFEX?
Bitcoin (BTC)
Ethereum (ETH)
XRP (XRP)
Bitcoin Cash (BCH)
Litecoin (LTC)
Binance Coin (BNB)
EOS (EOS)
Ethereum Classic (ETC)
BaseFEX has a perpetual futures contract for each of the coins listed on the exchange, this means that you can open and close trades whenever you want, and make profit/loss instantly.
Dual Settlement (BTC & USDT)
Arguably, one of BaseFEX's flagship features is the dual-settlement option. You can decide to trade in BTC or USDT settled future and perpetual contracts, which is super handy in bear markets when the value of Bitcoin is going down as it preserves your initial capital and locks in profits.

BaseFEX Trading Pairs
Here is a table of the BTC & USDT settled futures contracts pairs available on the BaseFEX platform:
| BTC Settled | USDT Settled |
| --- | --- |
| BTC/USD | BTC/USDT |
| ETH/BTC | ETH/USDT |
| XRP/BTC | EOS/USDT |
| BCH/BTC | ETC/USDT |
| LTC/BTC | N/A |
| BNB/BTC | N/A |
That's it for the supported coins, I would like to see BaseFEX add some more in the future, but for now, as a new exchange, it's best to focus on providing a quality service with fewer contracts than a shoddy service with tons of options.
BaseFEX Fees & Rates
How much does it cost you to trade on the BaseFEX exchange? During this section of the review, I'm going to be assessing what the fees are on BaseFEX and seeing how they compare to some of the big players in the derivatives market like BitMEX.
So, what are the fees on BaseFEX?
BaseFEX charges a standard futures trading fee of 0.02% for maker orders and 0.06% for taker orders (when you take market price), making it one of the lowest fee exchanges in the world. To top this off, you can also get high fee reductions by trading more frequently on the exchange.
These are extremely low trading fees for margin exchanges and is one of the many reasons people like to trade on BaseFEX. It means that you can use a professional platform without having to make yourself out-of-pocket with ridiculously high fees like some other exchanges charge.
You may have noticed that I also said you can reduce the already-low trading fees on BaseFEX by trading more frequently, well this is a great incentive to use the exchange; the more you trade, the less it costs. I can see why they do it because it ultimately brings them more business and revenue, so it's a win-win for those who trade crypto often. Anyway, if you want to know what the fee reduction rate is, see the table below which shows you BaseFEX's entire fee schedule.
| 30 Day Trading Volume | Maker Fee | Taker Fee |
| --- | --- | --- |
| ≥ 0 BTC | 0.02% | 0.06% |
| ≥ 100 BTC | 0.02% | 0.05% |
| ≥ 500 BTC | 0.015% | 0.05% |
| ≥ 2000 BTC | 0.015% | 0.04% |
| ≥ 8000 BTC | 0.01% | 0.04% |
| ≥ 25000 BTC | 0.01% | 0.03% |
| ≥ 60000 BTC | 0.005% | 0.03% |
Wait, it gets better. You can get an instant 10% fee discount by registering on BaseFEX with our unique referral link here: basefex.com/register/OZO8GY.
Funding Rates
Crypto leverage exchanges have something called a funding rate, which is essentially interest you pay or earn for borrowing/lending capital on the exchange.
The funding interval on BaseFEX is 8 hours, meaning that you will pay the funding rate or get paid it every 8 hours if you have a trade open. Below you will find a table with the funding rates for the different contracts on BaseFEX.

You can also check out the funding rate and the time until it is due on the specific contract you are trading from the main trading screen as shown in the screenshot below.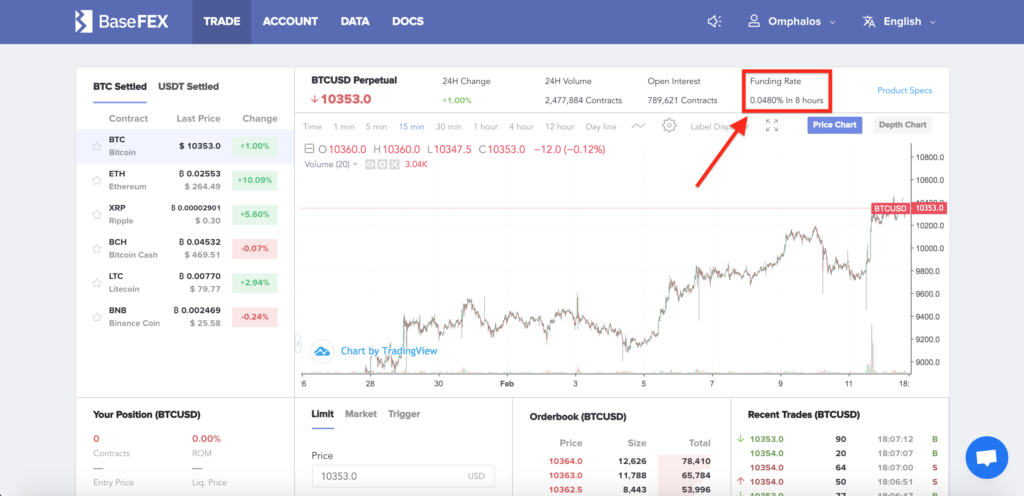 Deposit & Withdrawal
Making a deposit or withdrawal on the BaseFEX exchange is no trouble at all, I have personally done it several times myself. I'm now about to share information with you regarding banking on BaseFEX.
Payment Methods: How can you move funds on/off BaseFEX?
BaseFEX supports two deposit and withdrawal options; Bitcoin (BTC) and ERC20 Tether (USDT). I personally like to use Bitcoin as it's fast and just my preferred option generally. If you don't have any Bitcoin, you can buy it with credit/debit cards instantly.
Making a Deposit on BaseFEX
To make a deposit onto your BaseFEX account, follow these steps:
Register for a free account on Basefex in 30 seconds
Log in and go to the 'Account' tab
Click on 'Deposit' from the main menu
Choose which deposit method you want to use (BTC or USDT)
Copy the deposit address and send your desired deposit amount to that address (make sure you get it right!)
Wait a few moments and if you did everything right, your deposit will show in your account balance and you can get started trading
Here are some of the most frequently asked questions (FAQs) about depositing on BaseFEX:
Is there any minimum deposit?
Surprisingly, BaseFEX doesn't have a minimum deposit, you can send as little as you want to the exchange. This makes the exchange ideal for newer traders who don't want to risk too much or for those who just want to give the exchange a quick go before depositing higher amounts.
How long do deposits take?
It depends on which asset you use. If you use Bitcoin to deposit on BaseFEX, it will take about 10 minutes, and if you deposit USDT, it will take around 20 minutes.
Are there any deposit fees?
No, there are no deposit fees on BaseFEX whatsoever for any of the deposit methods.
Deposit Conformation Requirements
BaseFEX requires 1 confirmation for Bitcoin deposits and 12 for USDT (ERC20) deposits.
Is there a maximum amount you can deposit?
No, there is no limit to the amount of funds you can deposit on BaseFEX.
Overall, I find depositing on BaseFEX an easy process and I have had no issues with receiving the deposits in my account – so there's nothing else to note with regards to making deposits on the exchange.
Withdrawing on BaseFEX
As BaseFEX uses cold storage, withdrawals are made once per day, every day of the year (unless stated otherwise). This is to increase fund security. To make a withdrawal on BaseFEX, use these instructions:
Go to basefex.com
Log in and head over to the main account menu
Click on 'Withdraw'
Select your withdrawal method between BTC & USDT
Enter your withdrawal address and amount
Submit the withdrawal
Click on the confirmation link in the email from BaseFEX
All done, now all you have to do is wait for it to be processed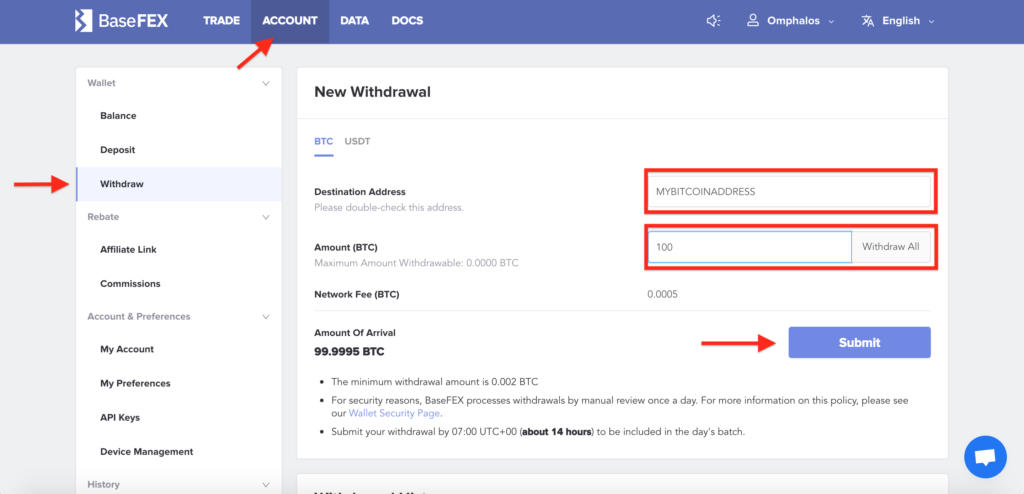 What are the withdrawal fees on BaseFEX?
BaseFEX itself doesn't actually charge any withdrawal fees, although since it is a cryptocurrency exchange, you have to pay what's called a network fee. This is the fee paid to miners on the blockchain which process your transaction.
The network withdrawal fee on BaseFEX for Bitcoin withdrawals is 0.0005 BTC and for USDT withdrawals it is 2 USDT.
When are withdrawals processed?
As you may have read above, in order to be a secure exchange, BaseFEX processes withdrawals once per day in batches. Withdrawals on BaseFEX are made every day at 07:00 UTC. In order to be included in the days batch, you have to submit your withdrawal before this time.
What's the minimum withdrawal on BaseFEX?
The minimum withdrawal on BaseFEX is 0.002 BTC for Bitcoin withdrawals and 20 USDT for Tether withdrawals.
Tracking Deposits & Withdrawals on BaseFEX
You can track all your deposits and withdrawals on BaseFEX in realtime by going to the 'History' tabs under the corresponding deposit and withdraw sections.
Does BaseFEX require KYC?
One of the main advantages of using crypto margin exchanges like BaseFEX is that you usually don't have to complete any KYC checks to use them because they are based in tropical locations like the BVI or Seychelles.
No, you do not have to complete KYC checks on BaseFEX. They put customer privacy at the heart of their operations and have made a promise to never ask you to prove your identity.
This doesn't mean that BaseFEX is happy with people using the exchange for ML or other malicious activities and they do their utmost to prevent this from happening.
Leverage
BaseFEX isn't like regular cryptocurrency exchanges like Binance, it offers something called 'Leverage' which lets you trade with more than the capital you deposit onto the exchange. The maximum leverage on BaseFEX is 100x, which means that you can trade with 100 times more than the coins on your BaseFEX account.
The maximum amount of leverage you can use depends on which cryptocurrency you are trading, I put together a table which shows you the max leverage for each pair on BaseFEX:
| Pair | Max Leverage |
| --- | --- |
| BTC/USD | 100x |
| ETH/BTC | 20x |
| XRP/BTC | 20x |
| BCH/BTC | 20x |
| LTC/BTC | 20x |
| BNB/BTC | 20x |
| BTC/USDT | 100x |
| ETH/USDT | 20x |
| EOS/USDT | 20x |
| ETC/USDT | 20x |
To change the leverage of your position on BaseFEX, change the slider on the main trading screen to the left-hand side (or underneath on the mobile app) to your desired leverage. You can also type it into the box if you prefer. You can also change the leverage during a trade if you have enough initial margin in your account.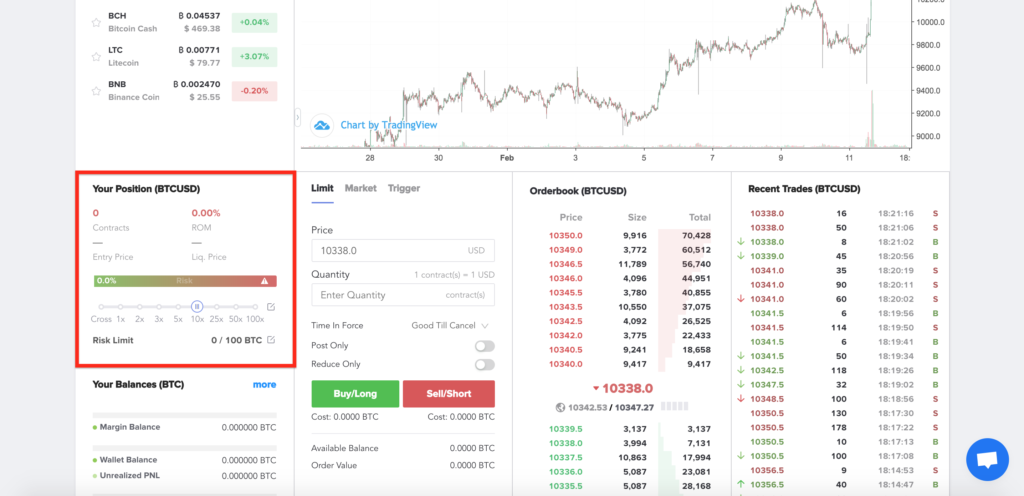 Auto-Deleveraging
BaseFEX uses something called auto-deleveraging to protect users from liquidation (automatic position closure). This is a neat feature and necessary for an exchange to be quick and not overload.
BaseFEX: Register and Login
Signing up for an account on BaseFEX is free and can be done in less than a minute, all you need is:
An email address
Secure password
Random nickname
To register on BaseFEX and get a 10% fee discount:
Go to the BaseFEX website with this link
Enter your email address, a password of your choice and decide on an account nickname
Click on the 'Register' button
Confirm your email address by clicking on the link sent to the email address you used
Make a deposit and start trading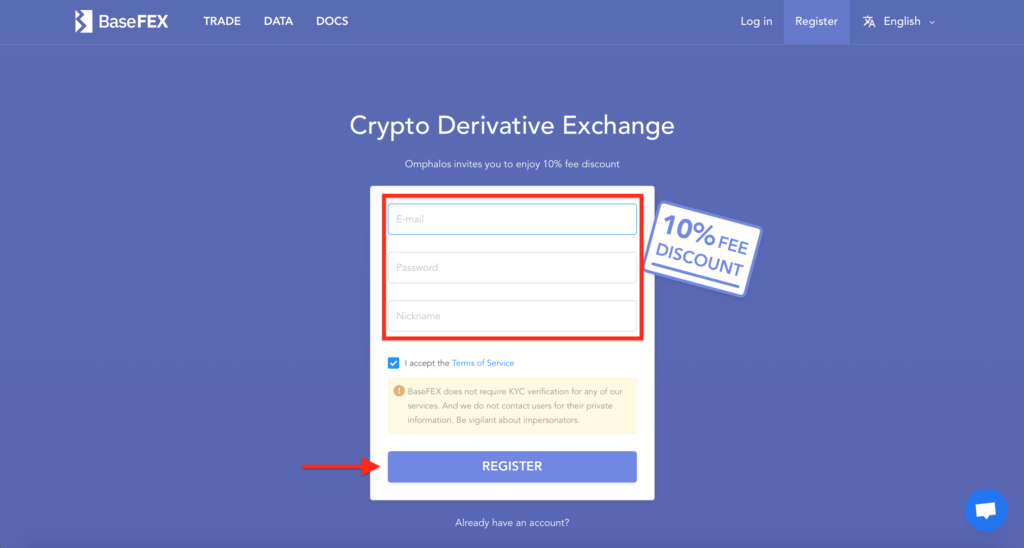 To login to your BaseFEX account, just go to the BaseFEX login page, enter your account details and press 'Login'.
How to use BaseFEX
So now that you've got set up with your BaseFEX account, you'll probably want to use it – that's what you're here for after all! I find trading on BaseFEX fairly straightforward and think that you will too – even if you're new to crypto derivatives trading.
1. Make a deposit
Before you can trade on the exchange, you're going to need some funds to trade with, that's basic knowledge. If you're not sure how to deposit on BaseFEX, scroll up to read my tutorial on making a deposit on the exchange.
2. Decide what you want to trade
Next up, you want to make a decision on which cryptocurrency you want to trade. For the purpose of this review, let's stick with Bitcoin as it is the most liquid and widely-traded asset. So, go to the main trading screen by using the 'Trade' button in the top menu or by clicking on this following link: basefex.com/trade/BTCUSD. you should now see the page below.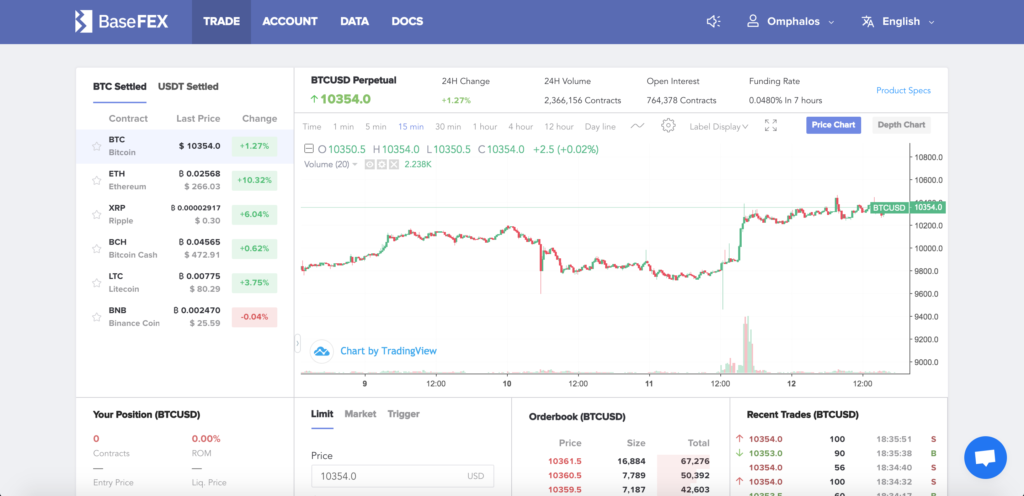 3. Make the trade
Now you know what you will be trading, you need to go ahead and make the trade. Scroll down to the order box on the trading screen and enter the following information:
Order type
Entry Price
Quantity
Leverage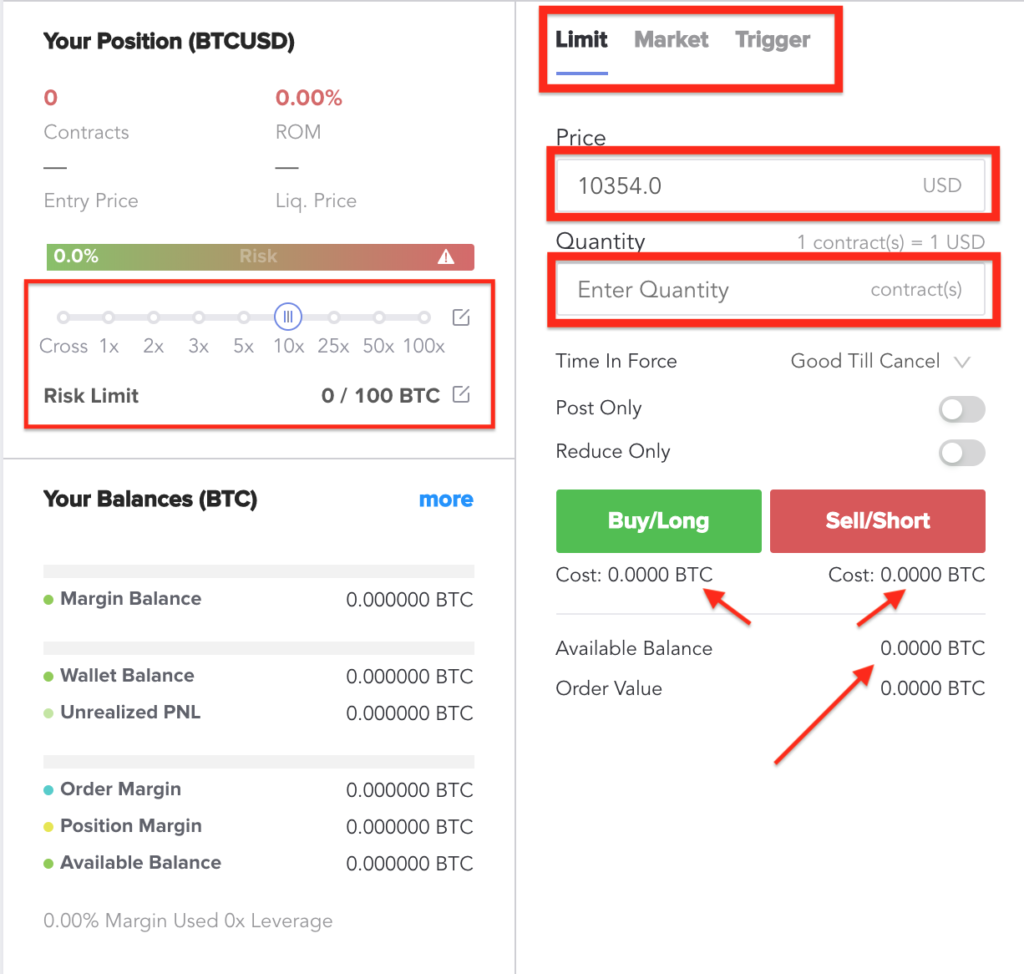 Tip: Make sure that the cost under the buy/sell buttons is equal or less than the available balance to ensure that you have enough to make the trade with. If the cost is higher than your available balance, reduce the leverage or quantity.
Once you've set up those things, press either 'Buy' or 'Sell' depending on which trade you want to make in the current market conditions. Now you will see a pop-up asking you to confirm the trade details, take a look through them and when you are sure you want to make the trade, go ahead and confirm it.
Now all you have to do is wait for your order to fill, if you choose market order this will be instant and if it is limit, it will take until someone trades into your order which could be a few minutes or longer depending on how far away from the current price of the contract your order is.
4. Monitor position
Once your position is open, you'll see the trade in the 'Open Position' tab which is below the order boxes. Here you can monitor your position include seeing what the live profit/loss is and other important information. This is also where you will change the trade from and cancel orders that don't fill (limit and stop-loss only).
Tip: To prevent liquidation (losing your account funds), set a stop-loss on the position.
5. Close trade
The final step of the process is to close the trade, this allows you to lockup any profit or loss that you made on the position. To close a trade, click on the close position button in the 'Open Position' tab. You will then see your updated balance in your account which reflects any profit/loss you made on the trade.
Order Types
BaseFEX has the three most common and frequently used order types in addition to advanced order options.
Limit Orders
The limit order on BaseFEX is when you say that you want to buy/sell a contract at a certain price. You then have to wait for the order to fill. Limit orders have the lowest fees of all the order types on BaseFEX.
Market Orders
The market order type is used when you want to make a trade instantly, your position will take the current market asks in order to open. Market orders usually cost more in trading fees as they are a taker order type.
Trigger Orders
Trigger orders are a type of order used on exchanges when you want to open an automatic order for a new or already open position. These orders say that IF price reaches X, then SELL/BUY X amount of contracts. This is also referred to as a stop loss and is necessary if you want to manage risk properly in crypto trading.
Advanced Order Options
In addition to the main three order types, BaseFEX offers some advanced options which are aimed at the more experienced crypto traders. The other options offered are as follows:
Post Only
Reduce Only
Good Till Cancel
Immediate Or Cancel
Fill Or Kill
It's no doubt that BaseFEX offers a ton of different options when it comes to orders on the exchange. This makes the futures exchange ideal for all traders, especially those with more experience who like advanced features to improve their trades.
Liquidity & Volume
There's nothing worse than a low volume exchange with lots of slippages – they are pretty much useless. Taking this thought into account, it's time that we reviewed what they liquidity on BaseFEX is like – can you trade with big balances and get the best rates?
Even though it is a fairly new cryptocurrency exchange, BaseFEX has decent liquidy and an average daily volume of over $100M USD.
The liquidity is pretty good on all the pairs available on the trading platform, which is helped by their incentivized market making program which brings liquidity to the order books. Here is a look at the BTC/USD order book: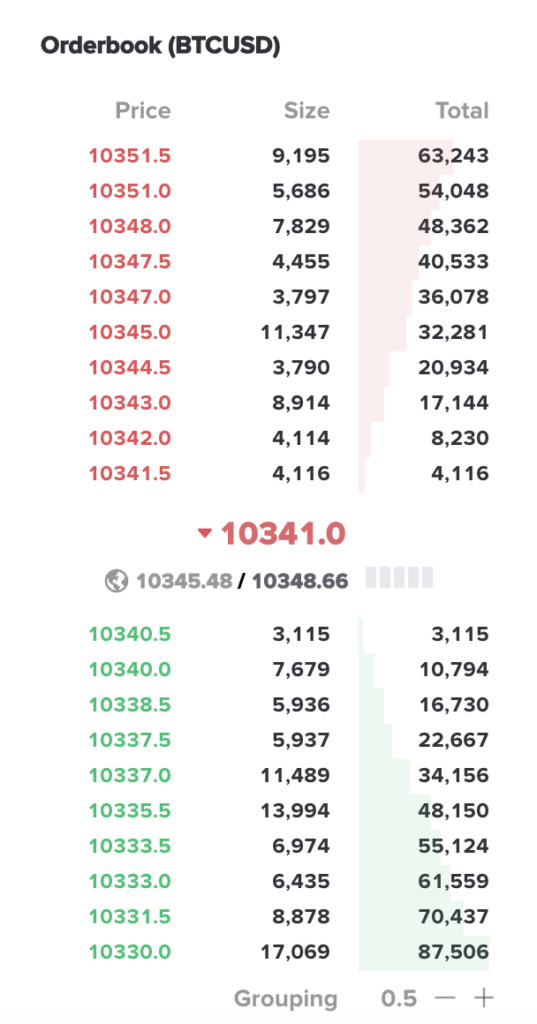 As you can see, there is around $60K – $100Ks worth of orders within a 0.1% spread, which is certainly enough for the average trader and even good enough for the big traders. So if you are thinking about trading on BaseFEX but were worried about liquidity, don't be, it's pretty good, click here to claim your BaseFEX fee discount coupon.
Charts
BaseFEX uses TradingView charts on their exchange to provide price history and analytical tools for traders. TradingView is one of the most popular charting software and if you've been trading crypto for a while, you'll probably be very familiar with it.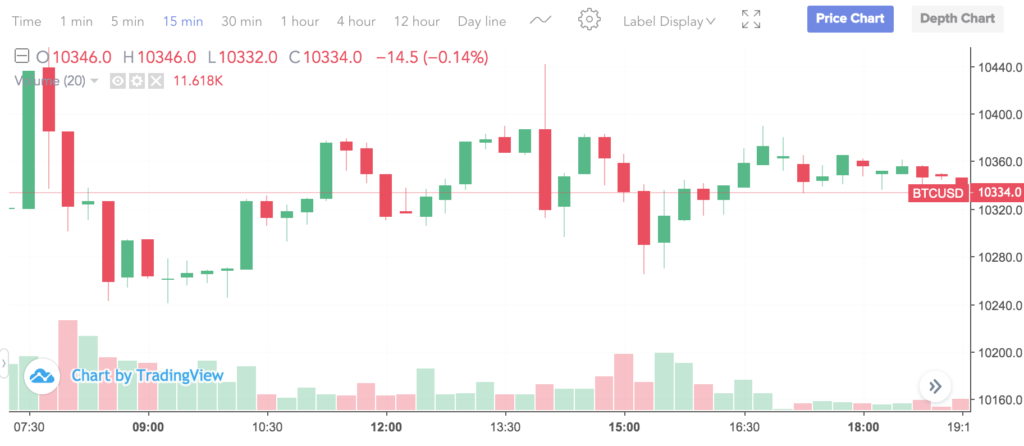 The BaseFEX charts are live and let you add popular indicators by clicking on the trendline button to the left of the settings cog. As well as price charts, you can also view the depth of the order book by clicking on 'Depth Chart' in the top-right hand corner of the chart. The depth chart is handy for seeing where the current orders are placed on the market in question.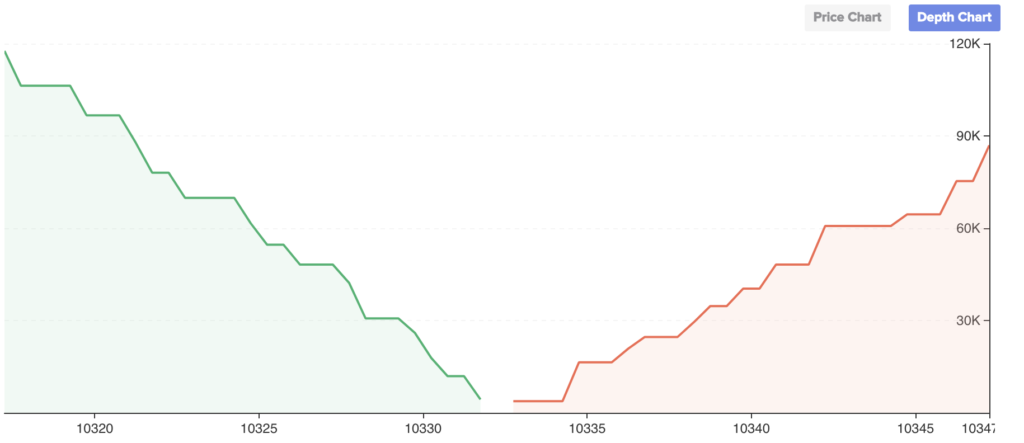 Supported Countries & Languages
Being from the UK, I usually don't have to worry about this, but I'm fully aware that you might not be, so here is the information I have to hand about whether or not you can use BaseFEX in your country.
BaseFEX Countries
BaseFEX is supported in most countries apart from the following as quoted from the BaseFEX terms of service.
Residents of the United States of America or Québec (Canada) are prohibited from holding positions or entering into contracts at BaseFEX. Residents of China, Cuba, Crimea and Sevastopol, Iran, Syria, North Korea and Sudan, or any other jurisdiction where the services offered by BaseFEX are restricted are also prohibited from holding positions or entering into contracts at BaseFEX.

BaseFEX.com
So basically, if your country isn't on that list, it's likely that your country is supported, but it's always recommended to check with your local laws too.
Languages
BaseFEX is available in 5 different languages. You can change the language by clicking on the language selection button. The languages on BaseFEX are:
English
Japanese
Korean
Chinese
Russian
I think that's pretty limited and would like to see BaseFEX add some more languages in the future but on the other hand, the majority of people understand basic English so trading on BaseFEX is possible for millions of people globally.
Market Making Program
I briefly touched on BaseFEX's market-making program earlier. If you're a standard trader, this probably won't interest you so you may wish to skip on, but if not, keep reading.
BaseFEX's market-making program allows market makers (both individual and institutional) to provide liquidity on the exchange in return for a -0.05% rebate on all trades. If you are interested in market making on BaseFEX, send an email to mm@basefex.com.
If you want to learn more about market-making in crypto, check out this detailed guide on Hacker Noon.
Insurance Fund
Similarly to other cryptocurrency derivatives exchanges, BaseFEX operates an insurance fund in order to protect traders and the exchange from times of high volatility. The insurance fund updates daily and the balance is publically viewable at basefex.com/data/insurance-fund. BaseFEX is a little different than other exchanges in that it has both a USDT and BTC insurance fund.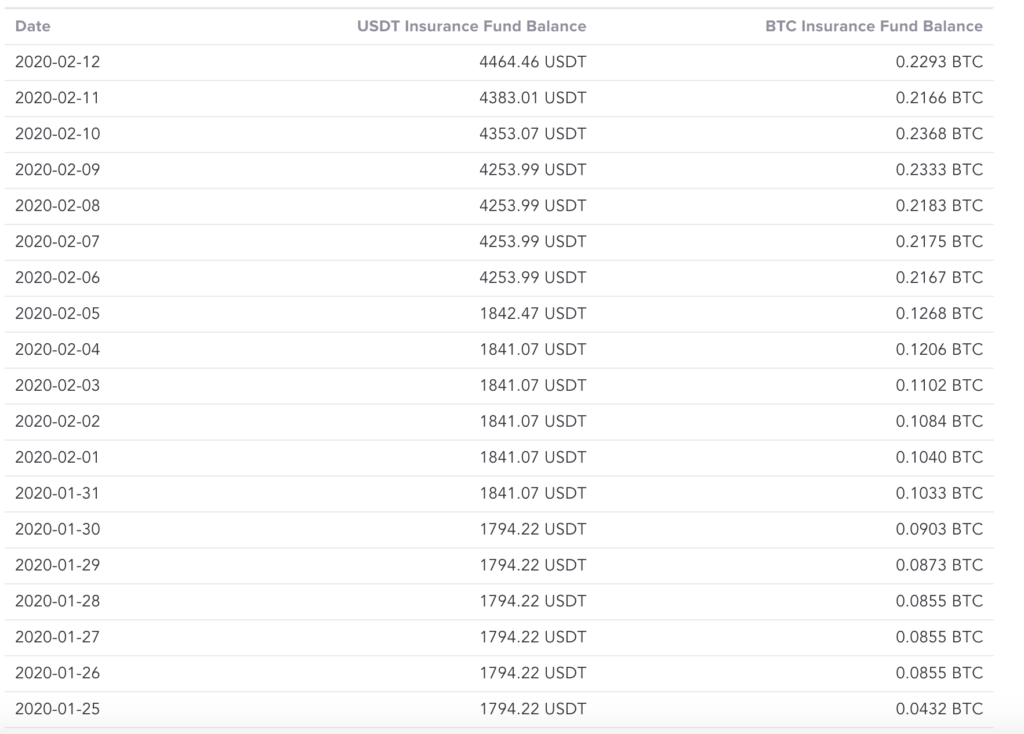 Bonuses & Promotions
BaseFEX doesn't currently offer any bonuses perse, but it does run a few promotions which allow you to get lower fees on the exchange. Here is a detailed breakdown of the fee promotions on BaseFEX:
10% referral discount – you can save 10% on trading fees by registering with a BaseFEX affiliate link like this one
Up to 50% volume discount – as I said above in this review, you can save on fees if you trade more, this discount goes as high as 50% off
If BaseFEX do start to offer a bonus, I'll update this section of the review with the information on how to get it.
BaseFEX App
Mobile apps are a MUST nowadays when it comes to having a successful cryptocurrency exchange. BaseFEX has a fully supported mobile app available for IOS (Apple App Store) and Android devices (Google Play).
The BaseFEX app lets you do everything the desktop version of the platform does as well as providing traders with a way to trade crypto on-the-move.
This makes BaseFEX a great option for those who like trading on mobile because many other derivatives exchanges like BitMEX don't in fact have a mobile app.
To download the BaseFEX app for IOS and Android click here.
Support
Customer support is something which a lot of crypto exchanges do poorly in my experience, it's not hard to do right, but so many get it wrong. As we get towards the end of our review, I'm going to share my opinion on its support system and tell you whether or not it's any good. BaseFEX offers a 24/7 customer support service in the form of live chat, email and Twitter. They aim to respond to your query within one hour.
Here are BaseFEX's support details:
I gave their live chat a go to see how quick it was and got a response within 20 minutes – not bad right? I asked how to deposit on the exchange and they pointed me to a relevant help article on the matter – so all round it was a pretty good experience. I haven't had any major issues trading on the exchange, so, therefore, don't have any experience in how they deal with them, but if I do I'll let you know.
Affiliate Program
Everyone loves a bit of passive income and BaseFEX's affiliate program offers an opportunity to get just that. When you register for a BaseFEX account, you also automatically get access to the affiliate/referral program, there's not a separate account for it or anything. You can get your affiliate link within seconds and start earning. Here are a few basic details about the BaseFEX affiliate program:
Commission Rate: 35%
Commission Duration: Lifetime
Payouts: BTC & USDT (Daily)
BaseFEX also helps you get signups by offering a 10% fee discount to anyone who uses your link to register, so you can use that to incentivize sign-ups and ultimately, generate more revenue.
To use the BaseFEX affiliate program, go to the main account menu and click on 'Affiliate Link'. You'll then see a page with your unique referral link, share this and when people signup, you will earn 35% of any fees they generate trading on BaseFEX. You will also see a tab which lets you track how many invites you get and how much you make in total.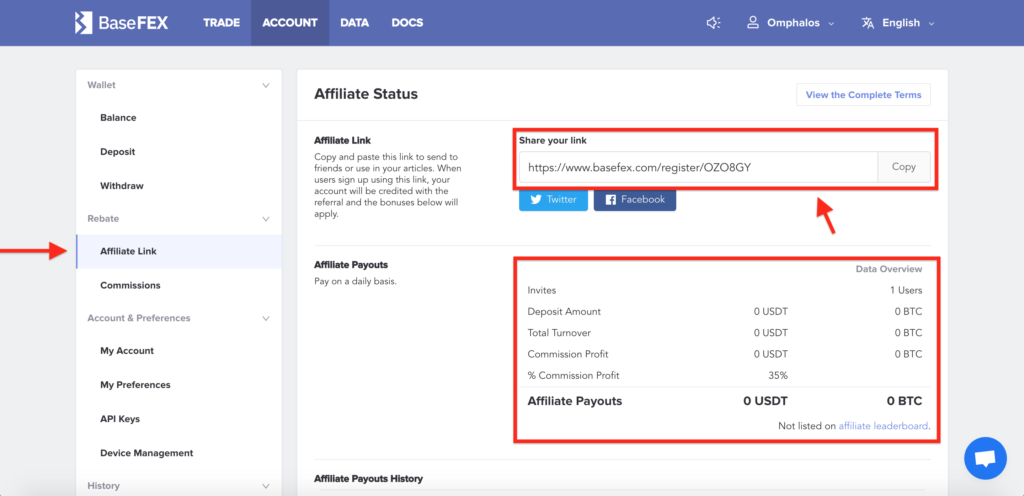 Is BaseFEX for you?
Even though BaseFEX is a great exchange, you're probably wondering if it is right for you since everyone is different and consequently, needs different things. BaseFEX is perfect for you if:
You are looking for an exchange without KYC
You want to trade cryptocurrencies with leverage
You want to make fast trades
You are new or experienced in crypto trading
BaseFEX: Final Thoughts
To conclude, I think that BaseFEX is a great cryptocurrency leverage exchange. The highlights for me are the low fees, responsive mobile app and quality design, In terms of areas which could be improved; I would like to see more coins on the platform and a bit more volume – but overall, it's an A+ from me.
BaseFEX: FAQs
Can US cisitzens use BaseFEX?
No, Us citizens are not permitted to use BaseFEX.
What can you trade on BaseFEX?
On BaseFEX, you can trade BTC, ETH, XRP, BCH, LTC & BNB.