Bitfinex is a cryptocurrency exchange based in Hong Kong which provides users globally with access to highly-liquid crypto markets. Since it's birth in 2012, the company has become one of the world's most well-known exchanges, having also created the most popular stablecoin; USDT. Like many crypto exchanges, Bitfinex has had a rocky journey with regulators over the years yet has managed to retain trust with thousands of customers located in various places around the globe.
Register on Bitfinex right now using this link and claim an exclusive 6% fee discount.
Bitfinex is led by technologist and serial entrepreneur Jean-Louis van der Velde who resides in Asia currently. The company behind Bitfinex & Tether (USDT) is called iFinex Inc. and you can view all employees on Bitfinex's LinkedIn page which is good to see.
| | |
| --- | --- |
| Name | Bitfinex |
| Website | Bitfinex.com |
| Founded | 2012 |
| Cryptocurrencies | 100+ |
| Maximum Leverage | 3.3x |
| Minimum Deposit | N/A |
| Deposit Methods | USD, EUR, GBP, CNH, YEN & Cryptocurrencies |
| Instant Withdrawal | Yes |
| HQ | Hong Kong |
| CEO | JL van der Velde |
| Referral Program | Yes |
| Bonus | 6% Fee Rebate (Claim) |
Fees & Limits
If you're a seasoned crypto trader, you'll most likely know that crypto exchanges make the majority of their revenue by charging trading fees. This is essentially a commission which you pay to the exchange for their service. The fees you pay varies by the exchange you are using, so let's take a look at Bitfinex's fees and see how they match up with the industry standard. Bitfinex's fees are 0% – 0.2% per trade. You can get a 25% reduction on Bitfinex fees by holding their native crypto token; LEO.
Now you might be wondering how much you can deposit/withdraw at once on Bitfinex.
There are no deposit or withdrawal limits on Bitfinex.
This is true for crypto transactions although, if you want to use fiat (regular money), there are some minimum limits you should know about which are listed here.
Is Bitfinex safe?
In my opinion, Bitfinex is a safe cryptocurrency exchange as the team is transparent and the exchange is a market leader that has stood the test of time (one of the oldest crypto exchanges). This being said, it is important to understand that your capital is at risk when using any cryptocurrency exchange.
Register on Bitfinex right now using this link and claim an exclusive 6% fee discount.
Creating an account on Bitfinex
Getting started trading on Bitfinex is a simple process, all you need is an email and access to the internet. Once you've registered, you'll need to make a deposit before you can trade. To register on Bitfinex:
Go to Bitfinex.com
Click 'Sign Up'
Enter your details and proceed
Paste referrer code oJmlT24J to activate fee discount
Confirm your email address
All done, enjoy trading on Bitfinex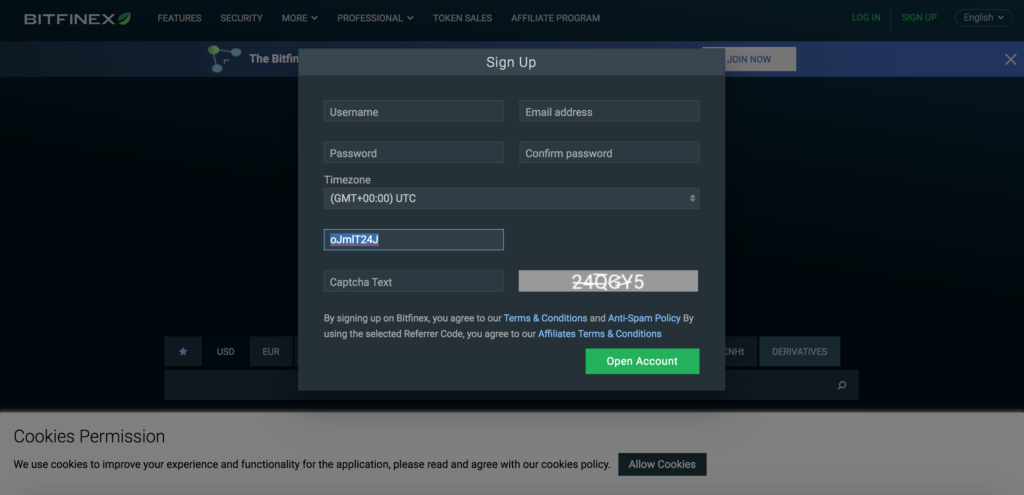 Bitfinex App
Bitfinex also offers a complete mobile app for those that want to trade on the go. I personally prefer trading crypto on an app since it means that you can take action when an opportunity presents itself like some news or similar price action triggers. I was impressed with the look and feel of the Bitfinex app and I would rank it up there with the other big players in the crypto exchange industry. It's free to download from the IOS Apple App Store and the Android Google Play Store.
Register on Bitfinex right now using this link and claim an exclusive 6% fee discount.
Deposit & Withdrawal
Depositing and withdrawing from the Bitfinex exchange like the other processes on the exchange is simple and easy to do. Crypto deposits and withdrawals are instant (depending on the blockchain you use) and you can do them as soon as you sign up for an account – you don't need to wait to be verified to do this.
To make a deposit or withdrawal on Bitfinex; log in to your account, go to 'Wallet' and select Deposit or Withdraw depending on what you want to do. Once you've done that, select which currency you want to use and then follow the instructions as prompted – it should only take a couple of minutes.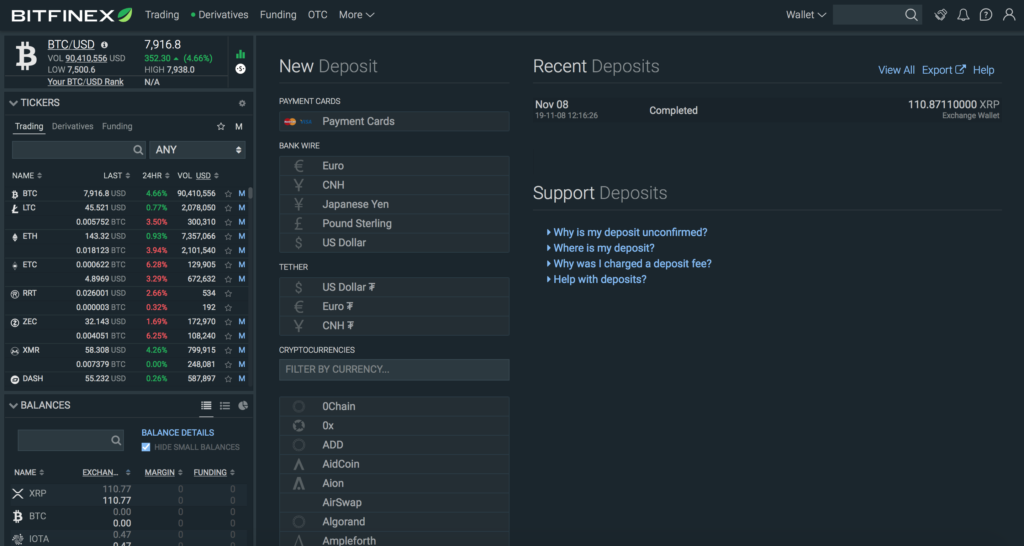 Here is a list of the Deposit & Withdrawal methods (currencies) available on Bitfinex:
Credit/Debit Cards
USD
USDT
EUR
CNH
GBP
YEN
0chain
0x Project
Aelf
AidCoin
Aion
Airswap
Algorand
Ampleforth
Aragon
Atonomi
Auctus
Augur
Autonio
Aventus
Bancor
Banyan Network
Basic Attention Token
Bitcoin
Bitcoin Cash
Bitcoin Gold
Bitcoin Interest
Bitcoin SV (BSV)
BiTKan
BitTorrent
Blockpass
BLOCKv
BnkToTheFuture
Callisto Network
Chain Split Tokens
Chain Split Tokens – Bitcoin Unlimited
Chain Split Tokens – Segwit2x
Chiliz
Cindicator
Cofound.it
CommerceBlock
Consensus AI
Content Neutrality Network
Contentbox
Cortex
Cosmos (ATOM)
Credits
CryptoFranc
DADI
DAI
DAOstack
Dash
DATA
Data Transaction Token
Decentraland
Dether
DigiByte
Digix Gold
Dragon Token
DragonChain
Dusk
Eidoo
Enjin
EOS
EOS Airdrops
Essentia
Ether Kingdoms (IMP)
Ethereum
Ethereum Classic
Everipedia
FOAM Token (FOA)
FTX Token
FunFair
Fusion
Gate.io (GTX)
Gemini Dollar (GUSD)
Gnosis
Golem
Hydro Protocol
iExec
Internet Node Token
IOSToken
IOTA
Iota Technicals and Connection Help
Kleros
Kyber Network
LiquidBTC
Litecoin
Loom Network
Loopring
Lympo
MakerDAO (MKR)
Matrix
MedicalChain
Melonport
Metaverse ETP
Mithril
MobileGO
Monero
NEO
Nucleus Vision
ODEM
OKEX
OmiseGO
OMNI
On.Live
ORS Group
ParkinGO
Paxos (PAX)
POA20 Network
Polymath Network
Project PAI
QASH
Qtum
Raiden Network
Rate3
Recovery Right Token
RenrenBit
Request Network
Ripio Credit Network
Ripple
RSK
RSK Infrastructure Framework (RIF)
Santiment
SEER
SingularDTV
SingularityNET
SpankChain
Stasis Eurs
Status
Stellar Lumens
Storj
Streamr
Swarm
Tether EUR (EURT)
Tether USD (USDT)
Tezos
The Abyss
Time New Bank
TokenCard
Tripio
Tron
TrueUSD (TUSD)
Ultra
Universa
Unus Sed LEO
UNUS SED LEO Token Holders Benefits
Upfiring (UFR)
USD Coin (USDC)
USDK
UTRUST
V Systems
VeChain
Verge
Vetri
Waltonchain
WAX
WePower
Wollo
Wrapped Bitcoin
Xriba
Yggdrash
YOYOW
ZB Token
Zcash
Zilliqa
Register on Bitfinex right now using this link and claim an exclusive 6% fee discount.
Bitfinex Leaderboard
In 2019, Bitfinex launched a revolutionary new idea called the 'Bitfinex Leaderboard' which tracks the best traders on Bitfinex by gross profit. The Bitfinex leaderboard lets you connect your twitter account as a social experiment to see whether or not people could get recognition and a following for making good trades on the exchange as it proves that they know what they are doing.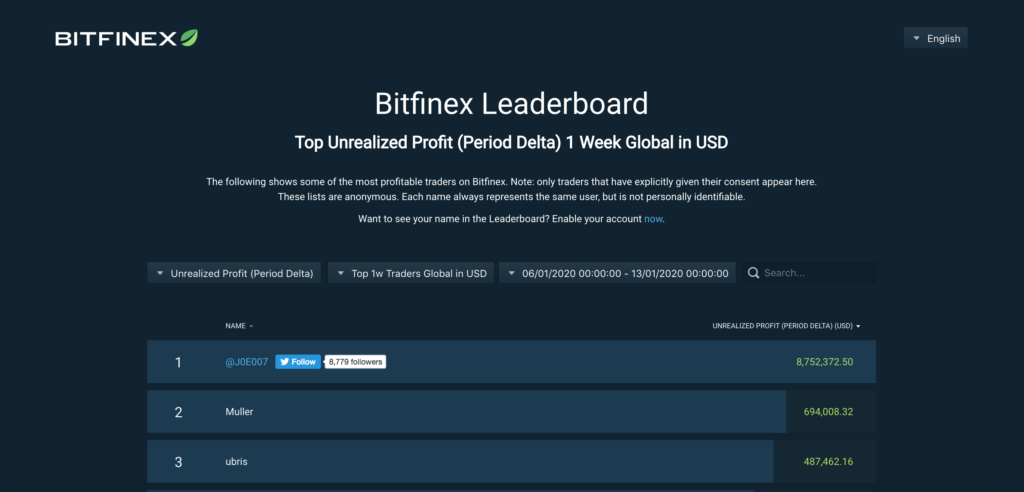 This feature will most likely attract new, high volume traders as it provides them with a way of becoming known as a good trader in the crypto market. It also acts as an encouragement to new traders by showing them that you can, in fact, make significant amounts of money trading cryptocurrency on Bitfinex.com.
You can access the Bitfinex leaderboard by going to leaderboard.bitfinex.com.
Margin trading
Aside from spot trading, you can also trade with margin on Bitfinex. This means that you can trade with more than your balance (specifically 3.3x more than your wallet balance on Bitfinex). This feature is pretty common in the crypto space as it allows you to multiply profits but it is also known to lose a lot of money for traders who don't know what they are doing. Some exchanges like Bybit and BitMEX offer much higher leverage than Bitfinex (up to 100x), so be sure to check them out if that's what you're looking for. I have to let you know though, it's more like gambling than trading if you don't know what you are doing!
Register on Bitfinex right now using this link and claim an exclusive 6% fee discount.
Tax reporting tool
I know you don't want to read about tax, but it's extremely important that you get it right so that you don't land yourself in debt, or even worse, behind bars. Bitfinex doesn't want this for you either, and so they created a tool which lets you create a full tax report on the exchange which saves you tons of time and money. For me, this is one of the main reasons I would choose Bitfinex over other crypto exchanges as it can be a real pain if you don't have the right tools to do the job. The tool is 100% free for all Bitfinex account holders. To learn more about Bitfinex's tax reporting tool, check out this article on their blog.
Always consult with a tax professional and don't rely on the tool provided by Bitfinex alone. We cannot be held liable for any actions taken as a result of reading this post, it is merely our opinion and not advice to use the tool for taxes.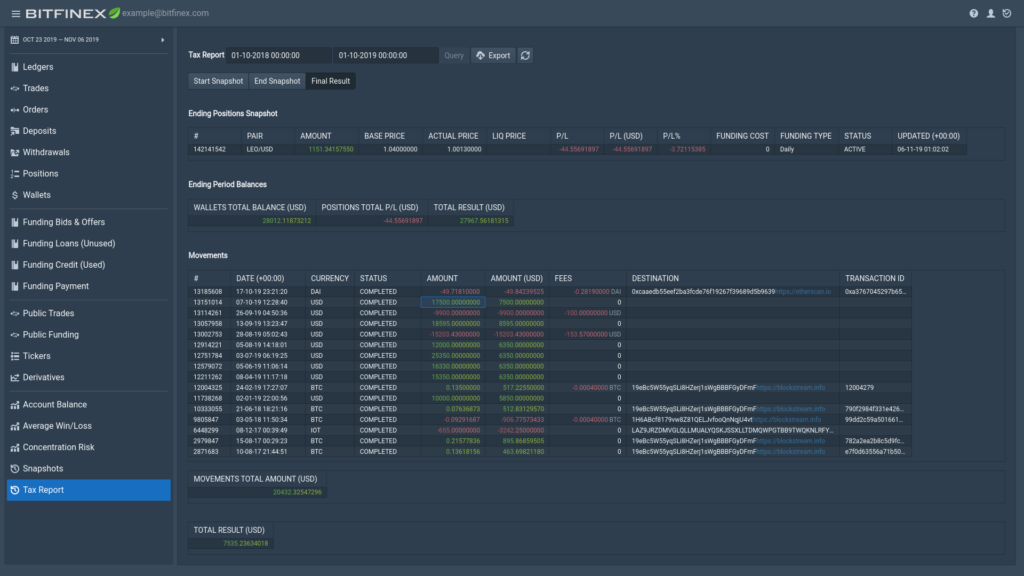 Charts
Being able to track price movements when trading crypto is an important factor which shouldn't be overlooked. The majority of exchanges have built-in charts which let you analyse structures and patterns within the price to make better decisions when trading the market.
Bitfinex includes TradingView charts for each tradeable pair on the exchange. The charts have many indicators including EMAs, trendlines and more. You can use the tools on the charts to perform on-chart analysis and make predictions about price movements.
You can even take a snapshot of the chart for later viewing or sharing.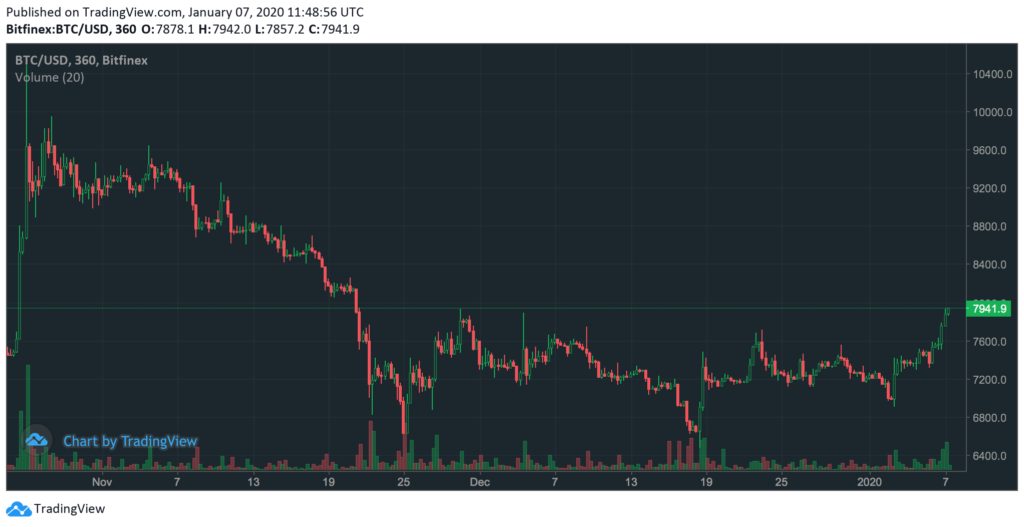 Languages
Unfortunately, Bitfinex only offers 3 main languages for the platform. The languages on Bitfinex are English, Russian & Chinese. You can change the language in the top right-hand corner of the exchange.

Register on Bitfinex right now using this link and claim an exclusive 6% fee discount.
Tether – Bitfinex's counterpart
Earlier in this review of the Bitfinex exchange, I briefly touched on Tether (USDT) but let's take a deeper dive into what it is, and how it works.
Tether (USDT) is a cryptocurrency stablecoin which is claimed to be backed 1:1 to USD reserves. The asset is owned and operated by iFinex Inc. – Bitfinex's parent company.
There are two main use cases for USDT (Tether) which are as follows:
Move funds between exchanges quickly as there is no need for banks
Protect your capital when cryptocurrencies fall in price
Tether has a few main competitors, which launched much later. Examples of these are USDC (By Coinbase) and PAX (By Circle/Poloniex).
How to make a trade on Bitfinex
Making a trade on the Bitfinex cryptocurrency exchange can be done at any time of the day. To make a trade on Bitfinex:
Register on Bitfinex.com
Make a deposit
Go to 'Trading'
Select the pair you want to trade (for example; BTC/USD)
Enter the amount and click Buy or Sell
It's that easy, you're all done
Design
I'm a big fan of Bitfinex's design principles. The exchange looks good, is functional and easy to navigate. The colours used make it easy to trade digital assets and contribute towards overall stunning user experience.
On the other hand, nothing is perfect, and there are some improvements I would like to see such as the addition of an easier log in system for the mobile app (you have to use API keys currently).
Register on Bitfinex right now using this link and claim an exclusive 6% fee discount.
OTC Trading
Over The Counter (OTC) trading is becoming increasingly popular within the crypto space as it allows people to make large trades without affecting the market. Bitfinex offers an OTC crypto desk for those interested. To get started using it, head over to Bitfinex.com.
Does Bitfinex have a Testnet?
Bitfinex does not currently offer a testnet for demo trading.
LEO Token
UNUS SED LEO. Sounds like an ancient Latin manuscript title right? This is the native exchange token for the Bitfinex exchange which was used to raise money for the development of the exchange. Bitfinex managed to raise a total of $1BN USD during the LEO token sale.
Learn more about LEO on CoinMarketCap.
Ethfinex
Ethfinex was Bitfinex's sister exchange which allowed for decentralised Ethereum (ERC20) token trading. The exchange is now closed and all accounts & funds were moved to Bitfinex.com. You can learn more about why Ethfinex closed here.
Affiliate Program
Bitfinex offers one of the leading cryptocurrency affiliate programs within the industry. With multi-level reporting and several useful tools, the affiliate program makes promoting the exchange super easy. To get started promoting Bitfinex, you have to sign up for a regular Bitfinex account using this link.
Read: Bitfinex Affiliate Program: Everything You Need To Know
Customer Support
At the heart of any crypto exchange is its customer support process and team. Without it, an exchange wouldn't even last 24 hours. Bitfinex has a dedicated support team which can be consulted 24/7 on cs.bitfinex.com.
Register on Bitfinex right now using this link and claim an exclusive 6% fee discount.
Bitfinex Review: Conclusion
Overall, we think that Bitfinex is a brilliant cryptocurrency exchange with a wide range of features and is perfect for beginners and experts alike.