Bitit.io is a website which you can use to buy and sell cryptocurrencies instantly. In this Bitit review, I'll be covering all the main aspects of the exchange and giving you my own personal opinion on whether or not it is a good place to trade cryptos.
In this review, I'll be referencing my own personal experience as well as Bitit's website, that way, you will hopefully get some value from it as you will learn about what the exchange claims, and what it actually delivers for real customers.
To kick off the review here's some basic information about Bitit:
| | |
| --- | --- |
| Name | Bitit |
| Official Website | bitit.io |
| Logo | |
| Founded | 2015 |
| CEO | Nicolas Katan |
| Location | Paris, France |
| Coins | 50 |
| Regulated | Yes |
Looking for a crypto leverage exchange rather than spot? Claim a bonus when you register on our favorite crypto margin trading exchange with a Bybit referral code.
About Bitit
Bitit was founded in 2015 by Nicolas Katan in Paris, France and is a legally registered company with the registration number 810 222 513. The company provides a website which lets you trade cryptocurrencies legally.
Bitit's headquarters is located at 40 Rue Alexandre Dumas, 75011, Paris, France.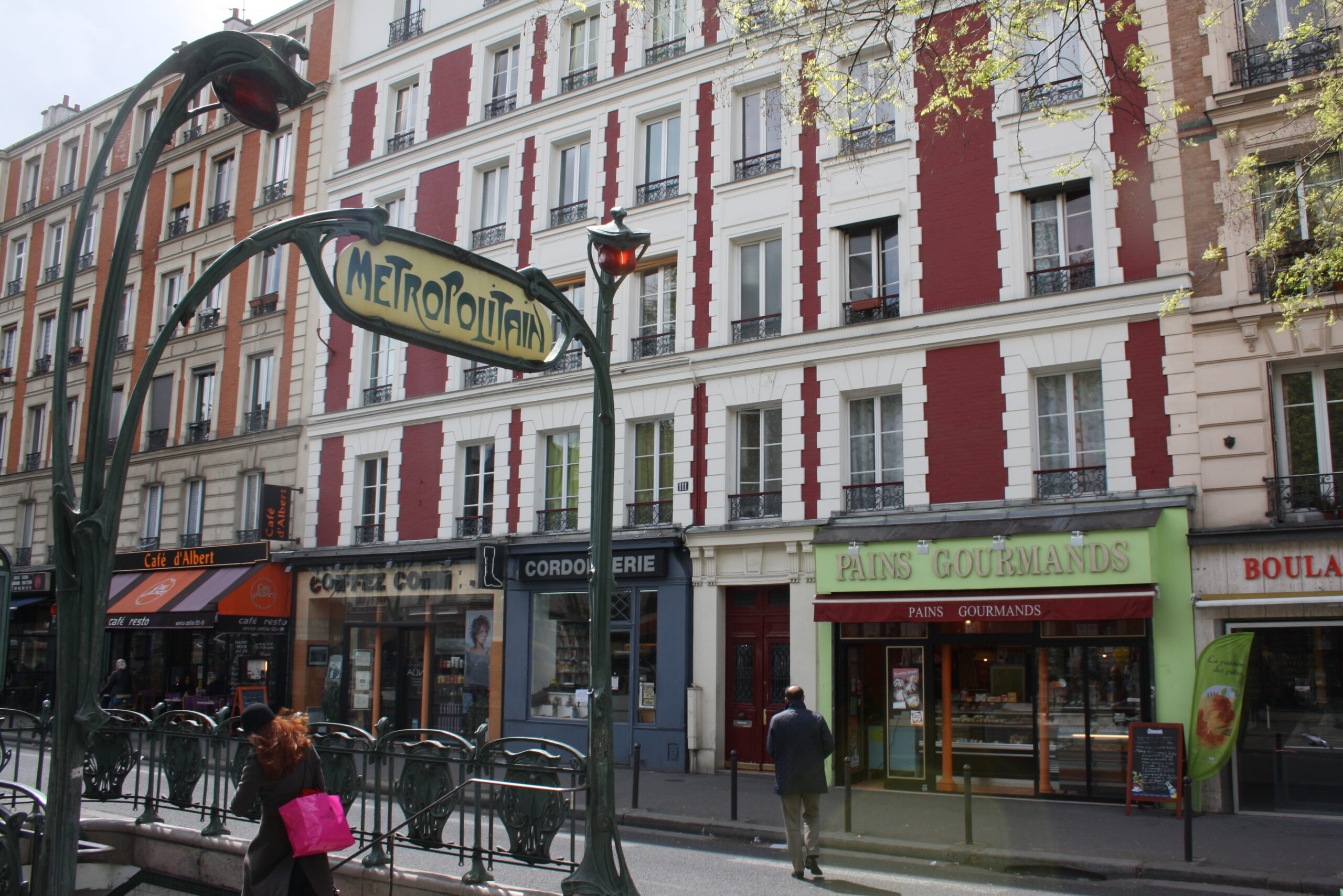 I did some digging online and was able to confirm that Bitit is a legitimate company.
I love how transparent this exchange is regarding who works there and where they operate from, it's pretty rare to find a crypto company this transparent, which really helps me trust the exchange because you know that there is somewhere you would be able to go should any issues occur when you are using the service.
Team
As I mentioned above, Bitit's CEO is a man named Nicolas Katan, but there are also other notable team members who we should mention.

As you can see, Bitit is also open about who is behind their service, so you can rest assured that they are operating legitimately.
Safety: Is Bitit legit?
When you're deciding if you should use a particular crypto exchange or not, one of the most fundamental aspects you need to look at is the safety of it. At the end of the day, what would be the point of using a website which put your funds at risk? In this section, I will delve into the different regulations and safety measures Bitit has in place.
Yes, Bitit is a legitimate cryptocurrency exchange which is run by a legal company registered in the European Union. In addition to this, Bitit is compliant with regulations to ensure that your experience with the exchange is a safe one.
So, how exactly do we know that Bitit is legitimate?
With the information currently available, we can assume that Bitit is labelled as a very safe exchange, some of these factors include:
Company transparency (location & team members)
PCI DDS compliant (approved to process card payments)
'Excellent' rating on Trustpilot
Regulated
As a slight downside, I couldn't find any information on whether or not you are insured when using Bitit but this is pretty rare with crypto exchanges anyway, although it is something I would like to see them add.
Overall, Bitit is one of the world's safest places to buy cryptocurrency in my opinion, equally as safe as exchanges like Coinbase for example.
Main Features
As one of the world's leading sites for buying crypto instantly, Bitit is packed with useful features which make the user experience simple, easy and secure. Below, you will find some of my favourite features of Bitit.io.
Recurring orders
Bitit lets you buy cryptocurrency automatically on a recurring basis (Dollar Cost Averaging) which some consider the best way to invest in cryptocurrencies since you can get a good average price over a long period of time rather than buying all your coins at once.

Ledger & Trezor Integration
When you buy cryptocurrencies on Bitit, you have the option of connecting your hardware wallet (Ledger & Trezor only) so that your coins are delivered instantly and securely to your wallet without having to make any transactions or entering long addresses. This makes the experience effortless and reduces the risk of users entering the wrong address and I think it's a brilliant feature of the Bitit platform.
Price Charts
From your main dashboard, you can track the prices of cryptocurrencies using Bitit's native charts. These charts are very clean and provide users with an easy way to keep tabs on what has been happening with the prices of coins.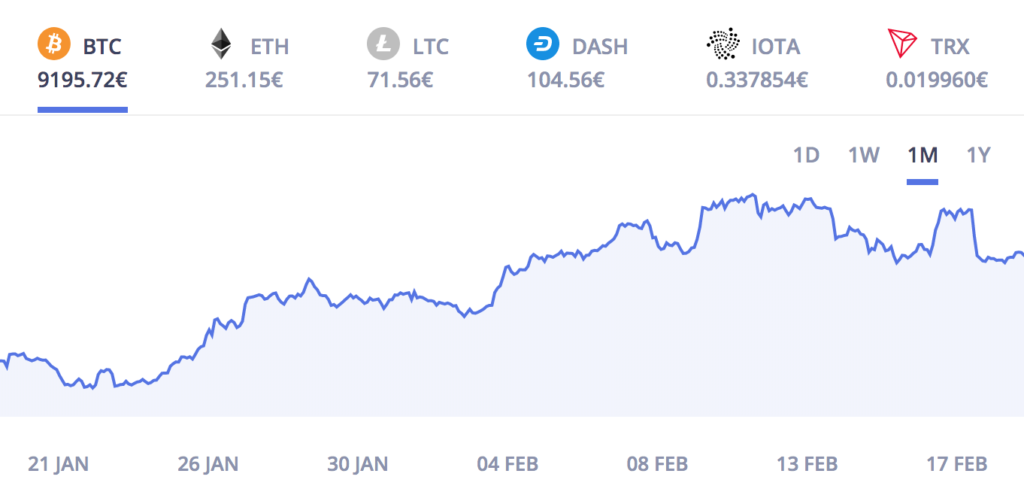 These charts are great, but they are a bit basic since Bitit is aimed at newer investors. If you are looking for charting software with more features like drawing tools and indicators, I recommend that you check out tradingview.com – it's what the majority of crypto traders use and is completely free to use.
Who is Bitit ideal for?
FINISH
Account Security
Earlier in this Bitit review, I looked at the legitimacy of the exchange, but that's not all we need to consider when thinking about fund safety. It's also important that we look at the account security features which prevent hackers from accessing your account.
2-Factor Authentication
The main security feature of most cryptocurrency exchanges is something called 2FA, which is basically a way of securing your account with a code which generates every 30 seconds locally on your device, meaning that hackers wouldn't be able to access your account (in theory) unless they physically had your device (e.g iPhone).
Bitit works with the Google Authenticator app which is the world's most popular 2FA solution.
It is highly recommened that you set 2FA up and it only takes a few seconds, although it isn't required.
To enable 2-factor authentication on Bitit, head over to the 'Account' tab and scroll down to the section named 'Security: Two-Factor Authentification'. Now download the GA app for Android or IOS, scan the barcode and enter the code generated on the app. You've now successfully set up 2FA on Bitit, well done!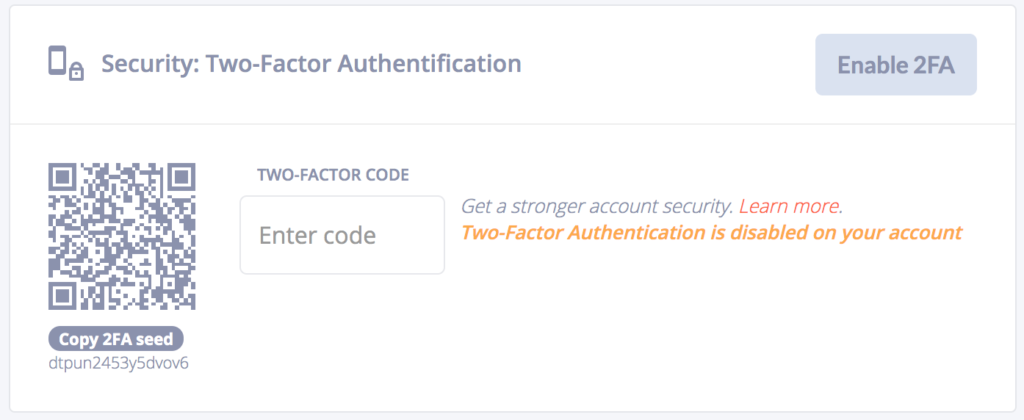 Tip: Copy the 2FA seed and save it somewhere offline (e.g on a post-it note) as you will need this to recover your account if you lose access to the Google Authenticator app.
SSL Secured
As well as having 2FA, Bitit is also fully EV SSL secured as we can tell by the fact there is https:// at the beginning of the web address. This means that your data is encrypted when you are using the site which is so important when you are using credit/debit cards.
Learn more about securing your Bitit account with their detailed guide to account security.
Verification
Regulated cryptocurrency exchanges which let you buy and sell coins always have to verify your ID before you can use their service, this is vital in staying compliant with laws and regulations. Therefore, as you probably guessed, you have to complete verification on Bitit. Below you wind some information about the verification process on Bitit.
What do you need to verify your Bitit account?
In order to verify your Bitit account, you'll need to provide some basic info which includes the following.
Address
Birthdate
Phone number
Internationally accepted ID (e.g Passport or Driving Licence)
The process also requires you to take a selfie with a piece of paper showing the current date and the word 'Bitit' so make sure you have a camera to hand before beginning verification.
What's the verification time on Bitit?
The verification time on Bitit is usually only a couple of hours and they aim to complete all account verifications within 24 hours, so you should be able to start buying cryptocurrencies within a day or so (it may take longer on weekends).
Bitit ID Verification – My Experience
When I signed up for my Bitit account, I found the verification process hassle-free and simple. It only took a few hours for my account to be verified and then I was able to use all the products on the Bitit platform including buying crypto instantly.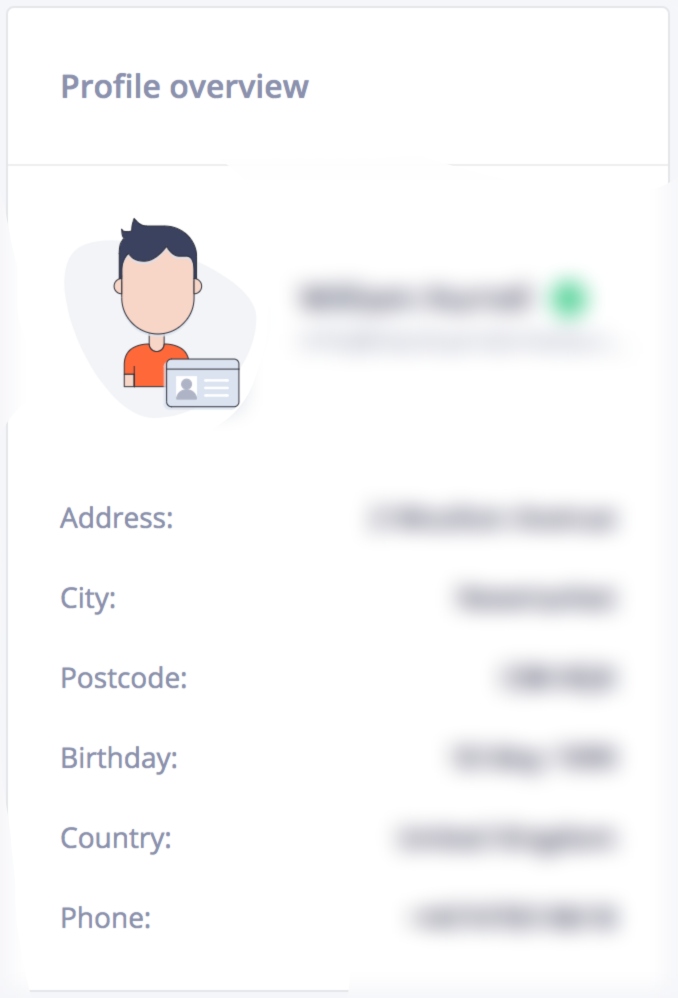 Bitit Fees
Bitit charges a 3.9% fee for credit/debit card purchases, 0.25% for SEPA transactions and 8.75% for Cash Voucher buys.
| | |
| --- | --- |
| Credit & Debit Cards | 3.9% |
| EUR Wallet (SEPA) | 0.25% |
| Cash Vouchers | 8.75% |
These fees are reasonable and low, so I wouldn't hesitate whatsoever about using Bitit to buy cryptocurrencies.
I also love the fact that Bitit is transparent with their pricing, unlike other exchanges like Switchere for example.
Registration & Login
Getting started on Bitit is simple and only takes a few minutes. To register on Bitit, follow these steps:
Visit bitit.io
Click 'Sign Up'
Fill in the registration form
Complete steps as prompted
Registration complete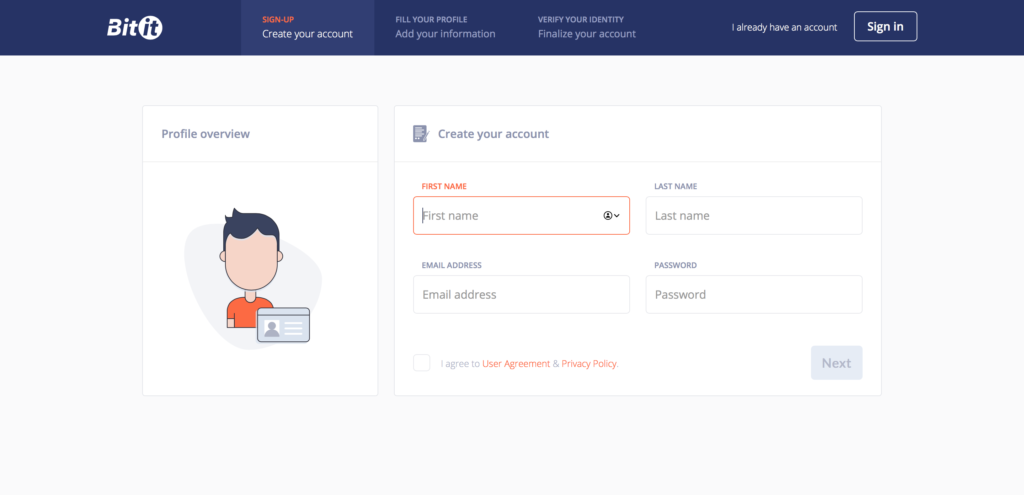 To login to your Bitit account, go to the Bitit website and click on 'Sign In'.
Supported Coins
Bitit supports a total of 50 different cryptocurrencies which are as follows:
Bitcoin
Ethereum
XRP
Litecoin
Tether
EOS
Chainlink
Binance Coin
Tezos
Cardano
Monero
Stellar Lumens
Tron
Ethereum Classic
Dash
Zcash
USD Coin
Basic Attention Token
VeChain
Dogecoin
Algorand
0x
Qtum
Paxos Standard Token
MATIC
Bitcoin Gold
OmiseGO
TrueUSD
Waves
KyberNetwork
Chiliz
Komodo
Siacoin
Zilliqa
TomoChain
Loopring
iExecRLC
Pundi X
BEAM
BAND
Civic
Polymath
Ark
Bread
Bancor
STEEM
Blockstack
Fetch.AI
Bitcoin Cash
IOTA
This information is also directly available at bitit.io/available_cryptocurrencies which includes the current prices, market caps and percentage changes for each coin.
Bitit Payment Methods
There are 4 main payment methods on the Bitit exchange platform.
Credit/Debit Card
EUR Wallet (SEPA Bank Transfer)
Cashlib Voucher
Neosurf Voucher
All the major bank cards are accepted like VISA & Mastercard. I really like the way you can have a Euro wallet in your Bitit account, it makes it super easy and cheap to buy cryptos in the EU.
Limits
Since Bitit is regulated, there are limits to the amount of cryptocurrencies you can buy in a set period. In this part of the review, I'll be showing you what the limits are on Bitit.
The minimum amount of crypto you can buy on Bitit is 20 EUR and the maximum limit varies depending on your personal account.
After you've verified, the weekly limits on Bitit are:
| | |
| --- | --- |
| Credit/Debit Card | €1,500 |
| Cash Vouchers | €2,500 |
| SEPA (E-Wallet) | €15,000 |
You can increase these limits considerably by purchasing more cryptocurrency with bank cards. To learn more about increasing your limits on Bitit, check out this guide.
Languages & Countries
As you're reading this review, you are most likely keen on giving Bitit a go for buying crypto, but you may be wondering if it is allowed in your country or available in your language. To help you with this, I have provided the info below.
Languages
The Bitit.io website is only available in English and French at the moment.
Supported Countries
Bitit is available in all countries except for those included in the Sanctions lists of United Nations, European Union, UK Treasury and US Office of Foreign Assets Control (OFAC).
Bitit's supported countries are:
Albania
Andorra
Argentina
Armenia
Australia
Austria
Azerbaijan
Bahrain
Belgium
Benin
Brazil
Bulgaria
Burkina Faso
Cameroon
Canada
Chile
Colombia
Costa Rica
Croatia
Cyprus
Czechia
Côte d'Ivoire
Denmark
Egypt
Estonia
Finland
France
French Guiana
French Polynesia
Georgia
Germany
Ghana
Greece
Guadeloupe
Guernsey
Hong Kong
Hungary
Iceland
Indonesia
Ireland
Isle of Man
Israel
Italy
Japan
Jersey
Kenya
Korea (Republic of)
Kuwait
Latvia
Lebanon
Liechtenstein
Lithuania
Luxembourg
Madagascar
Malaysia
Mali
Malta
Martinique
Mauritius
Mayotte
Mexico
Monaco
Montenegro
Morocco
Netherlands
New Caledonia
New Zealand
Nigeria
Norway
Philippines
Poland
Portugal
Puerto Rico
Qatar
Réunion
Romania
Russian Federation
Saint Martin (French Section)
Saudi Arabia
Senegal
Serbia
Singapore
Slovakia
Slovenia
South Africa
Spain
Sweden
Switzerland
Taiwan
Thailand
Tunisia
Turkey
Ukraine
United Arab Emirates
United Kingdom of Great Britain and Northern Ireland
United States of America
Vietnam
As you can see, Bitit is available in tons of countries worldwide including the United States, the UK, Canda and Australia. This makes it a brilliant global cryptocurrency exchange as it doesn't prohibit any of the major nations.
Customer Support
The backbone of any cryptocurrency exchange is the customer support team. This aspect can make a customer's experience with the exchange amazing or terrible.
Bitit has a complete support helpdesk as well as email and telephone support.
To access Bitit's support, log in to your account and click on 'Support' from the menu or alternatively, visit support.bitit.io.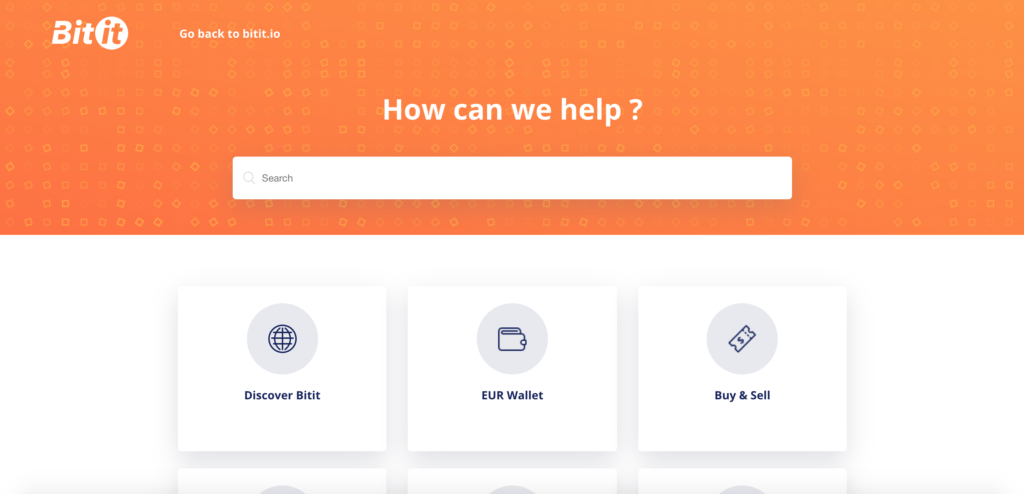 From the support helpdesk, you can read guides and contact them using the support form.
If you want to get in touch with Bitit directly, you can also use the contact details below.
Bitit Contact Details
Unfortunately, I couldn't locate a telephone number for Bitit although this is pretty common nowadays, not many companies offer phone support, especially crypto ones.
Mobile App
Bitit doesn't currently offer a mobile app for IOS or Android, but if they do launch one, this section of the review will be updated to reflect it and include links to download it. I hope they release one in the future as it is a feature that would make the exchange just that bit better in my opinion.
Coupon & Promo Codes
Bitit has an option on the purchase page where you can enter coupon/promo codes. I currently don't have any codes which you can use, although if I do, I will keep you posted.
Bitit Reviews
According to Trustpilot, Bitit is rated 'Excellent' with over 300 reviews. I have compiled some of the Bitit reviews for you below.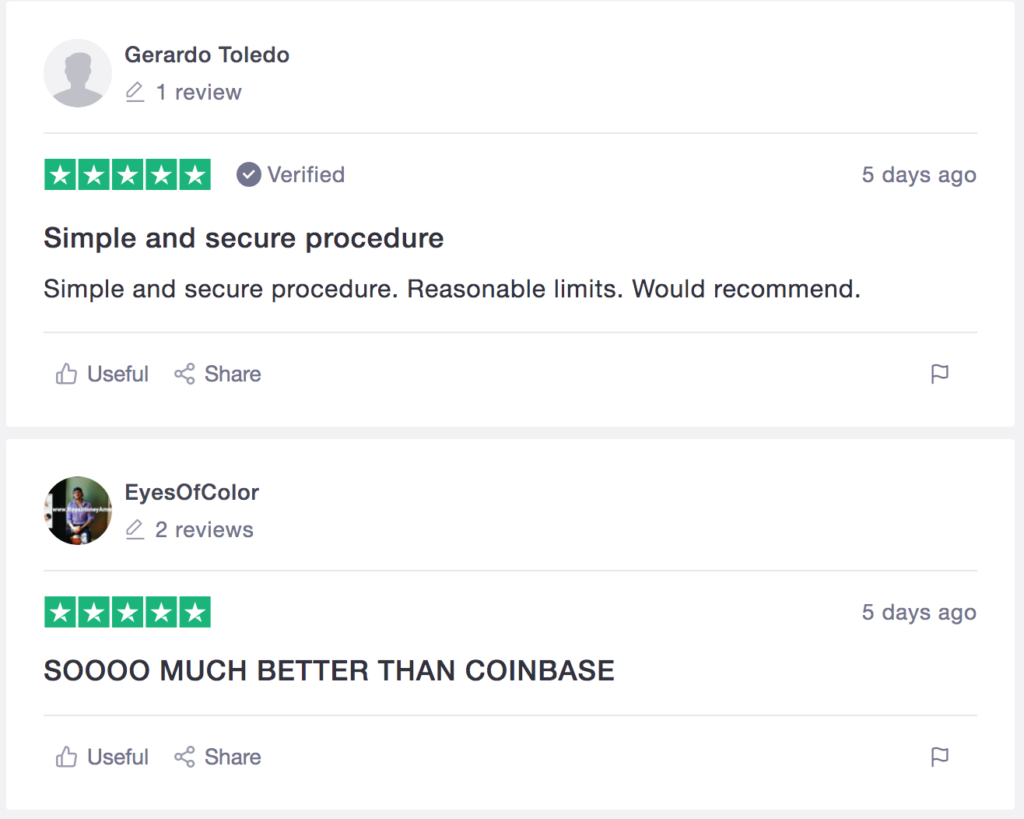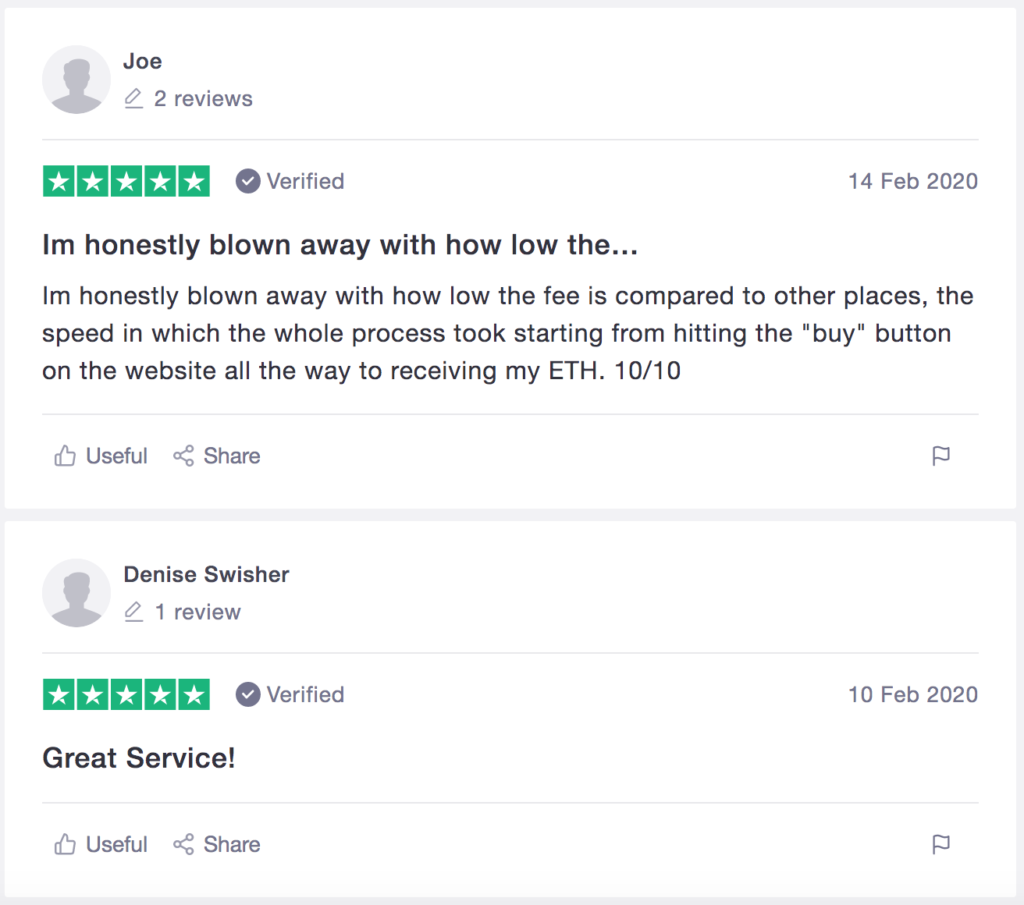 To be honest, I wasn't surprised when I saw how good these reviews were, I really enjoyed using Bitit too, it's exactly what you want as a crypto exchange.
Pros & Cons
Nothing is perfect in this world. Below you will find personal pros and cons of Bitit.
Pros: Easy, low fees, smooth, lots of coins, transparent, regulated, well-trusted
Cons: No mobile app, high cash voucher fees
Bitit Review: Wrap-Up
To conlcude this review of the Bitit.io exchange, I will leave you with my overall thoughts.
Bitit is a great safe way to buy cryptocurrencies globally and comes into direct competition with Coinbase due to the fact that it is cheap, lighnighting-fast and regulated. It provides a simple and easy bridge between fiat and crypto currencies.
The Bitit exchange is perfect for anyone who needs to buy cryptocurrencies with a bank card or bank transfer and is suitable for both new and advanced users.
I would recommend Bitit to my family, therefore I have no concerns in recommending it to you, my reader also.
Bitit FAQs
Does Bitit accept PayPal?
No, Bitit does not currently accept PayPal as a payment method.
Can you use Bitit in the USA?
Yes! You can use Bitit in the United States (US).
Is Bitit instant?
Yes, you can use Bitit to buy and sell cryptocurrencies instantly with bank cards like VISA & Mastercard.