Tezos (XTZ) is a revolutionary Proof of Stake digital asset similar to Bitcoin & Ethereum. In this guide, I'll be showing you how and where you can safely buy Tezos.
Tezos Overview
Tezos is a smart cryptocurrency which aims to solve all the problems experienced with other cryptocurrencies, but mainly governance – this is the way that the decisions about the coin's future are made. Tezos is one of the only cryptocurrencies which can perform 'Self Governance' which makes it possibly one of the most interesting investments in the crypto industry aside from Bitcoin.
Things to consider when buying Tezos
When you buy any cryptocurrency, it is important that you understand what's involved before getting started so that you don't make any important mistakes. I've taken into account all of the following factors to help with finding the best places to buy Tezos. All exchanges recommended in this article have been
Wallets: After you buy Tezos, you're going to need to store it somewhere. Keeping your investment safe is paramount and therefore doing research about the safest wallets is vital.
Fees: You don't want to waste your capital on hefty transaction fees, so it's best to find an exchange/trading platform with low fees, this way you can get the maximum amount of Tezos possible with your money.
Security: Exchanges vary when it comes to security, if you can, I recommend setting up 2FA (2 Factor Authentication) once you deposit onto the exchange you are using to buy Tezos.
Withdrawal fees: Most crypto exchanges have low fees to withdraw your assets to an external address, but of course, there are outliers who sting you if you want to take your crypto off the exchange, it's something you need to be aware of.
How to Buy Tezos
You can buy Tezos (XTZ) using both fiat (normal money) and Bitcoin (BTC). In order to buy Tezos, you need to have an account at one of the trusted crypto exchanges and then you can purchase your XTZ coins.
Buy Tezos with Credit Card or Debit Card
You can buy the Tezos (XTZ) cryptocurrency with both credit and debit cards using a fiat supported exchange. To make sure that you buy Tezos safely, it's important that you use a regulated exchange, that way, your information is secure and your investment is safe. Here is a list of the best exchanges for buying Tezos with a credit or debit card.
Coinbase
Coinbase is the world's most trusted place to buy cryptocurrencies. You can buy Tezos instantly with both credit and debit cards on Coinbase. Pros: Regulated, buy instantly, free Tezos wallet. Cons: Not available in every country. Available countries: US, UK, Canada, Australia, Singapore & Europe. Fees: 3.99%
Buy Tezos with PayPal

Unfortunately, you cannot currently buy Tezos (XTZ) with PayPal. If this changes, I will update this page to reflect that. You can, however, buy Bitcoin with PayPal and then use that to buy Tezos.
Buy Tezos with Bank Account Transfer
Depending on your location, you may be able to buy Tezos using bank transfer methods like SEPA, Wire, SWIFT & ACH. Buying cryptocurrencies using bank transfer usually tends to incur fewer fees yet takes longer than credit/debit card purchases.
Coinbase
In addition to credit/debit cards, you can use Coinbase to buy Tezos with bank transfer. Bank deposits usually take up to 5 working days to clear. Pros: Low fees, safe, easy. Cons: Takes longer than card purchases. Available countries: US, UK, Europe. Fees: 1.49%. Transfer methods: Bank Account (ACH), Wire Transfer, SEPA, Ideal/Sofort.
Bitfinex
You can buy Tezos on Bitfinex with bank account transfers for USD, EUR, GBP, JPY & CNH making it one of the most versatile exchanges for buying Tezos (XTZ). Pros: Secure, fast and trusted. Cons: Less liquid than other exchanges. Available countries: US, UK, Japan, China, Europe. Fees: 0.000% – 0.200%. Transfer methods: Wire Transfer, SEPA.
Kraken
Kraken is a professional crypto exchange which accepts bank account deposits to make purchases. You can buy Tezos on Kraken using several bank transfer methods. On average, Kraken bank transfers take around 3 business days. Pros: Trusted, fast, highly liquid. Cons: Bank deposits not available worldwide. Available countries: US, UK, Canada, Japan, Europe. Fees: 0-0.26%.
Buy Tezos with Bitcoin (BTC)
Since Bitcoin is the world's largest crypto, you can use it to buy many different Altcoins, including Tezos. The benefits of using BTC to buy Tezos over Credit/Debit cards and Bank Transfers is that there are usually fewer fees involved as well as not having to verify your ID.

There are several cryptocurrency exchanges which you can use to buy XTZ with Bitcoin, but not all can be trusted. For this reason, I will list the most trusted ones below, at the end of the day, you want to be able to buy Tezos safely right?
Binance
Binance, which began its life in 2017 has grown into one of the largest crypto-crypto exchanges. You are able to buy & sell Tezos on Binance using Bitcoin, BNB & USDT. Pros: No ID required, low fees, liquid market. Cons: You need to own crypto already. Available countries: Worldwide except for US. Fees: 0.000% – 0.100%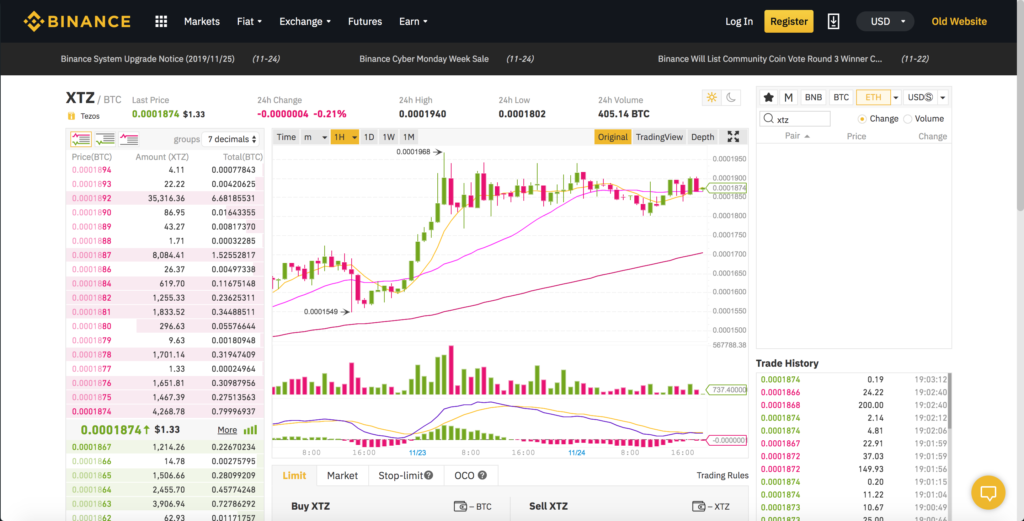 Huobi Global
Huobi Global established a high level of trust throughout the world and serves as one of the safest places you can buy real Tezos coins using Bitcoin and other cryptocurrencies. Pros: Small fees, no KYC, mobile app. Cons: Not available in the US. Available countries: Worldwide apart from the US. Fees: 0.200%.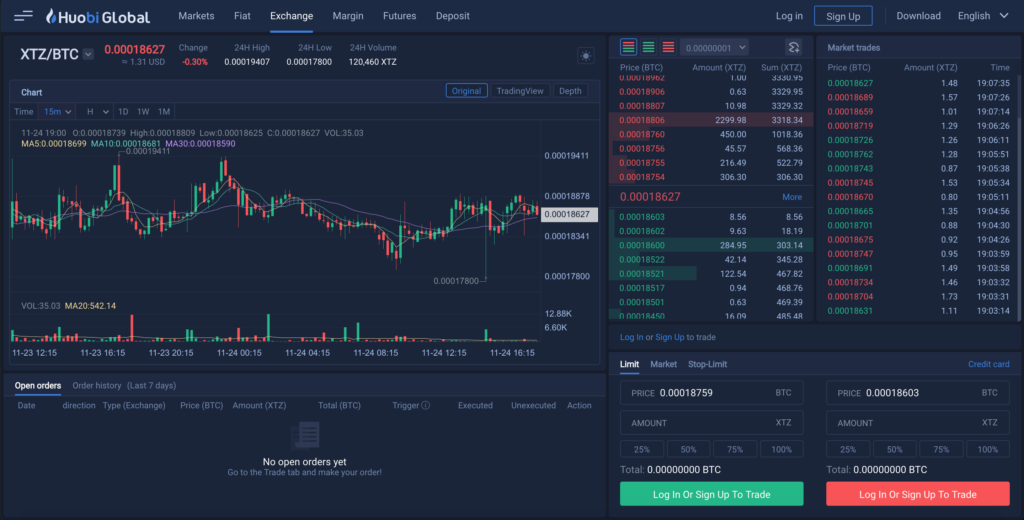 Where can you trade Tezos (XTZ)?
Since Tezos is one of the largest cryptocurrencies in the world, you can also profit from trading it on major markets, not just by buying it. Trading Tezos means that you can profit both from when it goes up and down in price. The following trading platforms also have leverage meaning that you can earn more from Tezos price moves.
eToro
eToro is well known for offering Bitcoin trading since the early days. Having recently added Tezos, you can trade it on the eToro desktop and mobile apps for IOS & Android. You can use leverage to trade Tezos on eToro. Pros: Leverage, PayPal deposits, regulated. Cons: Higher fees. Available countries: US, UK, Europe, Canada, Australia. Fees: Spread, varies.
Buy Tezos with Cash
Unless you know somebody who owns any, it's pretty difficult to buy Tezos with cash.
There is one option for people looking to buy Tezos with cash, and that would be to first buy Bitcoin with cash using something like LocalBitcoins and then to use that Bitcoin to buy Tezos on one of the exchanges listed above.
Buying Tezos: FAQs
It is natural to have some questions about buying digital currency, after all, it is very different from buying stocks and shares. Below you will find the answers to the most frequently asked questions about buying Tezos (XTZ).
How much is Tezos worth?
As Tezos is a cryptocurrency, the price of it changes on a frequent basis. Below you will find the live Tezos price in USD along with its current market capitalisation.
What's the best place to buy Tezos?
In my opinion, the safest and best place to buy Tezos overall is Coinbase because of the ease of use and wide range of payment method available.
Will the price of Tezos increase?
Since Tezos is a speculative asset, it is hard to answer this question definitively. Personally I believe that the asset has a bright future, but everyone has their own opinion on this matter.
When is the right time to buy Tezos?
It's almost impossible to know when the best time to buy Tezos is, but there are strategies you can use to get a good average price. The most common is called 'dollar-cost-averaging' whereby you purchase a small amount of the coin multiple times on a regular basis. You can do this really easily on Coinbase as they have a built-in feature for it which does it automatically should you wish to do so.
What are the risks of buying Tezos?
Naturally, there are risks attached to the investment of any asset be it Shares, Cryptocurrencies or even Index Funds. The main risks of buying Tezos include price depreciation and potential exchange hacks.
There are ways in which you can limit the risk when buying Tezos, here are a few tips:
Keep your XTZ coins in a hardware wallet
Use stop-losses
Manage your position size (don't invest more than you are able to lose)
Can you buy a part of a Tezos coin?
Yes, similarly to Bitcoin and other cryptocurrencies like Ethereum, you can buy fractions of a Tezos coin.
What is Tezos Staking (Baking)?
Staking (called Baking with Tezos) is a consensus mechanism which ensures that the Blockchain works. Staking is essentially just owning the coin and you can get around 5% rewards per year staking with Tezos. Coinbase is one of the only exchanges to support staking and give you payouts automatically.
Are there any Tezos ATMs?
There are not any well-known Tezos specific ATMs where you can buy Tezos with cash, although there are some Bitcoin ATMs which offer Tezos as a supplementary asset.
What's the difference between Bitcoin and Tezos?
On a basic level, Tezos and Bitcoin are the same; a decentralised form of money yet Tezos has other features which add more value (in the form of use cases) to the world.
The main difference between Bitcoin & Tezos is self-governance which means that it can be changed in the future by everyone who owns it, whereas Bitcoin cannot.
Another difference between the two is that, like Ethereum, Tezos has smart contracts and Bitcoin does not. I can hear you saying 'but why not just use Ether's smart contracts?'. It's a good question, but the truth is that smart contracts on Ethereum (ETH) are subject to security breaches and are therefore not safe enough for doing large financial transactions. This is where Tezos (XTZ) comes in, there is the option to make formally verifiable smart contracts on Tezos, ensuring that it is much safer when needed for critical operations.
Will Tezos reach $100?
Some believe that it is possible for Tezos to reach 100 dollars in a bull market, myself included. But it is always important to understand that buying cryptocurrencies is speculative and a high-risk form of alternative investment.
Will Tezos replace Ethereum?
It's impossible to say whether or not Tezos will replace Ethereum or not, but it is certainly a possibility since Tezos is basically a more advanced form of Ethereum.
Where to stake Tezos?
You can stake Tezos on your own or with a custodian like Coinbase (simplest). The amount of annual returns you get depends on where you stake Tezos.
Who is behind Tezos?
The masterminds behind Tezos are Arthur & Kathleen Breitman, a bright couple who reside in France.
What is Tezos Delegation?
Delegation is a form of staking your Tezos, it means that you don't have to do any of the technical stuff, but the person/company that you delegate to charge you a fee for doing so. You are always in control of your assets when delegating and can move your XTZ whenever you want.
What is Tezos used for?
As Tezos is a fairly new digital asset, it isn't being used for that many things just yet. On the other hand, there are a lot of potential use cases for the digital currency, here are a few of the main ones:
STOs (Security Token Offerings)
Insurance (Example: tezsure.com)
Secure decentralised money transfer
What makes Tezos different?
The main thing which makes Tezos different to other cryptocurrencies is the fact that it can upgrade itself fairly by the people who use the network. In addition to this, it has formally verifiable contracts which are unique to Tezos.