Bybit is a popular cryptocurrency derivatives exchange. If you'd like to learn more about it, check out our full review here. In this article, I'll be taking a detailed look at the Bybit affiliate program which allows you to earn money by referring traders to trade on Bybit. Blockduo has been part of the Bybit affiliate program since the beginning, so we have a great insight into how it works and whether or not you should sign up to it.
Sign Up
Signing up to the Bybit affiliate program is a simple exercise which should only take you a few minutes.
Before you can sign up as an affiliate, you need a regular Bybit account, so create one here if you don't already have one
Then, go to affiliate.bybit.com/register
Enter your email address
Check the service agreement box
Wait to be verified (it's manual)
Start promoting – it's that simple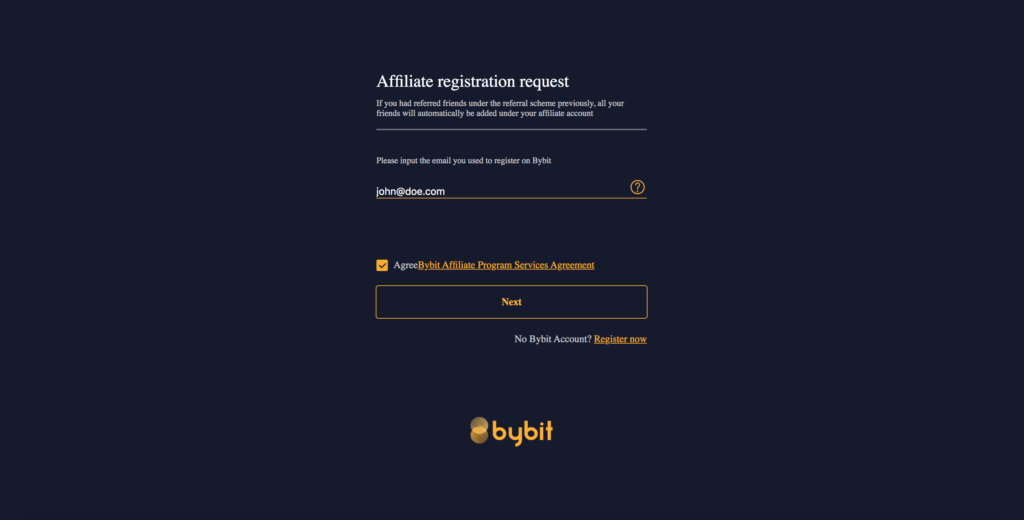 Eligibility
So, what do you need to be a Bybit affiliate? The Bybit affiliate program is similar to many other crypto affiliate programs. All you need is a promotion method like a Twitter account or Website and that's it, you can promote the exchange and earn from it.
Promotional method
Email address
You don't need a huge audience either, you can start promoting with a small audience, which is nice to see.
Login
Logging into the Bybit affiliate dashboard is also a simple process. The login link for Bybit affiliates is: https://affiliate.bybit.com/login/.
You'll be able to create a password when they get in touch after your registration request, you can also change this at a later date should you so wish to.
How much can you earn?
The answer to this question is; as much as you can. The Bybit affiliate commission is higher than the industry standard, so it is even easier to earn by promoting them over many other exchanges.
The standard affiliate commission for Bybit affiliates is 30%. To put this in perspective, it's 3x higher than BitMEX's affiliate program.
Features
The Bybit affiliate program has more than just a high commission to offer, there's also some pretty neat features which make a promoters job that much easier.
Real-time settlement
You can see your affiliate earnings in real-time and they're paid out on the same day. There's nothing worse than an affiliate program which takes a month to payout, right? The Bybit affiliate program serves as a quick way to earn some BTC.
Multi-filter reports
This is one of my favourite things about the Bybit affiliate program, it's so much more detailed than others. You can see exactly how much each referred account deposits as well as how much they trade (in maker/taker) and when they complete registration & deposits. It's by far the most comprehensive affiliate reporting I've ever seen and deserves commendation for that.
Instant withdrawals
Waiting ages to get your affiliate money out of an affiliate system can be a real pain, but not with Bybit. You can withdraw all your earnings to your trading account within a second. It's incredible.
If you like what you see about the Bybit affiliate program, go ahead and sign up here – it's free.
Dashboard Preview
You may be wondering what the Bybit affiliate dashboard looks like. Well here are some screenshots from our dashboard: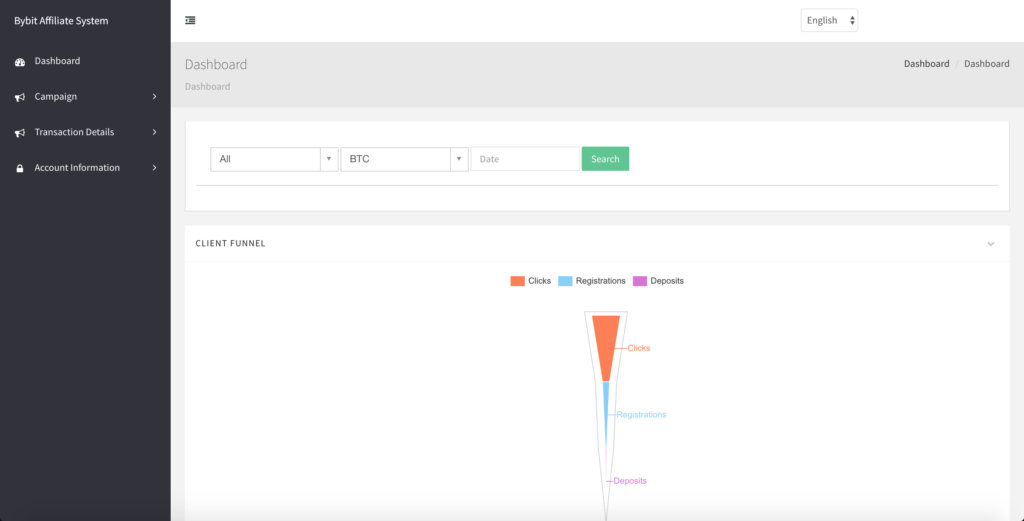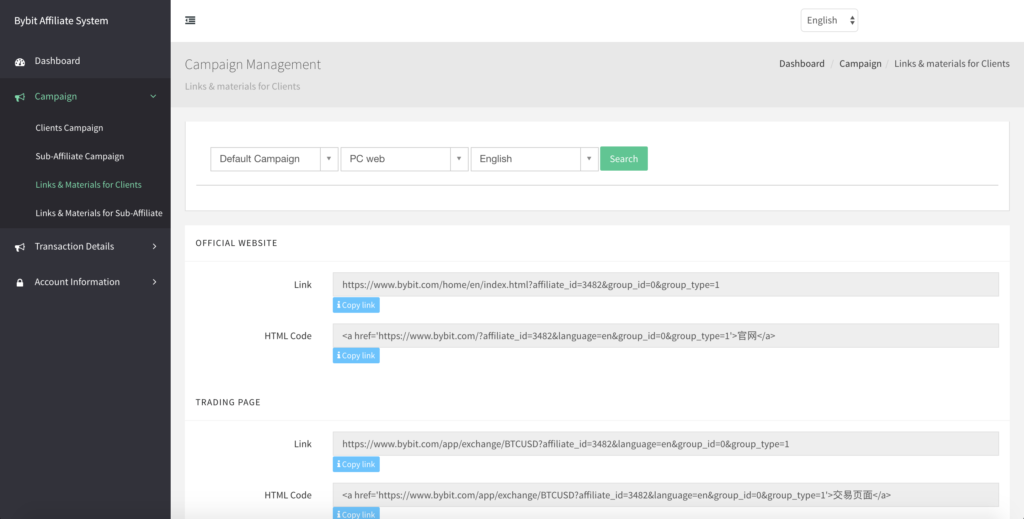 Bybit Affiliate Brochure
Here's the latest Bybit affiliate brochure which outlines some of the key information about the program and highlights exactly why you should join it: