The cryptocurrency landscape is vast, with exchanges popping up everywhere offering a better service, more security among other fancy claims. This comes as no surprise. Everyone wants a slice of the pie in the emerging and profitable market of cryptocurrency.
Today, I'll be taking a look at one of the hottest cryptocurrency derivatives exchanges; Bybit.com.
Register on Bybit.com with this link to claim your $90 welcome bonus instantly. Enjoy no KYC, 100x leverage & more. Claim the offer by clicking here now.
What is Bybit?
Bybit is a global Cryptocurrency Derivatives Exchange which offers up to 100x leverage trading on Bitcoin, Ethereum, EOS & XRP contracts.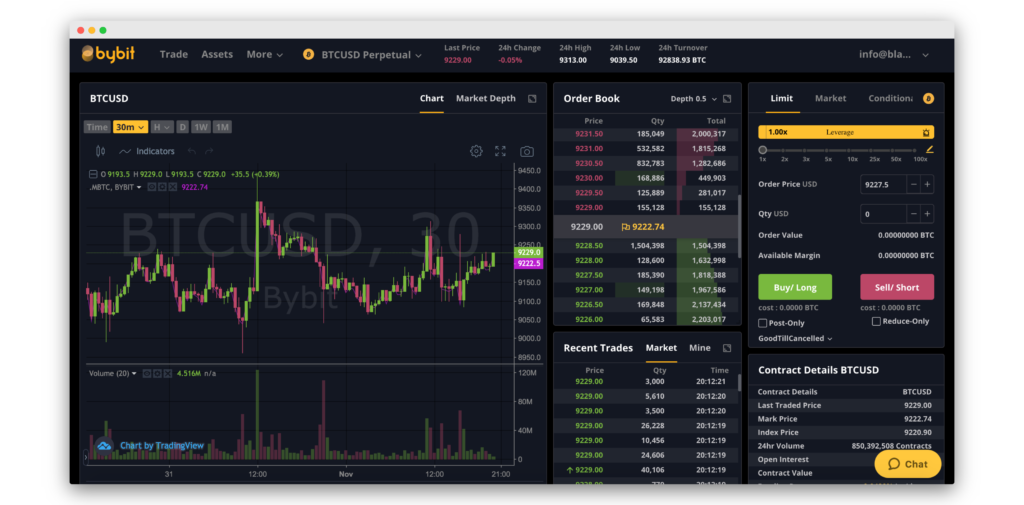 The exchange was founded in 2018 by Ben Zhou and is legally registered in the BVI, yet the headquarters lie in one of the main major tech hubs of the world; Singapore. Bybit launched on 01 December 2018 and has grown in popularity ever since.
Main Features
The Bybit exchange is packed full of features to make traders life easier and more profitable. Here are some of the main features which make Bybit unique in my opinion:
No overloads – 100,000 TPS per contract (10x industry average)
Coin swap – swap cryptocurrencies in your account with 1 click
TradingView Integration – view Bybit charts on TradingView
IOS & Android Mobile Apps – trade on the go with Bybit's fully functional and supported mobile apps
Over $1BN 24hr Volume – Bybit is one of the world's most liquid exchanges with a minimum slippage
$90 Welcome Bonus – new registrations on Bybit can redeem a $90 Bitcoin sign up bonus to help them get started with the exchange (Claim Here)
Up to 100x leverage – multiply profits with Bybit's advanced leverage system
Grey release features​ – any maintenance on the exchange is carried out on-the-go to ensure minimum downtime, meaning that you can rely on Bybit 24/7
Supported Cryptocurrencies (Coins)
Bitcoin (BTC)
Ethereum (ETH)
XRP (XRP)
EOS (EOS)
Company Information
Now we all know how important the legitimacy of a crypto exchange is. At the end of the day, you want to be 100% sure that your funds will be safe on the exchange.
In order to determine legitimacy, it's vital that we understand the company behind Bybit.
The official company name of Bybit is 'Bybit Fintech Limited' and according to LinkedIn, there are currently 51-200 employees at Bybit.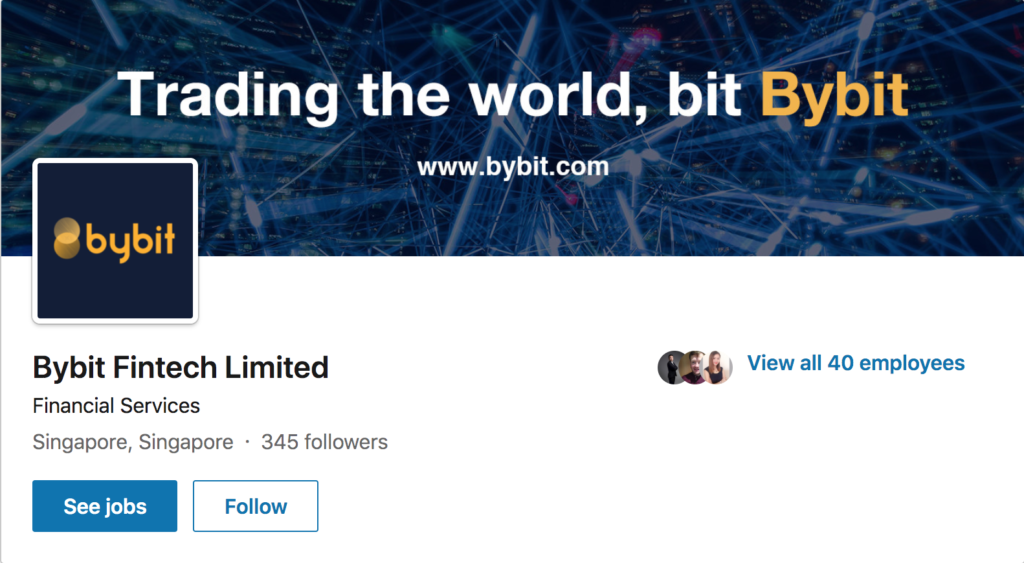 Bybit's core founding team comprises of blockchain investors and financial executives and their R&D team includes members of the BAT project (Basic Attention Token). It's nice to see some familiar names in the company.
Unfortunately, I wasn't able to locate the registration number for Bybit Fintech Limited as it is not public information at this time. The company also owns and operates offices in Hong Kong and Taiwan.
It's also interesting to note that in my research for this review, I found that the CEO of Bybit; Ben Zhou was XM's China district General Manager for 7 years before founding Bybit. XM is one of the world's leading brokers and this gives me faith that Ben has the experience and knowledge to succeed in creating one of the world's most popular margin crypto exchanges. It also makes me feel more safe trading on the exchange as Ben was employed by a highly reputable company.
I'm nice and comfortable with the amount of info available about the company, it seems pretty transparent and legitimate to me.
Creating a Bybit Account
Getting setup with a Bybit account is really easy and takes less than 5 minutes in my experience.
This is largely due to the fact that Bybit doesn't require KYC (Identity Verification) whatsoever.
Register on Bybit.com with this link to claim your $90 welcome bonus instantly. Enjoy no KYC, 100x leverage & more. Claim the offer by clicking here now.
Bybit Sign Up
To register for a Bybit account, head over to the registration page using this link.
Bybit provides two ways in which you can register for an account; email address & phone number – this is a nice touch which gives traders another method of signing up to the exchange.
Select which one you want to use to sign up, enter your details and click the 'Register' button.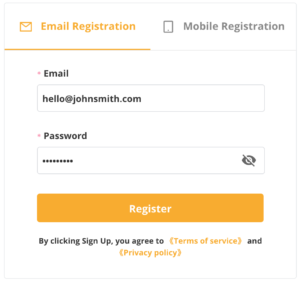 The final step of the signup process is to verify either your email address or phone number depending on which one you used to sign up by copying the code and entering it when prompted on Bybit.com.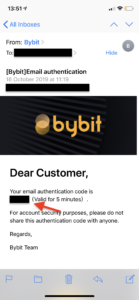 Does Bybit require KYC?
Bybit doesn't require any form of KYC to trade on the exchange. You can even withdraw an unlimited amount without exposing your identity.
Bybit Login
You can log in to your Bybit account 24/7 by going to bybit.com/app/login, entering your details and pressing 'Login'.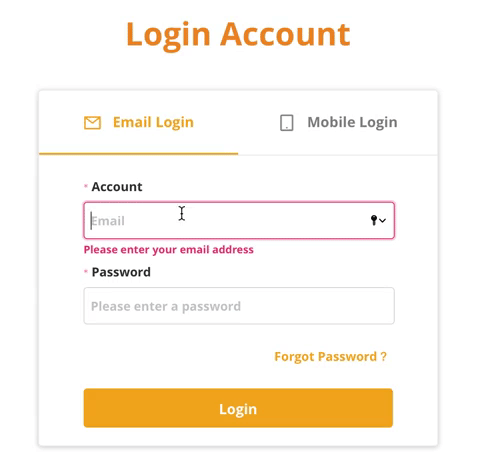 If you've set up 2FA (which you have to withdraw) – you'll have to enter this code upon login too.
Another nice feature is that by default you will receive notifications when a login is made on your account – this is handy for identifying if your account becomes compromised.
How to set up 2FA on Bybit
Possibly the most important and first things you should do with your new account is set up 2-factor authentication.
This protects your account from potential hackers who may try to get access to your hard-earned money.
To set up 2FA on Bybit, follow these steps:
Login to Bybit.com
Go to 'Account & Security'
Scroll down and enable SMS and/or Google Authenticator
Follow the steps as prompted by Bybit to set up 2FA on your account
Now your account is much safer.
Account Features
Bybit is pretty easy to navigate in terms of your account. By going to the main menu and clicking 'Account & Security', you can access your important account information and change the settings.
UID & Username
Your UID (User ID) and Username are used to identify your account. It is handy to know what these are if you have to speak to a support member as it helps them rectify your issue.
Additionally, they can be used to assign bonuses if you win a competition for example.
You can find these details in the main 'Account Information' tab.
Your not actually given a username when you sign up for an account, but you can set one if you want to by clicking the 'Settings' button next to it.

I assume they give you this option in case you can't remember your UID easily – it's preference whether or not you have a username.
Security Settings
This section of your account lets you set and update your 2FA and email authentication.

For maximum security, it is recommended that you enable all three of these options (even though I haven't yet).
I don't think that it is really necessary to use SMS if you use Google Authenticator though, I don't really like giving my phone number away to many people.
Account Activities
Knowing what's happened on your account is a really handy and imperative feature in my opinion. It lets you know if anyone has managed to gain access to your account.
Bybit shows you which device was used, what the action was and at which time the action was completed.

Other Account Settings
There are a few more account settings on Bybit which you should know about.
You can find these under the 'Settings' tab of your main account page.
Here, you can select your currency to display, this will convert your main balance to the equivalent in the currency you choose.
The display currencies available on Bybit are:
GBP
EUR
USD
AUD
CAD
CNY
CHF
HKD
JPY
KRW

You can also change the notification language as well as enabling/disabling certain notifications.
Can you have multiple accounts on Bybit?
Yes, you can have more than one account on Bybit, just sign up with a different email address to create another account.
They don't currently offer sub-accounts, which would be a nice feature to see in the future in my opinion.
Deposit & Withdrawal
Getting money in and out of any cryptocurrency exchange is a priority. The main things I look for are speed, fees and limits.
Making a deposit
There are 4 main deposit methods available on Bybit. This is better than most other cryptocurrency derivatives exchanges which only let you deposit Bitcoin.
Bitcoin (BTC)
Ethereum (ETH)
EOS (EOS)
XRP (XRP)
There isn't a minimum deposit for any of the assets on Bybit and there are no fees associated with any deposit method – I really like this aspect of the exchange, it makes it easy to get started trading on the exchange.
For this review, I did a small test deposit of $15 BTC and it arrived in around 10 minutes which I found pretty impressive.
To make a deposit on Bybit:
Go to 'My Assets' using the dropdown menu
Click 'Deposit' on the asset you want to deposit onto Bybit
Copy your deposit address
Send crypto to the address
Wait a few moments
Your deposit should now show in your account
It's nice to see that you get an email from Bybit you when a successful deposit is made to your account. This means that you can walk away from your device and still know when your deposit arrives.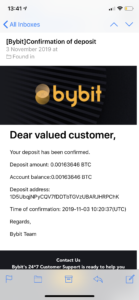 I have to say – Bybit seem to have covered everything!
Register on Bybit.com with this link to claim your $90 welcome bonus instantly. Enjoy no KYC, 100x leverage & more. Claim the offer by clicking here now.
Withdrawing from Bybit
Making a withdrawal from Bybit isn't as easy as depositing, but it's not too bad.
You can withdraw from Bybit with the 4 main supported assets:
Bitcoin
Ethereum
EOS
XRP
One of the only things which annoyed me was the minimum withdrawal amounts and the fees associated with making a withdrawal. This shouldn't be a big problem for most traders, but it's something worthy of note in this review.
I've put together a simple table which displays the minimum withdrawals and the fees for each asset on Bybit for your reference below.
| | | |
| --- | --- | --- |
| Asset | Minimum Withdrawal | Fee |
| Bitcoin (BTC) | 0.002 BTC | 0.0005 BTC |
| Ethereum (ETH) | 0.02 ETH | 0.01 ETH |
| EOS (EOS) | 0.2 EOS | 0.1 EOS |
| XRP (XRP) | 20 XRP | 0.25 XRP |
From the table above, I can conclude that the best way of withdrawing from Bybit in terms of fees and the minimum amount is by using XRP.
Important: Before you can make a withdrawal from Bybit, you need to complete a couple of setup tasks.
Set 2-factor authentication (2FA) in your main account settings
Add your withdrawal addresses here

There are three main steps to making a withdrawal from Bybit once you've decided which asset you will be withdrawing and completing the one-time setup tasks.
Firstly, select the address you are withdrawing to (which you added earlier) along with the amount you'd like to withdraw.
If you'd like to withdraw your full balance, just click the highlighted amount next to the 'Withdrawable Amount' label.

The withdrawal fee is automatically deducted from the amount you withdraw.
Now that you've entered the info, it's time to get submit the withdrawal – just click the 'Submit' button at the bottom of the box.
It's good to see Bybit thinking about security with every aspect of the exchange. You're required to complete verification steps before the withdrawal goes through.
This verification involves entering a code sent to the email address you registered on Bybit with as well as entering your 2FA code.
The final step before the withdrawal goes through successfully is to confirm it by email – this is just a simple link you have to click.
Once you've completed those three steps, your withdrawal should be on its way!
How long does a withdrawal take on Bybit?
Withdrawals on Bybit are made three times per day, 7 days per week.
Your withdrawal will be put into whichever time slot is next, and you should receive the withdrawal around 1-2 hours after completion.
The cut-off time is 30 minutes before the slot, so make sure you get it in over 30 minutes before the times listed below if you want it to be included in that batch.
Here are the times for Bybit withdrawals:
08:00 UTC
16:00 UTC
24:00 UTC
Compared to other exchanges like BitMEX who only process withdrawals once per day, Bybit is in the lead here.
Is there a withdrawal limit on Bybit?
I couldn't find any information from Bybit regarding a maximum withdrawal amount, so I went onto the Bybit Telegram to find out more.
Here was the response I received:
No, there is no maximum withdrawal per day

@Cryptob4c
So, to summarise, there is no maximum withdrawal limit on Bybit.
How to trade on Bybit
Trading on Bybit is simple if you are used to trading on other cryptocurrency exchanges, they even provide a beginners guide to help you get started.
If you'd like to learn a bit more about how to trade on Bybit and what it's like, keep reading.
Bybit is slightly different to a regular cryptocurrency exchange in the fact that you can trade with something called leverage which lets you trade with more than you own – don't worry, I'll go into this in a bit more detail later on the review.
To trade on Bybit, you first have to make a deposit onto the exchange, you can do this by sending one of the accepted cryptocurrencies to your unique Bybit deposit address.
For the purpose of this guide, I used Bitcoin to deposit onto Bybit.
I was pleased to see that the deposit was made quickly and I even got an email notification of the successful deposit.
After you've made a successful deposit, you can now get started making a trade on the platform.
Register on Bybit.com with this link to claim your $90 welcome bonus instantly. Enjoy no KYC, 100x leverage & more. Claim the offer by clicking here now.
To do this, go to the main Bybit trading page by clicking in the 'Trade' button in the top left.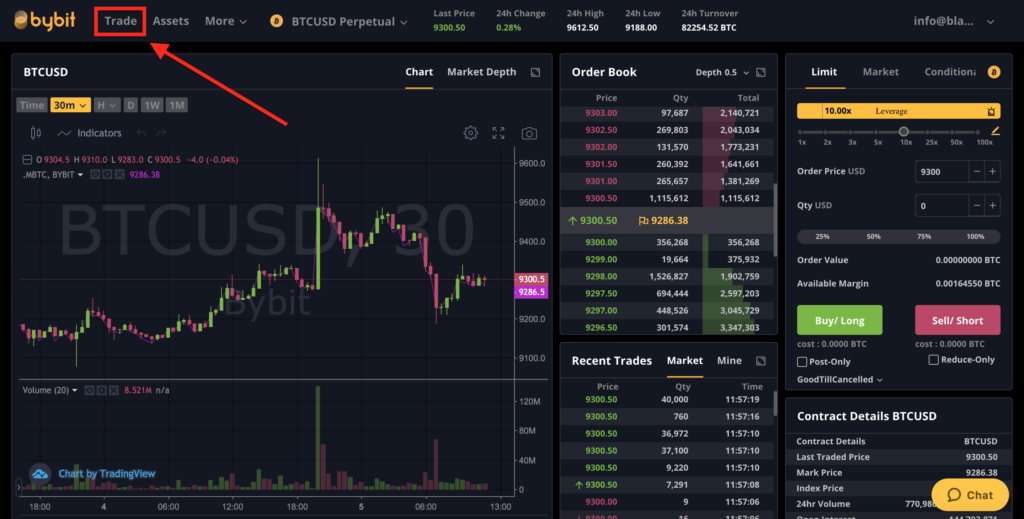 Now that you're on the main trading page, you need to select the asset you want to trade on Bybit, there are currently 4 assets available to trade on Bybit (BTC, ETH, EOS & XRP) but I'm sure they'll be adding more at a later date, after all, the exchange is only almost 2 years old!
For this review, I decided to make a trade on BTC/USD.
You'll see a box on the right-hand side of the chart which is where you make the trade from (you can move these later if you want).
First up, you have to select your order type, leverage, position size and price (not for market order).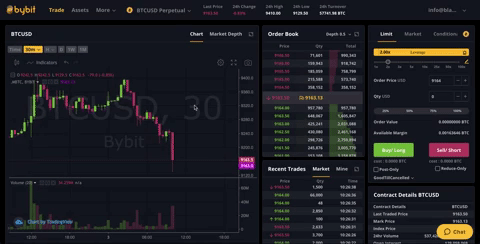 Once you've done that, press the Buy or Sell button depending on which direction you want the trade to be.
After you've done that, you'll see a popup asking you to confirm the trade – I personally check this each time I make a trade on Bybit – you don't want to mess it up – it could be costly!
Confirmed? Great. Now the order will be moved down to the 'Active' box below the main chart where it will wait to get filled unless you did a market order which would mean the order would go to the 'Positions' box instantly instead.

From here, if the order doesn't fill, you can decide to cancel it by using the button on the far right-hand side of the tab.
You can log out at this point if you want, the order will fill automatically if your price is hit.
Once the order completes, it will move over to the 'Positions' tab – the main purpose of this tab is to monitor your positions such as view the current profit/loss as well as exit the position and various other actions.

You'll probably see a lot of screenshots of this page if you're on social media at all and follow crypto traders, they love to boost about large amounts of profit, but be aware, a lot of these are fake!
So now that you've opened a trade on Bybit, it's time to close it.
Now you can close the open position in 2 main ways.
A limit close has lower fees but can take time to close, whereas a market close will close your position at market price and take liquidity from the books; this means that it will cost you more to close the position but it will get done quickly.
Whenever possible, you should try to use a limit order to save money, but it's perfectly normal to need to use a market order, for example when the price is rising/falling quickly and you need to exit the position.
Register on Bybit.com with this link to claim your $90 welcome bonus instantly. Enjoy no KYC, 100x leverage & more. Claim the offer by clicking here now.
Once you've decided which order to make, click the corresponding button.
A pop-up will show asking you to confirm the order.
I'd like to note here that I like the clean notifications you get in the bottom right-hand corner of the screen whenever an order is fulfilled.
Now that you've successfully closed the position, any profit/loss you made on the position will be automatically credited/debited on your account and the trade will move over to the 'Closed P&L' tab – from here, you can see the historic trade details.

That's it; the full process of making a trade on Bybit.
Viewing order history
It's pretty common to want to view your order history for various reasons. Nevertheless, if you need to do it on Bybit, you can do so by using the 'Order History' tab in the main positions box on the trading home screen.
Each order is given a unique ID so that you can reference the order with support for example.
Fees
One of the most important things about selecting the right cryptocurrency exchange is fees (charges).
High fees can reduce your profits as well as eat away at your trading balance – no one wants that.
There's a bit of confusion regarding fees on cryptocurrency derivatives exchanges.
Unlike regular spot (no leverage) exchanges like Binance, derivatives exchanges can incur higher fees because of leverage.
To put it simply, you pay the fee rate on the total value of the trade, not your margin – this means that if you have a $1000 position with 100x leverage you will be paying the fees on $100,000, not $1000.
For this reason, it's important that we find a derivatives exchange with low fees, to ensure that the total amount you pay stays low – this is where Bybit comes in.
Bybit has some of the lowest derivatives exchange fees on the market.
There are two main types of fees on the Bybit exchange, the first being trading fees and the second, funding fees.
Overall, the fees on Bybit are very fair in my opinion.
Trading Fees
Trading fees are split into two categories, maker and taker.
A maker order is when you set a limit order (adding an order to the books).
Read our full guide on Maker Orders here.
A taker order is when you make a market order (taking an order from the books).
In general, the maker fee is almost always lower than the taker fee, and sometimes it is even a positive fee, meaning that you can make money when you make a trade.
This is the case on Bybit, by making a limit order you will earn a 0.025% rebate.
| | |
| --- | --- |
| Bybit Maker Fee | +0.025% |
| Bybit Taker Fee | -0.075% |
Register on Bybit.com with this link to claim your $90 welcome bonus instantly. Enjoy no KYC, 100x leverage & more. Claim the offer by clicking here now.
Funding Fees
Funding fees on Bybit are made every 8 hours – this is the fee you earn/make by borrowing money (using leverage) on the exchange.
The funding fee on Bybit is dynamic, this means that it changes depending on market conditions.
The fee on Bybit is calculated as follows: funding fee = position value*funding rate. Position value = quantity of contract/mark price. For example, at 8:00 UTC you still hold a long position of 10,000 BTCUSD contracts, the mark price now is 4,000 USD. Suppose that the funding rate now is 0.02%. the position value will be 10,000/4,000=2.5 BTC. Then the funding fee is 2.5 BTC *0.02%=0.0005BTC.

Bybit.com
To see the current funding fee on your contract, head to the Bybit trading screen and you'll find it in the 'Contract Details' box along with when the next time for fees is due.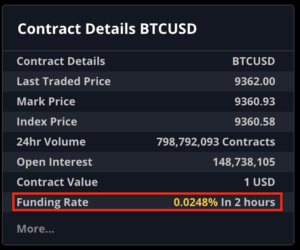 You can read more about the fees with our detailed Bybit Fee guide here.
Leverage on Bybit
Leverage allows you to trade with more than your account balance.
This can increase profits, but also increase losses and therefore should only be used as those who know what they are doing.
It is a high-risk way of trading cryptocurrencies, if you're looking for an exchange without leverage, check out Binance.com.
Maximum Leverage
Bybit offers up to a maximum of 100x leverage, meaning that you can trade with 100 times more than your account balance.
The leverage you can use depends on your position size and the asset you are trading.
Here's a table which shows you the different maximum leverage levels on Bybit's tradable assets.
| | |
| --- | --- |
| Asset | Max Leverage |
| BTC | 100x |
| ETH | 50x |
| EOS | 50x |
| XRP | 50x |
To put this in perspective; if you have 1 BTC on Bybit and open a 100x trade (I don't recommend ever doing this), you will have a trade size of 100 BTC.
This means that if Bitcoin were to go up by $100, you would make $10,000 ($100 x 100) before fees.
But if Bitcoin were to go down by only 1% in value, you would lose your entire 1 BTC (this is called liquidation).
It's an extremely powerful tool but should be used with extreme caution.
Can you change leverage on an open position on Bybit?
Yes, you are able to change the leverage of your position on Bybit once you've opened a position.
If you reduce leverage, you will have more available margin which you can use to open another trade.
If you increase leverage, you will have less available margin.
Cross Margin
Cross Margin is essentially another method of protecting yourself against liquidation when using leverage.
So, does Bybit have Cross Margin?
The answer is yes – Bybit does have Cross Margin, but it's called something different: 'Auto Margin Replenishment'.
I think they have called it this rather than the technical name to make it easier to understand for new traders.
To turn on Cross Margin on Bybit, press the toggle button on the 'Positions' tab.

Once enabled, Bybit will add to your margin automatically if your liquidation price is met.
What is ADL on Bybit?
Bybit has a built-in safety mechanism called ADL (Auto Deleveraging).
The ADL ranks traders based on profit and leverage and decides who should be de-leveraged to prevent liquidation when possible.
This is a pretty unique feature which is revolutionary in my opinion and is just another reason many people prefer to trade on Bybit rather than other cryptocurrency derivatives exchanges.
Learn more about Bybit's Auto Deleveraging system with this Medium article by Bybit.
Bybit AMR
Auto Margin Replenishment is an old feature on Bybit which was replaced by 'Cross Margin'. Here's a detailed guide on how Cross Margin works on Bybit: Bybit Cross Margin Guide.
Register on Bybit.com with this link to claim your $90 welcome bonus instantly. Enjoy no KYC, 100x leverage & more. Claim the offer by clicking here now.
Safety & Security
As I've mentioned in this review already, it's important that we are able to trust a cryptocurrency exchange before depositing and trading on it.
There are a few main things I look for when assessing if an exchange is safe to trade on.
SSL
As expected, Bybit has a full SSL certificate which prevents hackers from being able to access your information.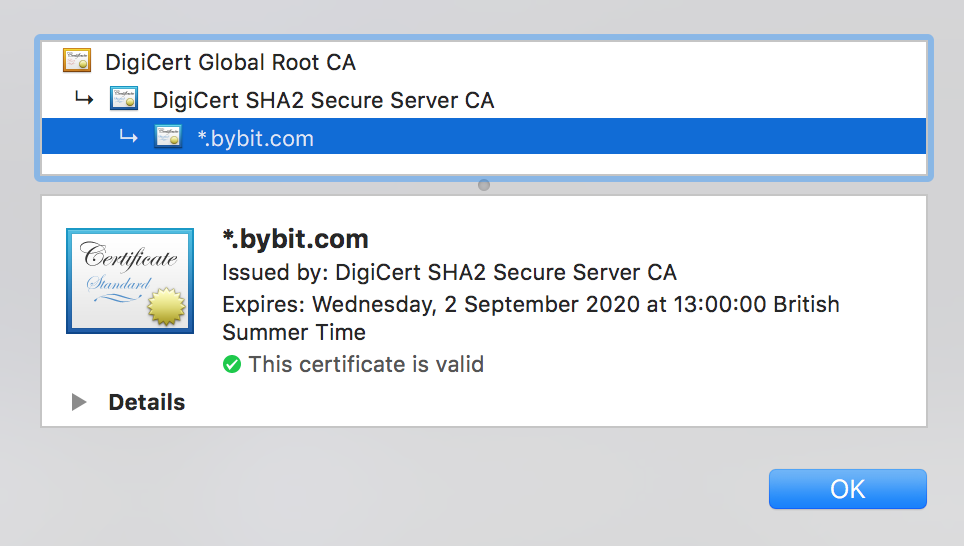 This means that the Bybit website is encrypted and safe to use from a technical standpoint.
The certificate was issued by DigiCert – a leading global SSL provider.
Server Location
The Bybit servers are located in Singapore, where the HQ is located. This helps me trust the exchange since they are being honest about their location.
It's also interesting to note that they use a reliable web host; Amazon.
Transparency
This is the thing which sets the successful crypto exchanges apart from the unsuccessful.
Being transparent ensures better user trust which in turn translates into more traders which means more volume, liquidity and success. It really is the key to being successful.
For this reason, I've checked out to see how transparent Bybit are for the purpose of this review.
I've known about Bybit for a while, so I have a basic knowledge surrounding this topic, but it is interesting to dig a bit deeper.
Firstly, it's great to see that the CEO; Ben Zhou is frequently active on social media, especially Twitter.
He goes under the pseudonym 'Ben Bybit' but is transparent about his real name elsewhere including LinkedIn.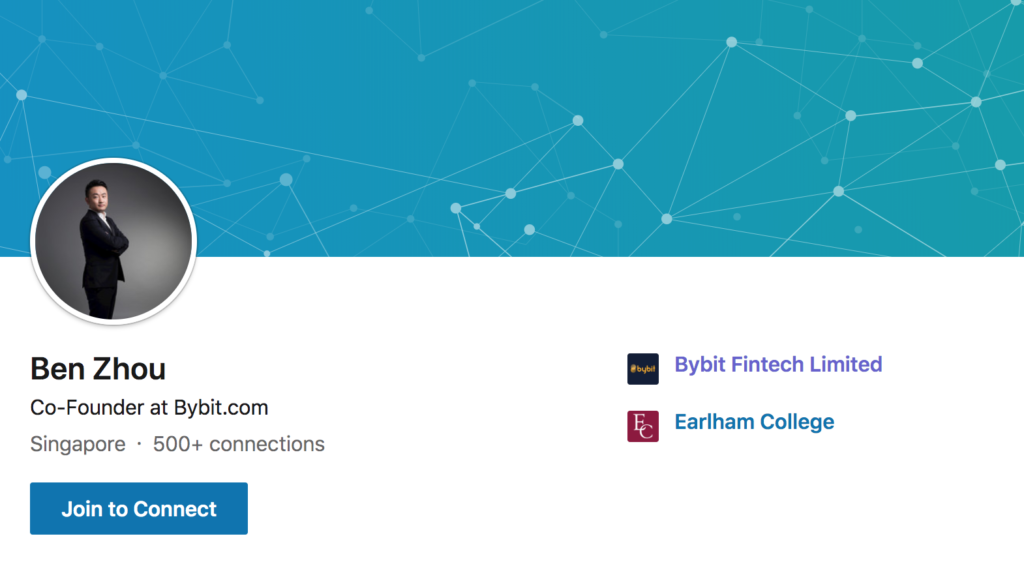 This is nice to see, as it lets us know that he is heavily involved with his exchange and cares about the exchange's success both financially and within the community.
He also attends several conferences and other networking events – so people know his face.
Let's put it this way, it would be hard for someone this exposed to scam thousands of people – someone would most likely be after him.
To conclude, I think that Bybit is a transparent exchange and therefore, can deduce that I feel safe trading on Bybit.com.
Hack-Prevention
As many of you may already know, many cryptocurrency exchanges have been hacked in the past due to lacking security measures and untrustworthy teams.
There are many things that exchanges can do in order to make sure that customer's funds are kept safe.
What measures does Bybit take to prevent hacks?
On inspection, Bybit goes a long way to ensure funds are kept safe from those out there looking to steal your money.
| | |
| --- | --- |
| 2FA | Yes |
| Email Verification | Yes |
| Manual Withdrawals | Yes |
These measures taken by Bybit add to my confidence with trading on the exchange.
Reputation
The final aspect of Safety & Security I would like to address in this review is the reputation that the exchange carries with its customers.
I've heard a lot of good things about Bybit from Social Media including a large number of positive tweets surrounding the exchange.
Another thing I noticed is that a lot of friends of mine who have previously only ever traded on BitMEX (a competitor of Bybit) have moved over to Bybit, as they feel that it is one of the only ones to meet the high standards offered by other professional exchange.
Overall, it seems to offer one of the best exchange options on the market at the moment especially since it hardly ever has downtime when others do.
Register on Bybit.com with this link to claim your $90 welcome bonus instantly. Enjoy no KYC, 100x leverage & more. Claim the offer by clicking here now.
Risk Management
Bybit also uses a wide range of risk management strategies to ensure that your funds are kept safe and that your trading is uninterrupted. Here are the main risk management features on Bybit:
Deterministic Cold Wallet System – ensures users funds cannot be hacked easily
Dual Price Mechanism – Bybit's index price derives from 3 different exchanges; Coinbase Pro, Bitstamp, and Kraken (33.3% each) to ensure that trading remains fair and smooth
Contract Loss Mechanism – Bybit's insurance fund and Auto-Deleveraging ensures that in the case of any issues occur, users funds are protected
Countries
Bybit is a global cryptocurrency derivatives exchange, although, there are some restricted countries which are prohibited from trading on the exchange.
This is largely down to differences in regulation and laws surrounding the digital asset trading industry.
Supported Countries
United Kingdom
Germany
France
Australia
Canada
Italy
Spain
Brazil
China
Japan
India
Portugal
Norway
Sweden
Netherlands
Austria
Switzerland
Peru
Argentina
Ukraine
Ireland
Romania
Poland
Belgium
Restricted Locations
United States of America
Québec
Singapore
Cuba
Crimea
Sevastopol
Iran
Syria
North Korea
Sudan
They also mention that: "any other jurisdiction where the Services offered by Bybit are restricted, you also understand and acknowledge that you are prohibited from holding positions or entering into contracts at Bybit."
Read more about Bybit's banned countries with our detailed guide.
Register on Bybit.com with this link to claim your $90 welcome bonus instantly. Enjoy no KYC, 100x leverage & more. Claim the offer by clicking here now.
Liquidity
One of the things most traders look for with a crypto exchange (especially the ones with big balances) is what the liquidity is like.
This is important as it allows traders to have less slippage which means more profits – and that's why people trade right?
According to many traders, liquidity is one of Bybit's fortés.
Bybit is suitable for beginner traders right through to the advanced with $1M order values.
Order Types
There are many different order types on cryptocurrency exchanges aimed at making a traders life easier and ideally, increasing profits.
The order types available on Bybit are as follows:
Limit
A limit order on Bybit is where you select a price at which you want your order to be at. This is useful for when you think the price may reach a level before moving in the opposite direction – therefore providing you with a (potentially) better entry-level.
Market
A market order is effectively an instant order, as soon as you hit the button, your order will go through. As I've mentioned earlier in this review, it is ideal for when you need to exit a position quickly but shouldn't be used frequently since you have to pay higher fees.
Conditional
A conditional order does what it says on the tin. It fulfils an order when an event which you specify occurs, for example, you can tell Bybit to close one of your positions if the price reaches a certain level.
You may be more familiar with the 'Stop Loss' order type – they are fairly similar.
Under each of the order types listed above, there are other customisable order options which let you refine the order to suit your trade most effectively.
Post-Only
This means that even if your limit price is going to take liquidity from the books, it will still process as a maker order – thus ensuring that you will only pay a maker fee.
To enable this, just check the box at the bottom before submitting your order.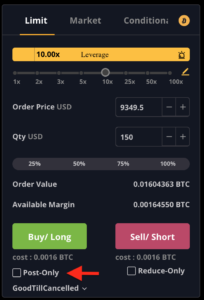 Reduce-Only
The Reduce-Only order type makes sure that the order will only reduce your position, not increase it. It's another safety feature for the order types.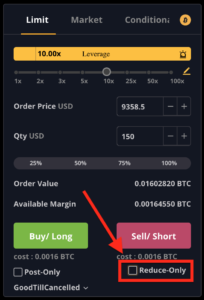 Close On Trigger
This sub-order option is only available on the 'Conditional' order tab.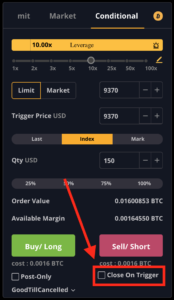 What does it do? It ensures that your stop-loss reduces your position regardless of any other open orders.
GoodTillCancelled
'GoodTillCancelled' is an order option which means that your order will remain open unless you cancel it or it gets filled.
You can select this option under the order submission buttons.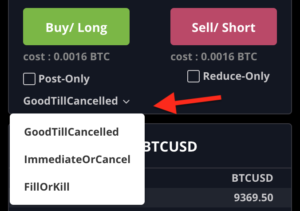 ImmediateOrCancel
This one does exactly what you think it does – if the order doesn't go through immediately, Bybit will cancel it.
You can change this using the same drop-down selection box shown above for GoodTillCancelled.
FillOrKill
This order will cancel it if your order is not filled with one trade, essentially it means that your order will be completed quickly, or not at all. This is useful for traders with large positions.
You can learn more about this and the other order options on this Bybit help page.
Bybit Charts
All charts on Bybit are provided by TradingView – one of the world's leading trading chart software companies.
I was pleased to see that Bybit has gone with a quality chart supplier like TradingView since most traders are extremely familiar with the way they work.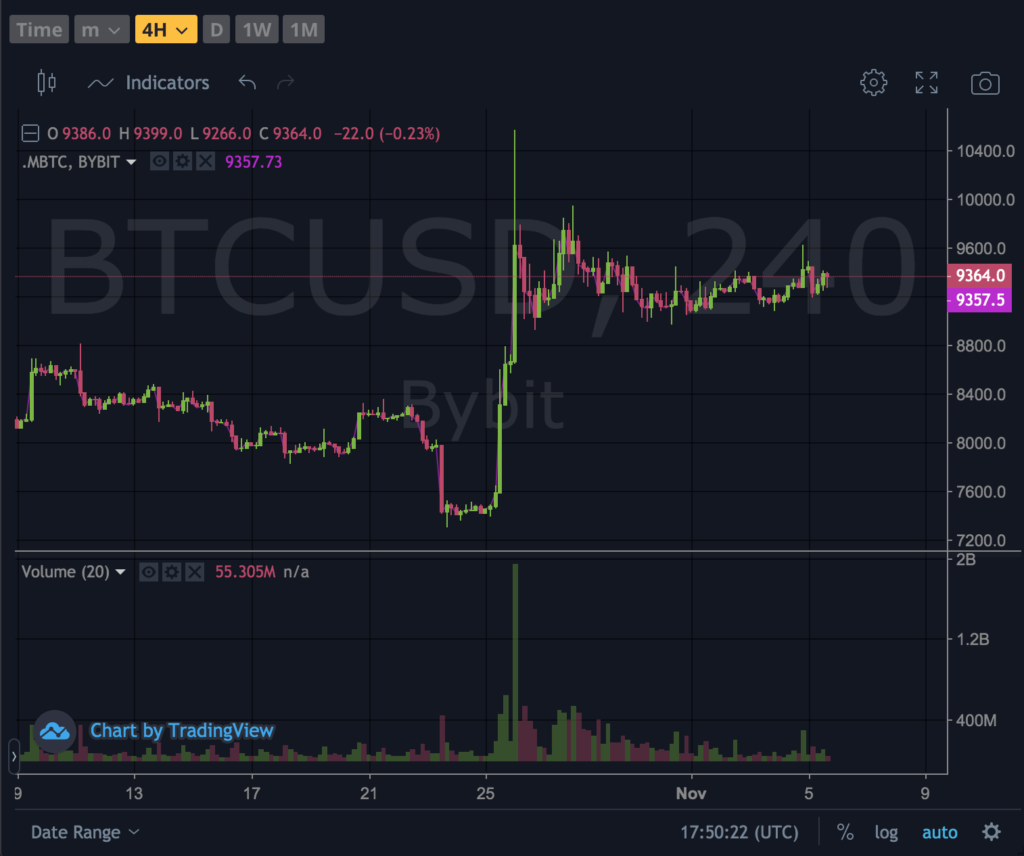 The charts are also super intuitive in terms of design, it makes it just that bit easier to draw trend lines and use indicators on the Bybit exchange.
I also have to note, I really like the colour scheme they've gone for – not only does it look edgy, it's nice and easy to interpret the price action.
Moreover, you can directly access Bybit charts from TradingView.com thanks to the Bybit & TradingView integration.
Testnet (demo account)
The Bybit testnet allows you to use all the features of Bybit without having to risk your real crypto.
In simple terms, the Testnet is a demo account.
To try out the Bybit testnet, visit testnet.bybit.com/app/exchange/BTCUSD.
It's not necessary to use the testnet before opening a live account, but it is there for those who need it.
Register on Bybit.com with this link to claim your $90 welcome bonus instantly. Enjoy no KYC, 100x leverage & more. Claim the offer by clicking here now.
Referral Program
Similarly to many other cryptocurrency exchanges, Bybit has a unique referral program which allows you to earn money by inviting your friends to trade on Bybit with you.
Here's the main information you need to know about the Bybit Referral Program.
| | |
| --- | --- |
| Bonus | $10 |
| Limit | No |
| Requirements | Referred user deposits at least 0.02 BTC |
Bybit also offers an affiliate program whereby you can earn 30% of referred users fees – this is different from the referral program.
To signup for a Bybit Affiliate Account, click here.
If you'd like to learn a bit more about the Bybit affiliate program, check out our full Bybit affiliate guide.
Bybit App
Trading crypto on the go has become extremely popular recently with the launch of the Binance & Coinbase crypto trading apps.
It allows traders to make the most of opportunities since they have constant access to a global market.
Bybit has both IOS & Google Play apps which you can download at bybit.com. If you'd like to read more about the Bybit mobile app, check out our full guide.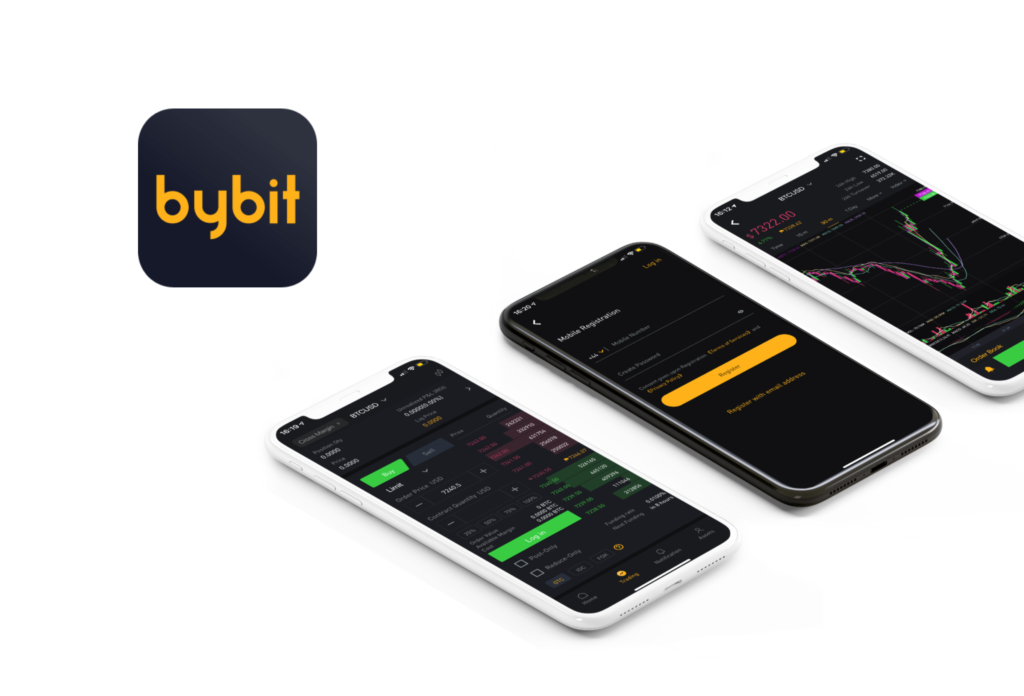 Design
Bybit's design is slick, to say the least. I'm a big fan of the colour palette they've chosen to work with as well as the logo and general branding.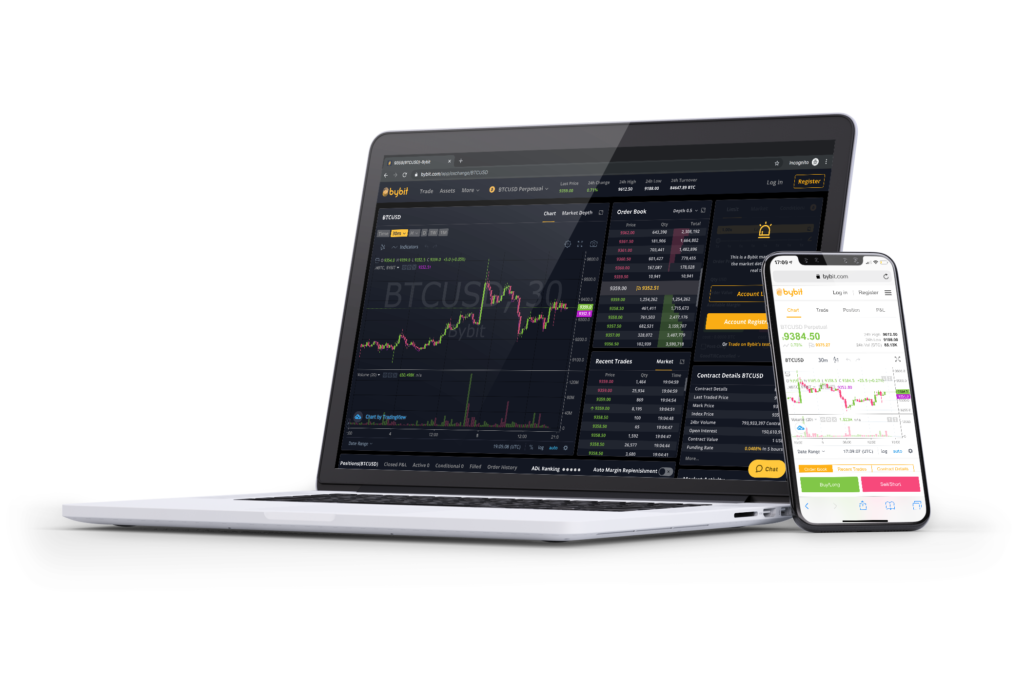 I've got to admit – it's incredible in comparison to a lot of other exchanges like FTX for example (FTX is a great exchange, don't get me wrong, but it's not a looker).
Register on Bybit.com with this link to claim your $90 welcome bonus instantly. Enjoy no KYC, 100x leverage & more. Claim the offer by clicking here now.
Bonuses & Promotions
Bybit is renowned for offering decent bonuses and promotions. You can claim $90 worth of Bitcoin (BTC) welcome bonuses by clicking here.
Customer Support
Now we're all aware of how important customer support is with any online service, but this premise is far more relevant when it comes to cryptocurrency exchanges.
Due to the nature of the platform, it's inevitable that people will need help.
The thing which separates the good from the bad when it comes to crypto exchanges is how these issues are dealt with.
With that in mind, let's take a look at Bybit's support system.
If you don't want to read about the support and are just looking for the info, use the table below.
Register on Bybit.com with this link to claim your $90 welcome bonus instantly. Enjoy no KYC, 100x leverage & more. Claim the offer by clicking here now.
Help Center
Like a lot of other exchanges, Bybit has the main help center which comprises of detailed articles & guides about everything to do with the exchange.
If you have an issue on Bybit, this is where you go first – your answer may well be easy to find there.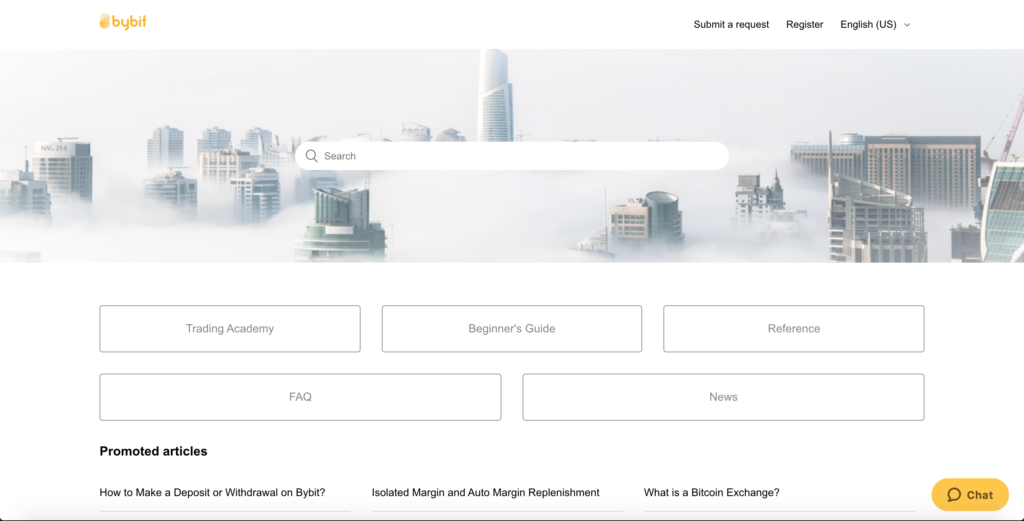 From the Help Center, you can also submit a support request as well as opening a live chat.
The Help Center was easy enough to locate, it's at the bottom of every page on Bybit.com.
Live Chat
As I mentioned above, Bybit does indeed have a live chat option. This is by far my favourite way of getting support with any service as it's quick and easy.
You can start a live chat on Bybit from any page on the website.
Bybit uses Zendesk software for their Live Chat, it's functional and simple to use.
Overall, the Bybit customer support system is comprehensive, fast and easy. It gets an A+ from me.
Conclusion
To summarise, Bybit is brilliant cryptocurrency derivatives exchange in my opinion. It's suitable for a wide range of traders and caters for even the most in-experienced.
The highlights for me would have to be the liquidity, design & security.
Like anything, I do however think there is room for improvement with some aspects of the exchange. Mainly, regarding the minimum withdrawal limits, I think there shouldn't be any, some traders like to remove small amounts from the exchange. There is a workaround to this whereby you could just deposit more and then withdraw the whole amount but that's an extra hassle.
Overall, I would recommend the exchange to anyone who is interested in trading cryptocurrencies with leverage – I personally use the exchange and it is quickly becoming my favourite.
To stay up to date with the latest news about Bybit, bookmark the Bybit Blog and subscribe to their telegram group chat.
If you liked this review and found it helpful, feel free to share it with others and if you have any comments or questions at all, feel free to leave them below – I'd love to help out where possible.
Register on Bybit.com with this link to claim your $90 welcome bonus instantly. Enjoy no KYC, 100x leverage & more. Claim the offer by clicking here now.