CEX.IO Broker is a platform for the cryptocurrency margin trading via contracts for difference (CFDs). CEX.IO Broker is a part of the CEX.IO ecosystem. Initially CEX.IO was a cryptocurrency mining pool but has since become a platform that offers an access to a wealth of other services.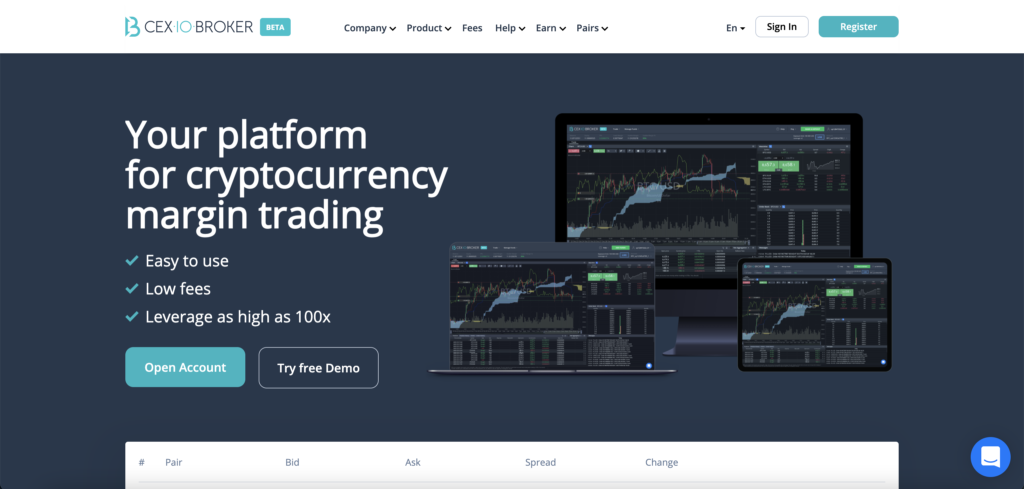 Currently, CEX.IO ecosystem services include:
Summary: What is CEX.IO Broker?
CEX.IO Broker offers margin trading with contracts for difference (CFD) on various assets such as cryptocurrencies, traditional currencies, stocks of technology giants such as Tesla and Apple, and other, and precious metals (gold and silver). CEX.IO Broker is currently available in nearly 200 countries around the globe. Being a part of the CEX.IO ecosystem brings this platform some specialties. For example, by having an account at the CEX.IO website, you can immediately log into CEX.IO Broker.
The great thing about the CEX.IO Broker is that it is very easy for a beginner trader to understand, but there is advanced functionality that makes it a good trading platform for those with more experience as well.
CEX.IO Broker is a platform that makes it very easy for you to trade the assets on margin by providing a user interface that is simple and intuitive. However, remember that when you choose the option for margin trading, you are trading a Contract For Difference. Trading a CFD means that you are not trading the actual asset, but agreeing with the platform to pay or receive the difference in price when you decide to end the trade.
You can also find CFDs on other assets including traditional currencies, stocks, and gold. If you plan on trading crypto and also want to whet your appetite for traditional financial markets, then CEX.IO Broker can be a great platform.
CEX.IO Broker Features
Let's take a look at some of the important features of CEX.IO Broker. Both in terms of trading and the additional features offered.
Ability to trade on margin with leverage from 2x to 100x.
Multiple markets: cryptocurrencies, traditional currencies, stocks, and metals available for CFDs trading.
Fees in line with most major platforms + 0% deposits and withdrawals from and to CEX.IO.
An easy to use user-interface that still offers advanced features for traders.
Aggregated liquidity from the world's largest exchanges, providing fast order execution of any size.
One person can create up to 10 accounts.
Risk-management tools – Stop Loss and Take Profit orders.
Cross margin and isolated margin.
A plethora of technical analysis tools and the ability to personalize your chart.
Free Demo account.
When it comes to features, the only thing that CEX.IO Broker falls behind in is the number of digital assets available for trading on the service. Yet, they are constantly adding new markets, so the list of the available trading assets is growing.
Trade with leverage. You can enhance your trading volume by using leverage. You can choose from the range of leverage options from 2x to 100x.
0% fees on transfers within CEX.IO ecosystem. So you can deposit friends form your CEX.IO account as well as withdraw your gains from CEX.IO Broker to CEX.IO wallet with 0% commission.
Trade CFDs on various assets. At CEX.IO Broker, you can trade CFDs on cryptocurrencies, traditional currency pairs, stocks of major companies, and metals – all of those gathered on one trading platform.
Aggregated liquidity. CEX.IO Broker provides order execution of any size. It's possible thanks to aggregating liquidity from the world's top exchanges.
Multiple accounts. You can make up to 10 accounts at CEX.IO Broker. This is convenient when you want to choose various base currencies and leverage levels as well. You can also test different trading strategies on each account and track their returns separately.
Cross margin and isolated margin. The ability to use cross margin means that you can fill the margin requirements of one position by using the profit and balance of another position. Meanwhile, isolated margin applies between different accounts of yours meaning that the balance of one account cannot satisfy the margin requirements of another one.
Technical analysis tools. You can add professional tech analysis tools without calculating them yourself. CEX.IO Broker offers a list of tools like MACD, Bollinger lines, Oscillators and so on. You can add them in a few clicks. They will appear like visual lines on the chart.
Risk-management tools. Apply Stop Loss and Take Profit features to set the limits of the prices at which your order executes. By doing so you can make sure that you won't lose more than you can afford to lose and also you fix your profit. By using risk-management tools at CEX.IO Broker, you can achieve the exact planning and execution of your strategy.
Free Demo account. It is possible to try using CEX.IO Broker without using your money by trading on a free Demo account. It includes all the variety of tools and functions that Live account has – tech analysis, fully customizable chart, risk management tools, and more.
CEX.IO Broker Fees
CEX.IO Broker has different fees for different markets. One advantage of using the CEX.IO Broker is that you pay 0% fees on deposits and withdrawals. This is not true for numerous other exchanges, including some of the major brokerages.
For trading, the fees vary based on the assets you are trading. For cryptocurrencies, there are an open fee, close fee, and rollover fee. For example, there is a 0.05% fee on order open, 0.05% on order close, and a 0.06% fee per 24-hour rollover. However, fees do vary slightly depending on which asset you are trading.
Is CEX.IO Broker Legit?
One of the biggest advantages of using the CEX.IO Broker is that you do not have to worry about whether it's legitimate or not. As a part of the CEX.IO ecosystem, CEX.IO Broker has been designed taking into account the approach and standards of the CEX.IO experts have established and follow.
CEX.IO is a reliable regulated exchange that exists since 2013. Being the pioneer in the crypto exchange market, it has now become one of the world's leading platforms for trading, buying, and storing cryptocurrencies. That's why we can rightfully expect that its brainchild CEX.IO Broker holds on to the same high standards when it comes to the legality and reliability of its operation.
CEX.IO Broker Security
CEX.IO Broker has all of the security features in place. You can set up 2-Factor Authentication for increased security of your account. The website is fully EV SSL compliant, and all your trades and data are encrypted. Also, customers' funds are kept in cold wallets, so you can be sure about the security of your money.
CEX.IO Broker Support
The customer support team at CEX.IO Broker seems to be a capable one, and the platform gives you multiple options for contacting them. Currently, you can either open up a support ticket through e-mail or utilize the live chat feature on their website.
The average response time for the CEX.IO Broker is less than two hours, and customer reviews regularly applaud their team for answering and solving queries quickly.
Lastly, the CEX.IO Broker has a very robust portal — Knowledge base — that can help users get started and solve many of their problems without even having to get the support team involved.
Conclusion
CEX.IO Broker is a great CFD margin trading platform for someone who wants to be sure that they are trading in a secure and reliable way. It is ideal for those that have been involved in traditional investments previously but want to try cryptocurrency trading. As well as for the crypto enthusiasts who want to be a part of the traditional financial markets too.