CEX.io is an all-in-one global cryptocurrency exchange platform which operates from the United Kingdom. The exchange offers multiple different products which are available to users worldwide. CEX.io is one of the earliest Bitcoin & cryptocurrency exchanges and has gained a good reputation since it's inception.
In this CEX.io review, I'll uncover the exchange platform and answer a few main questions like; 'Is CEX.io safe to use?', 'What are the fees and charges like?' and 'Is CEX.io right for you?' in order to help you find the information you need, all in a completely unbiased and honest manner.
To kick us off here is some basic information about the CEX.io exchange:
| | |
| --- | --- |
| Name | CEX.IO |
| Official Website | cex.io |
| Logo | |
| Founded | 2013 |
| HQ | London |
| CEO | Oleksandr Lutskevych |
| Mobile App | Yes (IOS & Android) |
| Regulated | Yes |
Oh, and before we jump into the review, I want to mention that CEX.io was the first exchange I ever used to trade cryptocurrencies. I don't use it that much anymore just because of personal preference, but it is a great way to get started with Bitcoin and cryptocurrency trading.
This review is going to be very different to any other ones you'll read online because I won't just be spewing out facts about the exchange, I'll also give you my unique personal insight on it because I would have really appreciated honest reviews of exchanges when I started out, but they just weren't available!
Also, as a side-note, I want to say that if you use some of the links in this review to sign up to CEX.io, Blockduo will earn a commission from the trades you make on the platform, these funds help us provide more content like this, so we would really appreciate it that if you find the content useful, that you use our links, but we also understand that you might not want to use the affiliate links, so here is a link to the exchange without our affiliate code: cex.io.
Anyway, enough of the prelude, let's dive into the CEX.io review.
About CEX.IO: Exchange Overview
CEX.io began life as a London-based Bitcoin cloud mining platform in 2013 and has evolved into a complete online cryptocurrency exchange service with over a million users. The exchange serves as one of the world's few licenced places which you can use to buy and sell digital assets with multiple payment options.

Company Information
The CEX.IO exchange is owned by CEX.IO LTD, a registered company in the UK with registration number 08757996 and company address 24th Floor One Canada Square, Canary Wharf London E14 5AB, United Kingdom. CEX.io is VAT registered (GB 307261820).
All of this information is publically available on the CEX.IO about page. As a regulated exchange, it is good to see that they are being transparent. It's also nice to have a physical place of contact to help you feel like you have somewhere to go should you need to.
I did a quick check on Companies House (the UK's business directory) and was able to validate the information provided on their website. You can also view CEX.IO's certificate of incorporation here.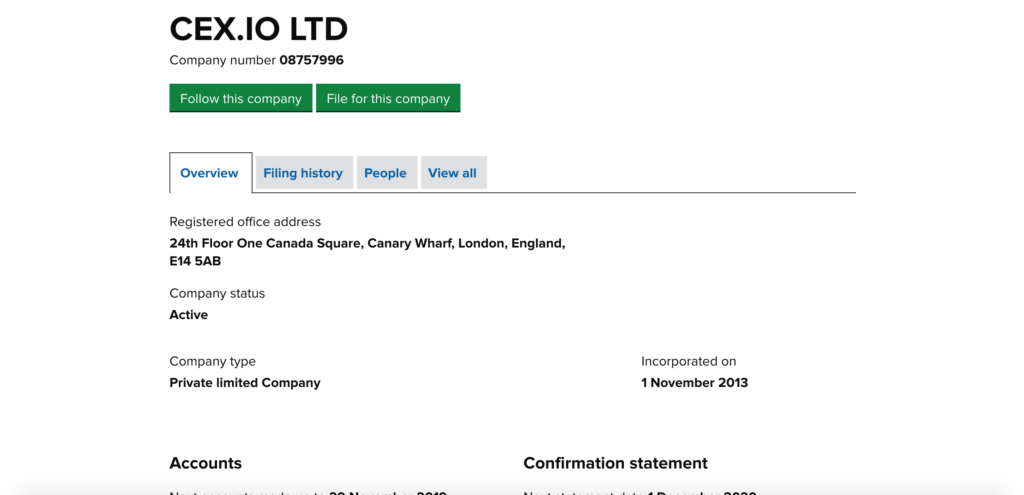 Regulation & Licences: Is it legit?
Since CEX.IO provide financial services, it needs to be licenced and adhere to strict regulations in order to operate legally. The exchange doesn't have to just be regulated in the UK, but also in other jurisdictions where it wishes to operate (where necessary).
CEX.IO is an authorized electronic money institution with the FCA (Under Decent Finance Limited) in the UK and licenced by FinCEN in the US to legally provide financial services.
In addition to the main financial licences which are required by law, CEX.IO is also PCI DDS compliant (for payment cards) and registered with the ICO (data protection).
As you can see; CEX.IO has all it's ducks in a row when it comes to the legal stuff. For this reason, I feel as if the exchange is completely safe to use and I wouldn't have any hesitation in using it frequently.
Who's behind CEX.IO?
So we now know that CEX is a legal cryptocurrency exchange, but you might be wondering; who is actually behind it? I didn't know this information prior to writing this review, so I did some research and here's what I found:
The CEO of CEX (sounds weird, I know) is Oleksandr Lutskevych. Oleksandr founded CEX.IO back in 2013 and has stayed with it ever since, which shows that he is dedicated to the company. Before founding CEX, Oleksandr worked on his own private IT projects, according to LinkedIn.
In addition to Oleksandr, some of the other notable faces at CEX.IO are Marketing Head Eugene Kovalyk, CEX.IO US CEO Alexander Kravets and Operations Lead Irina Kirichenko. As you can see, CEX has a fairly diverse team who are based all over the globe.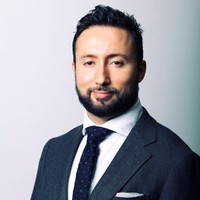 Who is CEX.IO for?
Cryptocurrency exchanges vary massively and usually aren't a 'one-size-fits-all' service. One person's perfect exchange could be very different from another's.
CEX.IO exchange is for people who:
Are looking to trade cryptocurrencies on a regulated exchange
Are located in the USA, EU & the UK among other countries
Need an exchange which is suitable for beginners right through to experienced traders
Like to have the option to trade on mobile devices
Would like multiple payment options
Want to buy Bitcoin with credit/debit cards with low fees
Those are the main groups of people who I feel that CEXIO is appropriate for.
Products & Services: What can you do on CEX.IO?
One of the things I love about CEX is that it doesn't just offer one thing like some exchanges, they provide several different products with one set of login details (SSO). This is handy as you can complete the whole crypto trading process in one place, unlike some others which only provide one service (e.g crypto to crypto trades). CEX.IO lets you buy cryptocurrency with cards right through to letting you exchange Altcoins on a liquid market with their advanced exchange. CEX.IO's main products are as follows:
Instant Buys
You can buy 11 different cryptocurrencies instantly with credit/debit cards on CEX.IO with their 'Instant Buy' exchange. The cryptocurrencies you can buy instantly on CEX are BTC, ETH, BCH, BTG, DASH, LTC, XRP, XLM, TRX, BTT and MHC. If you're a complete novice, this is a quick and easy way to hold of some cryptocurrencies securely. Once you've got some more experience trading, you should use a more advanced exchange like Coinbase Pro to buy crypto, you'll pay fewer fees, but if this is your first time getting some Bitcoin or crypto, I would recommend using CEX.IO instant buys.
Advanced Exchange
CEX.IO's second main product is their advanced cryptocurrency exchange which features live charts and order books as well as different order types like Limit Orders which let you set orders at set prices rather than buying instantly. You can also use the exchange to exchange cryptocurrencies directly with BTC, without having to verify your identity, so that suits those wishing to stay private. To trade cryptocurrencies on CEX.IO, go to cex.io/trade. I find CEX.IO's exchange interface quite clunky and think some improvements could be made there to make it more user-friendly, but it is completely functional which is all that matters at the core.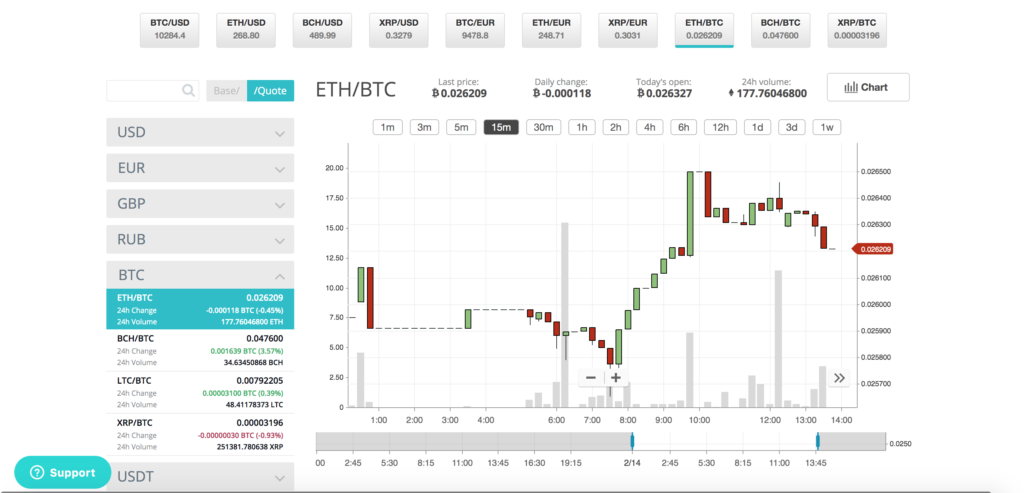 CEX.IO Broker: Margin Trading
CEX.IO's latest product is a margin trading platform which allows you to trade a few different cryptos with leverage (CFDs). This means that if you are a good trader, you can increase profits by trading with more than you own by borrowing money. If you're new, it's recommended that you stay away from this if you're not sure what you are doing as it involves higher levels of risk. I haven't personally used this margin trading platform as I use Bybit frequently and am happy enough with that. If you want to try out CEX.IO Broker, you need to register for a regular account on cex.io and then use those details to login on broker.cex.io. The broker version of CEX.IO also provides a demo account which you can use to try out the exchange without having to risk your real funds.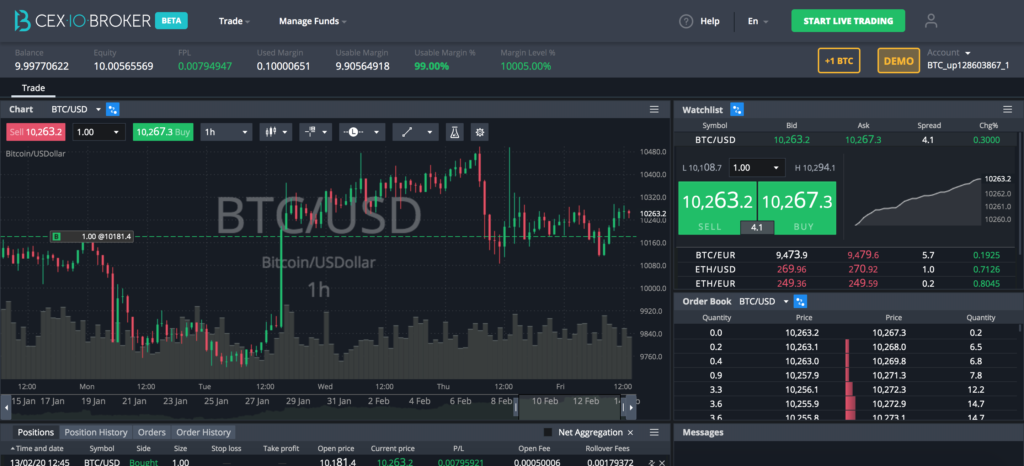 Fees & Limits
Some cryptocurrency exchanges are just money pits which charge ridiclously high charges and just wipe out any profits you do make, so it's vital that you know exactly what the fees are when choosing a cryptocurrency exchange. In addition to this, it's good to be aware of any limits that exist for your account. I'll be covering CEX.IO's fees and limits in this section of the review and letting you know how they match up to other exchanges in the industry.
CEX.IO Fees
CEX.IO charges different fees for the different services on the exchange. As you know from earlier in this review, you'll know that CEX.IO offers an instant buy platform, and advanced exchange and a margin exchange. Here are the fees for each of the different products on CEX.IO:
| Platform | Fees |
| --- | --- |
| Instant Buy | 2.99% |
| Advanced Exchange | 0.25% Maker / 0.16% Taker |
| CEX.IO Broker (Margin Trading) | 0.05% + 0.03 % Rollover |
CEX.IO's commissions are very reasonable in my opinion and not far off other exchanges like Coinbase for example. You can trade on CEXIO knowing that you're not paying more than if you were on other exchanges, which is good to know.
Tip: There's a little trick which you can use to get lower fees on CEX.IO, keep reading the review to find out (it's near the bottom).
With regards to deposit and withdrawal fees, CEX.IO doesn't charge any deposit fees for bank transfers in any currency but for withdrawals, you pay 0.3% + $ 25.00. If I can give you a quick tip, I wouldn't use CEX.IO to withdraw fiat currencies like USD, EUR or GBP – I would instead withdraw cryptocurrencies so you pay much less in fees. You can then send the crypto to another exchange with free withdrawals like Coinbase and avoid the hefty fiat withdrawal fees charged by CEX.IO (just my personal tip).
CEX.IO Limits
So, what are your limits when trading on CEX.IO – is there a maximum or minimum amount you can deposit/withdraw?
Your limits on CEX.IO vary depending on the level of verification you have completed. The initial limits for unverified accounts are 0 for fiat currencies but unlimited for cryptocurrencies. Once you've completed basic ID verification on CEXIO, you'll be able to deposit/withdraw 1,000 USD worth of fiat daily and 3,000 USD of fiat monthly. If you then prove your address, you won't have any daily or monthly limits at all on the CEX.IO exchange.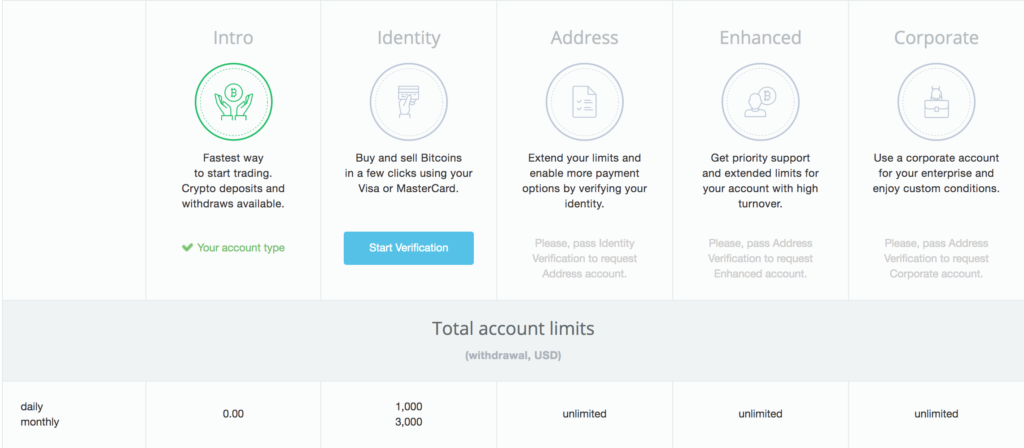 The limits above are for credit/debit card deposits/withdrawals on CEX as well as bank transfers. For more information on CEX.IO's limits, visit cex.io/finance/limits-commissions. I think that the limits on CEX are pretty reasonable, if you're just using the exchange to trade crypto and deposit/withdraw with crypto, you don't have any limits whatsoever which is nice, and I also like the fact that they don't ask for any proof of income as standard as some exchanges do which can be very frustrating and lengthy.
Security: Is CEX.IO Safe?
What would be the point of trading if your funds were just going to be stolen? Finding an exchange with good security measures is vital if you want to have the peace of mind that your funds are safe. In this part of the review, I'll be reviewing CEX.IO's approach to security and looking into detail at the different security features they have in place to protect users of the exchange.
Here is a list of CEX.IO's security features:
2FA (Google Authenticator or SMS)
Multi-sig hot & cold wallets
PCI DSS Card Protection
FDIC Insurance up to $250,000 USD for US residents
Private key encryption
Secure physical access (24/7 surveillance, alarms, reinforced doors etc.)
Server segregation
Here's an infographic produced by CEX.IO which highlights the key features of their security practices and standards: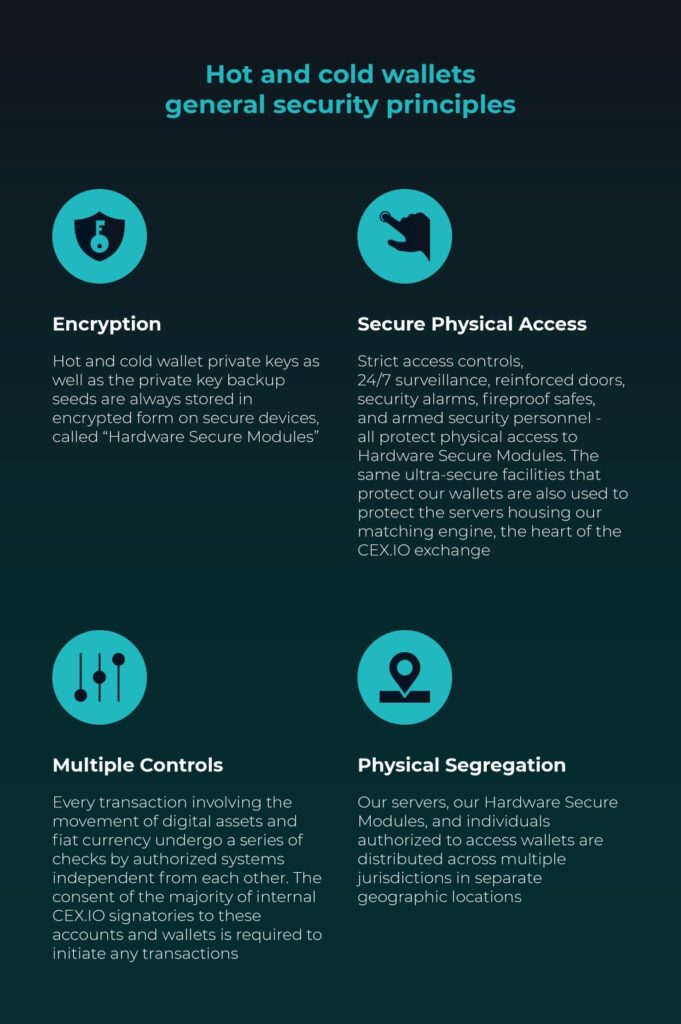 This blog post on CEX.IO goes into much more detail about the security of the exchange: blog.cex.io/product/security-of-clients-funds-at-cexio-2-19890.
To conclude this section of the review; yes, CEX.IO is a safe exchange for trading cryptocurrencies with multiple different areas of security including physical access prevention.
Verification
If you want to use CEX.IO with fiat currencies like GBP, USD or EUR and not just cryptocurrencies, you'll need to complete some verification checks which are necessary in order for the exchange to remain compliant with laws in multiple jurisdictions. When I verified my ID on CEX.IO (several years ago), I found it an easy and quick process and imagine that it is still as such, anyway, I'm going to give you some information on the verification process on CEX.IO now.
There are two different levels of ID verification; ID & Address
You don't have to provide proof of address, but you should if you don't want any limits on your account
ID verification requires either an international passport, government-issued national ID card or driver's licence and an SSN if you are in the US
To complete basic verification, you'll need a camera (either your phone or computer) to take a selfie
Verification on CEX.IO takes around 1-3 days
If you want to see the full process before getting started, check out CEX.IO's full verification guide.
Coins: What can you trade?
Now that we've been through all the boring stuff, you probably want to get stuck in with the trading. CEX.IO doesn't offer that many trading pairs in my personal opinion, hence I don't really use it anymore, but if you like trading any of the cryptocurrencies listed there, there is no reason not to use it, I like the extra protection you have when using CEX compared to other unregulated exchanges like Binance. Anyway, here are the supported cryptocurrencies (coins) on CEX.IO:
Bitcoin (BTC)
Ethereum (ETH)
Bitcoin Gold (BTG)
Bitcoin Cash (BCH)
Litecoin (LTC)
XRP (XRP)
Basic Attention Token (BAT)
Tezos (XTZ)
DASH (DASH)
Stellar Lumens (XLM)
OmiseGO (OMG)
MetaHash (MHC)
Tron (TRX)
BitTorrent (BTT)
Cardano (ADA)
Neo (NEO)
GAS (GAS)
Cosmos (ATOM)
Ontology (ONT)
Ontology Gas (ONG)
Some of the cryptocurrencies on CEX aren't available to trade in select countries and verification levels, so you might not be able to see some of the coins in the list above in your account.
Register & Login
Registering on the CEX.IO exchange is simple and takes roughly two minutes (if you're super slow). All you need to register on the exchange is an email address, a password of your choice and a mobile phone (for SMS verification). To register on CEX.IO:
Go to cex.io/register
Fill in the registration form
Click 'Create account'
Verify your email address
That's it – you now have a CEX.IO account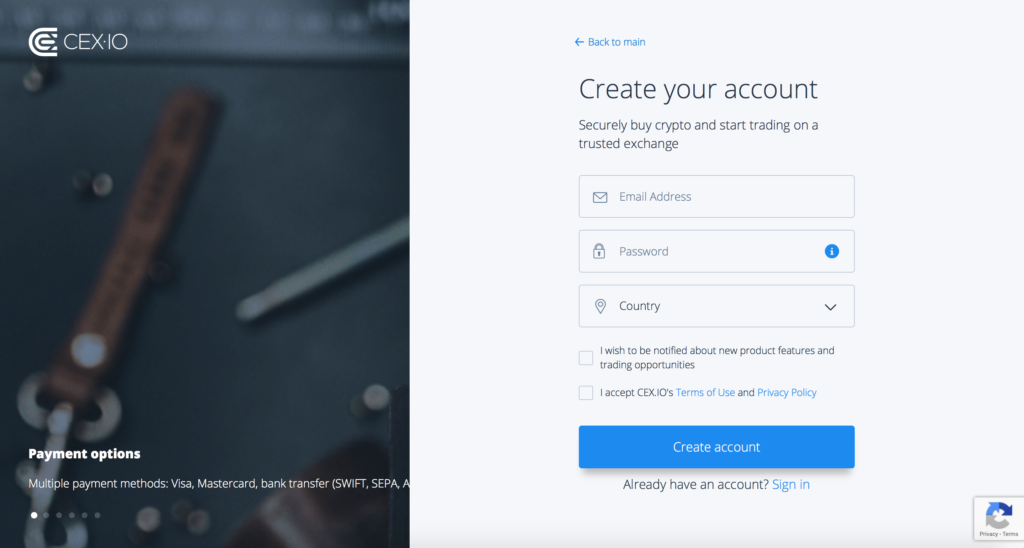 Told you, it's a quick process and there are no annoying steps you have to take to get into your account.
Once you've set up your account, you can log in to it by clicking here.
Deposit & Withdrawal
CEX.IO has a pretty simple deposit/withdrawal process. Once you've set up your account you'll be able instantly deposit and withdraw cryptocurrencies and then once you've verified your identity, you'll be able to use the fiat (USD, GBP, EUR) payment methods to make deposits and withdrawals on the CEX.IO exchange.
To make a deposit or withdrawal (cashout) on CEX.IO – click on the corresponding button from the account dashboard, select which payment method you want to use and then proceed to make the transaction using the instructions provided.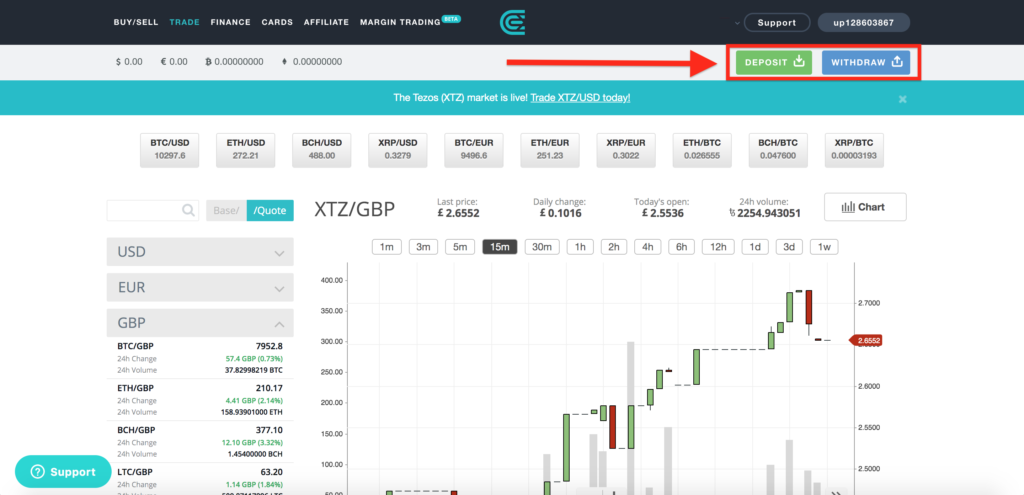 I like the way that when you are making your transaction, CEX is transparent about any fees incurred along with any limits. I'm sure you have more burning questions about banking on CEX, so here are some of the most frequently asked questions, answered by me;
Are there any deposit fees on CEX.IO?
There are no deposit fees on CEX.IO for cryptocurrency deposits or bank transfers but there is a 2.99% deposit fee for card payments.
How long do deposits take?
It depends on which method you use and some other factors but as a general rule; cryptocurrencies shouldn't take any longer than an hour to credit on your account, card payments are instant and bank transfers take a few business days.
What's the withdrawal time?
Similarly to deposits, withdrawals made with cryptocurrencies are up to an hour but card and bank withdrawals take a few business days.
What are the withdrawal fees on CEX.IO?
The withdrawal fee on CEX.IO depends on the withdrawal method you are using. You will be shown the exact withdrawal fee on CEX.IO before making your withdrawal.
Banking on CEX.IO: My Experience & Thoughts
I've successfully made several deposits/withdrawals on CEX.IO and have had no trouble whatsoever – the experience is easy. There is, however, one thing I would like to see changed with deposits/withdrawals on the exchange and that is the addition of tab which shows pending deposits and withdrawals, I always like to see that the funds are moving for my peace of mind – but that's just a small thing in the grand scheme of things I guess.
Wallet
CEX.IO has a built-in multi-currency (sorry for the hyphen overload!) cryptocurrency wallet which lets you store, send and receive cryptocurrencies completely free of charge. You can use the wallet without using the exchange, so it's actually quite a good way of securing your coins as you will be insured in some countries like the US – who doesn't like free insurance?
To view your wallet balances on CEX.IO and deposit/withdraw from those wallets, go to the 'Finance' tab from the main menu at the top of your account dashboard. You'll then see your entire account balances in fiat and cryptocurrencies. This part of your account is also where you'll redeem a voucher code if you have one.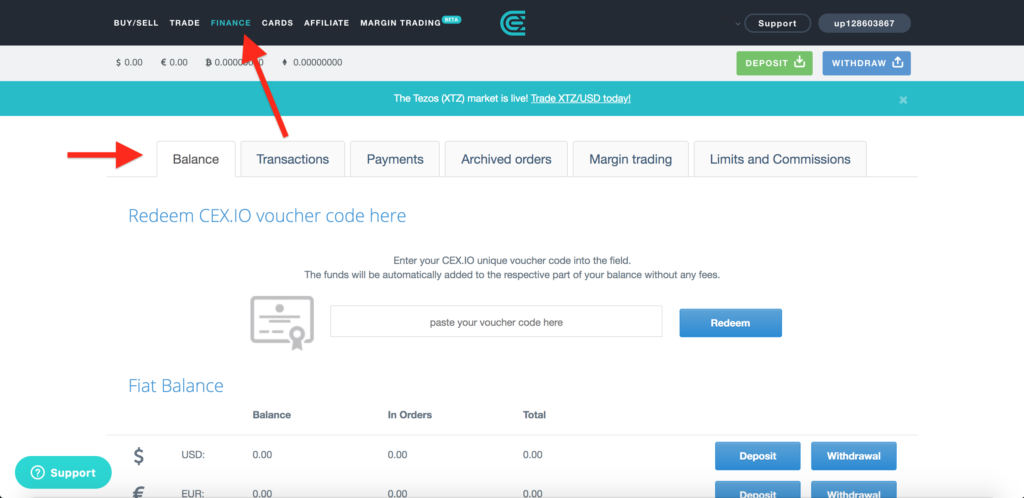 The wallet is easy to access and provides clear information about your account funds, there's not really much more I can say about it – it does the job!
Customer Support
If you ever run into any issues when using a crypto exchange, it's always nice to know that there is someone you can talk to that can help you out. I can't tell you how many countless awful support teams I've used in the past – I think it's possibly one of the most frustrating things about trading.
One time, I couldn't even log in to my account with an exchange (no CEX.IO) because of a system glitch. I never got a reply from the support after several requests and the issue was only resolved when I went public with the issue. So, that probably gives you an idea about how important it is to use an exchange with a good support system.
CEX.IO offers 24/& live support via an online helpdesk which you can access at https://support.cex.io, it lets you read guides and submit support tickets. Since they are a compliant company, you can also contact them via phone or email directly, I have put the details for you below in a table.
CEX.IO Phone Number & Email
I've used the CEX.IO support team once before and got a reply within the hour, so I don't have anything bad to say about it. You shouldn't have any issues with CEX.IO support as they have to comply with laws unlike a lot of other exchanges.
Age Limit
In order to trade on CEX.IO, you have to be at least 18 years of age, this is due to the high risks involved with trading on the digital asset market.
Languages & Countries
CEX.IO is a global cryptocurrency exchange, although not all countries are allowed, there are some which are restricted, check out the lists below for more information on which countries are allowed and which are restricted. With regards to languages, CEX offers English, Russian, Chinese, Italian, Spanish and Portuguese – use the drop-down menu next to the support button to change the language settings.
CEX.IO Countries
CEX.IO supports all countries except for; Afghanistan, Bosnia and Herzegovina, Bangladesh, Bolivia, Burundi, Democratic Republic of the Congo, Central African Republic, Cuba, Algeria, Ecuador, Ethiopia, Iraq, Iran, Iceland, Cambodia, North Korea, Laos, Lebanon, Libya, Morocco, Nepal, Pakistan, Somalia, South Sudan, Sudan, Syria, Uganda, Vietnam, Vanuatu, Yemen, Zimbabwe.
Supported Fiat Currencies
CEX.IO supports a few different fiat currencies. Fiat currencies are currencies controlled by governments like the Dollar or Yen for example. The currencies on CEX.IO are:
I would like for CEX.IO to offer more currencies like CAD and AUD for instance in order to reach a more global market, but they have the most basic and common ones covered.
Mobile App
If you've traded crypto before, you'll know just how handy it is to have an app for an exchange, it means that you can monitor, open and close trades on-the-go which is vital in such a volatile market in my opinion. Most exchanges do offer mobile apps including CEX.IO, which has an advanced and easy-to-use mobile app for both IOS & Android devices. I'm now going to take a more detailed look at the CEX.IO mobile app and give you the download links so you can get started with it. Here's what the app looks like: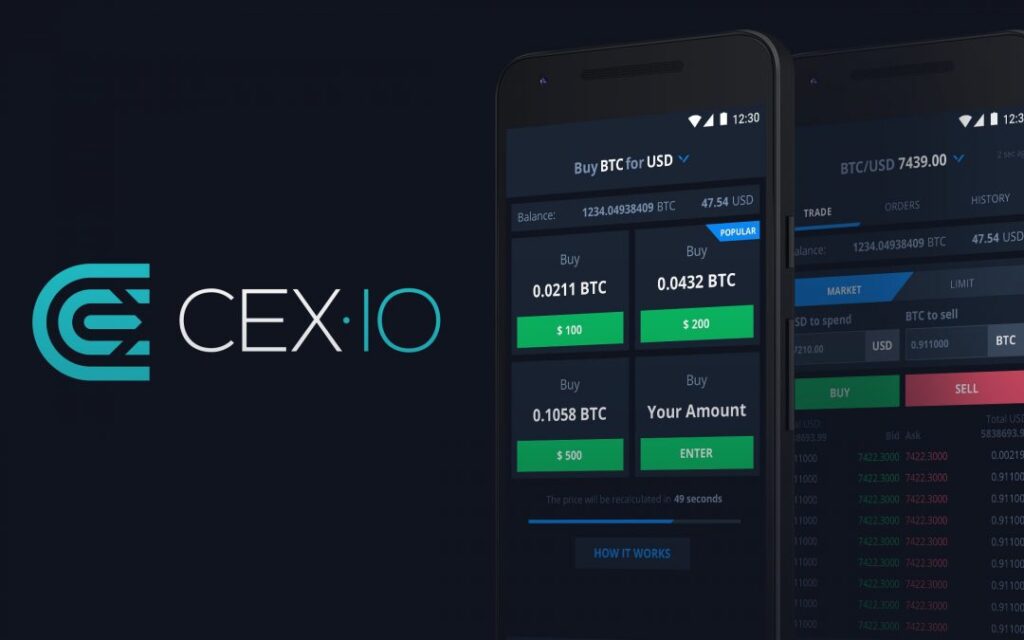 You can do everything that you can do on the CEX.IO web platform on the mobile app, including buying cryptocurrencies instantly with bank cards and trading cryptocurrencies on the CEX.IO advanced exchange with order books and charts.
To download the CEX.IO mobile app for your device, click the appropriate link below (make sure you have signed up on cex.io first).

Affiliate Program
If you have a reach, no matter how small (even if it is just a couple of friends), you might be interested in learning about CEX.IO's referral program. The program lets you earn by referring customers to the exchange. You don't even have to have a proper business to sign up, all you have to do is register for a regular account on cex.io and go to the 'Affiliate' tab at the top. Once you're there, you can grab your unique referral link and banners. Share this link with people (on chats or on your blog for example) and then you'll earn a percentage of the commissions they generate for CEX.IO.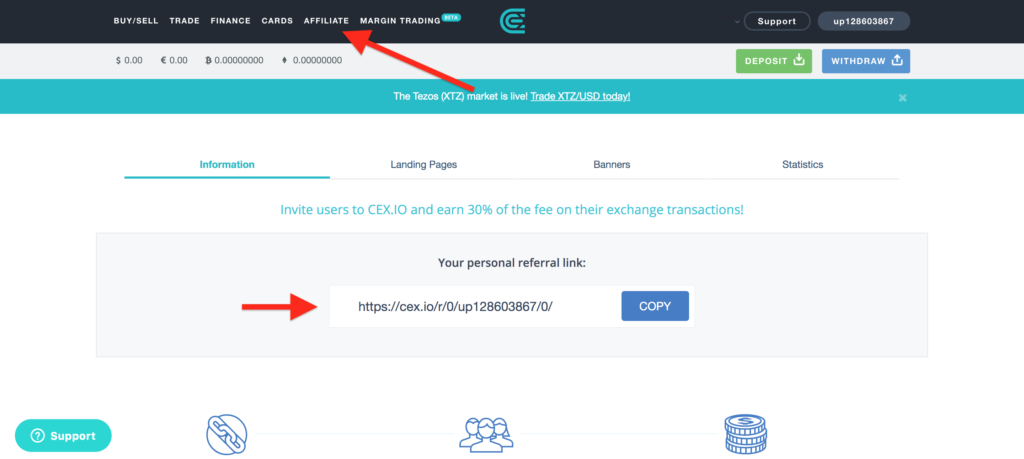 I've personally not earned anything yet from CEX.IO's affiliate program, but I can assure you that it works, I know a few others who have earned some decent amounts from it.
Staking
If you've not heardd about staking before, don't worry, it's not that difficult to understand on a basic level. It's esneitally a form of interest (except you don't have to lend) in the crypto market which allows you to earn a passive income just by holding coins in a wallet. You can do this by yourself with wallets like Guarda but this can be confusing for some people, esp[ecially those new to crypto.
In order to make staking easier for the average person, CEX.IO offers a completely custodial staking solution which means that all you have to do is deposit your coins and they'll pay out your rewards into your account.
To stake your coins with CEX.IO just deposit stakeable assets in your CEX.IO account, they'll take care of everything else. To learn more about CEX.IO staking go to staking.cex.io.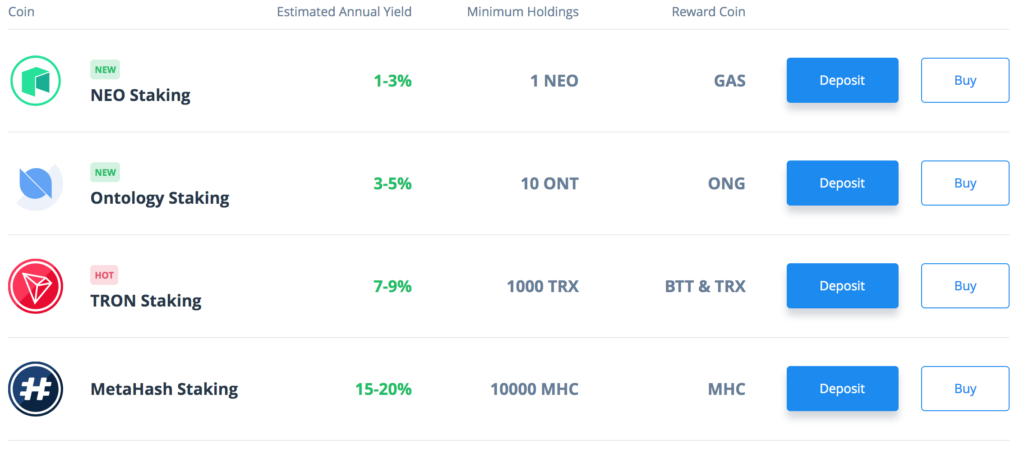 I have to say, I'm a big fan of this feature. Although it does have it's drawbacks like less annual yield (they take a fee) and it doesn't ring true with the decentralised nature of cryptocurrencies in that CEX.IO stakes your coins for you. On the other hand, it makes the process easy for people and hence increases the awareness and use of cryptocurrencies in a wider market.
Bonus & Offers
In order to stay compliant, most regulated exchanges don't offer any bonuses or promotions, although there is one thing they can offer which is discounted trading fees.
To get discounted trading fees on CEX.IO, trade more frequently. The more you trade, the cheaper the fee gets thanks to CEX's loyalty program.
Here is a table which shows the different levels of fee reductions on the CEX.IO cryptocurrency exchange: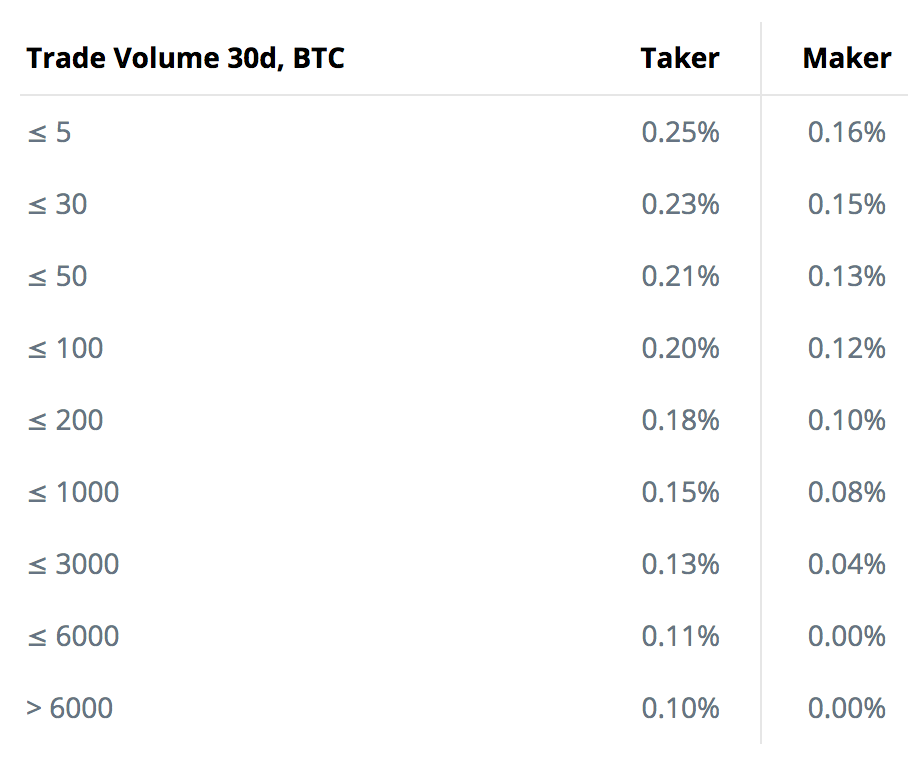 Reviews
CEX.IO has an average rating of 'Great' on Trustpilot, a leading trusted review website. There are over 2,000 individual customer reviews on CEX.IO, most of which are positive. I completely agree with this if I take into account my personal experience with the exchange – it does what it says on the tin and hasn't got any shady business practices (that I know of!). Let's take a look a t a few of the customer reviews of CEX.IO on Trustpilot.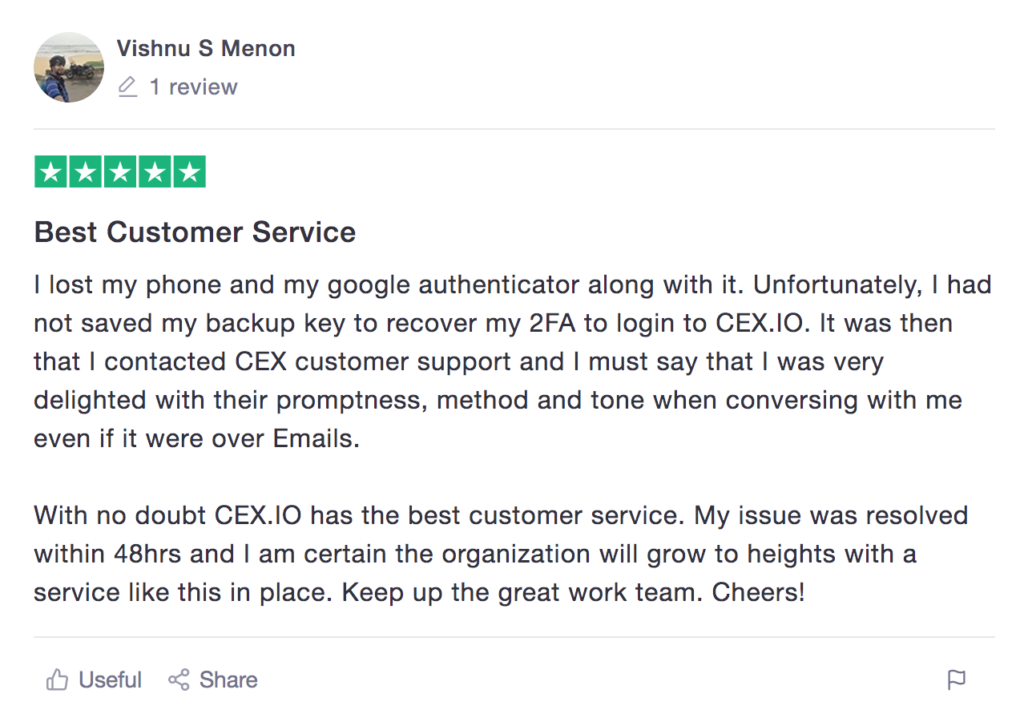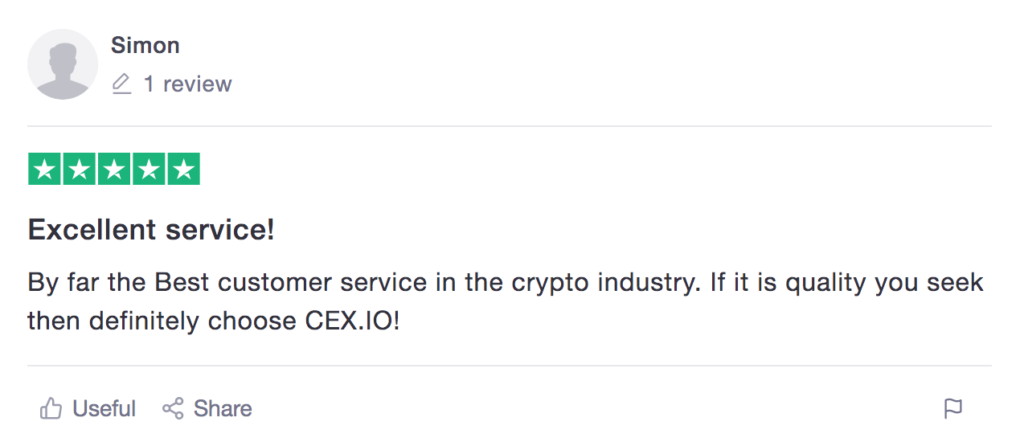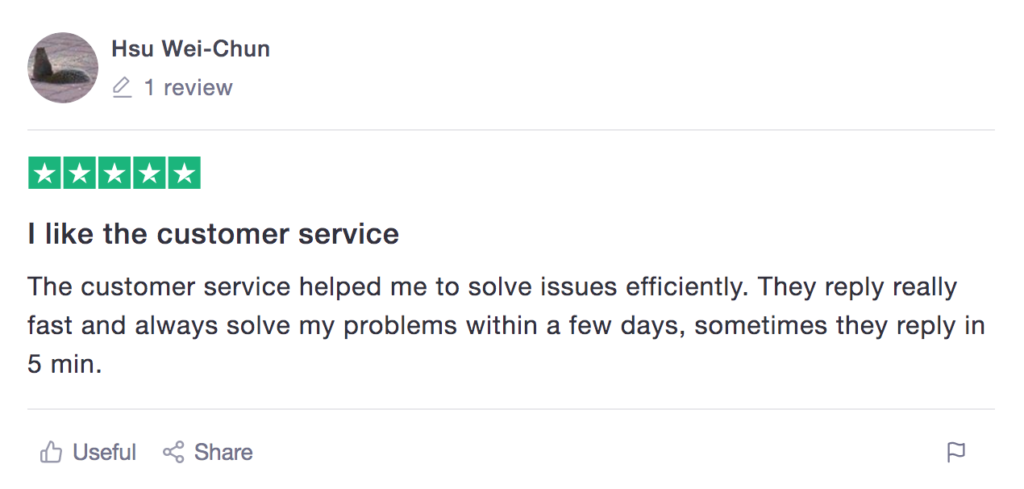 One thing I noticed about the majority of reviews is that they commended the CEX.IO support team on being diligent and sorting out issues quickly – it really makes the exchange stand out in a crowded market with such good support.
CEX.io Review: Is it a good exchange?
The verdict. What do I think about CEX.IO? Is it a good exchange for trading cryptocurrencies? In short – yes, CEX.IO is a good cryptocurrency exchange. some of the highlights for me include the regulation and stellar support team. With regards to things that let me down about the exchange, I would like to see some work done on the design, it looks a bit dated in my opinion, but as I said earlier in this CEX.IO review, the main thing is that it works.
CEX.io FAQs
Does CEX.io accept PayPal?
No, CEX.io does not accept PayPal deposits or withdrawals.
Does CEX.io have a demo account?
No, the main CEX.io website does not offer a demo account, however, CEXIO's margin trading platform CEX.io Broker does offer a demo account, you can get started with it here.
Does CEX.io support faster payments?
Yes, CEX.io supports faster payments for customers located in the United Kingdom when using GBP.
How long does verification take?
According to cex.io, verification takes 1-24 hours.
Can you use CEX.io in New York?
No, the use of CEX.io is prohibited in the state of New York.
Does CEX.io accept Revolut?
No, you cannot top up or withdraw from your CEX.io account with Revolut cards since they don't support financial services platforms at this time.
Can you use Skrill with CEX.io?
Yes! You can make deposits and withdrawals with Skrill on CEX.io.
Does CEX.io accept prepaid cards?
Yes, CEX.io does accept prepaid cards, although they have stated that they are sometimes unsuccessful and you are better off using a regular debit or credit card.
Does CEX.io work in USA?
Yes, you can used CEX.io in the USA as it is registered with FinCEN.
Does CEX.io work in India?
Yes, CEX.io works in India for buying Bitcoins and other cryptocurrencies.
Does CEX.io report to the IRS?
It is unclear whether or not CEX.io directly reports to the IRS or not, but you can use tools like TaxBit to file your tax report efficiently.
Why is CEX.io asking for SSN?
CEX.io will ask you for your Social Security Number (SSN) if you are a US citizen in order to comply with regulations which allow them to operate in the USA.
Is CEX.io a scam?
No, CEX.io is widely regarded as a safe cryptocurrency exchange regulated in several countries.
Can you use CEX.io without verification?