In this review, I'll be checking out the ChangeHero cryptocurrency exchange which is based in Hong Kong. ChangeHero provides a simple way to swap cryptocurrencies instantly.
Unlike other review websites, I hope you're able to get a lot of value from this article as I have actually tried out the exchange and will give you my complete, unbiased opinion about it and include vital information you need to know before using ChangeHero.
In order to get a general overview of the platform, I will give you some basic facts about ChangeHero first.
| | |
| --- | --- |
| Name | ChangeHero |
| Official Website | changehero.io |
| Logo | |
| Founded | 2016 |
| Company | Herofintechs Ltd |
| Location | Hong Kong |
Unfortunately, I wasn't able to find information about the CEO of ChangeHero nor any of the team members behind it, and when I reached out to them they told me they couldn't give me info about it since it is a 'decentralised organisation'. Anyway, that doesn't really matter since it is a non-custodial service which means that they never actually hold your coins, you have full control.
What is ChangeHero?
In a nutshell, ChangeHero is a cryptocurrency exchange and swap service which you can use to swap between different cryptos instantly and buy them with credit/debit cards through a third-party service called mercuryo.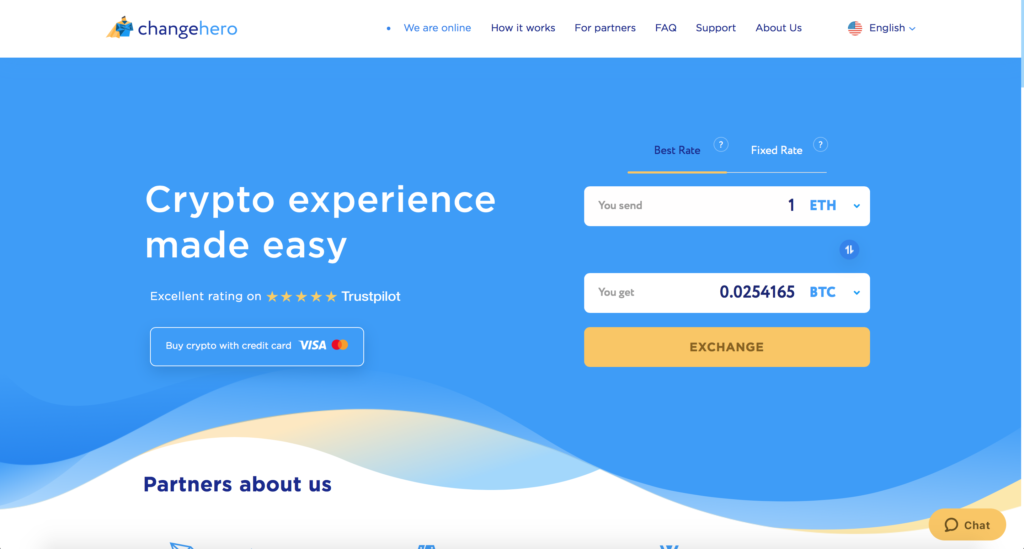 According to LinkedIn, the company behind ChangeHero, Herofintechs Ltd, was founded in 2016 and the exchange service began operating in 2018.
There are many other similar services on the market which offer the same thing like Changelly and ChangeNOW for example, so what does ChangeHero bring to the table in this crowded sector?
Main Features
At the core of its operations, ChangeHero has a few main principals which it sticks to in order to provide a popular crypto exchange service.
Anonymous
24/7 support
Transparent fees
Transaction tracking
Limitless – exchange as much as you like
No registration
Non-custodial
Linked with Poloniex and Bittrex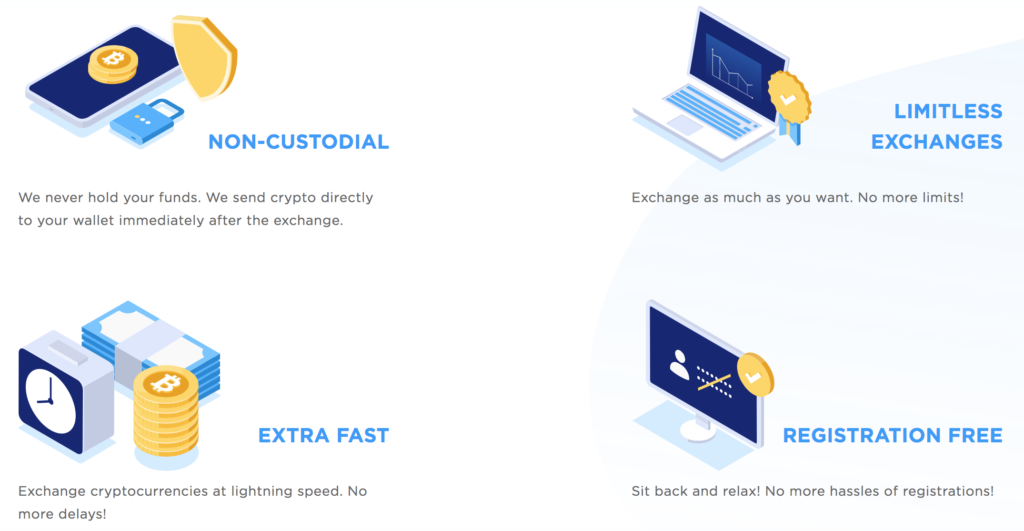 How does ChangeHero work?
When you make a crypto exchange on ChangeHero, your funds are sent automatically to exchanges like Bittrex where they are exchanged and then sent back to you in the form of the coin you chose at the beginning of the transaction.
So, in essence, ChangeHero acts as a middle-man which takes the hard work out of the exchange process for you, you don't have to sign up to any exchanges or make deposits/withdrawals etc.
This makes the exchange ideal for people who don't have much time, don't trade frequently and want to stay anonymous.
If you want to trade cryptocurrencies more frequently, you would be better off using an exchange like Binance which has much lower fees and also doesn't require ID verification to use its platform.
Security: Is ChangeHero safe?
When you're dealing with cryptocurrency platforms, you have to be extra careful in making sure that it isn't a scam as there have been several which have lost people thousands. With this in mind, before you use ChangeHero, it's important that you are aware of the security features in place to ensure that your funds don't go missing. I carried out some research to find out whether or not you can trust the ChangeHero exchange and here are the results.
ChangeHero is known as a safe cryptocurrency exchange since it is non-custodial which means that you are control of your funds during the process and not another company.
To further extend to this statement, I have personally used ChangeHero successfully and can contest that I was not scammed (no funds were stolen) in the process of making an exchange on the platform. Additionally, ChangeHero is rated 'Excellent' on Trustpilot by people that have used it, so you can be pretty sure that they are not pulling a scam.
ChangeHero Fees
Speaking of fees, let's take a look at the fees charged on the ChangeHero crypto exchange.
ChangeHero doesn't charge a set fee or rate, it is worked out dynamically in the spread (the difference between bid/ask) for the particular pair you are trading but on average, you can expect to pay between 1-5% in exchange fees on ChangeHero.
So this means that when you make a transaction, you will get a slightly different rate than the actual market.
For example, say you want to exchange 1 BTC for ETH, instead of getting 36 ETH at the current market rate, you may get 35.5 ETH as the rate includes ChangeHero's fee.
I'll tell you more about my personal experience with ChangeHero later in this review, but I can tell you now that it cost me exactly 4% in fees when I made a transaction on ChangeHero.
It's slightly on the high end, but considering the process is smooth, it's not too much of an issue for in-frequent traders and investors that are making the trade with a long-term view rather than trying to profit from short-term price movements in my opinion.
Coins on ChangeHero
ChangeHero offers a wide range of different cryptocurrencies which you can choose to swap between. Here's a full list of the supported coins on ChangeHero.
Bitcoin
Ethereum
Bitcoin SV
Tether
Bitcoin Cash
Litecoin
XRP
Ardor
Binance Coin
Bread
Binance USD
Dash
Digibyte
Dogecoin
Ethereum Classic
Nano
Nimiq
OmiseGO
Paxos Standard Token
Tron
TrueUSD
USD Coin
Stellar
Tezos
Verge
ZCash
That's a decent amount of coins, but it isn't as many as other services like ChangeNOW offer. They have got the main ones though so this shouldn't be an issue for the majority of crypto enthusiasts looking to swap coins.
Limits
Now, you might be thinking; what's the least/maximum amount I can trade on ChangeHero?
Well, you'll be pleased to hear that the exchange is limitless to the upside, which means that you can swap as many cryptocurrencies as you want, as frequently as you want.
On the flip side, there are some minimum limits on ChangeHero which you should know about before using it.
The minimum amount of crypto you can swap on ChangeHero depends on the coin you are using but on average, it is around $5 worth of the cryptocurrency you choose to exchange.
With regards to crypto purchases on ChangeHero, the minimum amount you can buy is $20.
Best Rate & Fixed Rate: What's the difference?
When you use ChangeHero to exchange cryptocurrencies, you have two options when it comes to rates. These two rate options are 'Best Rate' and 'Fixed Rate'.
But what's the difference between the two and which should you use?
Well, here's your answer:
Best Rate on ChangeHero means that you will get the best market rate at the time the exchange is made, this means you could get less or more coins than you were expecting, it could fluctuate from the initial amount you think you are getting because of volatile market conditions.
Fixed Rate on ChangeHero means that you will get exactly the same amount of coins that you see on the transaction page when you first make the order. This means that if the price moves in your favour during the exchange, you won't benefit from the price difference and ChangeHero will keep the difference.
Which rate you use is just preference, if you want to know what you're getting, then use Fixed Rate and if you just want to get the market rate, use Best Rate. I personally use Best Rate on services like this as the price may or may not move in your favour, it's a bit of a gamble, but no different if you were to use a normal exchange. For the less risk-averse, you're better off using Fixed Rate to avoid losing any coins in the exchange process.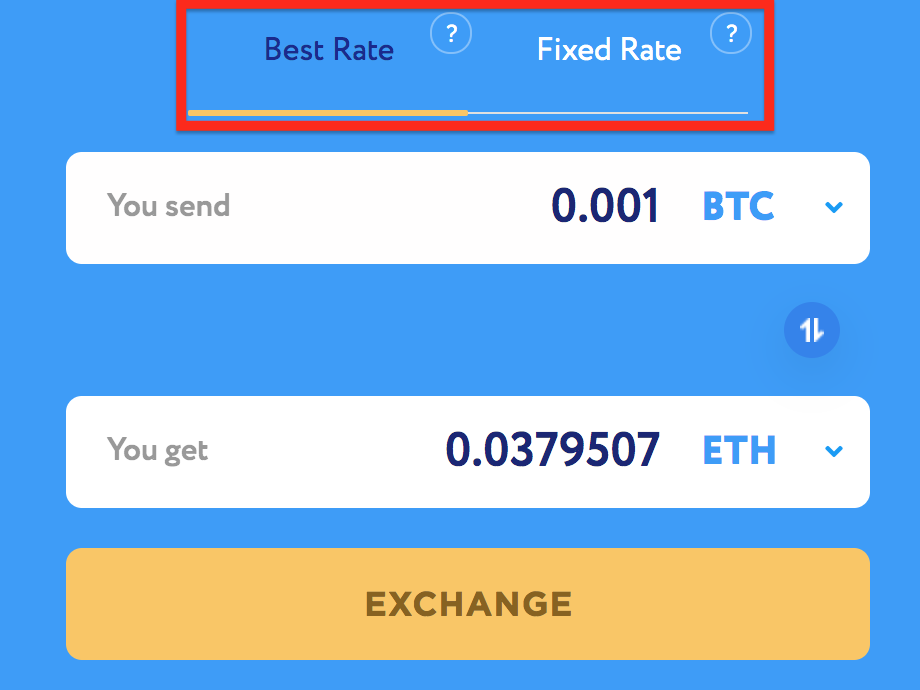 To change the rate on ChangeHero, just select it from the top of the exchange order box. For more information, you can use the '?' buttons attached to each rate option.
Does ChangeHero require KYC?
Generally, no, you do not have to go through KYC checks to swap cryptocurrencies on ChangeHero, although, if they see suspicious activity, they may ask you to complete KYC before processing your transaction.
If you're buying crypto on ChangeHero, you will need to perform KYC as they use a third-party service for fiat purchases. This is a secure and easy process to go through and is in place for AML and general security mainly.
So, you can use ChangeHero anonymously if you are just swapping cryptocurrencies between each other, although ChangeHero reserves the right to ask for ID at any time of the process.
If you'd like to learn more about this, read ChangeHero's KYC & AML policy.
ChangeHero Review: My Experience
For the purpose of this review, I gave the ChangeHero exchange a try with a small crypto transaction where I swapped 0.001 BTC into ETH. Here are some of the details about my test of the exchange:
The time my transaction took 4 minutes
The total fee I paid was 4%
I know right, lots of 4s…
Anyway, in case you don't believe me, here are the screenshots of my transaction (you can also check it on the blockchain);
I have to admit, it was an extremely easy and quick transaction and I was impressed. I like the way that you get constant updates during the transaction as it lets you know that everything is working (or not) as it should and keeps you updated about when your new coins will be coming through.
Countries & Languages
ChangeHero is available in all countries except for the following as per their terms of use.
Restricted Countries
Cuba, Iran, North Korea, Crimea, Sudan, Syria, United States of America (including all USA territories like Puerto Rico, American Samoa, Guam, Northern Mariana Island, and the US Virgin Islands (St. Croix, St. John and St. Thomas), Bangladesh and Bolivia, as well as any other country subject to United Nations Security Council Sanctions List and its equivalent ("Prohibited Jurisdictions")

ChangeHero
Languages
The ChangeHero website can be accessed in the following languages:
English
Japanese
Arabic
Chinese
Korean
Filipino
Malaysian
Vietnamese
Russian
As you can see, it is available in a wide selection of languages which is expected of an international cryptocurrency exchange like ChangeHero.
Customer Support
Like many other non-custodial crypto services, you don't really need support, but it's definitely peace of mind to have.
ChangeHero offers a live chat support system which is available 24/7 and can be accessed on changehero.io on any device. Additionally, you can also email them with any problems you might run into at support@changehero.io.
I have used the ChangeHero live chat once and got a reply within a few minutes which is pretty impressive when it comes to exchanges like this (it's usually much longer).
If you've used ChangeHero's support before, please leave a comment at the bottom of this review with your experience, we'd really appreciate it as it helps prospective users of the exchange.
Is there a ChangeHero Mobile App?
Currently, there is no ChangeHero mobile app for any devices but if they do release one, this review will be updated to reflect it. I'd like to see them release one as a lot of people use their mobile devices to trade now, so it would make it far more accessible.
ChangeHero Reviews
I briefly mentioned users reviews of ChangeHero earlier in the review, but let's take a more detailed look into the customer reviews of the exchange.
According to Trustpilot, ChangeHero has a gleaming rating of over 4.5 stars on average with over 70 individual reviews (at the time of writing).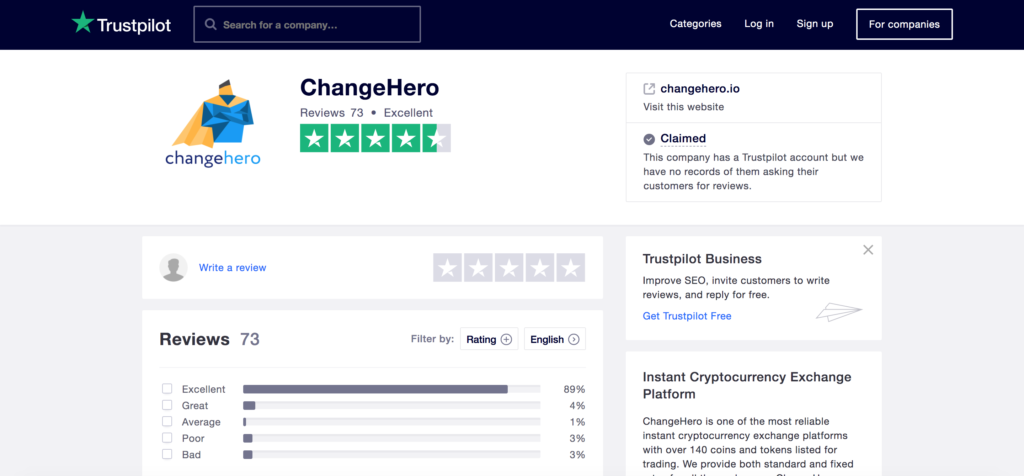 I read through a lot of these reviews to check their legitimacy (as you probably know, a lot of companies fake reviews of their service.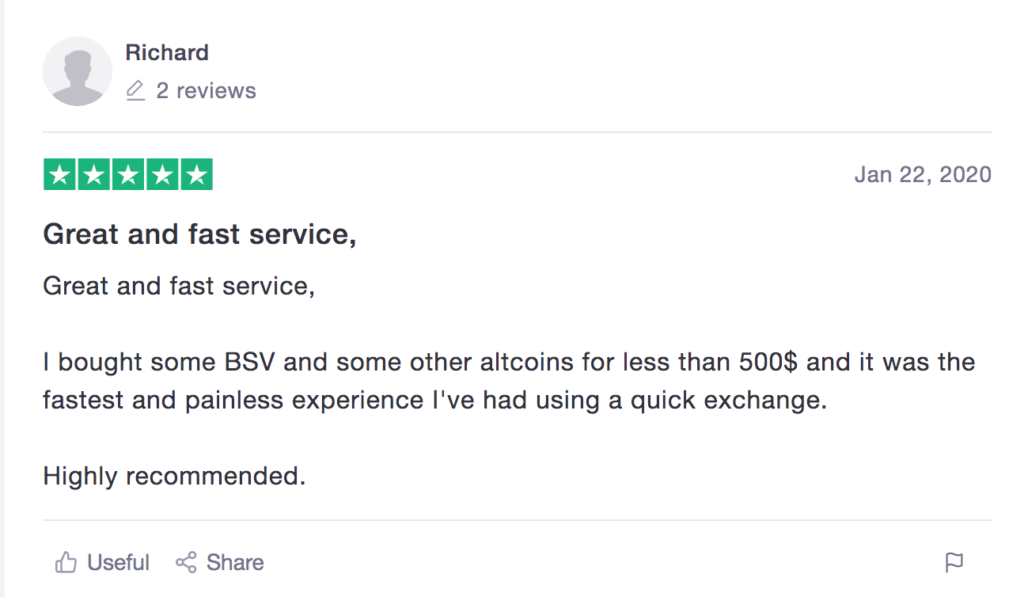 After extensive reading, I think that their rating is legit since many of them had more than one review to their name which is a classic sign of legitimate user reviews. Also, the ones that are negative have been answered very well and even refunded users who didn't enjoy their experience like this one: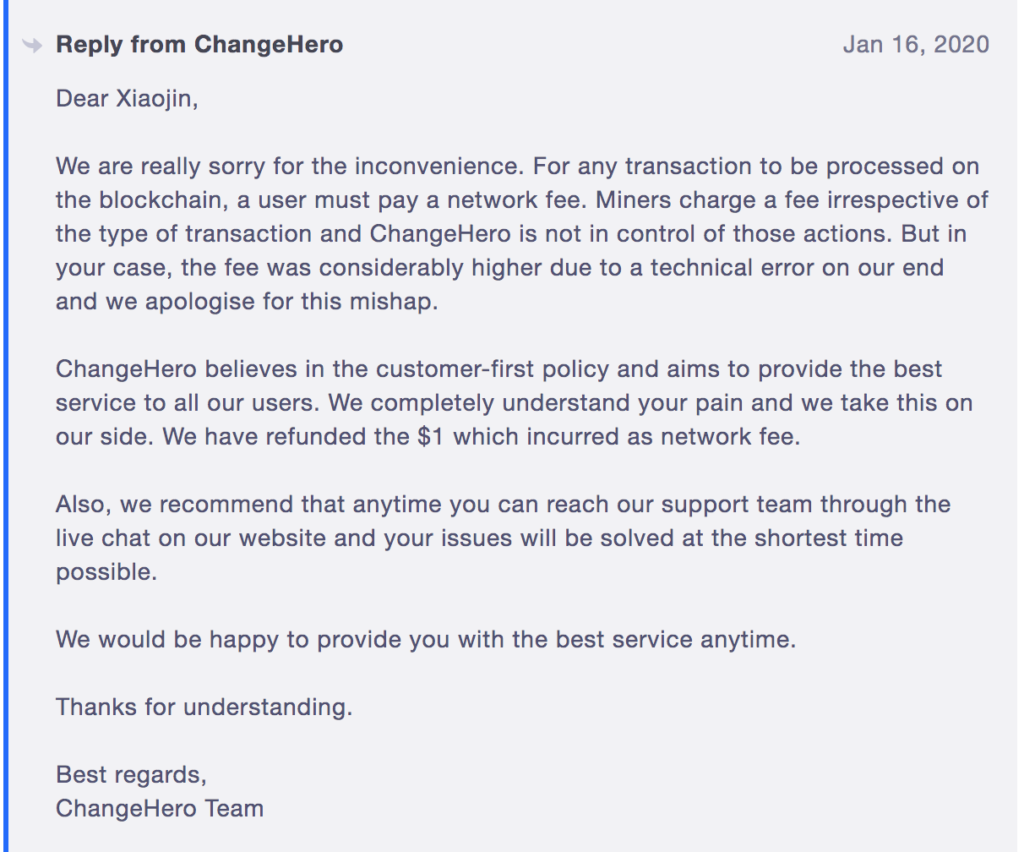 Pros & Cons
Before I conclude this review of the ChangeHero exchange, I'd like to give you a broad overview of the positives and negatives of it.
Pros
No registration or login
Limitless crypto swaps
Very fast
Well trusted and reviewed
Quick and helpful support
Non-custodial
Secure
Cons
Lack of company information (anonymous team)
Expensive fees for buying crypto
ChangeHero Review: Last Words
ChangeHero is a brilliant platform for switching cryptocurrencies and is perfect for those who need to quickly change one coin into another without having to go through the lengthy process of registering on a proper crypto exchange like Binance or Coinbase.
The exchange has been around for a few years and has built up a solid reputation and I can see why as my experience was faultless but I would like to see some more information about the company behind it.
Have you used ChangeHero in the past? Post a comment below, I'd love to hear it!