Changelly is an instant non-custodial cryptocurrency exchange service which lets you buy and sell cryptocurrencies as well as swap between different coins with low fees. In this Changelly review, I'll be outlining the key information about Changelly and giving my unbiased opinion on whether or not it is a good crypto exchange which you should trust. Changelly is extremely well rated on Trustpilot with an average score of over 4 stars, but can it live up to those ratings? Before I get into the main review, let me share a few key pieces of information about Changelly with you.
Sign up to other exchanges we like with referral codes to claim awesome sign up bonuses like the Bybit referral code, FTX referral code and Phemex invitation code.
| | |
| --- | --- |
| Exchange Name | Changelly |
| Website | changelly.com |
| Logo | |
| Founded | 2015 |
| CEO | Eric Benz |
| HQ | Hong Kong |
| Coins | 150+ |
| Mobile App | YES |
Keep reading our full changelly.com review to learn more about the Changelly cryptocurrency exchange.
About Changelly
Changelly is a cryptocurrency exchange founded in 2015 by Konstantin Gladych in the capital city of Malta; Valetta. It is one of the world's leading crypto exchanges comprising of a team of over 50 employees located in several different locations over the world. The current CEO of Changelly is Eric Benz; a prolific name within the Blockchain industry. Eric has been involved with cryptocurrencies since 2012, has a broad knowledge of it and is suitable as a leader for an exchange of this size. Since it's inception, Changelly has moved locations and is now owned and operated by Fintechvision Limited, a legal entity registered in Hong Kong.
The main aim of Changelly is to provide people globally with an easy, convenient and cost-efficient way to invest and trade in cryptocurrencies. Having used Changelly several times in the past, including the test for this review, I have to say that in my opinion, it ticks all those boxes.
Changelly is different from many other cryptocurrency exchanges in the way that it is non-custodial, meaning that you don't have to trust the company behind the exchange since you are in control of your own funds, not them. The exchange also differs in the way it operates, rather than depositing and withdrawing funds, you instead swap cryptocurrencies instantly by sending them to another address, which then swaps it for you and returns to your other address. This can be an easier and more secure way of trading as you don't have to keep your coins on an exchange.
Pros & Cons
Nothing is ever perfect, well, on this world anyway. Let's take a look at both the upsides (pros) and downsides (cons) of the Changelly cryptocurrency exchange.
Pros
Instant exchange
150+ cryptocurrencies supported
Low fees
Non-custodial
Transparent
24/7 support
Works with popular wallets like Ledger
Cons
Sometimes requires ID verification
Unclear licencing regulation
As you can see, Changelly has a lot to offer in a crowded market, yet runs a very successful business. There are no reasons why I wouldn't use Changelly again to trade cryptocurrencies.
Features: What can Changelly do?
Changelly offers two main services on its exchange platform which is available on both desktop and mobile devices. I'm now about to dive a bit deeper into each of these services offered by Changelly. This section gives a brief overview of the products offered on Changelly; if you want to learn how to use it right away, scroll past this part of the review.
Exchange Cryptocurrencies
Changelly's main product is an exchange service which lets you convert one cryptocurrency into another. For example, say you have 1 BTC and you want to convert it to ETH, you can do that instantly at the best market rate using Changelly.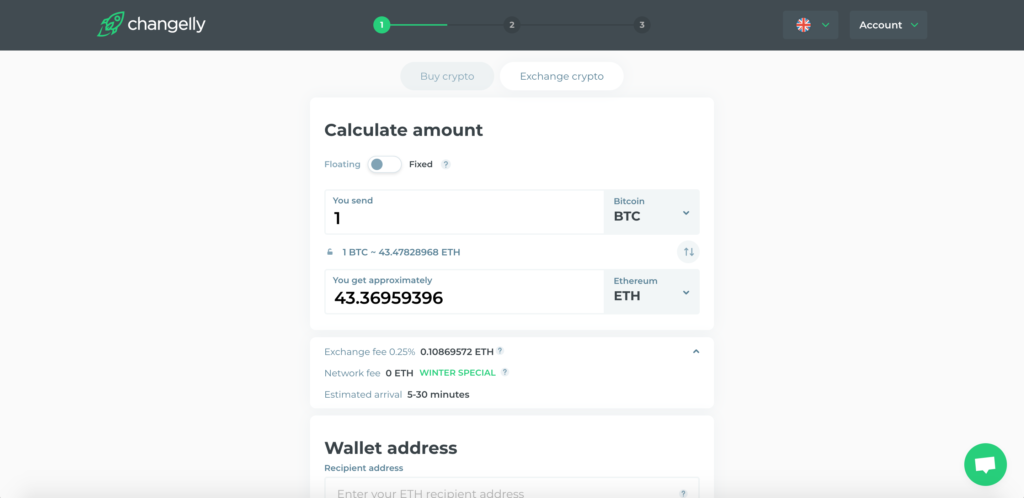 Buy Crypto
The other main service offered by Changelly is one which allows you to buy over 150+ cryptocurrencies (including altcoins) with credit/debit card instantly. This is a cool feature and Changelly is the only exchange I have seen to offer instant card purchases for that many cryptocurrencies, usually, you can only do it with main coins like Bitcoin & Ethereum.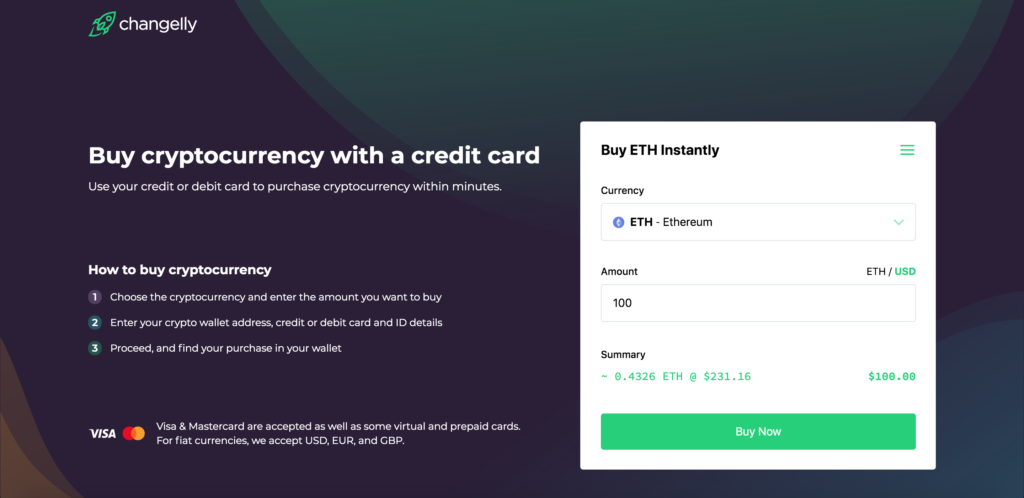 Fixed Rates
The thing with some cryptocurrency exchanges is that by the time it takes to complete the exchange, prices can change and you can end up getting more/less than you expected when making the transaction. In order to solve this problem, Changelly offers something called 'Fixed Rate' transactions which mean that you will get exactly the amount seen when making the transaction. I love the fact that Changelly provides this option as I have been caught out in exactly this way before and got less crypto than I paid for (grrr!). To use Changelly's fixed-rate feature, toggle the 'Fixed' button on the exchange widget. Alternatively, you can also choose to use floating rates which means that you can receive the market rate at the time of the exchange rather than a fixed rate.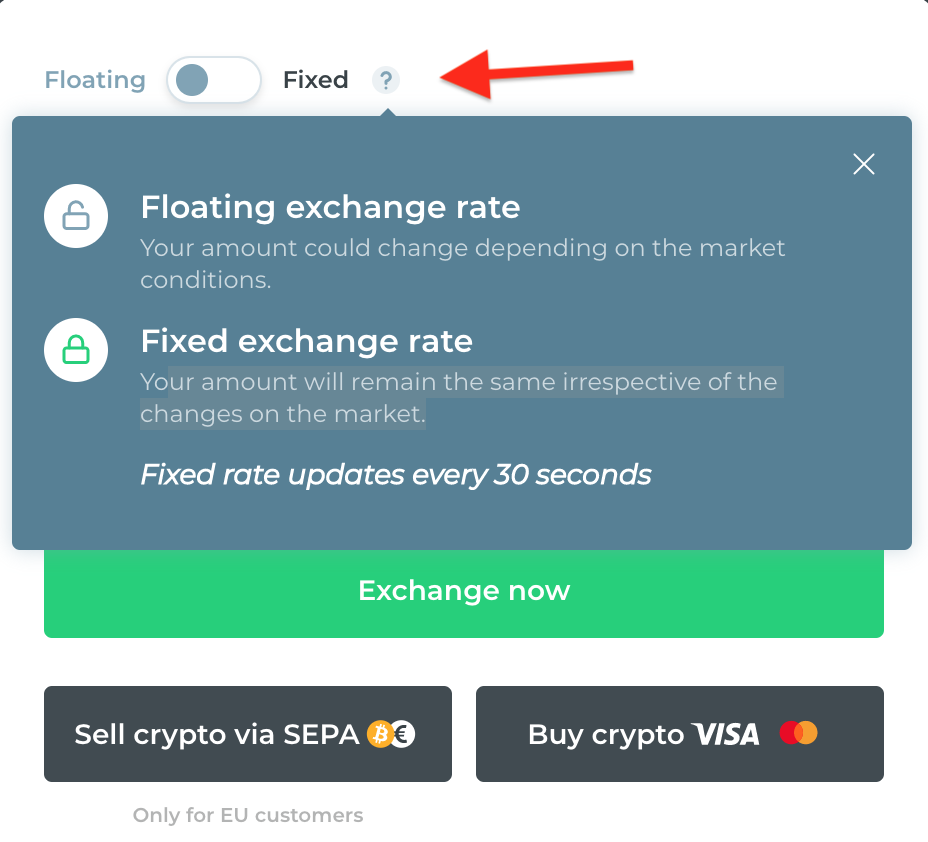 Ledger Wallet Integration
One of the world's leading crypto hardware wallets; Ledger now supports Changelly in the Ledger Live app which allows users of the Ledger wallets to exchange cryptocurrencies instantly with Changelly inside their wallet. This is a cool feature which adds to the legitimacy of the exchange as one of the prominent companies in the crypto exchange promotes them to tens of thousands of traders worldwide.
Is Changelly safe?
If you're sending crypto anywhere that isn't your own wallet, you need to be 100% sure that the service you are using is safe and not a scam. This process can be long and tiresome, so I've gone away and done the research for you. So, is Changelly legit?
Yes, Changelly is regarded as a safe cryptocurrency exchange which offers a non-custodial exchange solution operated by a legally registered entity in Hong Kong and led by Eric Benz, a trusted cryptocurrency enthusiast who's been involved with several crypto companies.
In order to asses safety, we need to look at the available company information about a crypto exchange. If you can't find any information whatsoever, it's usually a bad sign and you shouldn't trust it with even 1 dollar. I did some digging into Changelly and was able to find plenty of information about the company which owns it. I even found the legal company registration page on the Hong Kong company directory here. For these reasons, in addition to the fact that Changelly is non-custodial, meaning that you keep hold of your coins, makes me feel that Changelly is a safe crypto exchange platform.
KYC & ID Verification
Know Your Customer checks are something which the majority of crypto traders run a mile from. KYC, AML and ID verification checks are usually mandatory for regulated companies, as they protect from money laundering and malicious financial transactions. In this part of our Changelly review, I'm going to be looking into Changelly's KYC procedure.
Does Changelly require KYC?
Yes and no. If you're only exchange cryptocurrencies to other cryptocurrencies, you probably won't have to verify your identity. If you are using Changelly to buy cryptocurrencies you will most likely have to go through KYC checks which only take a few minutes and are standard procedure. Changelly has the right to ask you to prove your identity at any time should they notice any suspicious activity.
How to complete KYC on Changelly
If you are asked to verify your ID on Changelly, you can do it in a few moments and you don't need many things to do so.
Get a form of valid photo ID like a Passport or Driver's Licence
Provide proof of the origin of funds (e.g payslip)
Follow the steps as prompted
Once you've verified your ID on Changelly, you should be able to use the platform in the future without any issues.
Supported Coins
As I mentioned previously in this review, Changelly has tons of different cryptocurrencies listed on the exchange and therefore is well-known as flexible and comprehensive. Below you will find an entire list of the supported cryptocurrencies and fiat currencies on the Changelly crypto exchange.
Cryptocurrencies
Bitcoin (BTC)
Ethereum (ETH)
XRP (XRP)
ABYSS (ABYSS)
Cardano (ADA)
Aragon (ANT)
Ardor (ARDR)
Ark (ARK)
Aeron (ARN)
Cosmos (ATOM)
Basic Attention Token (BAT)
Bitcoin Diamond (BCD)
Bitcoin Cash (BCH)
BitDegree (BDG)
BETR (BETR)
Bankex (BKX)
Binance Token (BNB)
Bancor Network (BNT)
Bread Token (BRD)
Bitcoin SV (BSV)
Bitcoin Gold (BTG)
BitTorrent (BTT)
BUSD (BUSD)
Civic (CVC)
Dai (DAI)
Dash (DASH)
Decred (DCR)
DENT (DENT)
Digibyte (DGB)
DigixDAO (DGD)
Digitex Futures (DGTX)
Dogecoin (DOGE)
Edgeless (EDG)
Enjin Coin (ENJ)
EOS (EOS)
EOSDT (EOSDT)
Ethereum Classic (ETC)
Voyager Token (VGX)
Crypto Euros (EURS)
FunFair (FUN)
Gas (GAS)
Gnosis (GNO)
Golem (GNT)
Groestlcoin (GRS)
Guppy (GUP)
Gemini Dollar (GUSD)
Humaniq (HMQ)
Huobi Token (HT)
Ignis (IGNIS)
Kin (KIN)
Komodo (KMD)
Kyber Network (KNC)
Chainlink (LINK)
Loopring (LRC)
Lisk (LSK)
Litecoin (LTC)
Lunyr (LUN)
MaidSafeCoin (MAID)
Monaco (MCO)
Mithril (MITH)
Maker (MKR)
Nano (NANO)
Neblio (NEBL)
Neo (NEO)
Nexo (NEXO)
Naga Coin (NGC)
Nimiq (NIM)
Numeraire (NMR)
Nxt (NXT)
OmiseGo (OMG)
Ontology (ONT)
Particl (PART)
Paxos Standard (PAX)
TenXPay (PAY)
Red Pulse Phoenix (PHB)
Pillar (PLR)
PumaPay (PMA)
Polymath (POLY)
Power Ledger (POWR)
Peercoin (PPC)
Patientory (PTOY)
Qtum (QTUM)
Ripio Credit Network (RCN)
Augur (REP)
iExec RLC (RLC)
Ravencoin (RVN)
Salt (SALT)
SmartCash (SMART)
Storj (STORJ)
Stratis (STRAT)
Stox (STX)
Swarm City (SWT)
TomoChain (TOMO)
Trustcoin (TRST)
Tron (TRX)
TrueUSD (TUSD)
USDCoin (USDC)
Tether (USDT)
Vechain (VET)
Viberate (VIB)
Waves (WAVES)
Wax (WAX)
Wings DAO (WINGS)
Nem (XEM)
Stellar (XLM)
Monero (XMR)
Bitcoin Rhodium (XRC)
Tezos (XTZ)
Verge (XVG)
ZCoin (XZC)
Zap (ZAP)
Zcash (ZEC)
Horizen (ZEN)
District0x (ZRX)
Fiat (Regular) Currencies
US Dollar (USD)
Euro (EUR)
Great British Pound (GBP)
How does it Work? Changelly How-to Tutorial
As you might have already read in this Changelly review, the Changelly exchange operates in a slightly different way to exchanges like Binance and KuCoin in the way that there aren't any order books or different order types. With Changelly, you just send your crypto to the exchange address and it comes back in the correct amount of the exchange you want to change to. In this part of the review, I'm going to be showing you how to use Changelly's crypto exchange.
Visit the official Changelly website here: changelly.com
Select the crypto you want to exchange from and to (for example, BTC to ETH)
Enter the amount you want to exchange or receive – Changelly will automatically work our the corresponding amount
Click 'Exchange now'
On the next page, enter your receiving address for the crypto you will be converting to (don't have a wallet yet? Get one here)
Agree with the terms and then go to the next step
Confirm your exchange details
Send the cryptocurrency you are exchanging to the address provided (tip: make note of the Transaction ID for later reference)
Wait 5-30 mins
Your exchange should have processed by now and you should have your new coins in your other wallet by now
For this review, I tested Changelly by exchanging BTC into ETH. My transaction took 15 minutes and I had no issues whatsoever. Here are some screenshots which show you how to use Changelly:
Fees & Rates
When you're trading cryptocurrency, it's important to know how much you're paying in trading fees on the exchange in order to make sure that you don't pay too much, as some exchanges can be a real rip-off. No crypto exchange review would be complete without checking out the fees and rates. With this in mind, here are Changelly's fees:
Changelly charges a standard 0.25% exchange fee for any trade made on Changelly.com. This fee applies to all crypto-crypto trades. Fees for fiat purchases on Changelly vary depending on the currency and third-party service used.
Changelly's fee rate is extremely reasonable in my opinion and in line with what you would expect from this kind of service. This also keeps Changelly true to their aim of providing a low-cost means of trading cryptocurrencies. That being said, you can get cheaper fees on an exchange like Binance but there is more effort involved in your part of the exchange process, so if you are looking for a simple way to trade crypto then Changelly is your best bet.
As Changelly is a non-custodial exchange, you don't need to make deposits and withdrawals, so there are no deposit or withdrawal fees on the Changelly cryptocurrency exchange.
I like the way Changelly is so transparent with their fees too; before you make your transaction, you are shown exactly how much the transaction will cost in both cryptocurrencies – so there are no nasty surprises when you get your crypto exchanged.
So that covers Changelly's crypto-crypto exchange fees, but what about buying crypto on Changelly? To answer this question properly, I have to first explain how Changelly lets you buy crypto with credit/debit cards. Changelly uses third-party companies like Simplex and MoonPay to process the fiat purchases, so when you buy crypto on Changelly, you are actually buying it through these services, not Changelly, therefore you pay the fees charged by those services in addition to Changelly's fee. For the majority of crypto purchases, Changelly uses MoonPay, which charges a 3.5% fee or €5 if the amount is under €145 and then you pay a 4% Changelly fee on top of that. So in total, to buy crypto on Changelly it costs around 7.5%, which is quite a lot although pretty normal when you are buying with bank cards. It is usually much cheaper to buy crypto with a bank transfer on exchanges like Coinbase.
To summarise my findings on Changelly's fees, it is pretty cheap if you are exchanging crypto to crypto, but quite high if you use it to buy crypto.
Limits
Now that you have a detailed understanding of how much it costs to use Changelly, you might be wondering how much or little you can trade. Now I'm going to highlight any minimum or maximum limits on Changelly and give my opinion on them.
Firstly, let's take a look at the limits for crypto-crypto trades on Changelly:
| | |
| --- | --- |
| Minimum | 0.001875 BTC (or equivalent in other coins) |
| Maximum | N/A |
Now, here are the daily limits for buying crypto on Changelly:
| | |
| --- | --- |
| Minimum | 50 GBP/EUR/USD |
| Maximum (No KYC) | 5,000 GBP/EUR/USD |
| Maximum (With KYC) | 20,000 GBP/EUR/USD |
Overall, I think that the limits on Changelly are pretty reasonable. You can buy a decent amount every day and the minimum is nice and low, so you can get started without having to invest too much. I was also really impressed with their crypto exchange limits, there is no maximum and the minimum is very low (under $20).
Changelly: How long does it take?
The processing time of transactions on Changelly differs depending on the market state and the size of your order.
According to Changelly.com, it takes on average 5-30 minutes to complete your order on the Changelly exchange.
I can confirm that this is the case. For me, it's never taken any longer than half an hour, which is impressive and not too long to wait at all. Going back to Changelly's core focus, it makes the experience easy and hassle-free, which is what I like to see.
Mobile App
Being able to trade crypto on-the-go is brilliant as the market is volatile and there are constantly opportunities to profit in it. Having a crypto trading app which you can use to do this is highly recommended.
Changelly launched their official mobile app in late 2019 which lets you exchange and buy cryptocurrencies instantly, 24/7. The Changelly app is available for both IOS and Android devices on the App Store and Google Play Store.
Here are some of the main features of the Changelly mobile app:
Buy crypto
Exchange crypto
Live support
View trade history
Check prices of cryptocurrencies
Download Changelly App for IOS
Download Changelly App for Google Play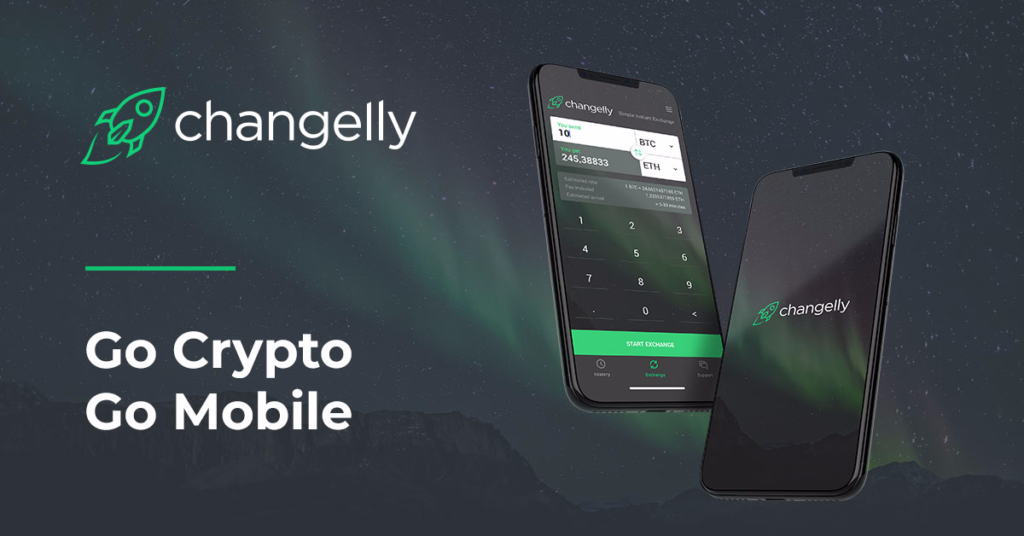 Accepted Countries
For a list of Changelly's accepted countries, see below.
UK, France, Spain, Canada, Germany, Mexico, Albania, Portugal, Austria, Switzerland, Iceland, Greenland, South Africa, Australia, Italy, Belgium, Latvia, Bulgaria, Lithuania, Estonia, New Zealand, Brazil and many others.
Affiliate/Referral Program
Referral programs can serve as a great way of earning crypto by getting people to sign up to services/exchanges. Changelly has an easy-to-use affiliate program which you can sign up to here. Any Changelly account has access to the referral program and there's nothing you need to sign up for it apart from an email address – that's it.
The standard commission rate for the Changelly affiliate program is 50%, which is much higher than most other crypto exchange referral programs. All revenue is split down the middle 50/50. You earn commissions when someone uses Changelly after clicking on your referral link.
To access the affiliate dashboard on Changelly, register for an account on changelly.com, login to your account, click on 'Our Solutions' then 'Affiliate Dashboard'. You'll then be taken to your unique Changelly affiliate dashboard where you can get your referral link, advertising banners and track your affiliate registrations and commissions.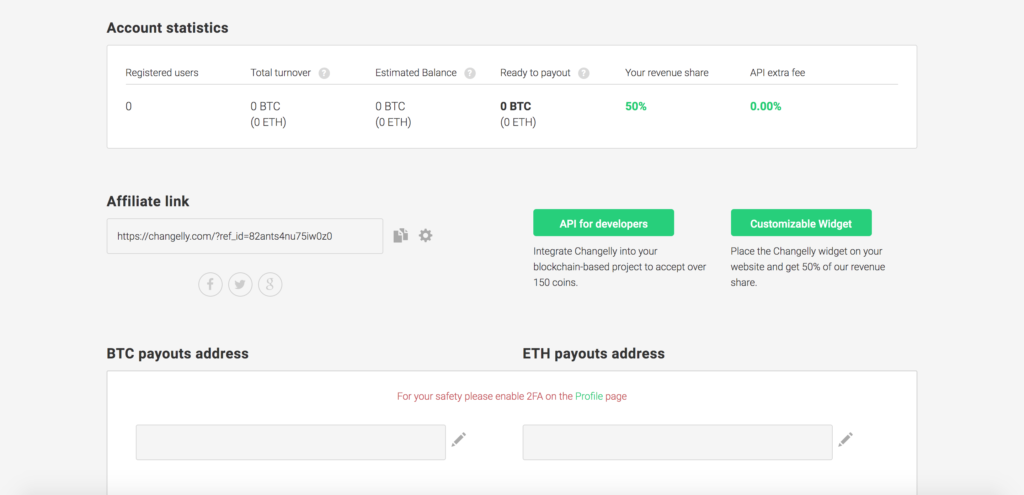 Payouts from the affiliate program are made in BTC or ETH and are instant. The minimum withdrawal limits for Changelly affiliate earnings are 0,01 BTC and 0,1 ETH.
Support
In my experience, crypto exchanges only succeed when their support system is helpful and fast. In this part of the Changelly review, I will be showing you what Changelly's support is like. I actually feel like support is more necessary with Changelly since the exchange operates in a slightly different way.
Changelly offers 24/7 live support via a live chat, ticket system and email.
Unfortunately, there isn't phone support available on Changelly, although this is becoming less frequently available in this day and age – most people are content with a live chat service which Changelly does offer. Here are the contact details for Changelly:
Changelly Review: Is it any good?
In short; yes, Changelly is a good cryptocurrency exchange in my opinion and deserves to be up there with the top exchanges in the world. I think that it is ideal for people who want to exchange crypto now and then, but not every day. I love the fact that it is non-custodial, which is more true to the decentralised nature of cryptocurrencies than a lot of other exchanges which run a centralised operation. In terms of negative aspects of the exchange, the fees for buying crypto are quite high and I wouldn't probably use it for this, but the fees for exchange crypto is nice and low and therefore is the main exchange feature for me and the thing I would be most likely to use it for. I'm also impressed with the mobile app, it's fast, looks good and does everything you need it to.
Changelly FAQs