ChangeNOW is a non-custodial cryptocurrency swap service. It allows you to swap between more than 200 different coins instantly. In this review of ChangeNOW, I'll be giving you key information about the exchange and giving you my honest opinion on it. Some of the questions I will be answering in this ChangeNOW review are:
Is ChangeNOW safe?
What are the fees like on ChangeNOW?
How do you use ChangeNOW?
Why should you use ChangeNOW?
Below you will find a few facts about the ChangeNOW cryptocurrency exchange to give you a brief rundown on the exchange before we get into the review.
| | |
| --- | --- |
| Name | ChangeNOW |
| Official Website | changenow.io |
| Logo | |
| Established | 2017 |
| Location | Belize |
| Affiliate Program | Yes |
About ChangeNOW
ChangeNOW is a cryptocurrency exchange owned by ChangeNOW International Ltd, a registered legal entity in Belize with the address Suite 102, Ground Floor, Blake Building, Corner Eyre & Hutson Streets, Belize City.
You can view more of the company's employees on their LinkedIn page.
So, what can you do on ChangeNOW.io?
Swap Cryptocurrencies Without Limits
Buy Cryptocurrencies With Credit & Debit Cards Instantly
The crypto exchange service on ChangeNOW is native to them, but they use a third-party service called Simplex to process fiat purchases (buying crypto).
How does ChangeNOW work?
ChangeNOW is partnered with multiple different exchanges like Binance, Huobi ,OKEx and Bitfinex to process cryptocurrency exchanges, which means that when you make an exchange order on the platform, your transaction is sent to another exchange and then your new coins are sent to the address you provide when making the order. Here's a step-by-step guide to how it works:
You make an order on ChangeNOW
They exchange your coins for you at the best rate
Your new exchanged coins are sent to the wallet address you gave during the order process on ChangeNOW
It's as simple as that, they do the hard work for you and you just have to set back and wait for the exchange to happen.
How long do exchanges take on ChangeNOW?
According to their website, exchanges take around 5-30 minutes depending on the coins you are exchanging and the state of the blockchain network. This isn't too long to wait at all in my opinion, it would take longer to do the exchange yourself on a normal exchange.
Is ChangeNOW Safe?
It sounds too good to be true right? A service which exchanges your coins instantly without any limits and low fees. This probably leaves you wondering whether or not you can trust ChangeNOW and whether or not is legit.
Yes, ChangeNOW is a legit cryptocurrency exchange which is legally registered in Belize and operates a non-custodial crypto swap service.
Since they don't hold your funds, you don't really need to trust ChangeNOW, although, it is nice to know exactly who is behind the exchange so you have a means of contact should anything go wrong. If you need to get in touch with them, you can call them on +3120 255 9399.
No Registration
ChangeNOW is a little different to the majority of other cryptocurrency exchanges in the way that it requires no registration whatsoever. This means that you can use the exchange instantly online without having to provide any details. I find this pretty cool but I also see value in offering account registration so that you can view transaction history etc. This means that you can even use the exchange on this page by using the widget below! That's cool.
Does ChangeNOW require KYC?
Using cryptocurrency exchanges without having to verify identity is the goal for a lot of people since they wish to remain private and not hand out any details to companies. In this section of the review, I'm going to be giving you the low-down on ChangeNOW's KYC & AML policy.
ChangeNOW has selective KYC – meaning, they reserve the right to ask you for identity verification at any point of the exchange if they suspect suspicious activity.
The exchange operates a risk-related system whereby if they deem activity to breach KYC/AML laws, they will ask the user to prove their identity in order to continue with the exchange. This is a neat way of doing it as it puts off potentially malicious activity and at the same time, makes it easy and quick for people to use the exchange without KYC. If you don't want to do the KYC procedure, you will always be offered a refund instead of going through with it, so it's risk-free for you.
Fixed-Rate vs Classic Rate
When you are making an exchange on the ChangeNOW platform, you will see that there are two choices of rates which you can choose between. This can be confusing at first, but it's very simple and you'll understand it in a couple of minutes. So, what is Classic Rate and what is Fixed Rate and which should you use on ChangeNOW?
Classic Rate: This means that the exchange rate may fluctuate depending on market movements during the transaction, meaning that if the exchange rate of the cryptocurrency you are changing goes up or down, you may receive more or less than you expected.
Fixed Rate: This exchange rate type means that you will get the exact amount you are told on your order, even if the exchange rate changes during the 20 minutes of the transaction. Even if the price goes in your favour, you would still get the same amount of coins.
Which rate should you use on ChangeNOW?
Well, it really doesn't matter – it's more preference than anything else. If you think that the price is going to go in your favour, you would be better off using Classic Rate and if you think the opposite will happen, you should use the Fixed Rate as you will get the exact amount of coins that you are expecting and not less which you might if you had used Classic Rate.
Fees
ChangeNOW charges a dynamic fee, meaning that it changes frequently depending on the market. This fee is charged as a spread, meaning that you will see this reflected in the exchange rate rather than a fee on top of the transaction. Therefore it is hard to say what the exact fees are on ChangeNOW since they are just collected into the end rate rather than being put on top – what you see is what you get.
Generally, you can expect to pay no more than 5% for cryptocurrency exchanges (it's usually much less like 1%) and for instant buys, ChangeNOW only charges a 1% fee on top of Simplex's (third party) 5% fee. You can easily work out the exact fee for your transaction on ChangeNOW by comparing the amount you would be getting on the exchange with the current rate on Google, here's an example of what I mean:
As you can see, the fee on ChangeNOW is already built into the exchange rate of how many coins you will be getting in return. In the example above, there is a 2% difference between the actual rate and the amount you get on ChangeNOW, so the difference is only 2% (this includes all the network fees and the trading fees taken by ChangeNOW's liquidity providers), which is VERY fair in my opinion considering you don't have to do anything apart from sending your coins to the address provided.
Support
You shouldn't run into any issues on ChangeNOW, but if you do, here are the support details for the exchange:
I haven't personally used the support system as I didn't have any issues when I was using ChangeNOW, but if you have had any experience with it, I'd love to hear it, please leave a comment below or contact us directly with your experience.
ChangeNOW App
The majority of the time, people who use ChangeNOW do so from the website on a laptop or computer as it is generally easier (you have to get wallet addresses etc.) but there are, of course, people who would want to make exchanges on the go, especially when prices are moving quickly.
ChangeNOW has a mobile app for Google Play, but not currently IOS devices. You can download the ChangeNOW app on the Google Play Store here.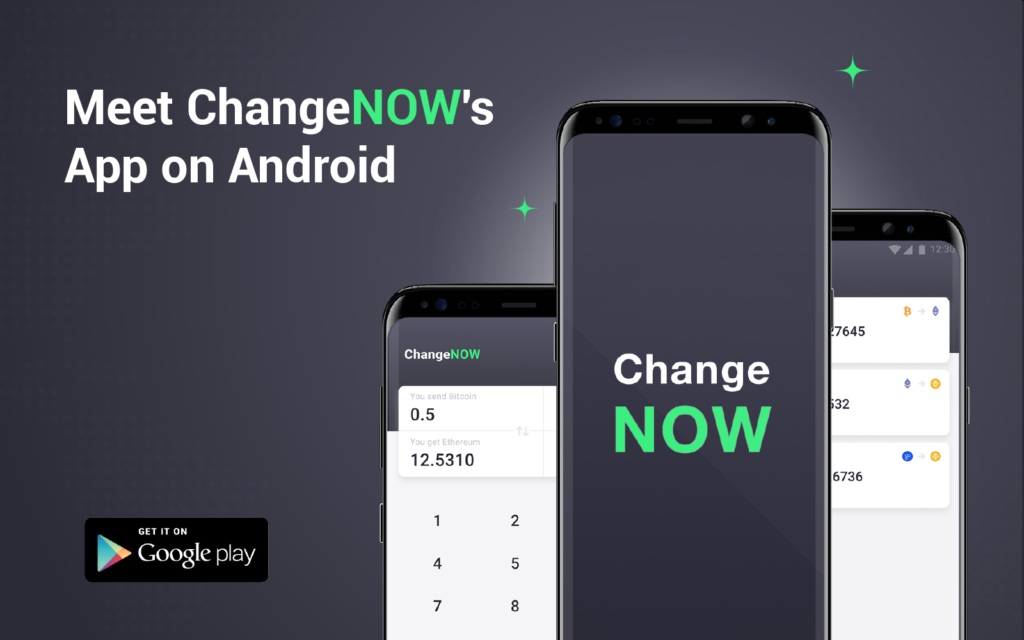 You can use the mobile app to exchange and buy cryptocurrencies. As a quick side note, I would like to see them add an IOS app because there are a lot of users with Apple devices and not android.
Affiliate Program
Cryptocurrency affiliate programs can be a great way of earning some coins by referring people to certain services/products. ChangeNOW doesn't let us down in this area as they provide an affiliate program which pays you 0.4% of any transactions generated through your referral link. To sign up for the ChangeNOW referral program, go to https://changenow.io/affiliate and generate your login details. You'll then have instant access to your marketing materials and a unique referral link which you can use to start earning right away.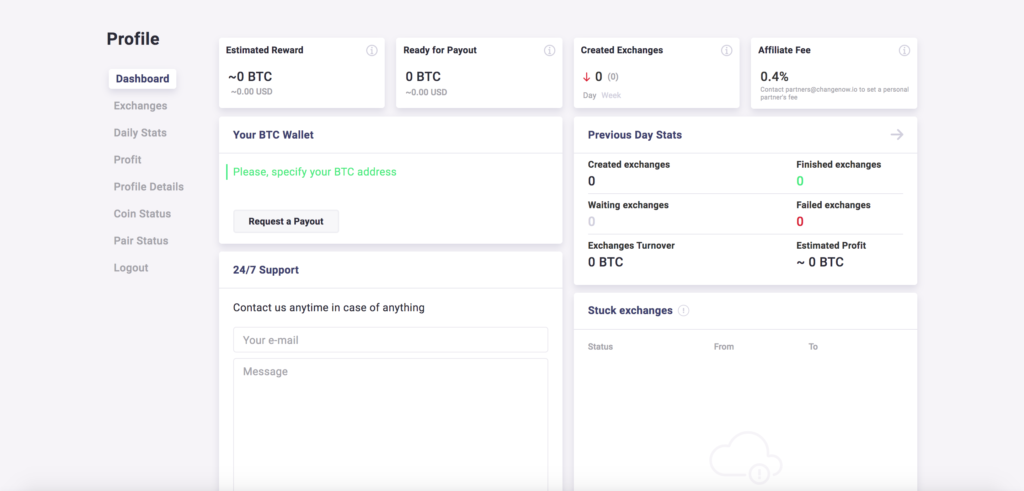 Supported Coin List
ChangeNOW supports over 200 different currencies, with well over 10,000 different exchange pairs which means that you can pretty much trade any cryptocurrency on the exchange. Below, I have made a full list of the supported coins on ChangeNOW.
Bitcoin
Ethereum
XRP
Litecoin
Bitcoin Cash
EOS
Binance Coin
Bitcoin SV
Tether
Stellar
TRON
Cardano
Monero
Dash
IOTA
Cosmos
Ethereum Classic
Tezos
Neo
NEM
Maker
Ontology
Zcash
Bitcoin Gold
Basic Attention Token
VeChain
Chainlink
Dogecoin
USD Coin
QTUM
BitTorrent
OmiseGO
Decred
Holo
TrueUSD
Waves
Ravencoin
Lisk
Bitcoin Diamond
Nano
Zilliqa
Augur
0x
Icon
Komodo
Digibyte
Paxos Standard Token
Verge
Internet of Services
Aeternity
Dent
Enjin Coin
Steem
Ardor
Status
Hyper Cash
Stratis
Aelf
Waltonchain
Golem
Dai
MaidSafeCoin
WAX
ZCoin
Ark
DigixDAO
Horizen
Factom
Aion
Loom Network
Decentraland
Loopring
Nexo
Revain
Populous
ReddCoin
Power Ledger
Ignis
Kyber Network
BancorNetworkToken
Enigma
Polymath
FunFair
Bread
PIVX
IoTeX
Storj
STASIS EURO
Nxt
iExec
Mainframe
Groestlcoin
GAS
TenXPay
Particl
CyberMiles
Civic
Quantum Resistant Ledger
Cindicator
Digitex Futures
Gnosis
Mithril
Vertcoin
Byteball Bytes
Noah Coin
Metal
Aragon
Gifto
Telcoin
Gemini Dollar
Storm
Kin
GoChain
Fetch AI
Everex
Ripio Credit Network
Aeon
SaluS
NavCoin
Dentacoin
PumaPay
SIRIN LABS Token
Ethos
FLO
AdEx
BLOCKv
Edgeless
DigitalNote
SmartCash
Emercoin
ZClassic
Numeraire
district0x
SingularDTV
Selfkey
SONM
Aeron
Agrello
Refereum
The Abyss
Steem Dollars
LBRY Credits
Viberate
Gulden
FirstBlood
BlockMason Credit
GameCredits
AirSwap
Melon
Mercury
Nimiq
adToken
OKCash
NAGA
Unikoin Gold
Radium
eBoost
PotCoin
Elastic
Xaurum
UpToken
RevolutionVR
Humaniq
Chronobank
MonetaryUnit
Bankex
Dynamic
Mysterium
Expanse
BitSend
Synereo
WeTrust
Matchpool
Zap
Swarm City
TransferCoin
Internet of People
Patientory
Stox
PepeCoin
Syndicate
Golos
NuBits
Blocktix
ProCurrency
SkinCoin
Monolith
LoMoCoin
BetterBetting
Golos Gold
Ontology Gas
Huobi Token
Raiden Network Token
Po.et
Binance Coin Mainnet
BitDegree
Syscoin
Salt
Hedera Hashgraph
Beam
V Systems
Binance USD
Tierion
All Sports
Tael
Cryptofranc
Band Protocol
Pundi X
Lunyr
Crypto.com (MCO & CRO)
TrustToken
You can easily select which coins you want to exchange by using the dro-down menu on the exchange form as show in this screenshot: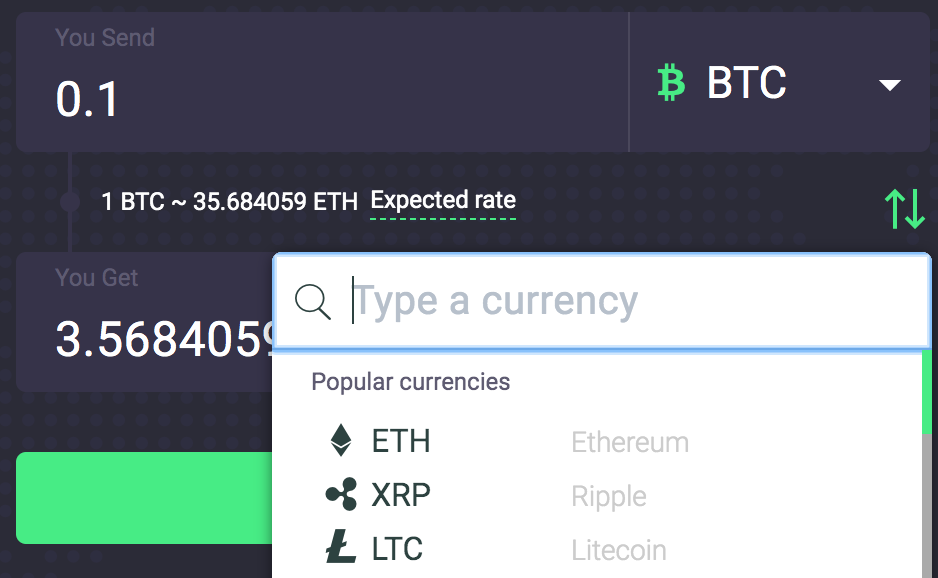 ChangeNOW Team
The ChangeNOW team is diverse and based in different locations all over the world. Some of their members even work for different projects like the Guarda Wallet (one of ChangeNOW's partners), showing the true inter-connected nature of the crypto scene. A few of the notable ChangeNOW team members include:

Countries & Languages
According to ChangeNOW's terms of use, the exchange ios available to all countries except from the following:
Cuba, Iran, North Korea, Crimea, Sudan, Syria, United States of America (including all USA territories like Puerto Rico, American Samoa, Guam, Northern Mariana Island, and the US Virgin Islands (St. Croix, St. John and St. Thomas)), Bangladesh and Bolivia, among with any other country subject to United Nations Security Council Sanctions List and its equivalent.

ChangeNOW
The ChangeNOW.io website is available in 28 different languages which are; English, Arabic, Czech, Danish, German, Greek, Spanish, Persian, French, Hebrew, Hindi, Hungarian, Indonesian, Italian, Japanese, Korean, Malay, Dutch, Polish, Portuegese, Russian, Swedish, Thai, Filipino, Turkish, Ukrainian, Vietnamese and Chinese.
I was pleased to see just how many languages are supported on ChangeNOW, it shows that they are dedicated to providing a good customer experience.
NOW Token
ChangeNOW even has it's very own exchange token which plays a part in the NOW company ecosystem. Here are some details about the NOW token:
| | |
| --- | --- |
| Token Type | ERC20 & BEP2 |
| Ticker | NOW |
| Total Supply | 199,778,510 |
| Exchanges | Idex & Binance Dex |
The NOW token plays a vital role in the ChangeNOW project by providing special rates for holders, accelerated support and more features which help to incentivize the ownership of the token.
ChangeNOW Review: Conclusion
Overall, the ChangeNOW cryptocurrency exchange is a good exchange for those who want to trade cryptocurrencies directly from their wallets, without having to signup for a regular exchange like Binance.
I personally think that the exchange is very good at what it does and provides an easy way for people to swap cryptocurrencies. I particularly like the fact that transactions are limitless and that you have the options for different exchange rates as it adds flexibility for the user. On the other hand, there are quite high fees if you use the exchange to buy cryptocurrencies as they use a third-party service, but apart from that, it's a great all-round crypto exchange.
ChangeNOW Review: FAQs
Is ChangeNOW legit?
Yes, ChangeNOW is a legitmate cryptocurrency exchange service based in Belize.
Does ChangeNOW accept PayPal?
No, you cannot use PayPal with ChangeNOW.
When was ChangeNOW founded?
ChangeNOW began operating in October 2017.