In this cryptocurrency wallet review, I'll be taking a look at one of the world's most highly recommended cryptocurrency wallets; Ellipal. Ellipal is more than just a hardware wallet – it's a 100% offline cold wallet with its very own mobile apps.
Get an exclusive 10% discount on the Ellipal wallet by using our unique discount code BLOCKDUO at the checkout. Click here to claim the offer.
Crypto Exchange Offers
So you've now found somewhere to store you crypto, but do you know where to trade it? Here are some of our favorite crypto sign up bonus offers:
What is Ellipal?
Ellipal is a company which offers an array of cryptocurrency storage solutions. Ellipal launched its first product, the 1st Generation hardware wallet in 2018. The company is based in Hong Kong and has a primary focus on the security of users funds, which is nice to see – they're not just in it for the profit.
Since 2018, Ellipal has grown its product catalogue to include a cryptocurrency wallet app for IOS & Google Play (Android) and the world's first air-gapped hardware wallet.
Ellipal ship to over 70 different countries, so it's safe to say that it is a global company. These countries include the United States, United Kingdom and Canada. Ellipal shipping takes around 3-7 days depending on your location.
Hardware Wallet (Ellipal Titan)
Ellipal's primary product, as I mentioned above, is a cryptocurrency cold wallet (hardware wallet). A hardware wallet is a device, usually around the size of a smartphone (although sometimes smaller like the Ledger Nano X) which stores your private keys offline. This means that people cannot hack your wallet unless they have physical access to your device. For this reason, hardware wallets are an extremely popular means of storing cryptocurrencies securely.
Ellipal's hardware wallet takes it a bit further by adding numerous features which aim to improve the overall security of the device. The main Ellipal hardware wallet is called the 'Titan' – which is pretty aptly named if you ask me!
Features
As I've said earlier in this review, the Ellipal wallet is built with security in mind, so you can imagine that the majority of features are focussed on fund security – which many regard as the most important factor you should look at when purchasing a hardware wallet for your crypto.
Air-Gapped Transactions
One of the main USPs offered by the Ellipal Titan hardware wallet is Air-gap technology. This ensures that the wallet is physically isolated from the public network, making it insurmountably more secure than other popular hardware wallets.

It's also important to note here that the QR code generation used on Ellipal is open-sourced and can be verified that it will not leak private keys.
Tamper Proofing
One of the most obvious (but extremely sneaky) ways people try to hack users funds from their hardware wallet actually occurs before the users use it. This is by tampering with the device in the supply chain in order to give them easy access when funds are put onto the device. Ellipal has been built with this in mind with its anti-disassembly and anti-tamper features which ensure that the aforementioned method of hacking cannot occur. Ellipal can also detect if your data is compromised and delete it from the device, further protecting from physical device breaches – this is why you'll need to backup your device before using it but I'll get into this a bit later in the review.
Private Key Import
There's no need to trust Ellipal when it comes to private key generation. It's been known that some cold wallets use private key generators which store your information and this way you could have your funds stolen. With Ellipal, you can import your own private keys, this way you can be 100% certain that they don't have access to your funds.
4-Inch Touch Screen
Almost every device these days has some sort of touch screen, and hardware wallets should be no different. Ellipal has an inbuilt 4-inch touch screen is highly responsive which make the hardware device as easy to use as a smartphone. I also noticed that the screen is fairly tough in regards to scratches and being dropped from a reasonable height (although I don't recommend trying this out!).
IP65 Rating
Enclosed in a strong metal shell, the Ellipal Titan wallet is IP65 rated which is a globally recognised Enclosure Rating (Standard) that means the device is fully protected against dust and "Protected against low pressure jets of water from all directions, limited ingress permitted". With this in mind, the Ellipal wallet could be seen as one of the most damage-proof cryptocurrency hardware wallets in the world.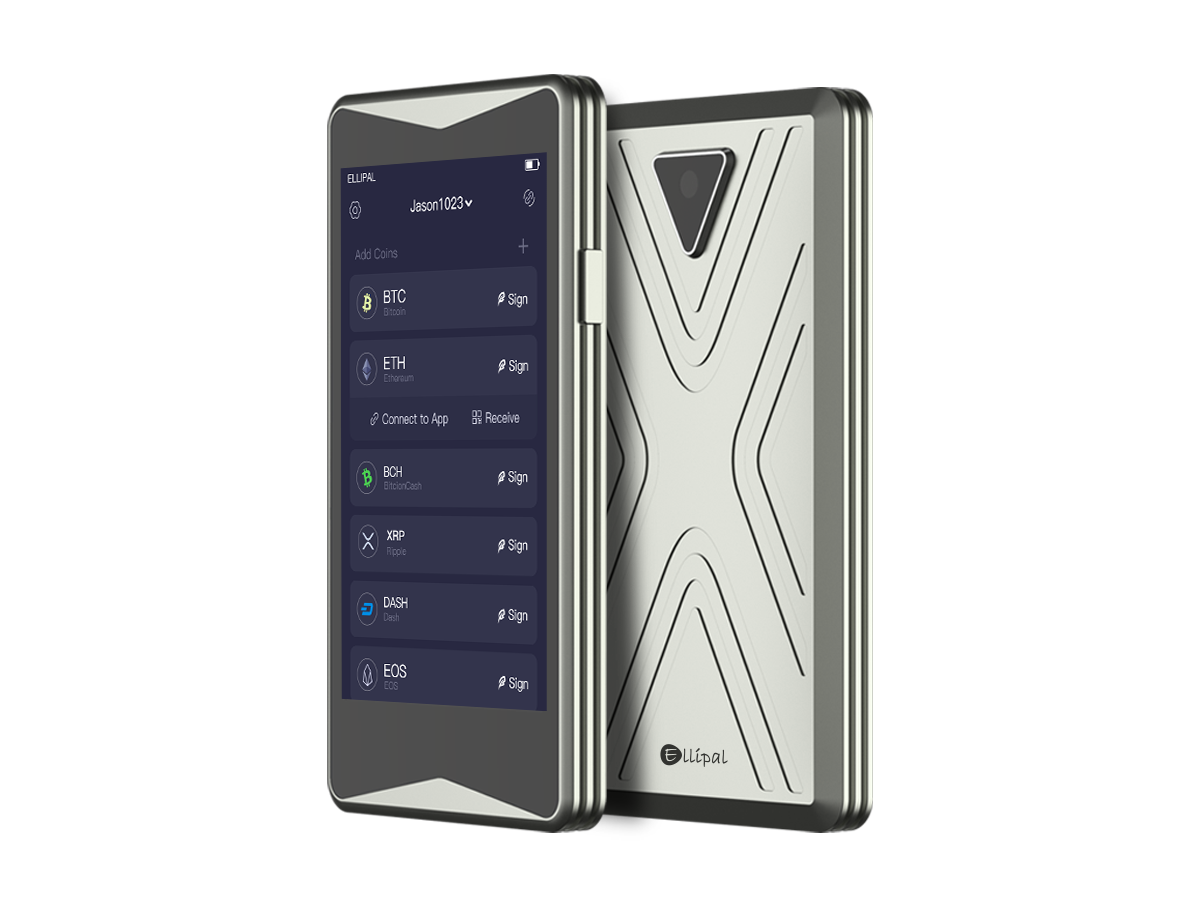 Encrypted Files
Update files verification is also open source and can be verified that every update files are properly encrypted to avoid any fake firmware. This is another great security feature of the Ellipal wallet.
Supported Cryptocurrencies
Being able to store multiple cryptocurrencies on the same wallet is a big plus for most investors and traders as it means that you can manage all your different investments all from one location. The Ellipal wallet supports more than any other hardware wallet I've ever seen.
With over 31+ native blockchains and full support for ERC20, TRC10 & TRC20 tokens, the Ellipal wallet is the most comprehensive crypto hardware wallets in the world. Here's a full list of the supported cryptocurrencies on the Ellipal Wallet:
Bitcoin (BTC)
Ethereum (ETH) & All ERC20 Tokens
Tron (TRX) & All TRC10 & TRC20 Tokens
XRP (XRP)
Stellar Lumens (XLM)
EOS (EOS)
Litecoin (LTC)
Binance Coin (BNB)
Dash (DASH)
Ethereum Classic (ETC)
Dogecoin (DOGE)
Maker (MKR)
Bitcoin Gold (BTG)
District 0x (ZRX)
Zilliqa (ZIL)
Digibyte (DGB)
Icon (ICX)
Gemini Dollar (GUSD)
Aeternity (AE)
Bitcoin Core (BTX)
PalletOne (PTN)
Bitcoin Diamond (BCD)
Decred (DCR)
Zcoin (XZC)
Groestlcoin (GRS)
Bitcoin Cash (BCH)
OmiseGO (OMG)
Basic Attention Token (BAT)
CyberMiles (CMT)
Tether (USDT)
Electra (ECA)
SmartCash (SMART)
Cardano (ADA)
Bitcoin SV (BSV)
Florijnpay (FLRN)
High Performance Blockchain (HPB)
Waltonchain (WTC)
Verge (XVG)
Elastos (ELA)
Ellipal is also looking at adding support for more currencies over the coming months/years which is great to see. Overall, I'm very impressed with the wide range of assets supported on Ellipal.
Pricing
Now you're probably wondering how much this device is after learning that it is one of the most highly-regarded wallets in terms of security and user experience. I have to say, I was pretty surprised at how little the price tag of this device is.
You can purchase an Ellipal Titan here for $169 USD (excluding shipping).
It's also good to note, as you'd hope, that you can buy one of these directly with cryptocurrencies like Bitcoin (BTC) & Ethereum (ETH), PayPal and major Credit/Debit Cards.

Ellipal Mobile App
The Ellipal mobile app is available for IOS & Google Play (Android) devices and has a dual purpose; it can be either a hot wallet or a cold wallet. This means that you can use the app to store cryptocurrencies with or without the Ellipal Titan Hardware Wallet – of course, it is much more secure to use it with the hardware wallet rather than just the app alone. So, let's take a deeper look at the Ellipal App.
The Ellipal Mobile App lets you do pretty much everything you'd expect with a crypto wallet app. You can store, send and receive multiple cryptocurrencies. In addition to this, you can exchange cryptos natively from the app in a secure fashion.
It's nice to see that the Ellipal app also features the latest news and gives you updated quotes from the digital asset market with prices from popular exchanges like Binance & Huobi.
Backups remain one of the highest priorities when setting up your crypto wallet. Ellipal makes this easy in their mobile app by offering a quick set-up procedure with mnemonic phrase support.
Conclusion
To summarise, Ellipal offers a brilliant cryptocurrency storage solution in the form of hardware & software. The Ellipal wallet is one of the most well-designed and most secure cryptocurrency wallets I've ever used. If you'd like to get your hands on one of the Ellipal Titan wallets, head over to ellipal.com and order one before they go out of stock, it ships to over 70 countries and comes pretty quickly (less than 1 week on average).