The FTX cryptocurrency exchange is a popular choice for many traders all over the globe, and of course, when there is popularity, there is money. In this article, I'll be covering FTX's affiliate program, how you can join it, what the earnings are like and go through some ways in which you can earn by promoting FTX.
Cryptocurrency affiliate programs can be extremely profitable and a good source of passive income seeing as most of them provide you with 'lifetime' earnings once you've made a referral. So in theory, you could earn from a referred trader until the day you die – cool right? Anyway, let's jump into why you're here, to learn about FTX's affiliate program.
Requirements
All you need to become an affiliate for the FTX exchange is an email address and an internet connection. There are no manual validation checks, you can sign up and get your referral link instantly, similarly to BitMEX.
How to join
As I've mentioned above, getting started with the FTX affiliate program is a simple process and doesn't require any ID documents or traffic validation. To sign up for the FTX affiliate program:
Visit FTX.com and register for an account
Login to your new account and click on the main dropdown menu (email address)
Select 'Referrals'
Copy your default link (or create a custom one)
Start promoting, it's that easy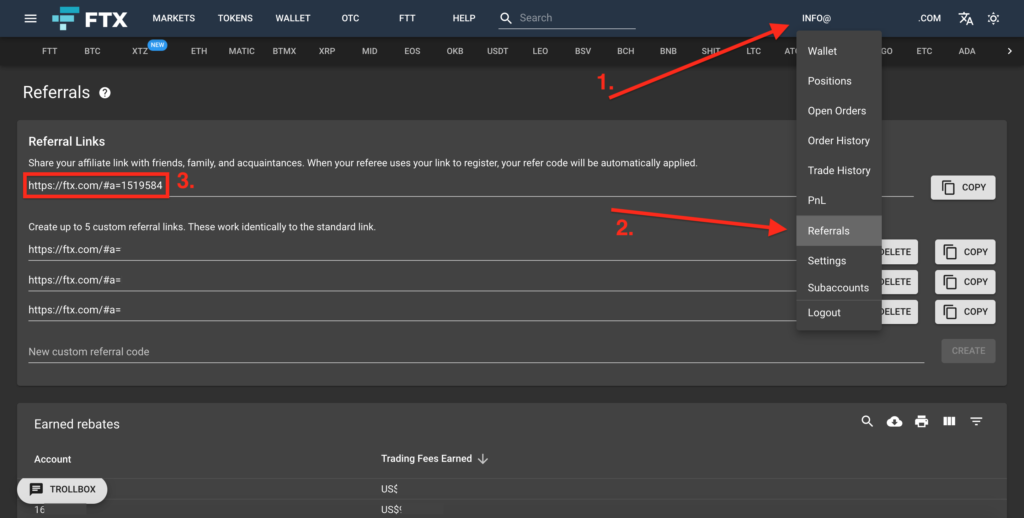 Any accounts which sign up with your link will show up under the 'Earned rebates' tab with the amount they've earned (it will show as US$0.00 if they haven't made any trades yet).
Incentives
There are incentives for both referrers and referrals with the FTX affiliate program. Any user who signs up with your link will be granted with a 5% fee discount (until Jan 1 2020) and you will receive 30% of the trading fees they generate for the lifetime of their account.
To put this in perspective, the standard BitMEX revenue share is 10%, so it makes sense to promote FTX over BitMEX from a profit standpoint. Another crypto exchange affiliate program with a high commission rate is Bybit.
How much can you earn?
The sky is the limit when it comes to earnings from the FTX affiliate program. It all depends on how many users you can get to sign up with your link.
Let's say that, on average, a referred user generates $1 in trading fees per day. If you can refer 1000 people with your FTX referral link, you could make upwards of $1,000 per day – not bad, ey?
Promotion methods
Now that you know how to sign up for the FTX affiliate program, you're probably wondering how you can go about finding referrals so that you can earn some cash right? Here are some marketing vehicles which you can get sign ups for the FTX affiliate program:
Twitter
Website/Blog
Email
Telegram
WhatsApp