FTX.com is a cryptocurrency derivatives exchange built by experienced traders which aims to iron out all the problems associated with existing exchanges Cryptocurrency derivatives let you trade cryptocurrencies without actually having to buy or sell them.
Looking for an FTX sign up bonus? Register with the FTX referral code today and claim a free 5% fee discount.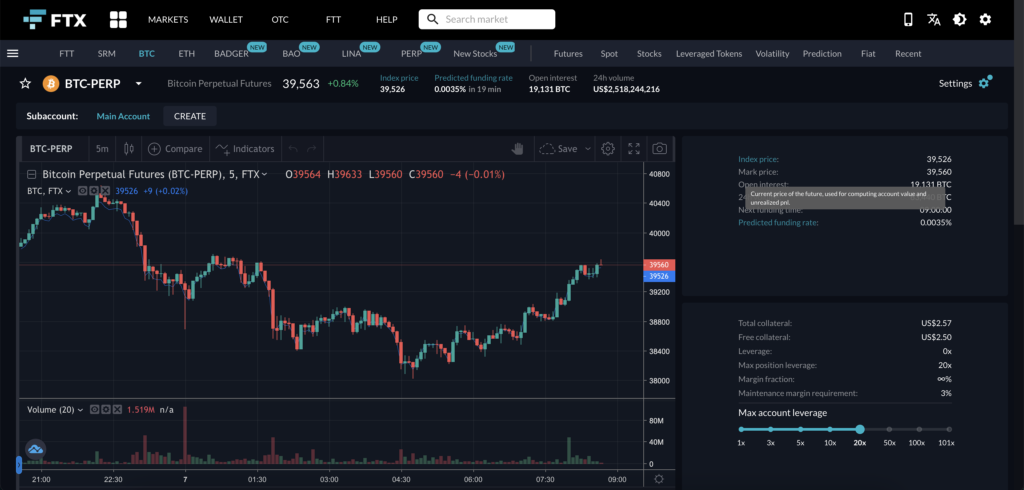 FTX's core focus is on providing a platform powerful enough to support professional/institutional traders as well as individual first-time users, without compromising on performance for either party.
Register on FTX.com now with this link and get a 5% fee discount. This offer could finish at any time, so make sure you don't miss out by signing up free today here.
In a nutshell, FTX is the exchange for everyone.
In this FTX exchange review, I'll be highlighting some of the key features, giving you some background information on the exchange, showing you how you can use FTX and answering the question you are all here for, 'Can you can profit on the FTX exchange?'.
Before we jump into the review, here are some key facts about FTX:
| | |
| --- | --- |
| Website | FTX.com |
| Founded | 2017 |
| Location | Antigua and Barbuda |
| CEO | Sam Bankman-Fried |
| Max Leverage | 101x |
| Assets | Leveraged tokens & cryptocurrencies |
| Partners | Alameda Research, Binance |
Is FTX safe?
Some would say that the core of any crypto exchange is its security protocol and legitimacy.
If you're going to be using an exchange frequently, or with a large balance, you need to know that your funds will be as safe as possible.
There are two main areas I look at when assessing whether or not an exchange is safe to use, this is the company information (e.g regulation) and built-in account protection features in place to warn off hackers.
For this review, I conducted some tests of the FTX exchange to determine exactly how safe it is, here is my findings:
The FTX exchange is well-known as a safe exchange owned by FTX Trading LTD, a registered entity in Antigua and Barbuda.
FTX is extremely transparent since not only the CEO is public, yet also many of the employees. In addition to the legitimacy of the company, FTX also uses several different layers of account security in order to prevent account breaches.
Since FTX was developed by traders, they knew exactly how important security is when it comes to crypto exchanges and I'm very impressed to see the detail they have gone into with regards to keeping users funds safe.
Register on FTX.com now with this link and get a 5% fee discount. This offer could finish at any time, so make sure you don't miss out by signing up free today here.
Is FTX regulated?
As I mentioned above, FTX is a registered legal company, although since it is based in the Carribean, there is no need for the exchange to be regulated, therefore there isn't much international protection/insurance in place, so you do have to rely on the company a bit here.
On the other hand, I feel confident trading on the exchange as it is transparent. In my personal opinion, if they were going to be malicious and steal user's funds, they wouldn't make their identity public since their personal safety may be compromised.
Account Security
In terms of account security, FTX boasts one of the highest industry levels with multiple different security features.
In your FTX account, you can enable 2FA for login/withdrawals, a unique withdrawal password (separate to the main password) in addition to a 'Read-only' password which allows you to provide people with a password that they can use to look into your account, but not make withdrawals, trades etc.
The read-only feature is pretty handy for verifying information between different parties without having to compromise your account security.
Again, I'm impressed with the security of the FTX exchange and feel completely safe trading on it.
Furthermore, aside from the aforementioned aspects of FTX's safety and security, the ftx.com website is fully SSL secured (https://), so your account details are encrypted on a basic level, this just adds to the overall security of the exchange.
Main Products & Features
Now that we've got the boring (yet very important) stuff out of the way, it's time to take a look at the main features and products offered by FTX.
During this part of the review, I will be diving into the trading platform in FTX and showing you all the different features which make it a world-class crypto derivatives exchange.
It's worth mentioning here that FTX is very different from any other exchange due to its unique stance on how the crypto market should be traded.
Anyway, enough of the prelude, let's get on with the review!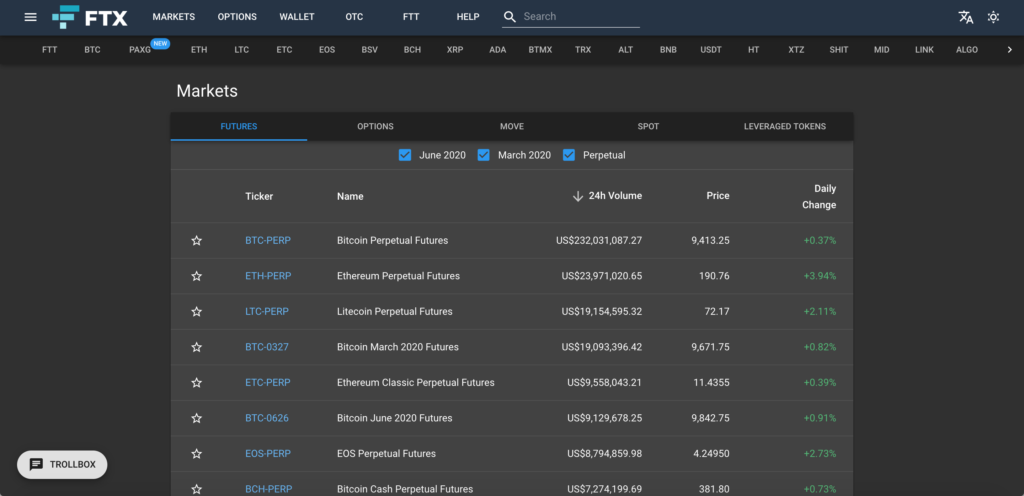 Futures
Cryptocurrency future contracts are the core product offered by the FTX exchange, essentially, it is a way of profiting from the future price of an asset.
Futures allow you to profit from prices going both up and down. FTX offers perpetual contracts as well as quarterly on several different assets.
With built-in clawback prevention, FTX's liquidation engine makes these future contracts extremely fast, even in times of high volatility.
Futures aren't unique to FTX, they've been popular on other exchanges like BitMEX for a while, although FTX has decided to add leveraged future contracts for assets which other exchanges have ignored such as BNB, LEO and even USDT (stablecoin).
Another way in which FTX has taken the crypto futures market and upgraded it is by offering something called 'Index Futures' which means that you can also trade a basket of different cryptocurrencies rather than just one which is seen as lower-risk due to the decreased reliance on one asset's performance.
This makes FTX a great place to trade the overall crypto market swings as a whole, as well as one coin at a time.
Leveraged Tokens
FTX gives its traders a way to profit from the upward or downward movement of selected cryptocurrencies with pre-leveraged tokens.
There are two leveraged tokens for each asset on FTX; BULL and BEAR – BULL goes up when the price of the underlying asset goes up and BEAR goes down when the price of the underlying crypto goes down.
Basically, it means that you can trade an already leverage token without having to manage risk or collateral.
I know this can be hard to understand at first, so to put it in a simpler way, these BULL/BEAR tokens move at 3x the daily price movement of the corresponding asset.
So, let's say that Ethereum goes up from $100 to $110 in one day, the BULL token on FTX would have risen by 30% rather than 10%, allowing you to have profited more from the price movement – get it?
If you're still struggling to understand this concept, check out this leveraged token walkthrough guide.
MOVE
No, I'm not giving you an order to get out of your seat and start dancing, this is one of the many other products of the FTX exchange.
MOVE contracts are, again available for all the assets on the exchange and are a volatility based future contract which lets traders take advantage of being able to predict volatility regardless of in the direction of the move.
This is such a pioneering feature of the crypto derivatives market which I feel doesn't get the attention it deserves.
I've never seen it before and is such an interesting way of trading the market. It allows for a whole new kind of trading, one based on the volatility of a market, not it's direction.
To put this more simply once again, it means that you can profit from how much the Bitcoin price changes, no matter if it goes up or down, for example, you could profit the same if Bitcoin goes up 10% or down 10% if you traded on the idea that Bitcoin's volatility would increase.
Here is a really helpful video which explains the MOVE contracts on FTX:
Register on FTX.com now with this link and get a 5% fee discount. This offer could finish at any time, so make sure you don't miss out by signing up free today here.
OTC
Over-The-Counter (OTC), trading is becoming increasingly popular in the crypto market as it gives room for larger, potentially institutional traders, to be involved and profit from market swings.
OTC can be a difficult operation as it usually relies on a trusted third party to verify either side of the trade.
To combat the issues faced by traditional OTC markets, FTX has built a crypto OTC trading desk powered by Alameda Research which is available 24/7.
Users of this OTC desk can get quotes on up to 20 coins instantly and trade them with deep liquidity, without any fees whatsoever.
Don't get me wrong, FTX isn't the first to offer this, Bitfinex and Binance have had an OTC desk for a while now.
If you'd like to learn more about OTC trading, check out this detailed guide.
Options
Pioneered by one of the other major crypto exchanges, Deribit, Bitcoin options trading is also available on FTX.com.
Options trading on the FTX exchange is currently only available with Bitcoin, but they have really gone to town on making the options trading section detailed and easy to use.
Trading Options is usually for experienced traders, although it is open to all traders on FTX, it allows you to profit on the price of Bitcoin going up or down, similar to future contracts except you get the option to execute your trade before the expiration date, therefore adding another level of skill into the trade.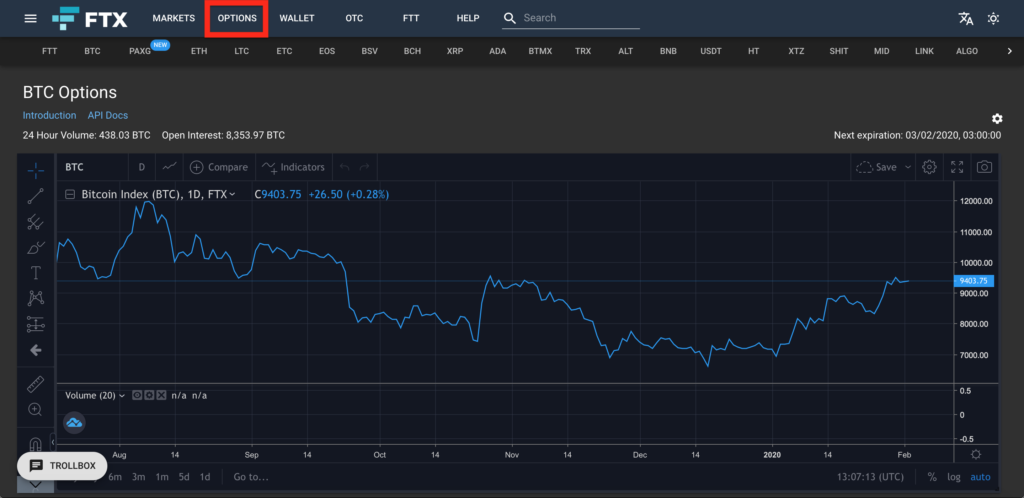 Now that I've walked you through all the products on FTX, I'm now going to highlight some of the exchange's features.
Trollbox
The name Trollbox is synonymous with crypto exchanges, but pretty much unheard of anywhere else. It is a group chat which all traders on a crypto exchange can participate in.
These are usually good for seeing what market sentiment is like as well as discussing the market in general with other like-minded traders.
FTX's trollbox is available in both English and Chinese. You can post links, images and emojis in the trollbox which is handy for posting chart analysis (TA) and sharing ideas with other market participants.
You have to be logged into your FTX account to use the trollbox and it is free to enter.
Converter
This is one of my favourite features of the FTX exchange.
You can convert any asset in your wallet into any of the other coins on the exchange instantly, for free.
This is great if you want to change your collateral or just if you need to change it for withdrawals etc.
To convert assets on FTX, go to 'Wallets' from the main menu selection, click convert on the crypto you want to change, enter the amount and confirm it.
You'll then see that your balances change based on your requirements. Brilliant feature FTX! Bravo.
Registration
Signing up for an FTX account is free and only takes a couple of minutes.
To register, head over to ftx.com/#a=1519584 (you'll get 5% off fees if you use our referral link), click register and then enter your email address and the desired password for your account.
Recommended: FTX Referral Code
You'll then get instant access to FTX's full trading platform; you can deposit and start trading right away.
I like how quick the signup process is on FTX, it means that you can get started quickly, which is always a bonus in our on-demand society.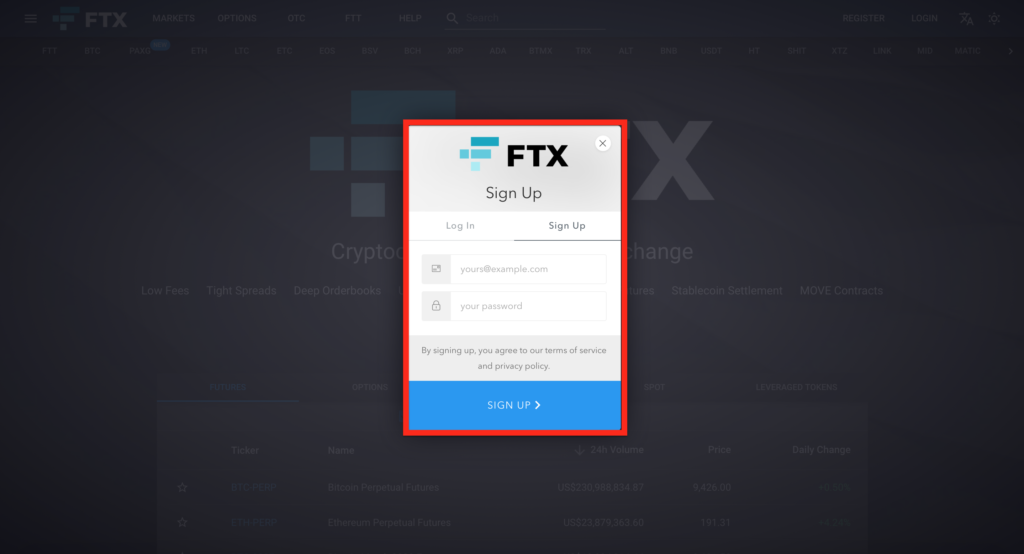 KYC
Know Your Customer (KYC) checks are a hot-topic of discussion in the crypto world. KYC is a form of Identity verification which can differ in requirements but is usually just proof of ID.
Many crypto exchanges don't require KYC since they are based in countries which don't require verification, but does FTX require KYC?
FTX does not require KYC unless you want to withdraw more than 1000 USD, anything above this amount requires basic KYC checks which is available for both Individual and Institutional accounts.
Register on FTX.com now with this link and get a 5% fee discount. This offer could finish at any time, so make sure you don't miss out by signing up free today here.
It's important to note here that the 1000 USD limit is for the entirety of your account, not a daily allowance, so you will most likely need to do KYC on FTX if you are an average trader.
There are different levels of KYC on FTX which have different requirements and limits, to learn more, visit ftx.com.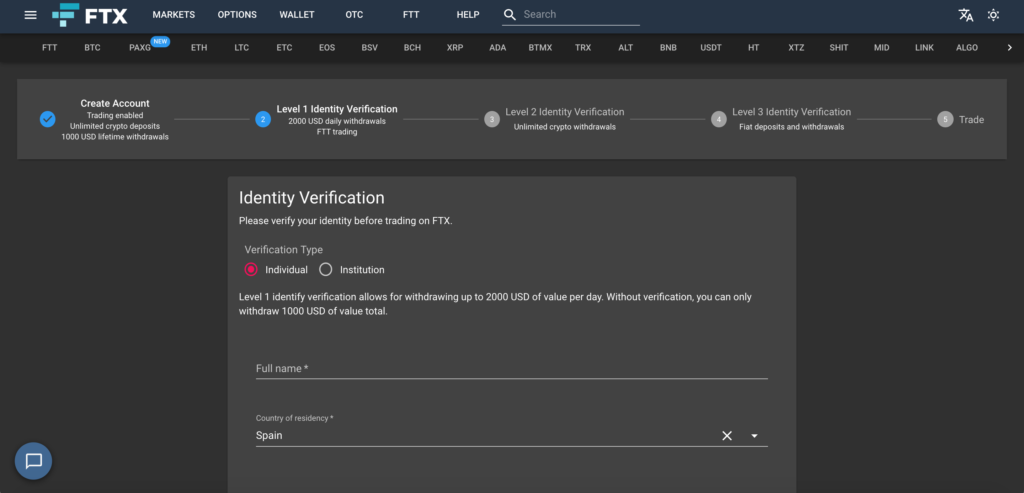 FTX Fees
Before you trade on any crypto exchange, it's vital to know exactly how much it will cost you to trade on it, you don't want to throw away precious profits right?
So, let's take a look at the trading fees on FTX.
FTX charges a basic 0.02% trading fee for maker orders and 0.07% for taker orders, although this rate can be reduced by holding FTT (FTX's exchange token) and by trading more volume on the FTX exchange.
| | |
| --- | --- |
| Maker Fees | 0.02% |
| Taker Fees | 0.07% |
If you want to learn more about FTX's trading fees, read our full FTX fee guide here.
Deposit & Withdrawal
Bank management is also an extremely critical process of any exchange's operations.
I'm now going to be giving you info on deposits/withdrawals on the FTX crypto exchange including the methods you can use, the time it takes and any other important facts that you need to know.
Making a deposit on FTX
Getting your crypto onto FTX to trade is a simple process and can be done with a variety of different assets.
I like the way that FTX offers a wide range of deposit methods.
A lot of other crypto derivatives exchanges only offer one or two deposit methods such as Bitcoin, whereas FTX provides over 10 mainstream crypto deposit options, making it easier than ever to get started trading on the exchange.
The deposit methods on FTX are:
Bitcoin (BTC)
Ethereum (ETH)
Litecoin (LTC)
FTX Token (FTT)
Bitcoin Cash (BCH)
BitMax Token (BTMX)
Binance Coin (BNB)
BiLira (TRYB)
USD Stablecoins (USDC, TUSD, USDT, PAX, BUSD, and HUSD)
I love the way that FTX groups USD stablecoins together (apart from USDT), meaning that you have one stablecoin balance which just keeps things simple, I have to admit, there are far too many stablecoins on the market.
How long do deposits take?
Deposits on FTX are lightning-fast due to their low blockchain confirmation requirements.
The time it takes for a deposit to process on FTX depends on which cryptocurrency you deposit and the time it takes for the corresponding network to confirm the transaction.
On average, deposits take anywhere up to 1 hour to credit onto your account, although it is usually much lower than an hour depending on which cryptocurrency you deposit onto your FTX account.
Register on FTX.com now with this link and get a 5% fee discount. This offer could finish at any time, so make sure you don't miss out by signing up free today here.
As I mentioned just now, FTX has pretty low confirmation requirements for deposits.
Below, I've made a table which shows you the deposit confirmation requirements for the cryptocurrencies on FTX.
| Coin | Confirmations Required |
| --- | --- |
| Bitcoin (BTC) | 2 |
| Litecoin (LTC) | 2 |
| Bitcoin Cash (BCH) | 2 |
| Ethereum (ETH) | 10 |
| ERC20 Tokens | 10 |
| Binance Coin (BNB) | 1 |
Are deposits free on FTX?
Yes, there are no fees for deposits on the FTX cryptocurrency derivatives exchange.
How to deposit on FTX
Now that you know what you can deposit on FTX and how long it takes, you're probably wondering how you can go about doing it.
Like most crypto exchanges, getting funds onto the exchange involves sending cryptocurrency to a relevant deposit address on your FTX account wallet.
To deposit on FTX:
Register for a free account (save 5% on fees when you sign up here)
Go to 'Wallet' in the main menu
Find the crypto you want to use and click 'Deposit'
A receiving address will then popup, you now need to send cryptocurrency from an external wallet to this address (If you don't have any crypto yet, use Coinbase to buy it with your credit/debit card and then you can send it to FTX from there)
Now you just have to wait, in a few moments, you should see your funds in your FTX account
As expected, you are also given a QR code for your deposit addresses on FTX, you can view this by selecting 'SHOW QR CODE' on the deposit screen.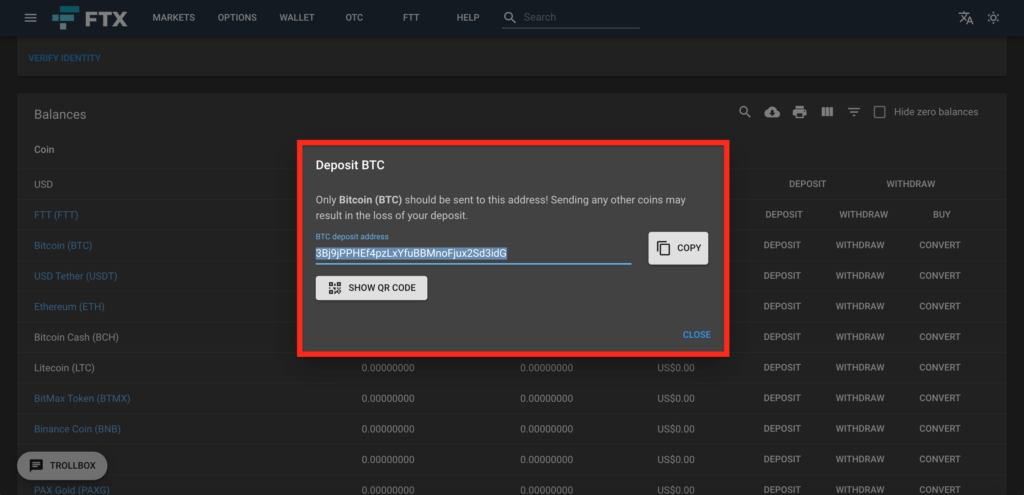 Deposit tracking
Being able to track your incoming deposits and see your previous deposits is a handy feature of any trading platform, especially crypto ones due to its decentralised nature – transparency is key.
You can view your incoming and historical deposit records on FTX below the 'Balances' section of the wallet page.
The data you are given is the time of the deposit, the coin deposited, the amount and the status of the deposit.

Withdrawing from FTX
We've covered how to get your crypto onto FTX, but not off yet.
In this section of our FTX guide, we'll be reviewing the withdrawal process of the FTX exchange.
Withdrawal Methods
The withdrawal methods on FTX are identical to the deposit methods listed above, you can only withdraw in cryptocurrencies, including the majors like Bitcoin (BTC) and Ethereum (ETH).
FTX Withdrawal Fees
Most crypto exchanges charge you for each withdrawal you make from the platform, but this is one of the areas FTX differs.
There are no withdrawal fees on FTX whatsoever, they cover all the network fees to ensure a smooth process for clients.
I am overwhelmed at this, to be honest. It's extremely rare to see an exchange offering free withdrawals.
Free withdrawals equal happy customers, including me.
Withdrawal Time
The second most frequently asked question about withdrawing crypto from exchanges is how long it takes.
Similar to the true nature of FTX, this is somewhere where the exchange takes a slightly different stance to the rest of the industry.
Most cryptocurrency derivatives exchanges like Bybit and BitMEX only process withdrawals a few times (or once) per day as they store customers funds in cold wallets for security.
FTX differs in that a large portion of customer funds are kept in hot wallets (online) which means that withdrawals can be made instantly rather than having to wait several hours for your withdrawal.
Depending on the cryptocurrency you are withdrawing from FTX, withdrawals usually take around 20 minutes to one hour.
Of course, withdrawals on FTX can take longer if the network is congested, it is all down to the coin you choose to withdraw and the state of the network, similar to when depositing.
Like with deposits on FTX, you can also track your withdrawal status and view withdrawals you have made in the past by scrolling down to the bottom of the 'Wallet' page on your FTX account (of course, you have to be logged in to view this info).
Register on FTX.com now with this link and get a 5% fee discount. This offer could finish at any time, so make sure you don't miss out by signing up free today here.
Trading on FTX
Like I said earlier in this review, you can start trading cryptocurrency contracts on FTX immediately after registering for a free account and making a deposit.
Once you've completed those steps, you are ready to start trading.
You can break down trading on derivatives exchanges in four simple steps:
Choose what to trade
Asses the market and decide on a direction
Submit the order and open the position
Close the position (hopefully in profit)
Below, you will find the information which helps you to execute these steps and complete a successful trade on the FTX exchange.
What can you trade on FTX?
If you read the products section at the beginning of this FTX review, you'll know the different types of contracts you can trade on the exchange.
Each cryptocurrency listed on the FTX exchange has several different contracts including futures (instant profit/loss), volatility-based contracts, and pre-leveraged tokens.
The cryptocurrencies you can trade on FTX are:
Bitcoin (BTC)
FTX Token (FTT)
PAX Gold (PAXG)
Ethereum (ETH)
Litecoin (LTC)
Ethereum Classic (ETC)
EOS (EOS)
Bitcoin Satoshi's Vision (BSV)
Bitcoin Cash (BCH)
XRP (XRP)
BitMax Token (BTMX)
Cardano (ADA)
Tron (TRX)
Binance Coin (BNB)
Huobi Token (HT)
Tether (USDT)
Tezos (XTZ)
Chainlink (LINK)
Algorand (ALGO)
MATIC (MATIC)
Cosmos (ATOM)
TomoChain (TOMO)
OKB (OKB)
UNUS SED LEO (LEO)
Dogecoin (DOGE)
BiLira (TRYB)
In addition to the assets listed above, FTX also created unique tokens to the exchange which act as Indices; for example, 'ALT' which is a mixture of 9 different altcoins, averagely weighted.
As you can tell from the extensive list, FTX offers a huge number of different cryptocurrency pairs on the exchange which makes it a great exchange, in my opinion, there's a definite need for 'one exchange to rule them all' where you can trade any crypto, any way you want – I think that FTX has the best shot of being just that.
Order Types
FTX boasts an impressive array of different order types to satisfy the any trader. Here is a list of the order types on the FTX exchange:
Limit
Market
Stop market
Stop limit
Trailing stop
Take profit
Take profit limit
FTX has been quick to push out these features and has more orders than some exchanges which have been around a lot longer like Binance which only has a few order types.
Leverage
The FTX exchange is mainly focussed on providing leveraged products such as futures contracts.
If you're new to leverage, it allows you to trade with more than your available account balance. It is used by traders to increase profits on smaller market moves. The maximum leverage on FTX is 101x, meaning that you can trade with 101 times more than your account balance.
So say you have $1, you would be able to trade $101 worth of Bitcoin for example, and then you would profit (or lose) on the $101 rather than the $1.
You can see that it is a very powerful tool, but it should be used with caution and you need to be experienced before you use it as you can lose your entire account balance.
You can change your leverage on FTX by using the slider bar on the main trading screen as shown in the image below.

Register on FTX.com now with this link and get a 5% fee discount. This offer could finish at any time, so make sure you don't miss out by signing up free today here.
Liquidity
When FTX began operating, another one of the problems they were looking to solve was liquidity.
This is how much can be traded on a market at once, at the closest market price. The higher the liquidity, the better.
One of the main indicators used to tell how good the liquidity of an exchange is the daily volume (how much is traded within 24 hours).
FTX is renowned for being extremely liquid, meaning you get a better price and less slippage which is great for traders with big pockets.
FTX's daily volume is around $4 billion USD.
Languages & Supported Countries
In this part of the review, I'll be covering where you can use FTX from and in which languages you can view the platform in.
In order to expand globally, it's important that crypto exchanges support multiple different cultures and languages.
FTX is pretty good in terms of languages offered and accepted countries, they cover pretty much everywhere where it is legal to trade crypto products, so I have good faith in the expansion of this exchange in the future across the globe.
FTX Languages
The languages available on FTX are as follows:
English
Chinese
Turkish
Korean
Russian
Vietnamese
German
Spanish
French
Italian
Dutch
Portuguese
Accepted Countries
According to their terms of service, FTX is available to all countries (but not limiting the foregoing) except for 'Cuba, Crimea and Sevastopol, Germany, Iran, North Korea, Pakistan, Sudan, Syria, Vietnam' or any other countries which are deemed restricted territories by the US or UK.
Using this information, we can assume that the following countries are accepted by FTX.com, although you must check with your local laws and the FTX terms first:
United Kingdom
France
Italy
Australia
Russia
China
Turkey
Netherlands
Portugal
Spain
Canada
Ireland
South Africa
Mexico
Brazil
Poland
Austria
Switzerland
Register on FTX.com now with this link and get a 5% fee discount. This offer could finish at any time, so make sure you don't miss out by signing up free today here.
FTX Token
Exchange tokens are a common thing, they give people a way to profit from an exchange's performance and often serve several utility cases such as giving you fee discounts etc.
FTX's token is called FTT and it is traded on multiple exchanges including Binance. If you would like to learn more about the FTX token, we've put together a full guide on it for you here.
FTX x Binance
In late 2019, FTX partnered with Binance, one of the world's leading cryptocurrency exchanges in a strategic move to increase the popularity and trust of the FTX exchange.
How much effect this partnership is unknown, although I think that it adds a great level of strength to FTX and helps new traders be able to trust the exchanges as it has been endorsed by a trusted market leader like Binance.
FTX Review: Mobile App
FTX has mobile apps for both Android & IOS devices.
You can use the full exchange through the mobile apps. Even though the apps are great, I think that the design could be improved as it seems a little complex for newer traders on FTX.
You can download the FTX mobile app using the links below.
Before you download the app, make sure you register for your FTX account with this link to get an exclusive 5% fee discount.
FTX IOS App: Download
FTX Android (Google Play) App: Download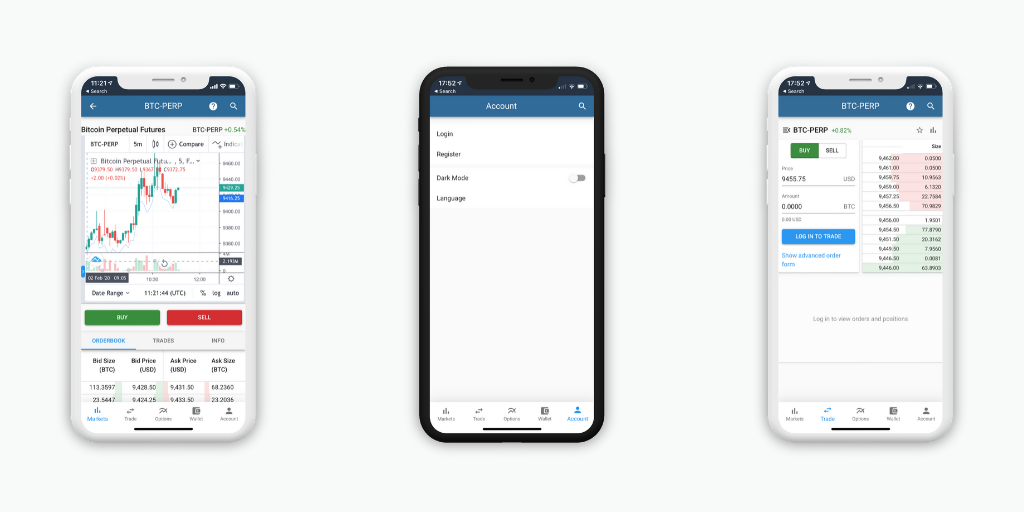 Here is a list of the supported devices for the FTX mobile app: iPhone, iPad, Samsung, Google Pixel, HTC, Sony.
Register on FTX.com now with this link and get a 5% fee discount. This offer could finish at any time, so make sure you don't miss out by signing up free today here.
Referral Program
If you've spent some time hanging around crypto twitter for any time, you'll have heard the term 'ref link' likely more than once.
Referral links are usually handed out by exchanges to provide you with an opportunity to earn from referring people to trade with them.
FTX has a built-in referral program which is free to use, and you don't have to apply separately to participate in it.
The FTX referral program earns you 30% of your referrals' trading fee whilst they get a 5% discount on their trading fees, so there is a nice incentive which you can use to promote the exchange.
You can get your unique FTX referral link/code instantly by registering for a free account on ftx.com and then going to 'Referrals' in the main menu.
Here, you can copy your referral link, create custom links, track how many referrals you have and see how much they have earned you (per referral).
Here is a screenshot of the FTX referral program dashboard:
How much you earn from the referral program all depends on how many people you refer and how much they trade.
As you can see from the screenshot above, you can make over $70 from one account in a short period of time – who knows, you may even get a whale to sign up which nets you $1000s per day.
Customer Support
If you have an issue with using any crypto exchange, it's always nice to have the peace of mind that you can get good help, quickly.
To finish off this FTX exchange review, I'm going to be covering FTX's support.
FTX has 24/7 support which can be accessed by visiting help.ftx.com.
On the FTX support centre, you can read answers to the most frequently asked questions as well as submit a support request.
When I've had to get in touch with FTX in the past, I've found that the support team are pretty quick to get back to you and are pretty helpful.
I managed to get my request sorted within the same day, which is quite good when it comes to crypto exchange support.
In addition to FTX's main support centre, you can also get in touch with them using other channels, I've put this information in a table below so you can find the details you need easily.
FTX Review: Conclusion
So, what do I think of FTX?
Overall, FTX is a brilliant exchange which could become one of the most popular in the world if it continues to provide an excellent service, unparalleled speed and high levels of security.
The only area of improvement for the exchange would be that it need sot have a more intuitive design if it is to dominate the newcomers crypto market, beginner's may find the exchange hard to use at first, but I think that it is appropriate for traders of all abilities, which is something truly unique and unheard of in the industry.
If you think that you'd like to have a go trading on FTX exchange, click the button below to register and you will get a 5% fee discount on us, as partners of the exchange.
Anyway, happy trading and I hope you enjoyed this review!
Register on FTX.com now with this link and get a 5% fee discount. This offer could finish at any time, so make sure you don't miss out by signing up free today here.