Guarda wallet is a non-custodial cryptocurrency wallet which aims to provide an all-in-one solution for crypto storage. The wallet is both multi-platform and multi-coin, meaning that you can store different cryptocurrencies and access them on different devices, making this wallet extremely efficient and accessible. Since it is a non-custodial wallet, you can also be sure that your funds are safe, as you are in control of your funds, not the company behind the wallet.
In this full Guarda crypto wallet review, I'll be taking a deep-dive into the wallets functionality, user experience and main features in order to help you work out if it is the right crypto wallet for you. To kick off the review here is some basic information about the wallet:
| | |
| --- | --- |
| Wallet Name | Guarda Wallet |
| Website | guarda.com |
| Logo | |
| Founded | 2017 |
| Platforms | Web, Desktop, Mobile, Chrome |
| Pricing | Free |
| ERC20 Compatible? | Yes |
Guarda wallet is a brilliant storage solution for a few main reasons. Firstly, it supports tons of different coins, is available on pretty much any device and most importantly, is secure. It is by far my favorite multi-currency crypto wallet on the market and it truly is 'one to rule them all' in my honest, unbiased opinion.
Did you know? You can get a huge $150 welcome bonus on Phemex exchange with a Phemex invitation code?
Features
The Guarda wallet is packed full of awesome features which make it one of the best crypto wallets around. I have put together some of my favourite features of the Guarda wallet below.
Non-custodial
Downloadable backups
AES data encryption
Import wallets
Ledger Wallet integration
Dark mode
Instant wallet creation
Custom blockchain network fee option
Bybit integration
Supported Coins
Here is a full list of the coins supported on the Guarda wallet:
BTC, ETH, ZEC, XRP, XMR, XTZ, XZC, WAVES, XVG, VTC, TRX, USDT, RDD, RVN, QTUM, NEO, XEM, XLM, LTC, LSK, KMD, KIN, ZEN, BNB, AYA, BCH, BTG, BSV, BTH, CLO, ADA, CRM, ATOM, DASH, DCR, DGB, DOGE, EOS, ELA, ETC, EXP, GRS, NLG, JOYS, ONT, UBQ, YEC.
Security: Is Guarda Wallet Safe?
When it comes to storing your crypto, you need to be sure that the place you use to store it is secure – you don't want it to be stolen! In this part of our Guarda wallet review, I'm going to be taking a look at Guarda's security features and assessing whether or not it is deemed as a secure place to keep your coins.
Yes, Guarda wallet is a safe non-custodial cryptocurrency wallet which uses the latest wallet security measures such as AES data encryption, session timeouts and passwords.
Thousands of people use Guarda each year safely with no issues whatsoever. On the other hand, the security of the Guarda wallet varies depending on which platform you use. Web wallets are always regarded as the least-safe way to store crypto as your private keys are held online (in your wallet account), meaning that if someone were able to get into your account, they may be able to steal your cryptocurrencies. Guarda knows this, and hence offers an option to connect your wallet to a Ledger Hardware wallet which means that you can store your private keys offline, in the most secure way possible.
Nevertheless, you shouldn't worry about using Guarda so long as you use a secure password and perform regular backups. The Guarda wallet is just as safe as other popular online wallets like Blockchain and Lumi.
The most important thing to note when it comes to Guarda's safety is that it is a non-custodial wallet which means that the company don't hold your funds, and you'll be able to withdraw your crypto even if the wallet goes offline – so for this reason, many people deem Guarda to be a more secure wallet than ones like Coinbase which aren't non-custodial.
Is Guarda Wallet Open Source?
One of the other security aspects we look at when assessing the safety of any crypto wallet is if it is open-sourced or not. Open-source wallets are wallets which let the public view the code (or parts of it) to prove that there is no malicious code which may be used to steal your private keys (and gain access to your funds). So, you're probably now wondering; 'Is Guarda Wallet open source?'.
Yes, the Guarda Wallet is open-source which means that you can rest assured that the wallet is secure to use and that your funds can't be stolen by the company. You can view Guarda's code source on GitHub here: github.com/guardaco.
As I said above, it's important that we know if a wallet is open-sourced to check to see if we should use it. Not all of Guarda's wallets platforms are open-source, but the majority are which is a good sign. There are reasons why companies like to keep some parts of their code closed-source for example to stop the theft of their work – someone could copy their wallet which wouldn't be good!
Company
If you've read the previous section of this Guarda Wallet review about the security of the wallet, you'll probably know by now that users of the wallet don't have to worry too much about the company behind it since it is non-custodial, which means that you can always withdraw your funds (so long as you have a backup). Anyway, it is always good to have a basic idea of the company behind a product when it comes to the cryptocurrency industry (which is plagued with scams). The main reason Guarda has a registered company behind it is because they offer an in-wallet exchange service.
The Guarda Wallet is run and maintained by Guardarian OÜ, a legally registered company in Estonia with registration number 14320990.
It's nice to see that Guarda is transparent with regards to their company info, not many crypto companies are.
Is Guarda regulated?
Now that we know Guarda is legally registered, it's time to take a look at the regulation it has to offer cryptocurrency exchange services within the wallet.
Yes, according to Guarda: "Guardarian OÜ is authorised by Estonian Financial Intelligence Unit (FVR000109) for a virtual currency against a fiat currency exchange service."
I checked this out to see if it was a legitimate virtual currency licence, and I couldn't find any official documents as I believe it is privately held, but Crunchbase also has the same information, so I do feel like the licence is legit.
Fees
Cryptocurrency wallets don't usually charge any fees for storing, receiving or sending crypto. Which probably leaves you thinking 'how do they make money?'. Well, most free crypto wallets (not hardware) offer an exchange service in the wallet which lets you swap your coins into other cryptocurrencies instantly. You don't have to use this, howvere, you will pay some fees if you do decide to.
Guarda wallet itself doesn't charge any fees to use the wallet although if you use the built-in exchange service, you will pay a 3.5% fee to Simplex (Guarda's payment processor).
So, you can use Guarda without any fees whatsoever. Although Guarda don't charge any hidden fees, when you want to send crypto, most of the time you will have to pay a small network fee (which goes to the blockchain network supporters, not Guarda). How much this is depends on which crypto you are sending and how quickly you want to send it.
Is Guarda Wallet free?
Guarda Wallet is 100% free to download and use, there are no initial costs to buy the wallet whatsoever.
Platforms: Which devices can you use Guarda Wallet on?
As I mentioned earlier in this review, Guarda is a multi-platform wallet, meaning that you can access your wallet over multiple devices like a laptop or mobile phone. Guarda has 4 main supported platforms, these are as follows.
Web Wallet
You can access all of Guarda Wallet's features through their web wallet. This allows you to access your wallet in-browser, all you need is an internet connection and a device to access the internet with. Web wallets aren't as safe as hardware wallets, but they are very accessible and serve as an efficient way to store and use cryptocurrencies. The Guarda Web Wallet is compatible with all main browsers including Internet Explorer, Safari, Chrome, Firefox and Brave.
To create a free Guarda Web Wallet, go to guarda.com.
Desktop Wallet
You can also use the Guarda wallet on the desktop as a downloadable application. Desktop wallets are useful and are regarded as a more secure crypto storage solution. The Guarda Desktop Wallet is available for the following operating systems:
macOS
Windows (64 & 32 bit)
Linux
To download the official Guarda Wallet for desktop, visit guarda.com/desktop.
Mobile Wallet
One of the most popular ways of storing cryptocurrencies is on mobile devices. This comes as no surprise to me as the majority of people access internet-based applications on their mobile rather than a large desktop device or laptop. Guarda is one of the very few available multi-currency cryptocurrency wallets available for both IOS & Android. It's a brilliant wallet and offers a great way of storing cryptos securely.
Download Guarda on Google Play
Chrome Extension
The fourth, and final platform which you can use the Guarda Wallet on is a Chrome Extension. Anyone who's used crypto regularly will know how great Chrome Crypto Wallets are – they allow you to interact directly with websites securely (e.g purchasing things with crypto) and are super handy for those times when you need to store some crypto quickly. Like all of the other Guarda supported platforms, you can download the Guarda Chrome Extension for free. Click on the link below to download it now.
How to use Guarda Wallet
Using the Guarda Wallet is an extremely simple process. From creating you wallet to sending crypto, you can get started with the free wallet within less than a minute.
Create Wallet
Use the following steps to create your wallet on Guarda instantly.
Go to guarda.com/app
Click 'Create a new wallet'
Enter a password and continue
That's it, you've successfully created your free Guarda Wallet
Receiving Coins
To put cryptocurrencies onto your Guarda Wallet, login to it, find the crypto you want to deposit, copy the receiving address and send your coins to that address. As soon as the transaction is confirmed on the blockchain, you will see your coins in your Guarda Wallet account. If you can't see them, try pressing the refresh button.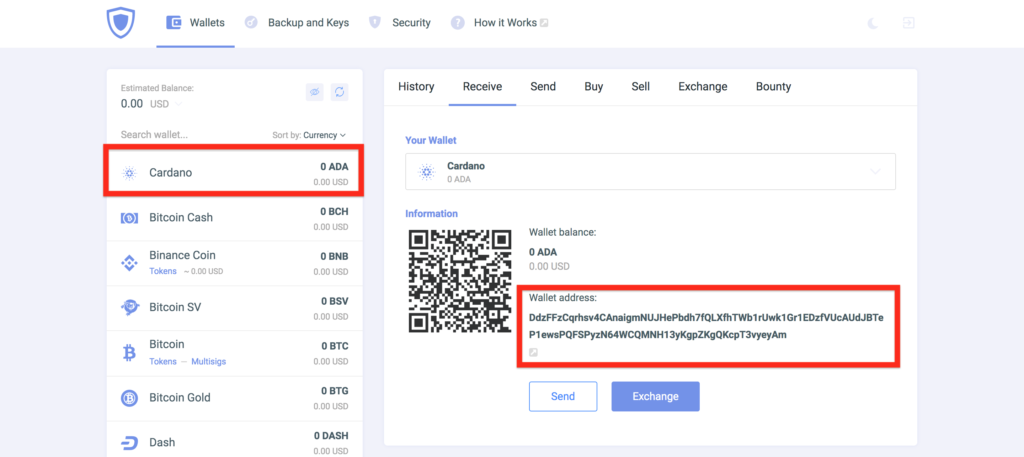 Sending Crypto
Sending cryptocurrencies out from your Guarda Wallet is just as easy as receiving them. Just go to the wallet you want to send crypto from and click 'Send'. Then all you have to do is fill in the address you want to send to, the amount you want to send and the network fee (if it applies). Guarda Wallet processes transactions instantly, so you don't have to wait around for your funds to send. To change the network fee click on 'Advanced options'.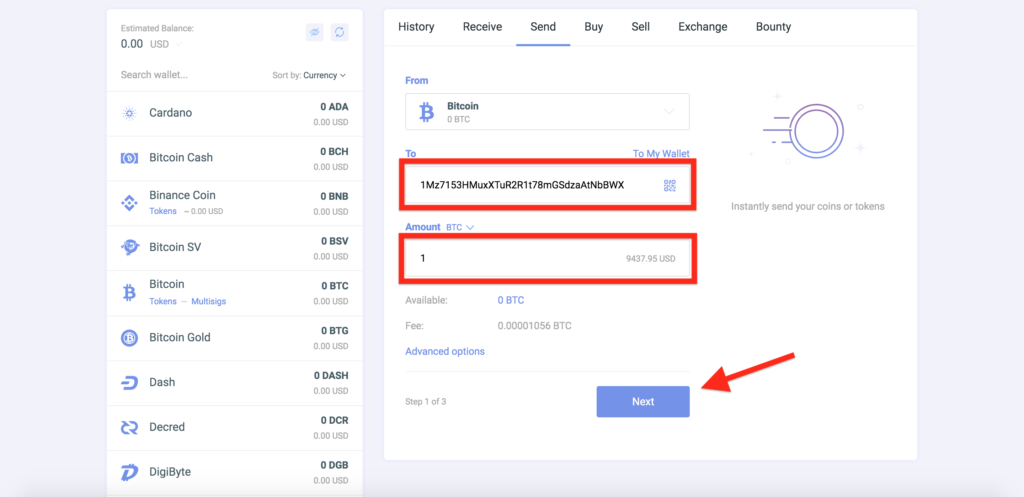 Private Keys
With any non-custodial crypto wallet, you'll need a way to be able to manage the private keys of your account. You'll need these to be able to secure your account. In this section of the tutorial, I'll be showing you how to import and export your private keys on the Guarda Wallet. Importing private keys allows you to move your wallet from another application over to Guarda.
Import Private Key
To import a private key on the Guarda Wallet, go to the 'Backup and Keys' tab and then go to 'Import by Currency'. Once you've done that, follow these steps:
Select the crypto wallet you want to import from the dropdown list
Enter (or paste) your private key into the encrypted box
Click 'Add wallet'
Complete, you should now see your balance in the Guarda Wallet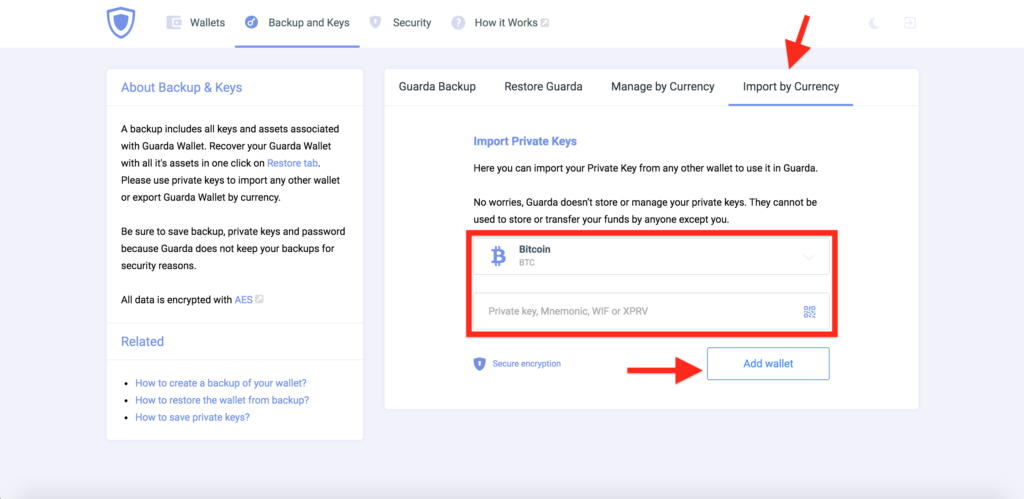 Export Private Key
To export private keys for your wallets on the Guarda Crypto Wallet, use the following instructions.
Select the 'Backup and Keys' tab
Go to 'Manage by Currency'
Find the cryptocurrency you want to export the private key for
Click on 'Show private keys'
Enter your main Guarda Wallet password
You will now see your private key
Below are some screenshots which show you how to export a private key on the Guarda Wallet.
Exchange
Guarda offers an in-wallet exchange which lets you buy, sell and trade cryptocurrencies directly from your wallet. This is handy for those that aren't used to using cryptocurrency exchanges and provides a pretty simple way to switch your cryptocurrencies and cash in when prices rise. To use the exchange in Guarda, just log in, head over to the crypto you want to trade, select the corresponding action (e.g buy, sell or exchange), fill in the details for your transaction and complete the steps as prompted. I think that this is a neat feature of the Guarda Wallet and it's the main way they make revenue – they deserve some support for creating such a good crypto wallet in my opinion!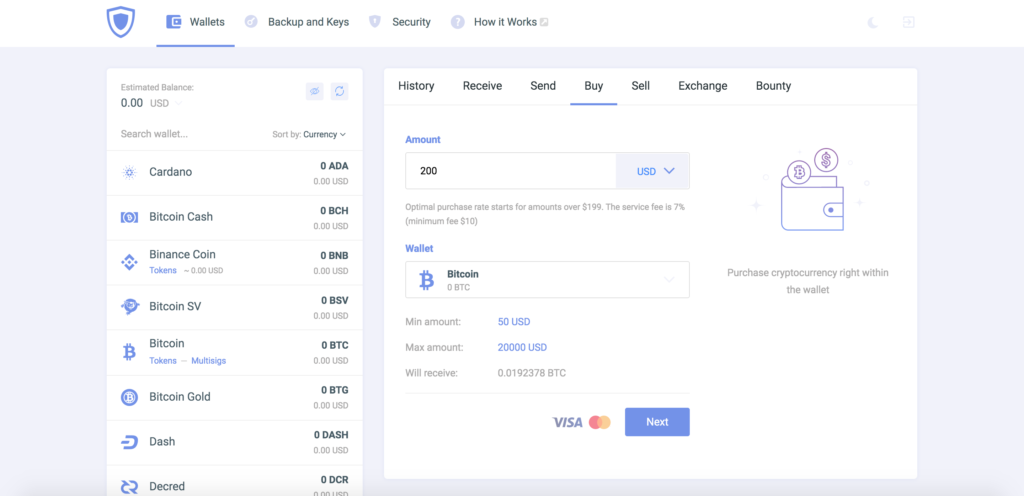 Guarda Wallet uses third parties for the exchange services in the wallet, I did some digging to find out which companies they use.
For the fiat (regular currency) buy/sells, Guarda uses Simplex (the same company used by Binance). For crypto-crypto exchanges, Guarda uses ChangeNOW.
Staking
Like the sound of passive income? This is what 'Staking' can provide. In brief, it is the act of holding a certain cryptocurrency and gaining a reward for holding it in a staking wallet. You could say that it is a bit similar to mining, except for you don't need any expensive hardware or extensive tech-knowledge. Guarda Wallet is pioneering the crypto industry by providing an easy-to-use staking service in their wallet for PoS (Proof of Stake) assets including Tezos & Komodo.
This incredible feature offered by Guarda lets you securely stake your cryptocurrencies and receive rewards paid directly into your Guarda Wallet with 0 fees charged by Guarda – that's amazing right?
To stake your coins on Guarda, head over to the coin (e.g Tezos/XTZ) and click on the stake tab. You'll then see a list of validators, select which one you want to use and then complete the steps as shown on Guarda.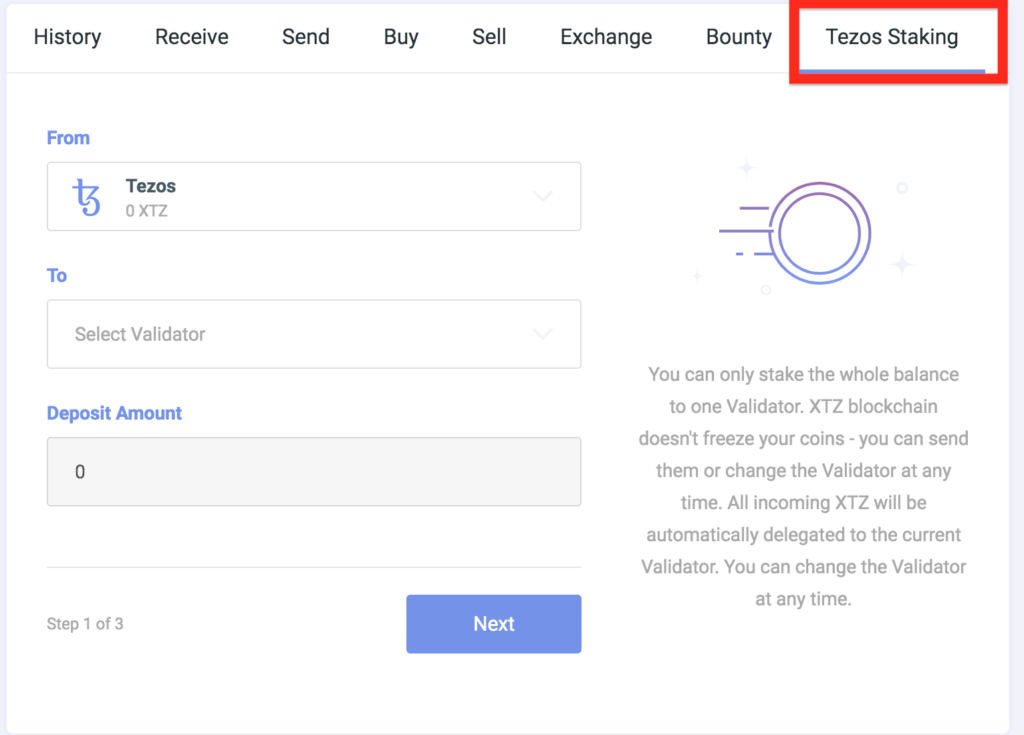 Bounties & Giveaways
The fun doesn't stop there. In a bid to increase both user experience and project awareness, from time to time, Guarda offers bounties and giveaways which let you earn free crypto just for completing simple tasks like following social media accounts for example. To see a full list of the current bounties on Guarda Wallet, go to any of your wallets in your account and click 'Bounty'.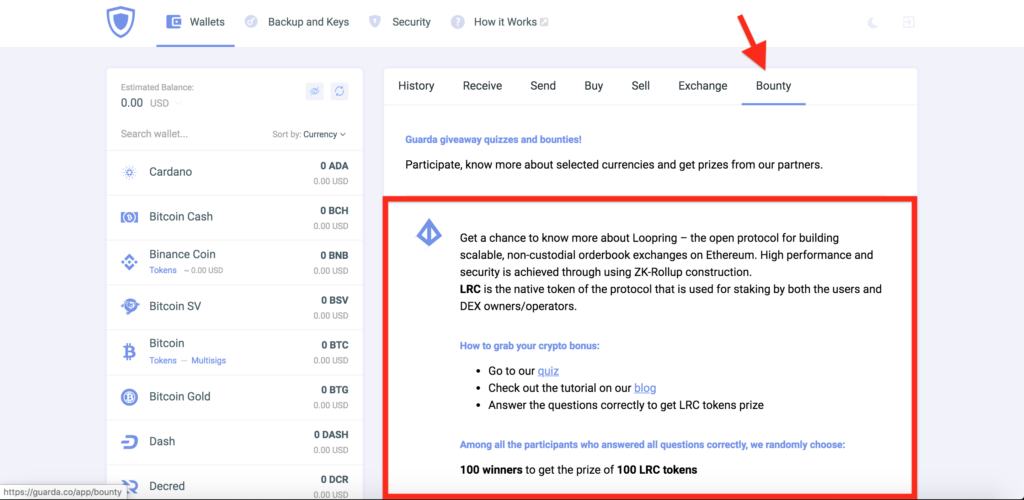 This is one of the 'wow' features which shows just how good the Guarda Wallet is, they have gone to unheard-of lengths to provide users with the best possible experience and opportunities.
Support
From reading this review of the Guarda Wallet, you'll probably know that there isn't much need for support with the wallet since it is non-custodial, although there are naturally times where you will need to get in touch with someone to help you out. To satisfy this requirement, Guarda offers a complete support ticket system and provides plenty of help guides on guarda.freshdesk.com/support/home. You can also send any questions you might have to the Guarda email address hello@guarda.co.