About Huobi Global
Huobi Global is an online cryptocurrency exchange accessible by both desktop and mobile devices. The exchange was established in 2013 by Huobi Group and has become one of the world's most well-known crypto exchanges. The exchange is based in the Seychelles and was financed by ZhenFund and Sequoia Capital.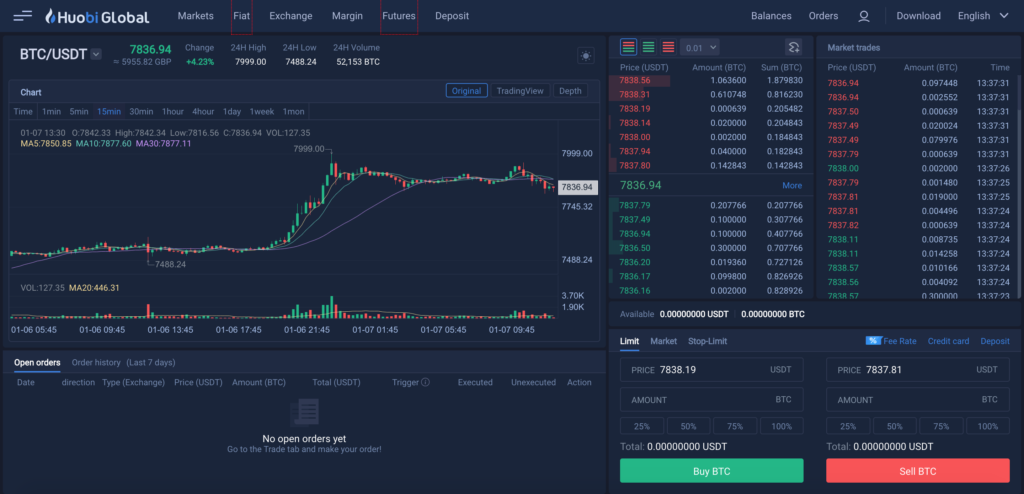 With daily volumes around $1 Trillion per day, Huobi Global is an extremely liquid exchange over multiple crypto trading pairs including BTC, ETH, LTC, XRP and more. The exchange offers both spot and margin trading, meaning that you can trade with more than your account balance should you so wish. On the other hand, it is more well-known for spot trading. If you are looking to trade on margin, I recommend checking out Bybit which offers up to 100x leverage – meaning that you can trade with 100 times more than your balance.
At the time of writing, Huobi Global, unlike many other exchanges has not been hacked and has thousands of satisfied customers all over the globe.
Huobi Global is not open to US residents whatsoever, they GEO-block users from the US, although this can be overridden with a VPN like BulletVPN (I do not recommend doing this).
The CEO of Huobi Global is Livio Weng, he has been in the position since 2018. Here's an interesting interview with him regarding the Huobi Global exchange.
As a Chinese exchange, many people are concerned as to the safety of the Huobi Global exchange due to China's view on Bitcoin & other Cryptocurrencies (they've been known to ban them in the past). For this reason, let's take a look at the safety of Huobi Global.
Is Huobi Global Safe?
Security of traders funds is of utmost importance to crypto exchanges and as I have mentioned above, the Huobi Global exchange has not been hacked and therefore can be considered as a safe cryptocurrency exchange although you should always understand the risks of keeping your capital on cryptocurrency exchanges.
Another aspect of safety we need to look at is the features they have in place to protect users accounts from being breached. Huobi Global offers 2FA (2 Factor Authentication) like Google Auth to secure users accounts as well as withdrawal email confirmations and notifications. In addition to this, there is a captcha on the sign-in page to ensure that robots are not used to high-frequency test login details. Overall, I'm pretty impressed with Huobi Global's safety & security features – it's everything I would like to see with an exchange of this calibre.
In my opinion, there's no cause for concern regarding regulation and the Huobi Global exchange – many other crypto exchanges are based there and are staying compliant in order to ensure that users funds are kept secure. A method of combatting this security issue would be to take your funds off the exchange once you are finished trading and then put them back there when you need to trade again.
Looking into the legitimacy of the Huobi Global company, I was able to locate a LinkedIn page with all current employees and information about the company which is good to see as it instils more faith in the exchange.
According to LinkedIn, the address of Huobi Global is 8 Marina Vw, Central Business District, SG.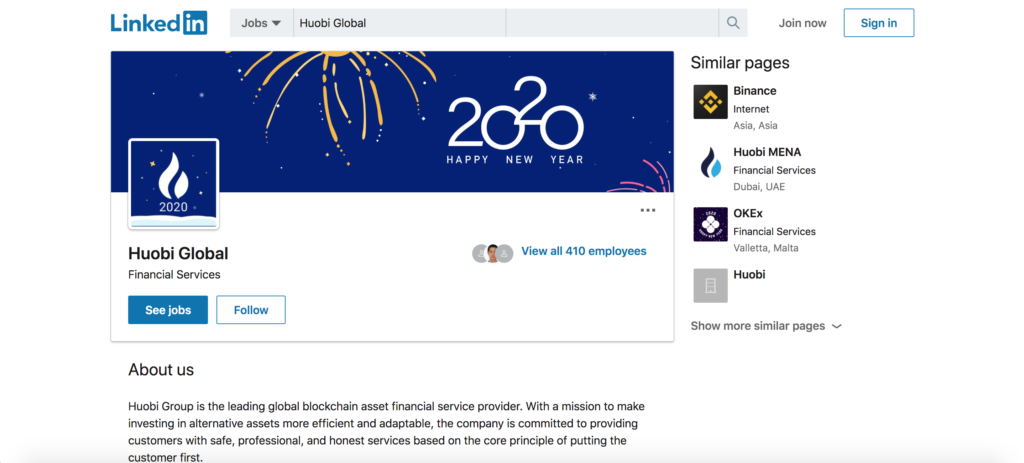 Register & Login
Signing up (registering) for a Huobi Global account is free and takes around 5 minutes to complete. I love the fact that you can choose to register with a mobile number OR email address, you don't usually see this with crypto exchanges but it's a really nice feature which makes it easier and more flexible to get started. Anyway, here's how to register on Huobi Global:
Visit hbg.com
Click 'Sign Up'
Select which sign up method you want to use and then fill in the details as necessary
Click the 'Sign Up' button at the bottom of the form
Confirm your email address
Don't forget to use invitation code ig5y4 when signing up to Huobi Global to get the latest invite offer.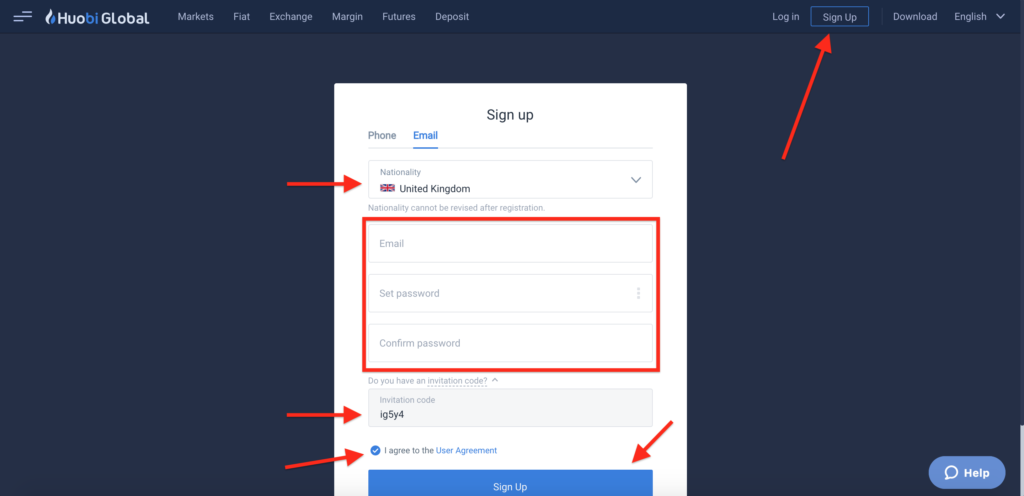 Now that you've got your account setup, it's time to log in and make a deposit. To do this, just go to hbg.com and click 'Log In'. When prompted, fill in your details which you used in the registration process and then proceed to login.
Deposit
Now that you've logged into your account, you'll need to deposit funds into the account before you can start trading. Deposits can be made in almost all cryptocurrencies which are available on the exchange.
The most common deposit methods used on Huobi Global are Bitcoin (BTC), Ethereum (ETH), Tether (USDT) and Litecoin (LTC).
To make a deposit on Huobi Global, go to 'Balances' then 'Exchange Account' – here you will find all the cryptocurrency deposit address for your account. Choose the crypto you want to use to deposit, copy the address and then send funds to that address.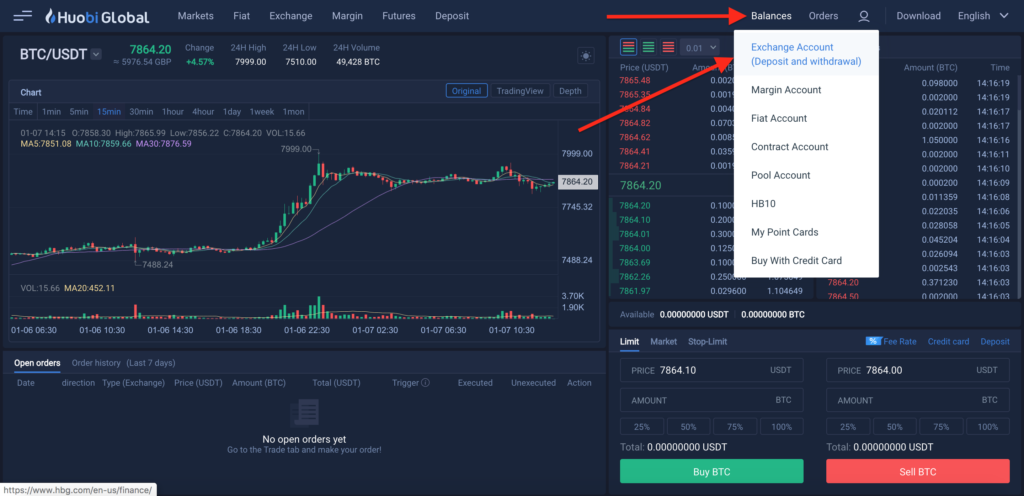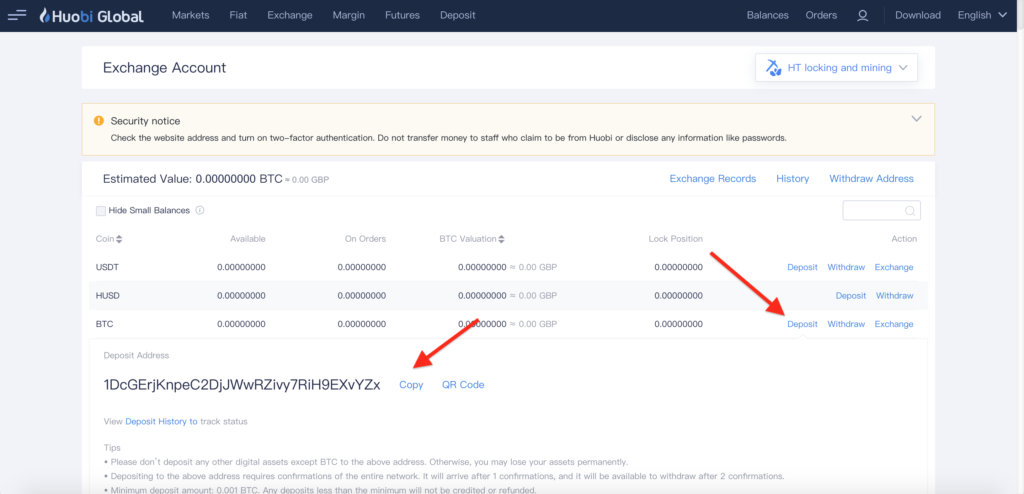 Depending on the cryptocurrency you use to deposit onto Huobi Global, you should be able to use your funds on the exchange within 1 hour, sometimes it's faster, and sometimes it takes longer, as I said, it all depends on the currency used.
How to trade on Huobi Global
Making a trade on Huobi Global is the same as many other crypto exchanges, and therefore, it's nice and simple and you should have it mastered in a few minutes.
I was really pleased to see that Huobi Global have though about beginner traders by labelling the Buy/Sell buttons for each pair to avoid any confusion rather than just saying 'Buy' or 'Sell' – not sure what I mean? Here's an example:
So, how exactly do you make a trade on Huobi Global. Firstly, make sure that you have deposited some funds to your account, you'll need to do this before you make a trade as there is no demo account on Huobi Global.
Now that you have funds, find the asset you want to buy; for this example, let's say I deposited Bitcoin (BTC) onto Huobi Global and want to buy Ethereum (ETH) with it. Go to 'Markets' and search for the cryptocurrency you want to buy or sell. Once you've found it, select it and then press 'Exchange'.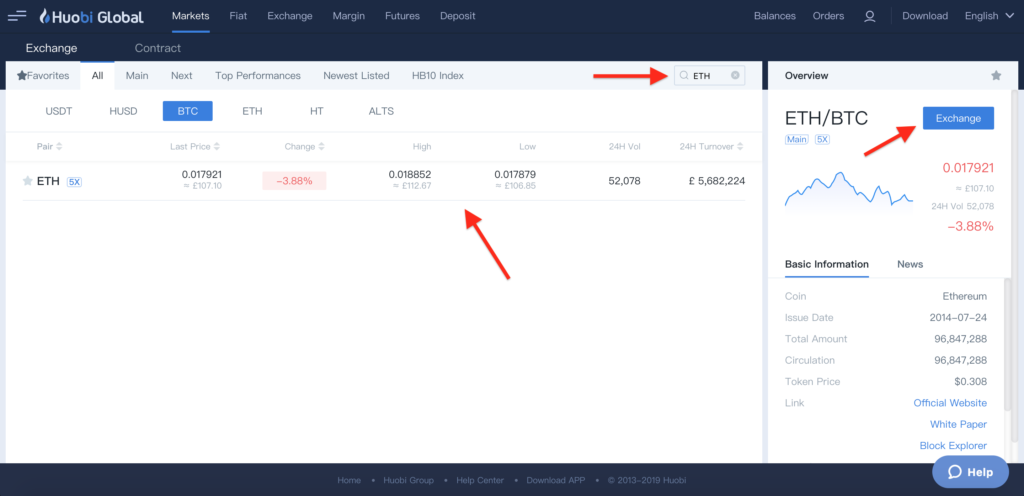 You should now see a screen a bit like the one below. Now, before we jump into making a trade, let me explain the page a bit more so that you get a grasp of what it all means.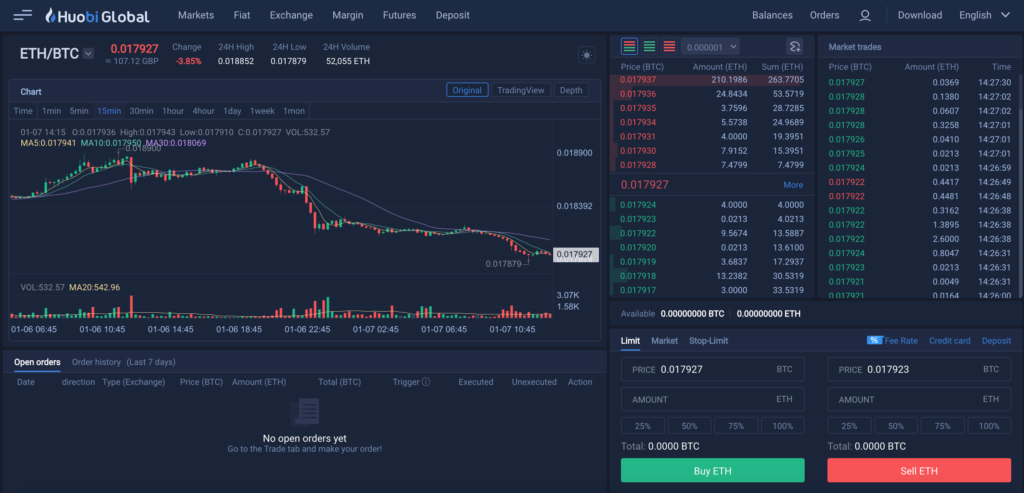 On the left-hand side, you should see a large chart, this shows you the price of the asset against the trading pair you selected – in this example, it is showing that Ethereum has gone down in price against Bitcoin (become less valuable).
Below the chart is your orders tab, this shows you any open trades and historical ones allowing you to keep track of your orders. From this tab, you can cancel open orders as well as gather the information you may need for tax purposes etc.
So switching over to the right-hand side of the trading screen, at the top you can see what's called the 'Order Book' – this tells you where people have orders to buy or sell that particular asset. In the example above, we can see that someone wants to buy 4 Ethereum (ETH) at 0.017924 BTC per ETH.
Below that is the most important box, where you can trade the asset. You'll see that this box has three different tabs, these are for different order types. There are three main order types on Huobi Global:
Limit orders are saying 'I will buy/sell X amount of Y at price Z'.
Market orders are saying that 'I want to buy/sell X amount Y instantly, irrespective of the price'.
Stop-Limit orders are saying 'I want to buy/sell X amount of Y if the price goes to Z'.
Now that you've got a better idea of the main order types on Huobi Global, go ahead and select the one you want to use and then fill in the details (amount and price). Now to make the trade, all you have to do is press the corresponding Buy/Sell button – it's that simple.
Once your order fills, you will see the balance change from one asset to the other, so for example, if I bought 1 ETH with my BTC, the corresponding balance would move from my BTC balance to my ETH balance. You can then withdraw the asset you exchange to should you so wish or trade it back to other assets at a later time. There is no limit to the number of trades you can make in one day on Huobi Global.
Fees
Huobi Global charges a 0.2% standard fee for buys and sells on the exchange which can be reduced by holding tiered amounts of HT – Huobi's exchange token. So one standard trade on Huobi Global would cost you 0.4% of the total volume of your trade (1 buy & 1 sell or vice versa).
There are also other fee reductions you can make use of on the Huobi Global exchange including the Professional user program which basically means that the more you trade, the fewer fees you pay.
For more information on Huobi Global's tiered fee structure, see this page.
With regards to deposit & withdrawal fees, Huobi Global doesn't charge any deposit fees although you do have to pay a withdrawal fee which varies depending on the asset that you want to withdraw. It's pretty minimal though, so it doesn't really affect me when I use the exchange. The withdrawal fees also change depending on market conditions, so you'll need to sign up for a Huobi Global account to check the exact withdrawal fees.
There are no other fees associated with trading on Huobi Global that you need to know about – the exchange is pretty transparent in that regard.
Making a Withdrawal
Naturally, at some point (hopefully when you've made some nice profit), you will want to move your money off the exchange so that you can realize profit (or loss). To do this, go to your exchange account balances, find the asset you want to withdraw, select 'Withdraw' and then proceed to make the withdrawal out of Huobi Global.
Handy Tip: Have your email account (or phone) that you used to sign up ready as you will need it to confirm the withdrawal.
There are some daily withdrawal limits if you do not verify your Huobi Global account, so if you are planning on trading with big bucks, you may wish to verify your identity.
Huobi App
You can also use the Huobi Global exchange on-the-go with the Huobi App. This advanced app available for IOS Apple App Store and Google Play Store (Android) allows you to trade and managed funds on your mobile device and is extremely secure and well-designed in my personal opinion (I use it all the time).
Download IOS Huobi App (iPhone, iPad etc.)
Download Android Huobi App (Google Play Store)
Some of the notable app features, in my opinion, are FaceID, instant orders and the ability to buy/sell crypto with credit & debit cards.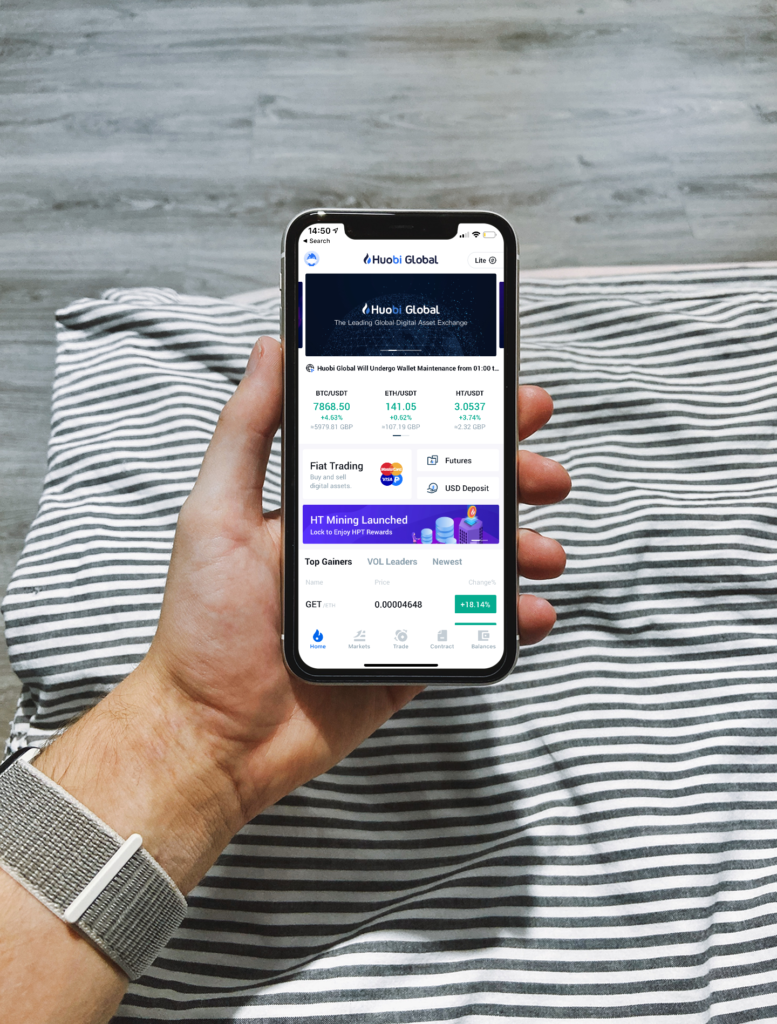 Customer Support
Being able to get in touch with members of staff at a cryptocurrency exchange can be an arduous process, so let's take a look at the support system of Huobi Global – at the end of the day, it's one of the most important factors.
I've personally used Huobi Global's support centre several times and found it sufficient every single time. The response was fast, and they managed to resolve my problems with ease.
To access Huobi Global support, visit huobiglobal.zendesk.com/hc/en-us and search for your issue, if you can't find the answer there, submit a request.
You're probably also wondering whether or not Huobi Global has a live chat. Yes, Huobi Global offers a Live Chat service from their web and mobile applications.