Welcome to our comprehensive review of the Lumi Bitcoin & Cryptocurrency Wallet. In this review, I'll be taking a look at how secure the Lumi Wallet is, what you can store on it and some of the main features it has to offer cryptocurrency investors.
What is Lumi Wallet?
Lumi Wallet is a multi-currency secure and private Bitcoin & Cryptocurrency wallet for mobile and desktop. Lumi Crypto Wallet also lets you buy crypto with credit/debit cards as well as giving you access to your own private keys, so you are in complete control of your funds. Lumi Wallet was founded in 2017, incorporated in Cyprus.
Is it safe?
The most important thing when it comes to cryptocurrency wallets is how secure and safe they are, the last thing you want is to lose your crypto right? With this thought in mind, let us take a look at how secure the Lumi Wallet really is.
Lumi Wallet is a fully secure cryptocurrency wallet as you have access to your own private keys which means that no one else controls your money. This means that even if Lumi Wallet goes bust or just stops operating, you'll still be able to access your funds. In addition to this, Lumi Wallet uses a range of security features to ensure that your funds are kept safe such as a pin code on the apps as well as Face ID support.
On top of the aforementioned security features, Lumi Wallet also gives you the ability to backup your wallet, I'll go into this a bit deeper later in this review.
Supported Cryptocurrencies
So what can you store on the Lumi Crypto Wallet? Here are the cryptocurrencies currently supported on the Lumi Wallet:
Bitcoin (BTC)
Ethereum (ETH)
ERC20 Tokens
In addition to the 1200+ assets already listed on the Lumi Wallet (mainly ERC20), they are also adding support for EOS soon.
Pricing/Fees
The Lumi Wallet is 100% free to download and use to store cryptocurrencies like Bitcoin, Ethereum and ERC20 tokens. You're probably wondering; 'if that's the case, how do they generate revenue?'. Like any for-profit company, Lumi Wallet has to make money somehow. They do this by offering a crypto exchange within the app which lets you buy and sell cryptocurrencies with credit and debit cards. You don't have to use this feature, but if you do, you will pay a percentage fee to the Lumi Wallet. As I've said, you can just use the wallet like you would any other crypto wallet by sending and receiving cryptocurrencies securely.
The fees for buying/selling cryptocurrency on the Lumi Wallet is 6.8%.
Platforms
The Lumi Crypto Wallet is available on both desktop and mobile with their free web and mobile apps. You can go ahead and create a free Lumi Wallet straight away on desktop by clicking here. On the other hand, if you'd like to download the Lumi Wallet mobile apps, keep reading.
The Lumi Wallet app is available worldwide for IOS & Google Play (Android).
The IOS Lumi Wallet mobile app is compatible with iOS 10.0 or later on iPhone, iPad, and iPod touch. Download it from the App Store here.
The Google Play Lumi Wallet requires Android 5.0 and above and is compatible with most Android devices including Samsung, Google Pixel and HTC. To download the Lumi Wallet App for Google Play, click here.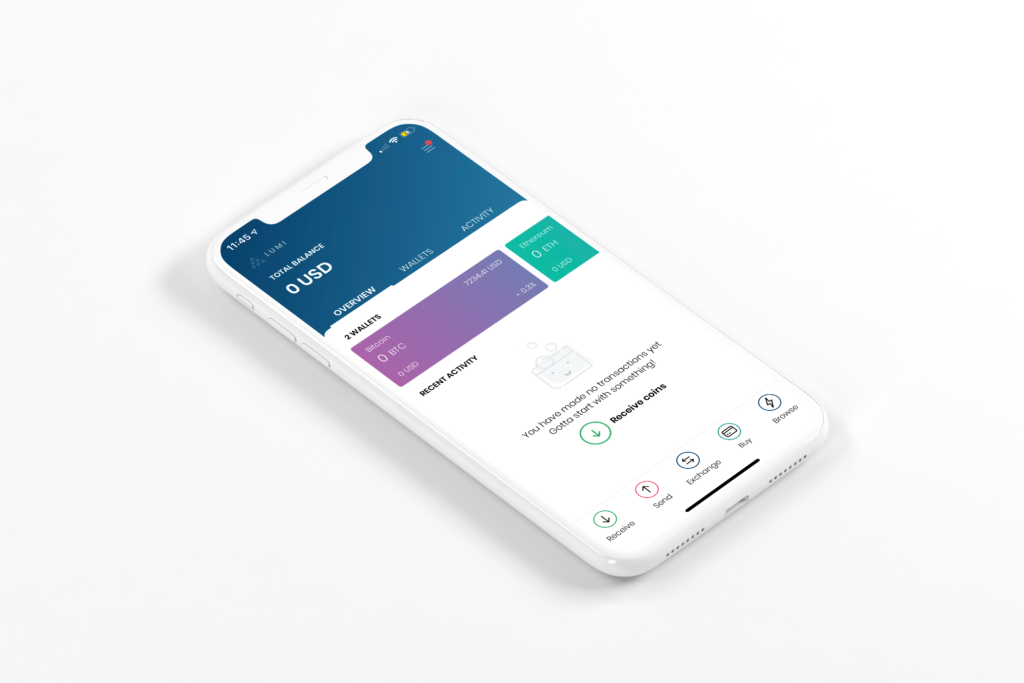 How to use Lumi Wallet
Using the Lumi Wallet is really simple due to the well-thought-out design and simple interface. In my opinion, it's up there with some of the other popular Bitcoin & Crypto wallets like Trust Wallet and Blockchain Wallet. Anyway, here are the instructions on how to use the Lumi Wallet.
Creating a Wallet
Naturally, before you can use Lumi Wallet, you'll have to make a wallet first! To do this, either download the mobile app for your device or use the web version (you can log in on both).
Once you're on the app (mobile or web), click on 'Create a Wallet'. You'll then be prompted to enter a passcode and verify it, this is all you need to do to create the wallet. Congrats, you've just created your Lumi Wallet – it's that simple. If you're on the web app, you'll need to download your backup file and 12-word phrase too.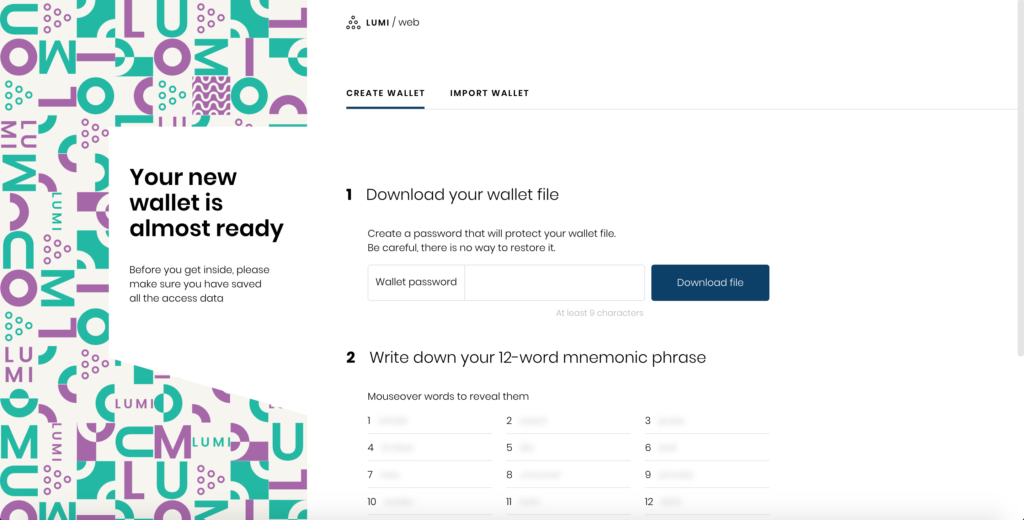 Backing up your wallet
As cryptocurrency is a decentralised technology, it is good practice to backup your wallet, because if you forget your login details without it, you won't be able to access your funds.
To backup your Lumi Wallet, follow the on-screen instructions, this includes writing down a 12-word mnemonic phrase and confirming that you have done so by entering the words when prompted in the desktop or mobile apps.
I found the backup experience just as easy on Lumi as with any other crypto wallet I've ever dealt with – so that's something worth note.
Wallet import
It's also cool that if you wish, you can import an already existing wallet using your private key. This means that you can migrate to Lumi Wallet from any other wallet which gives you access to your private keys. To do this, click on 'Import Wallet' rather than 'Create Wallet' when you open the Lumi Wallet app for the first time.
Receiving Crypto
Now that you've made your wallet, you most likely want to use it. To receive Bitcoin & other cryptocurrencies on Lumi Wallet, follow these instructions:
Login to your wallet
Click on 'Recieve'
Select which crypto you want to receive
Copy the receiving address by tapping it (click on desktop) or alternatively scan the QR code
Send the corresponding crypto to your Lumi Wallet receiving address
Wait a few moments
See your transaction in the 'Wallets' and 'Activity' tabs
You'll probably need to move your crypto off the Lumi Wallet at some point, either to cash out or for another reason. If so, keep reading to find out how to send crypto from Lumi.
Sending Crypto
Like everything else with the Lumi Wallet, sending crypto is also a simple exercise. I would like to add here how I like that you can quickly send and receive crypto with the tabs at the bottom of the mobile app – it makes it really simple and quick. To send crypto from Lumi Wallet:
Click 'Send'
Selec which crypto you'd like to send
Enter the deposit address you want to send to
Type in the amount to send
Choose your blockchain fee
Click 'Next'
Confirm the transaction
All done
As you can see, it's easy to send crypto from Lumi Wallet.
Buy/Sell Crypto
As I've mentioned earlier in this review of the Lumi Wallet, you can also buy an sell cryptocurrency in the web and mobile apps. This is a handy feature as it means that you don't have to send your crypto to an exchange to swap it for another asset. To buy and sell crypto on Lumi Wallet, follow these steps:
Download the Lumi Wallet app or use the Web App
Create a free wallet
Go to the Buy/Sell tab
Enter the amount you want to buy or sell as well as which currencies you want to use
Complete the transaction
You're all done
It's also important to note here that you'll have to pass KYC checks to buy/sell crypto on the Lumi Wallet by providing a form of valid ID (Identification) like a Driver's Licence or a Passport.
Design
As you might have noticed from the rest of this review, I am impressed with the design of the Lumi Crypto Wallet. I can tell that they have put the user first and made it as simple as possible to get started with the wallet. At the end of the day, this is really important for the growth of the digital asset industry. Many people get put off with how difficult it can be, so applications which make it easier are always welcome.
The main design principle of the Lumi Wallet is simplicity. The colour scheme is basic, yet effective and the layout is simple to follow and find everything you need. Here's a preview of what the Lumi Wallet looks like:
On the other hand, I do think that there should be a 'Home' tab on the mobile apps, it's not obvious that you need to swipe down to get back to the main screen – but that's the only area of improvement I came across.
Support
Since the Lumi Wallet is a decentralised Bitcoin & Cryptocurrency wallet, there isn't much need for a support team since the company behind the wallet don't control your funds. On the other hand, you might have some questions about Lumi Wallet, if so, you can get in touch with their support team by sending an email to hello@lumiwallet.com.
Lumi Crypto Wallet FAQs
It's natural to still have questions, so I've gathered the most common below and answered them for you.
Is Lumi Wallet free?
Yes, the Lumi Wallet is free to download, send and recieve cryptocurrencies.
Which devices are supported?
Lumi Wallet is available on Web, IOS & Android (Google Play) devices.
Which cryptocurrencies are supported?
Lumi Wallet supports Bitcoin (BTC), Ethereum (ETH) and 1200+ ERC20 tokens.