If you've ever made cryptocurrency transaction, you may have noticed that some cryptocurrencies have something called a 'Memo'. In this guide, I'll be explaining exactly what they are, when you need to use them and whether or not you need to worry about them. So, what is a Memo?
A Memo is a unique identifier used by some cryptocurrencies like EOS, XRP & XLM to make sure that funds are sent to the right account in addition to the wallet's receiving address. A Memo is used where you have a shared account (wallet address) and need to direct funds to a specific person. For example, Binance has shared wallets for some cryptocurrencies, your Memo is a unique ID for your account.
To make Memo's a bit easier to understand, here's a metaphor which I like to use:
A Memo in crypto is a bit like your Bank account number, and the receiving address is a bit like your bank's sort code or branch number. It allows for services to correctly direct funds to your account.
Why do Memos exist?
On the whole, Memos exist only with cryptocurrencies which have a minimum initial balance requirement to set up a wallet. Now, exchanges which have 1000s of users don't want to have to pay a few dollars for each account that gets set up, so instead, they use a few shared wallets among users and then give each account a unique Memo which means that they can separate funds appropriately. When you are sending funds to a crypto exchange and they give you a Memo, it's vital that you include it in your transaction otherwise the exchange won't know that they are your funds, they will just go to the shared wallet and you may never be able to recover them again, so make sure to use a Memo when you're given one!
Which cryptocurrencies have Memos?
Not all cryptocurrencies have Memos, for example, coins like Bitcoin, Ethereum and Litecoin all don't have Memos nor the capability to have them – this is since there is no minimum balance a wallet can have. On the other hand, there are a handful of cryptocurrencies which have Memos, here is a full list:
EOS (EOS)
Stellar Lumens (XLM)
XRP (XRP)
Cosmos (ATOM)
Binance Coin (BNB)
Note: XRP has a slightly different name for Memos – it is a called a Tag with XRP but it is exactly the same thing.
Numeric & Alpha-Numeric
Cryptocurrency Memos aren't strictly numbers or letters, they can be either, or a mix of the two. A Numeric Memo only contains numbers and an Alpha-Numeric Memo contains both numbers and letters. Make sure that you double-check the Memo of your transaction before sending it as you don't want to mix up a 1 for an I for example! Below is a table showing a list of cryptocurrencies with Memos and their respective nature.
| Crypto | Value |
| --- | --- |
| Stellar Lumens (XLM) | Alpha-Numeric |
| EOS (EOS) | Numeric |
| Binance Coin (BNB) | Numeric |
| XRP (XRP) | Numeric |
| Cosmos (ATOM) | Numeric |
How to use Memos
When you're given a Memo (or Tag), you have to include that string of numbers/letters when sending cryptocurrency to the destination wallet address. I'm now going to be explaining to you exactly how you use Memos when sending to a crypto exchange or private wallet.
The majority of the time you need to use a Memo will be when you are sending cryptocurrency to an exchange to trade it for other cryptocurrencies or fiat currencies.
Log in to the exchange you want to send your crypto to
Go to the wallet section of your account and locate the deposit information for the crypto you want to deposit
If it is one of the cryptocurrencies in the list above, you should see a Memo in addition to the deposit address for said cryptocurrency
Firstly, copy the deposit address and open up your wallet you are sending crypto from
Paste the receiving address you got from the exchange into a new transaction
Now head back over to the exchange, copy the Memo and paste it into the corresponding Memo field in your other wallet you are sending from
Double-check the information is correct
Make the transaction
All done, you should see your funds arrive safely within a short period of time
If you didn't quite get that, here's a screenshot which shows the XLM memo on Binance: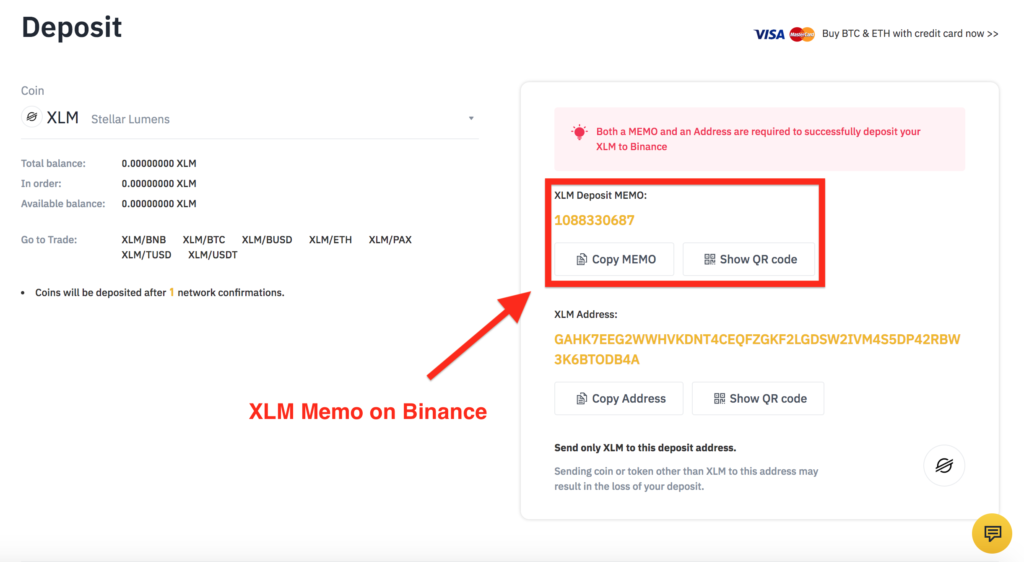 Crypto exchanges & wallets which support Memos
Any exchange which accepts deposits in the cryptocurrencies with Memos as listed above should support Memos unless they use another method of transaction identification. Here is a list of the exchanges and wallets that are known to provide Memos for transactions associated with XLM, XRP, EOS, BNB & ATOM where appropriate:
Binance
Huobi Global
Coinbase
Kraken
Wirex
Edge App
Blockchain Wallet
Exodus