PrimeXBT is a Bitcoin-based trading platform which lets you trade Cryptocurrencies, Forex & Indices with no KYC and up to 100x leverage. If you'd like to read more about PrimeXBT, check out our full review here. If you want to learn how to claim a 35% deposit bonus on PrimeXBT when signing up, keep reading!
To claim the PrimeXBT 35% deposit bonus, CLICK HERE to register, and use bonus code XRE84TS
| | |
| --- | --- |
| Bonus | 35% Deposit Bonus |
| Bonus Code | XRE84TS |
| Claim Bonus | Click Here |
Now, this bonus is exclusive, you won't just be able to get it by signing up and depositing. We've been in touch with Prime XBT to offer you this 35% deposit bonus, so make sure you follow the instructions in this guide carefully.
1. Register
First up, you have to register on Prime XBT by using this referral link: primexbt.com?signup=117985. There is no KYC required on sign up and it only takes 40 seconds to complete. Once you've signed up, you're ready to move onto the next step to receive the bonus.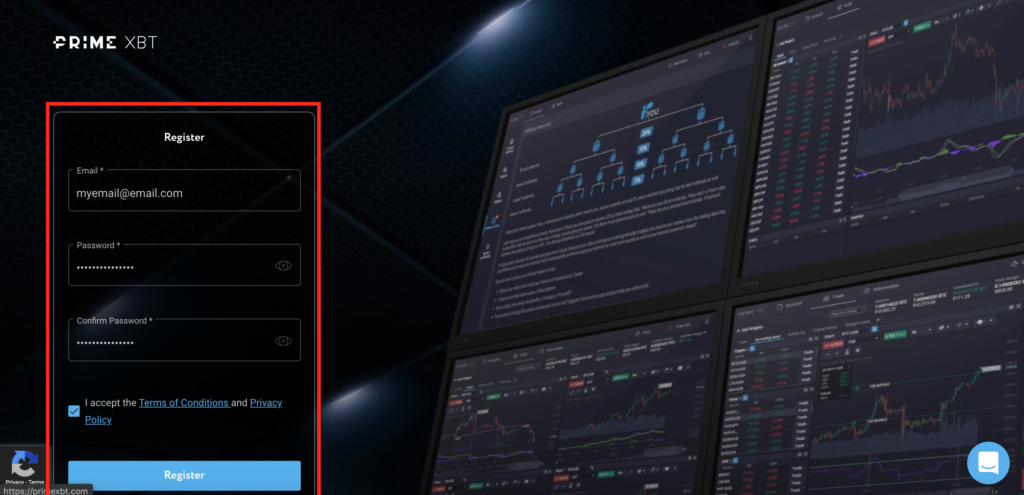 2. Deposit
To be eligible for the PrimeXBT bonus, you have to deposit a minimum of 0.01 BTC onto the exchange. To deposit on Prime XBT, login to your account and go to the 'Deposit' tab. If you deposit less than 0.01 BTC, you will not be able to claim the 35% bonus.
Important Note: You can deposit more than 0.01 BTC and there is no maximum amount you can receive from the deposit bonus. For example; if you deposit 1 BTC, you will get a 0.35 BTC bonus.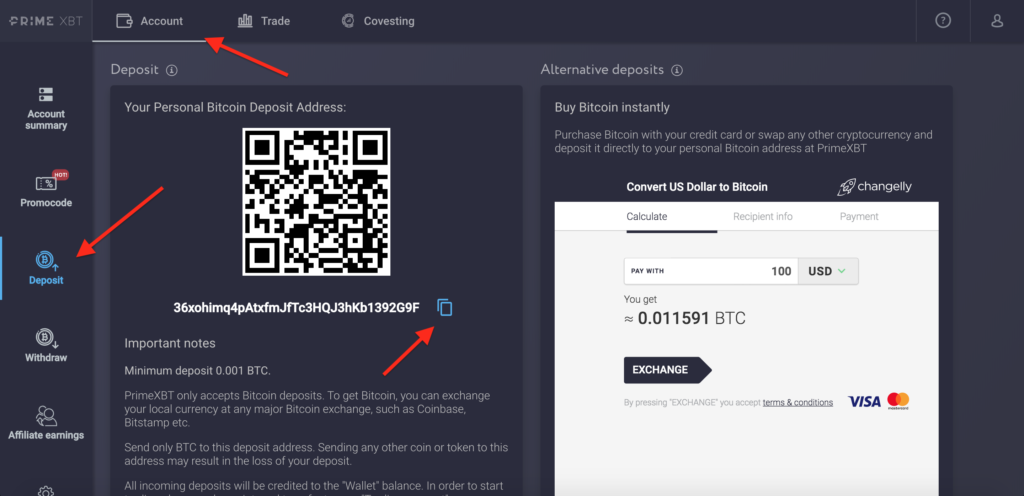 3. Claim Bonus
Once your deposit has confirmed on your account, you can go ahead and activate the bonus. To do this; make sure you are logged into your account, click the '?' icon and then select 'Chat'. You should now see a live chat open like the one below. Now, this is the most important part of the process, so make sure you get it right.
Once you've opened the live support chat, send the following bonus code:
Prime XBT Bonus Code: XRE84TS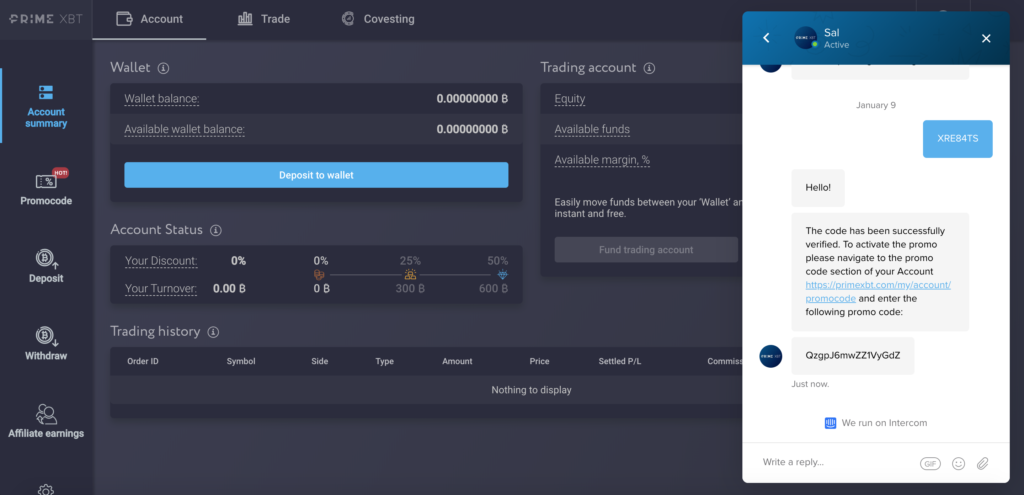 4. Redeem Your Unique Code
Once you've sent the message, you should receive a response from Prime XBT shortly with your unique Promo code which you will use to activate the bonus.
To complete the final step of the process, copy the code they send you (as shown in the image in step 3), head over to the 'Promocode' tab and enter the code you just copied. Once you've done this, you should see the active bonus on your account.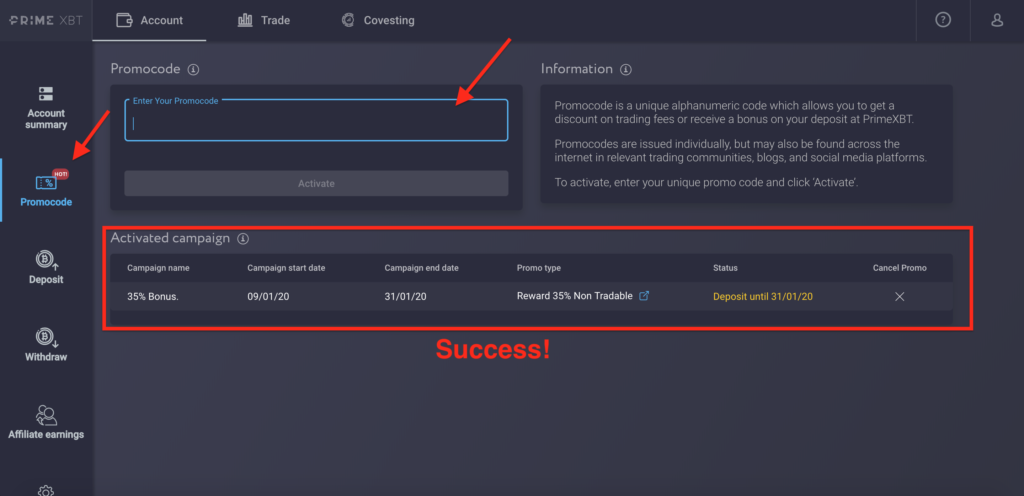 Note: You can do this step before depositing and then deposit at a later date. If you do this, the bonus will show as 'Non Tradeable' until you deposit at which point you can trade with your bonus amount.
5. Enjoy Trading!
You're 35% bonus should be accredited to your Prime XBT account instantly. Enjoy trading on PrimeXBT and I wish you a profitable journey!
FAQs
What is the Prime XBT bonus?
The Prime XBT bonus is a 35% deposit bonus which you can activate by using the bonus code XRE84TS after registering on PrimeXBT.com.
Is there a maximum I can recieve from the bonus?
No, it is an unlimited 35% deposit bonus. For example, if you deposit 10 BTC, you will get a 3.5 BTC free bonus.
When does the bonus expire?
There is no expiration date for the Prime XBT bonus at this time.