PrimeXBT is a cryptocurrency exchange which lets you trade crypto, forex and stocks with leverage and no KYC. Due to this, it is quickly becoming popular among the trading community in the world. In this guide, I'll be taking a look at PrimeXBT's affiliate program and seeing how much you can really earn from it.
PrimeXBT's affiliate program is open to everyone and you can open an account immediately, all you need is a valid email address and access to the internet.
Getting Started
To get started with the PrimeXBT affiliate program, use the instructions below:
Go to PrimeXBT.com
Click 'Register'
Complete the registration form and confirm your email address
Once you're into your account, click 'Account'
Now, select 'Affiliate Earnings'
You're now successfully part of the PrimeXBT affiliate program and can get started earning right away by sharing your unique referral link shown under the affiliate earnings tab
Here's a more visual guide for the process of getting started with the PrimeXBT affiliate program: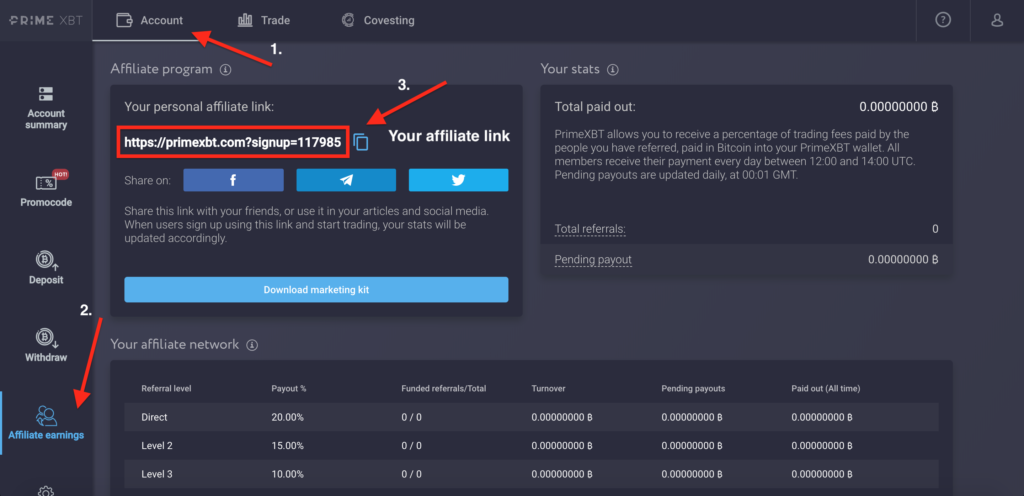 Now that you've signed up to the program, let's take a deeper look at it and show you what kind of earnings you can expect to receive by referring people to the PrimeXBT exchange.
Overview
PrimeXBT's affiliate program seems well thought out on initial impressions, they have even included some marketing materials which you don't usually see with crypto exchange affiliate programs – so that's a positive as it lets you get started earning right away and most likely with higher conversion rates.
One of the things that I would like to see improved with the program is the option to create more links so that you can track sign-ups from different locations (e.g from multiple websites or social channels). A good example of this is with the FTX.com affiliate program, you can create up to 5 different links with custom links.
The main referral link is pretty easy to find as you can see from the screenshot I've provided above, therefore I rate this part of the affiliate program highly.
Reporting Features
Now, moving onto reports. Reports are one of the most unnoticed, but extremely important features of any affiliate program. Being able to see how much you've earned, how you earned it and when you earned it is important as it allows you to optimise and increase income – which is what we're all here for right? With regards to the PrimeXBT reporting features, it's pretty lacking in my opinion. You can see all the basics like the number of accounts referred and commissions from these referrals but you can't go any deeper and see how much each referred person earned you or how much they deposited etc. A good comparison of this feature of the affiliate program is that of Bitfinex's and Bybit's programs, these both allow you to check several layers of data and see exactly where your income is coming from so that you can get a better insight on your earnings.

Commissions
So, onto the part you've all been waiting to read – how much can you really earn from PrimeXBT's affiliate program?
Before I show you the dollars, let's take a look at the commission structure of PrimeXBT's affiliate program – essentially, this is the profit share between you and PrimeXBT for the traders you refer to the program.
PrimeXBT offers something called a 'tiered' commission structure which means that you not only earn money from people who sign up and trade through your link, you also earn from traders that they refer, this allows for greater, compounded earnings.
On direct referrals made by you, you'll receive 20% of the revenue generated. So if someone who signs up with your link pays $100 in fees one day, you'll earn $20 in BTC.
After that, you'll earn 15% on people that they refer to the exchange and this carries on till level 4 where you then earn 5% of the fees paid. Here is a graphic produced by PrimeXBT which should shed some more light on how the tiered structure works:

PrimeXBT CPA
In addition to the regular affiliate program which is revenue share, PrimeXBT also offers a CPA deal which means that you can earn a one-off payment per referral you make that deposits.
To learn more about the CPA affiliate commission plan, visit primexbt.com/cpa.

Earnings
So now that we've got the boring stuff out of the way, I'm going to give you an idea of what you can expect to earn from the PrimeXBT affiliate program.
I have extensive experience in promoting crypto exchanges with the use of affiliate programs, so I have a decent grasp on how much you can earn from them – and the answer is 'a lot'.
Since the crypto industry is fairly new, there isn't too much competition which means that you can get a lot of sign-ups quickly and depending on the exchange, there tends to be a high conversion rate. In addition to these factors, since it is surrounding finance, you can expect to receive high earnings per person referred – it's well known that affiliate programs relating to money/finance have high earning rates.
From my personal experience, you can earn anywhere around $2,000 per month from 100 referred accounts ($20/month per account referred) on a crypto exchange. You can use this as a basic guide when using the PrimeXBT affiliate program.
Payouts
Payouts from the PrimeXBT affiliate program are made daily between 12:00 and 14:00 UTC to your main PrimeXBT wallet in BTC and can be withdrawn to any valid external Bitcoin address every day.
Conclusion
Thank you for taking the time to read my review of the PrimeXBT affiliate program, I hope you found it helpful. Once you've signed up to their affiliate program on PrimeXBT.com, don't forget to download the affiliate media kit to help you get started!