Welcome to the Blockduo review of the PrimeXBT crypto trading platform. I developed this exchange guide for the beginner right through to the advanced, so you should be able to get some value from this piece no matter your level of experience. We'll be looking at things like the trading fees on PrimeXBT, how safe it is among other factors. With that being said, let's jump into the Prime XBT review!
Register on PrimeXBT today by clicking here to claim an exclusive 35% deposit bonus.
PrimeXBT is a high leverage Bitcoin-based trading platform run by two parent companies; Prime XBT Trading Services Ltd (Seychelles) & Prime Technologies Ltd. (St. Vincent and Grenadines). PrimeXBT was founded in 2018, has 3 offices globally and has over 40 employees.
The PrimeXBT trading platform lets you trade over 30 different assets including traditional stocks, forex and crypto with no KYC requirements. PrimeXBT currently serves over 150 different countries and uses state-of-the-art tech to run their trading platform. It's worth noting here that you can't actually buy Bitcoin on PrimeXBT, but you can profit from its price movements.
The partners of PrimeXBT include prominent market entities including Bitfury and Covesting.

Even though the PrimeXBT crypto trading exchange is fairly new, it seems to be gaining quite some traction in the market as a serious exchange. IT's one of the only platforms in the world which lets you trade indexes like the S&P500 with Bitcoin and no KYC checks – this is most likely a large contributor to its popularity.
Here are the main features of the PrimeXBT Bitcoin leveraged trading platform:
Up to 100x leverage trading (100x leverage means that you can trade with 100 times more than you have)
Low trading fees
Fast order execution (< 7.12 ms)
$375M Average Daily Volume
Anonymous
Register on PrimeXBT today by clicking here to claim an exclusive 35% deposit bonus.
Is PrimeXBT Safe?
So the main question you're probably here to answer is 'Can I trust PrimeXBT?'. You're not alone, it's sensible to do your own due diligence when it comes to trading platforms, especially Bitcoin-based ones. So. let's take a look at the safety and legality of PrimeXBT.
Overall, yes, I believe that Prime XBT is a safe crypto exchange. On the other hand, since the exchange is based overseas, should anything go wrong, you're not really protected. For this reason, it is good practice to move funds on and off the exchange when you are not trading, this way you can limit your exposure to common risks such as bankruptcy and hacking.
I like how transparent the exchange is with their company info on the Prime XBT about page, it shows that they are not fully anonymous. In addition to the company information, I was able to locate a LinkedIn page with links to their employee profiles, so that gave me peace of mind before depositing funds on Prime XBT.
Register on PrimeXBT today by clicking here to claim an exclusive 35% deposit bonus.
Account Security
Now, moving onto built-in user funds security and safety measures. One of the most overlooked aspects of exchange safety is the methods in which exchanges protect users accounts from being accessed by a malicious party. The main things I look for in this section of the exchange review/test are; 2FA (2-Factor Authentication) and Email confirmations/notifications.
PrimeXBT checks all the boxes in terms of account security in my opinion. Under the account 'System Preferences' I was able to find options for Google Authenticator (2FA), Email notifications and login logs with IP address and device.
Setting up Google Auth was simple and only took me a couple of minutes, so I can conclude that the process of getting security set up on your PrimeXBT account is simple.
Register & Login
In this part of the Prime XBT review, I'll be assessing what the sign up (registration) process is like on PrimeXBT as well as logging into the trading platform. To register on PrimeXBT:
Visit PrimeXBT.com
Click 'Register'
Enter your details then press the 'Register' button
Click on the confirmation link in your email inbox (the one you used to sign up)
All done, you can now make a deposit using your Bitcoin address and start trading on PrimeXBT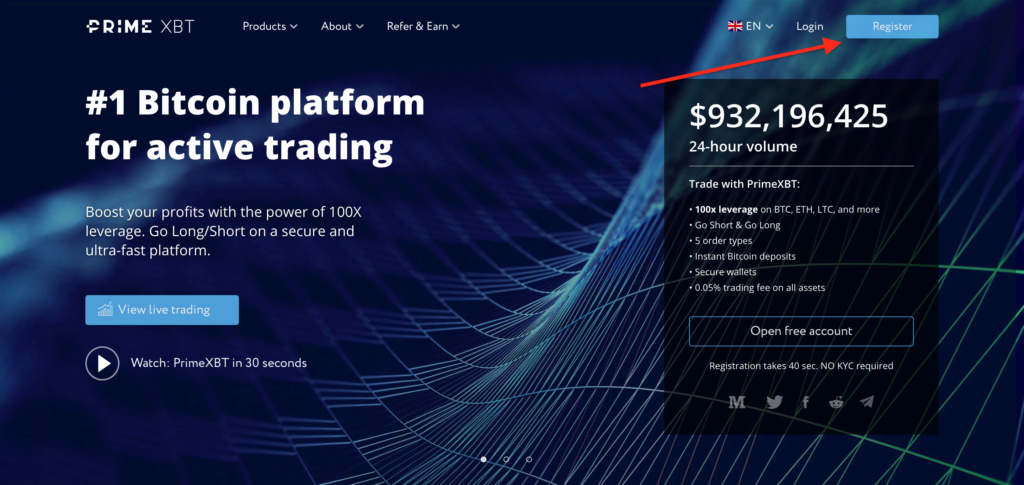 Moving onto logging in to PrimeXBT, this is a pretty simple process too. All you have to do is go to Prime XBT and click 'Login'. Once you're on the login page, just enter your email address, password and Authentication Code (if you have 2FA enabled).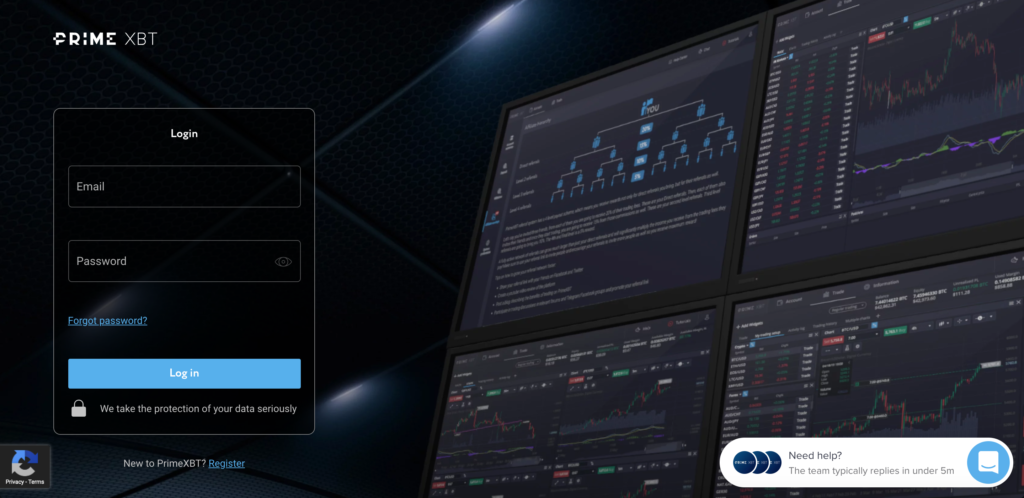 How to Deposit on PrimeXBT
You can deposit onto your Prime XBT account with one deposit method which is Bitcoin (BTC). If you don't have any Bitcoin they have a handy service next to the deposit section which lets you buy BTC with credit/debit cards.
To deposit on PrimeXBT: login to your account, click 'Account' > 'Deposit', copy your deposit address and then send Bitcoin to that address.
The minimum deposit on PrimeXBT is 0.001 BTC. Deposits on PrimeXBT take anywhere from 10 minutes to 1 hour.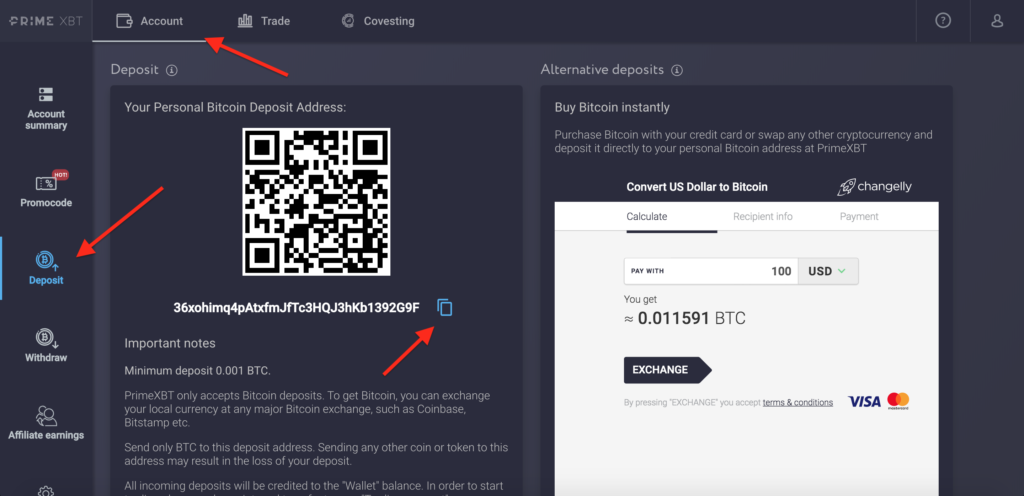 Towards the bottom of the main deposit screen, you should be able to see a table with all your deposit history. This is handy to track incoming deposits as well as for later reference when you need to get the information about when you deposited onto PrimeXBT.
You can't, unfortunately, make deposits on PrimeXBT with a credit card at this time – the platform only accepts Bitcoin as a deposit method. If they do add credit card & fiat currency as an option, I'll update this section as appropriate.
Register on PrimeXBT today by clicking here to claim an exclusive 35% deposit bonus.
Trading on PrimeXBT
Now I'm going to show you exactly how you can make a trade on PrimeXBT and share my opinion of the process with you. Before you can make a trade, you need a free PrimeXBT account. If you need to sign up, you can do so on PrimeXBT.
What can you trade on PrimeXBT?
PrimeXBT is well known for offering a varied selection of assets on their Bitcoin trading platform, including Forex and Stocks which is unheard of with crypto exchanges. Here is a full list of the assets (currencies/pairs) you can trade on PrimeXBT:
1. Cryptocurrencies
Bitcoin (BTC/USD)
Ethereum (ETH/USD)
EOS (EOS/USD)
Litecoin (LTC/USD)
XRP (XRP/USD)
2. Forex
AUD/CAD
AUD/CHF
AUD/JPY
AUD/USD
EUR/AUD
EUR/CAD
EUR/CHF
EUR/GBP
EUR/JPY
EUR/USD
GBP/AUD
GBP/CAD
GBP/CHF
GBP/JPY
GBP/USD
USD/CAD
USD/CHF
USD/JPY
3. Commodities
XAG/USD
XAU/USD
BRENT
CRUDE
NAT.GAS
4. Indexes (Stocks)
GER30
SP500
NASDAQ
HK-HSI
AUS200
JAPAN
UK100 (FTSE100)
Now that you know what you can trade on PrimeXBT, I'm going to show you how you can trade it.
How to trade on PrimeXBT?
Go to the 'Trade' tab
Select the pair you want to trade
Depending on which trade you want to take, choose either the'Buy' (green) or 'Sell' (red) button
You will now see a box open which asks you to enter an amount, order type and price (if applicable)
Once you have confirmed the details, press 'Send Order'
You're all done, you should now see the position in your 'Positions' tab under the chart with current profit/loss
What about order types? What's available on the PrimeXBT trading platform?
PrimeXBT offers 4 main order types; Limit, Market, Stop Loss, Take Profit (protection orders) and OCO. It's impressive to see OCO in that list, it shows that they care about providing their customers with the right set of tools to be a profitable trader on the Bitcoin-based platform.
Fees & Limits
There are two main types of trading fees you need to be aware of when trading on Prime XBT; trading commissions and financing.
The trading fee on PrimeXBT is 0.05% per trade and there is also a financing cost per day and this amount changes depending on the asset you are trading. To see the full list, visit PrimeXBT and click on 'Fees & Conditions'.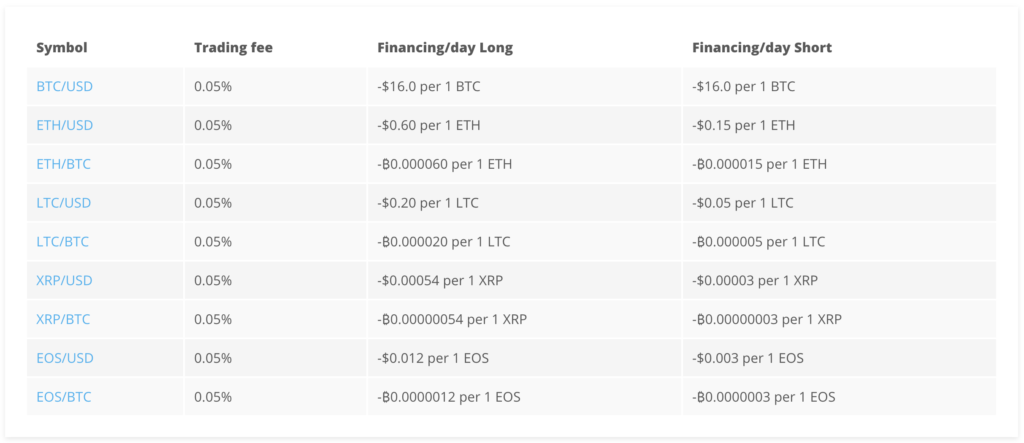 PrimeXBT has a standard withdrawal fee of 0.0005 BTC. There are no limits as to how much you can deposit or withdraw on PrimeXBT.
Overnight financing on PrimeXBT is a borrowing cost if you use leverage on a trade and keep it open overnight.
Overall, the fees on PrimeXBT aren't that bad in my opinion, they're around the industry standard, so nothing to worry about there.
Register on PrimeXBT today by clicking here to claim an exclusive 35% deposit bonus.
Withdrawal
Similarly to depositing on PrimeXBT, you can withdraw funds via Bitcoin (BTC) to any external address of your choice. Withdrawals on PrimeXBT take around 1 hour and are completed every day between the hours of 12:00 and 14:00 UTC. If you submit your withdrawal after 14:00 UTC, your withdrawal will be made the day after in the next batch. PrimeXBT processes withdrawals manually like this for security reasons. I personally don't mind exchanging convenience for the safety of funds.
To withdraw from PrimeXBT:
Add a Bitcoin withdrawal address if you haven't already (I use the Ledger Nano X Bitcoin Wallet to store my Bitcoin after trading)
Enter the amount you want to withdraw and press 'Submit to withdraw'
Confirm the withdrawal on your email address
Wait for your withdrawal – it's that simple
I like the way that you can see the transfer details before you make the withdrawal, this way you know exactly what your balances are across the board.
Leverage
PrimeXBT offers leverage on the trading platform which allows you to multiply your profits by essentially borrowing money. Be warned though, it also means you can lose more (no more than your account balance). The maximum leverage on PrimeXBT is 1000x. This means that on some trading pairs, you can trade with 1000 times more than your account balance. That's right, you can trade $1,000 with $1 – crazy right?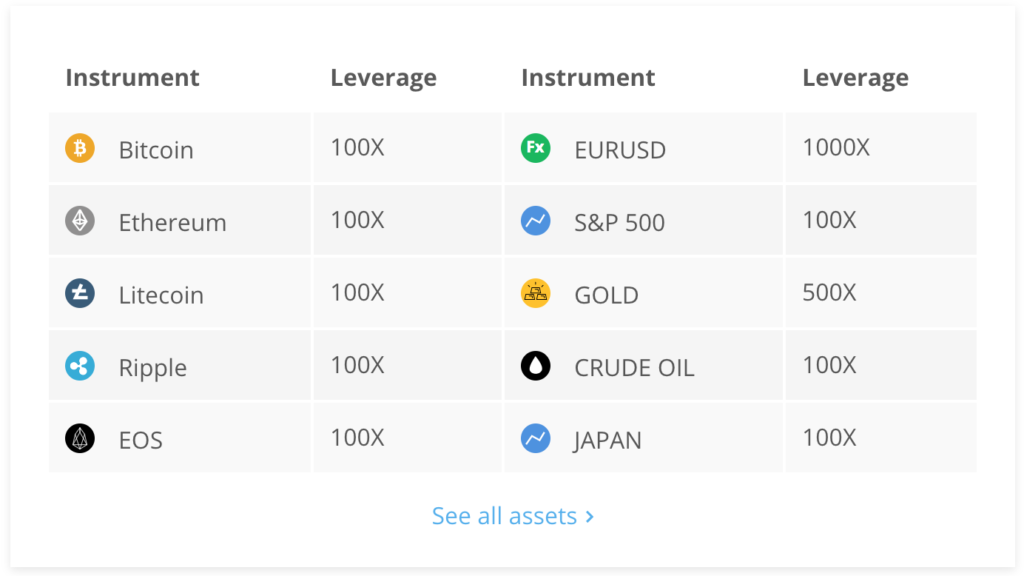 The PrimeXBT platform uses cross leverage, meaning that you can't manually change it like you can on other crypto exchanges which, in my opinion, makes PrimeXBT less beginner-friendly than other exchanges like Bybit or BitMEX.
Does PrimeXBT Have KYC?
Know Your Customer or 'KYC' for short is s legal requirement for regulated margin trading platforms based in the EU, US and many other jurisdictions. Most of the time, Bitcoin-based exchanges don't require it since they are based in places like the Seychelles. So, does PrimeXBT require KYC? PrimeXBT does not require KYC checks whatsoever.
Register on PrimeXBT today by clicking here to claim an exclusive 35% deposit bonus.
PrimeXBT Demo Account
No, unfortunately, PrimeXBT doesn't have a demo account. If you are looking for a Bitcoin exchange with a demo account, check out Bybit.
I'm slightly disappointed by this aspect of the exchange – it's so good in many other ways that it should really have something as simple as a demo account so that traders can test out the exchange before depositing real funds.
Mobile App
PrimeXBT offers both an IOS & Android trading app for the Apple App Store and Google Play Store. The app is really sophisticated and a great way of using the PrimeXBT leveraged trading platform on the go. People that use BitMEX will know how annoying it is when you can't trade properly on mobile devices since the majority of people now use them. To download the PrimeXBT app, use the links below.

There is currently no PrimeXBT APK file available, you can download the PrimeXBT app from the Google Play Store instead. Compatible devices for the PrimeXBT app include iPhone, iPad, HTC, Samsung, Sony and Google Pixel.
Covesting – what's it all about?
Once you've got your PrimeXBT account set up, you may notice a tab at the top called 'Covesting' and you're most likely wondering what it does?
Covesting is a new feature on the PrimeXBT platform which lets traders allocate a portion of their portfolio to other traders and profit from their trades (basically like copy trading). It also allows "Successful traders will be offered the ability to build a positive track record, gain a following, and earn extra income by managing funds".
The Covesting module is built with help from PrimeXBT's partner; Covesting.io and is not yet live, but will hopefully be at some point during 2020.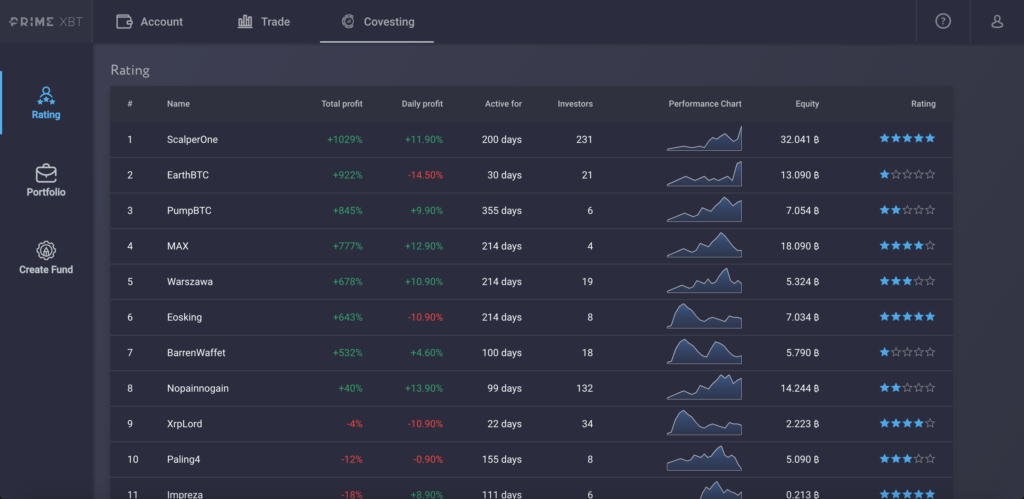 Prime XBT Offers & Bonus
If there's a bonus, why not take it? PrimeXBT currently offers a 35% deposit bonus to customers who follow these instructions:
Register on PrimeXBT with this referral link: primexbt.com/?signup=117985
Deposit at least 0.01 BTC
Open a customer chat
Type 'XRE84TS' in the chat box
Your 35% deposit bonus will be credited to your account
Register on PrimeXBT today by clicking here to claim an exclusive 35% deposit bonus.
Affiliate Program
PrimeXBT offers a brilliant affiliate program open to everyone which was created to increase the awareness of the exchange within the margin trading community. To sign up for the affiliate program, just register for an account on PrimeXBT.
For a more detailed explanation on the PrimeXBT affiliate program, check out our full guide here.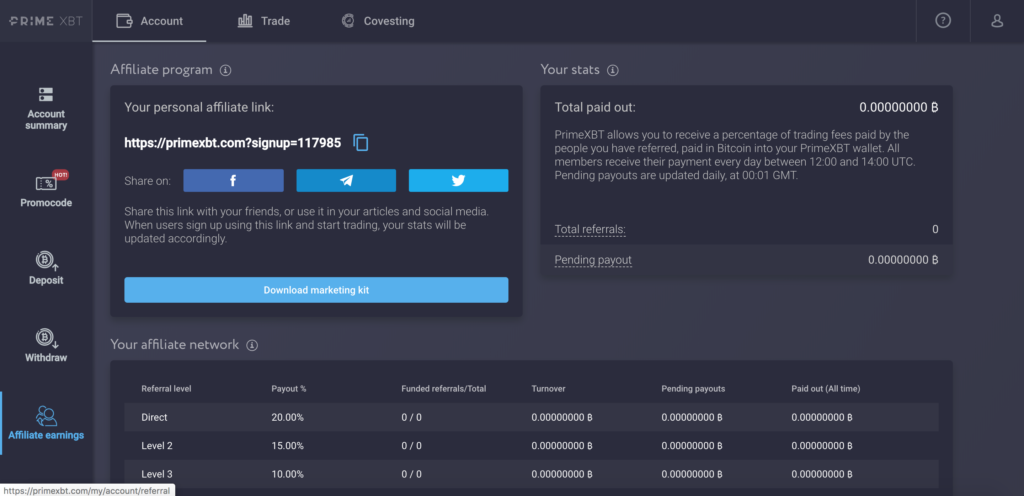 Supported Countries
Crypto exchanges are usually available in most counties, but there are occasionally some restrictions in place in some countries. The main one people wonder about is: Is PrimeXBT open to US customers? No, PrimeXBT is not available in the US. On the other hand, some users claim that they trade on PrimeXBT with the use of a VPN like NordVPN in the USA. Here is a list of some of the accepted countries on PrimeXBT:
Australia
Cameroon
Chad
Dominica
Christmas-island
Libya
Mexico
Antarctica
Senegal
Sri Lanka
Eritrea
Faroe Islands
Gambia
Indonesia
Angola
Bahamas
Benin
Mayotte
Chile
Ghana
Tonga
Kenya
Finland
Namibia
Oman
Jamaica
Palau
Kyrgyzstan
Puerto Rico
Trinidad and Tobago
Yemen
Aruba
Bahrain
Bulgaria
Colombia
Algeria
Burkina Faso
Cambodia
Curacao
Kuwait
Saint Lucia
Tanzania
Turkey
guadeloupe
Virgin Islands, British
Japan
South Korea
Malawi
Maldives
Netherlands
Botswana
Qatar
Saint Kitts and Nevis
cocos-keeling-islands
Saint Vincent and the Grenadines
Slovenia
Taiwan
Tuvalu
Uruguay
western-sahara
Malaysia
Nauru
Papua New Guinea
Zambia
Andorra
anguilla
Bolivia
Congo
Laos
Dominican Republic
Mauritania
Egypt
Gabon
New Caledonia
Morocco
Uganda
Nigeria
Swaziland
Vietnam
Barbados
Djibouti
Equatorial Guinea
Comoros
Fiji
Ethiopia
Guam
Guernsey
Hong Kong
Ireland
Philippines
Macedonia
Madagascar
Sierra Leone
montserrat
Vanuatu
Panama
Samoa
Saudi Arabia
Albania
Guinea
Armenia
Bangladesh
Kiribati
Bhutan
Mongolia
Cayman Islands
Niger
Rwanda
Cook Islands
Slovakia
Thailand
tokelau
United Arab Emirates
Ecuador
Europe
India
Liechtenstein
Luxembourg
Marshall Islands
Monaco
Mozambique
New Zealand
Niue
Pakistan
pitcairn
Togo
Uzbekistan
Venezuela
atlantic-islands
Antigua and Barbuda
Croatia
Aland-Islands
Argentina
Guyana
Kazakhstan
Lesotho
Northern Mariana Islands
Paraguay
San Marino
Suriname
Switzerland
Tajikistan
Guatemala
Asia-Pacific
Honduras
Mauritius
Nicaragua
Singapore
Azerbaijan
Brunei
Costa Rica
El Salvador
Georgia
Greenland
Hungary
Israel
jersey
Jordan
Latvia
Micronesia
South Africa
Turkmenistan
Isle of Man
french-guiana
French Polynesia
Kosovo
Sao Tome and Principe
Timor-Leste
Mali
Reunion
Cuba
Nepal
Belize
Romania
Gibraltar
Grenada
Solomon Islands
Macao
Martinique
Peru
Bermuda
Brazil
Denmark
France
Greece
Malta
Cape Verde
Iceland
United Kingdom
Sweden
Cyprus
Portugal
Belgium
Czech Republic
Germany
Lithuania
Italy
Vatican City
Estonia
Poland
Seychelles
Norway
Austria
Spain
Customer Support
Whilst I was testing the exchange, I was pretty impressed with their customer support team. It seems really fast and I love the fact that there is a love chat feature on PrimeXBT web and mobile leveraged trading platforms. In addition to the contact methods, there are loads of articles available on help.primexbt.com which should answer the majority of questions you may have about the platform.
Should you need to email, the customer support email address for PrimeXBT is support@help.primexbt.com.
Conclusion
To summarise, Prime XBT appears to be a really nice crypto exchange. The highlight for me is that you can trade Forex & Indices as well as cryptocurrencies with Bitcoin and no KYC. It is a little less beginner-friendly than exchanges like Bybit, and for that reason, I think it suits the intermediate to the advanced trader. It's got a nice interface and a powerful margin trading engine.
Register on PrimeXBT today by clicking here to claim an exclusive 35% deposit bonus.
FAQs