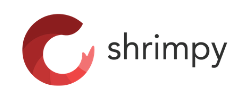 30% Shrimpy Discount
Save 30% on Shriompy when you register with the 'Claim' button and buy an annual plan
Shrimpy is a smart automated crypto trading platform that lets you build custom crypto index funds, follow other people's strategies, and automate your portfolio rebalancing.
In this full Shrimpy review, I'm going to be answering three main questions; 'What can Shrimpy do?', 'Is it any good?' and 'Should you be using Shrimpy?'. In addition to these core questions, I'm going to be telling you every detail you need to know about the platform so that before you use it, you can get a good idea of whether or not it is the right crypto trading tool for you.
Register on Shrimpy now by clicking here to check out the platform for free and get 30% off when you upgrade to an annual subscription.
Introduction
Shrimpy.io was founded on Jan 28, 2018, in San Fransico by Matthew Wesly and Michael McCarty under the registered legal company name Benthos Labs Inc. The Shrimpy platform was built to serve the wider cryptocurrency community by providing a way to safely automate crypto trades and produce long-term investment strategies through custom index fund creation and portfolio re-balancing.
Since it's launch, Shrimpy has been growing in popularity as people look for a more efficient and profitable way to get involved with cryptocurrencies. It's not the only product in the market that does it, although it's packed with some killer features which many of its competitors don't offer, which, in my opinion, make it a very attractive prospect for cryptocurrency traders globally.
Shrimpy supports a total of 16 different exchanges and houses hundreds of different cryptocurrencies which can be used to develop your very own custom cryptocurrency index fund.
Portfolio automation (Shrimpy's main feature) is something seen often in the traditional stock markets as it is can decrease risk and increase profits over time. Before I came across Shrimpy, I couldn't find a suitable platform which you could use in the cryptocurrency market, therefore, you could say that Shrimpy is pioneering the crypto trading industry by allowing traders to use tools from traditional markets in the exciting and expanding market of digital assets.
Features
Shrimpy is suitable for those who want to trade and invest in the cryptocurrency market. Shrimpy hosts a wide range of revolutionary features which help people achieve their cryptocurrency investment goals.
Portfolio Rebalancing (Explained)
Rebalancing is the feature at the heart of Shrimpy's product. Automatic portfolio rebalancing is the process of changing your portfolio to meet your percentage criteria when the market moves. This ensures that you can keep your portfolio lean and in-line with your long term strategy. As I mentioned earlier in this Shrimpy review, automatic portfolio rebalancing is frequently used in the stock market and Shrimpy has bought this tool to the crypto world.
The main purpose of portfolio rebalancing is to keep your portfolio at your preferred allocations over time, to increase your chances of profiting from the market and keeping to your strategy.
Shrimpy rebalances your portfolio based on the fiat value (e.g USD/EUR/GBP), not on the BTC value of the portfolio.
Types of Rebalancing
There are two main portfolio rebalancing types on Shrimpy; time (periodic) rebalancing and threshold rebalancing. Rebalancing by time means that Shrimpy will rebalance your portfolio to achieve your desired percentages of assets every x time (e.g every day, every week or every month). The other type of portfolio rebalancing; threshold rebalancing is the preferred method and means that every time one of the assets in your portfolio deviates from the desired allocation by an amount you set (e.g 15%), Shrimpy will rebalance your portfolio to get back to your defined percentage allocations. As I mentioned above, threshold rebalancing is more popular than time rebalancing as you can incur less trading fees and Shrimpy only makes changes to your portfolio when it is needed. If you choose to rebalance at a set time (for example every day), Shrimpy may rebalance when it isn't really needed.


Shrimpy Portfolio Rebalance Example
You tell Shrimpy that you want to have a portfolio (USD) of 70% BTC, 20% ETH and 10% LTC and you tell it that it should rebalance every time one of the assets deviates by 15% (relative). Within a few days, LTC rises 15% in price, therefore your USD allocation of LTC is now 11.5%, which is 1.5% more than your desired portfolio amount. Shrimpy notices that one of your assets (LTC) has deviated by the threshold you set of 15%, so it sells LTC and puts it into the other assets in your portfolio until your portfolio is back at your set percentage allocations from the beginning of this example.
Register on Shrimpy now by clicking here to check out the platform for free and get 30% off when you upgrade to an annual subscription.
How to Rebalance on Shrimpy
To rebalance your crypto portfolio with Shrimpy, sign up for a free account on shrimpy.io, link your exchange account, create a new portfolio and then enter your rebalancing parameters as shown in the screenshot below: it's really that simple. It's important to note here that you can only choose one or the other rebalancing methods, you can't have periodic OR threshold.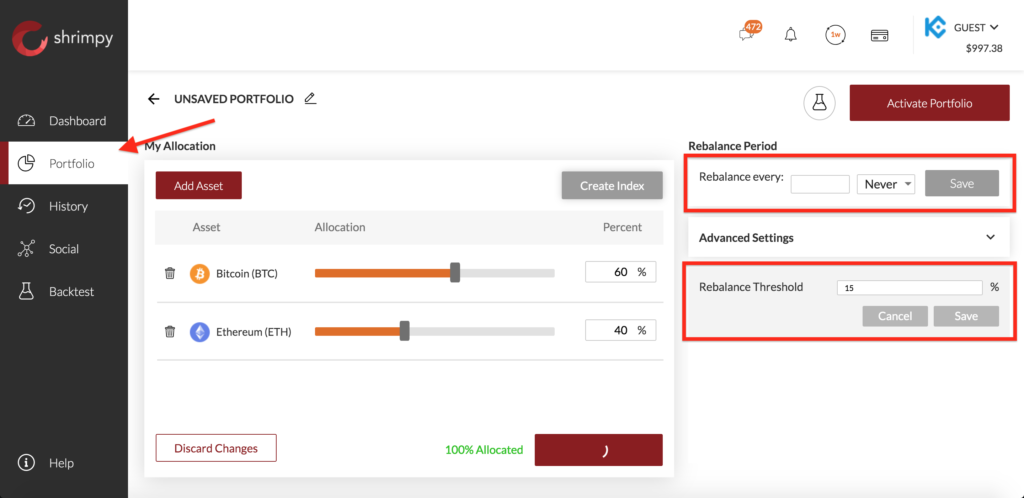 I really like the way Shrimpy not only makes automatic portfolio rebalancing possible but also that it makes it really easy to set up and follow. In my opinion, they've struck the perfect balance between simplicity and functionality when it comes to cryptocurrency portfolio rebalancing so if you are looking to give rebalancing a god, I highly recommend Shrimpy as the tool to do it with.
To learn more about Shrimpy's portfolio rebalancing, check out the whitepaper which you can find on the Shrimpy.io homepage.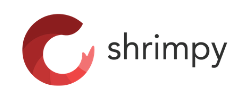 30% Shrimpy Discount
Save 30% on Shriompy when you register with the 'Claim' button and buy an annual plan
Indexing Tool
It's pretty common knowledge when it comes to investments that having a diversified portfolio is proven to decrease risk and increase wealth in the long-term. In order to give traders the ability to follow this idea, Shrimpy has built a smart indexing tool which lets you create your very own crypto index with multiple different parameters and automatic rebalancing.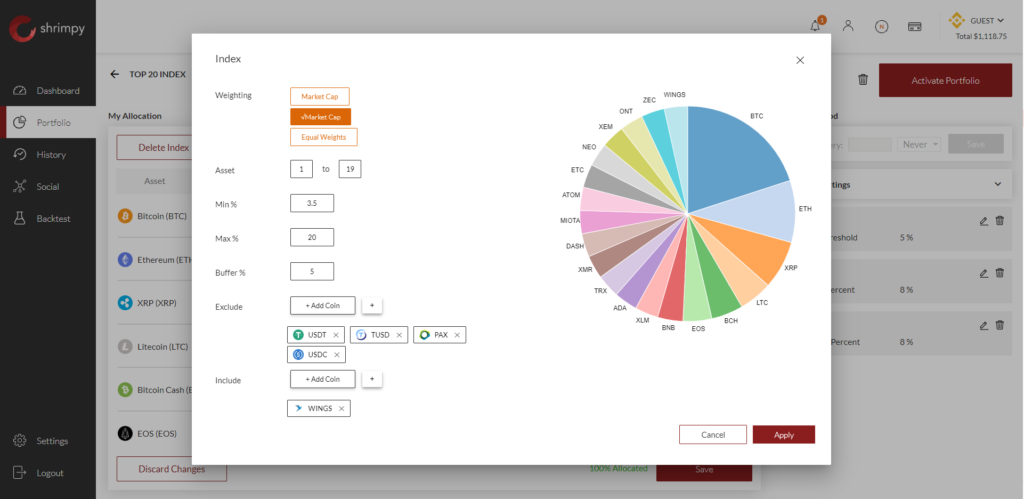 Correctly weighting an index is key to its success and vital if you want it to out-perform the market. To help traders weight their cryptocurrency index funds, Shrimpy's dynamic tool lets you automatically weight your index by the market capitalization or by equal weights. With that in mind, let's take a look at each of the different indexing options on Shrimpy:
Market Cap Weighting
Weighting a crypto index by market cap means that your portfolio will consist of the top 10 cryptocurrencies by market cap and since it is dynamic, if the top 19 changes (which it does frequently), Shrimpy will change your portfolio by removing the one that fell out of the top 10 and replacing it with the one that moved into it. When creating your index by market cap, Shrimpy will weight it so that assets with higher market capitalisations have a higher percentage in your portfolio and vice versa. For example, if Bitcoin is the biggest market cap asset and XRP is the third, your index will contain a small percentage of XRP than BTC since it's market cap is lower. This is done to decrease the risk by owning a smaller percentage of a more high-risk asset. There's one more feature I'd like to mention with regards to market cap weighting on Shrimpy which is that you can also set a maximum and minimum percentage allocation to ensure that you don't have either too much of one asset in the index and equally, not a small percentage – this is a great way of fine-tuning your index so that it is as profitable as possible and just goes to show the lengths Shrimpy has gone to in order to provide you with the right tools for the job.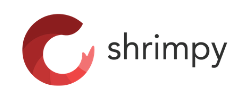 30% Shrimpy Discount
Save 30% on Shriompy when you register with the 'Claim' button and buy an annual plan
Equal Weighting
The second main way in which you can weight your crypto index on Shrimpy is by 'Equal Weighting'. All this means is that out of the coins that you decide to include in your crypto index, shrimpy will equally weight the percentage of eash asset in the index. For example, say you want to create an index of the top 5 cryptocurrencies and choose to equally weight them, Shrimpy will split your portfolio so that your portfolio consists of 20% of each of the top 5 cryptocurrencies (20%*5= 100%). Again, this is what's called a dynamic index, so when the top 5 coins (in this example) change, then your portfolio will change to reflect this.
So you might now be wondering if Index funds can out-perform the market and provide better returns than just hodling? Well, Shrimpy.io conducted a study exactly on this and published the findings here.
Spoiler: "Crypto Users who Diversify Perform Better"
Register on Shrimpy now by clicking here to check out the platform for free and get 30% off when you upgrade to an annual subscription.
Backtesting
When setting up your custom strategies/portfolios on Shrimpy, it's handy to get an indication about how it performs, so that you can tweak it to improve it and find your ultimate portfolio allocation. To do this, Shrimpy has a backtesting tool which lets you test any strategy or index with historical data to see how your exact strategy would have performed in the past. This is a neat feature but I personally don't think that you should rely on it since there a few drawbacks. Here are the main issues with backtesting:
It uses historical data
Works on executed prices (potentially asks), not bids
Now you might not fully understand what this means, but on a simple level, it means that the data can't be relied on since it usually isn't that accurate since it doesn't represent how the strategy would work in live conditions. Daniel's trading has a good article on exactly why most people don't rely on backtesting.
Even so, it's nice to see that Shrimpy give people the option to backtest if they so wish, this appeals to newer traders and investors and gets them thinking about long-term investment strategies so there is some value add there.
Social Trading
Social trading has majorly grown in popularity with brokers like eToro pioneering the idea. Also referred to as 'copy trading' social trading allows you to follow other people's trading strategies automatically whilst being able to see how it performs over time. Shrimpy has taken copy trading to a new level by incorporating a feature which lets you earn by sharing your strategy. Shrimpy pays you $4/month for each person that follows your strategy (you don't have to make it public) and you can follow other people's strategies for free if you want. I like the way they show you how social strategies have performed in the past. This feature is revolutionary in so many ways; firstly, it gives newer traders an option to automate their trading without having to think about it too much and secondly, people that have a good strategy can earn a passive income by making it available on the Shrimpy strategy marketplace. Imagine if you could get 1000 people to follow your strategy, that would be $4,000 per month – which could be a full-time income for some people.
Register on Shrimpy now by clicking here to check out the platform for free and get 30% off when you upgrade to an annual subscription.
Some argue that there are limitations with copy trading which are perfectly justified such as if many people follow the same strategy, the profits will become lower and lower since there will be fewer people on the other side of the trade, and many on the same side. Nevertheless, on a smaller scale like with Shrimpy, it can work quite well. Here is a screenshot of the Shrimpy social trading market: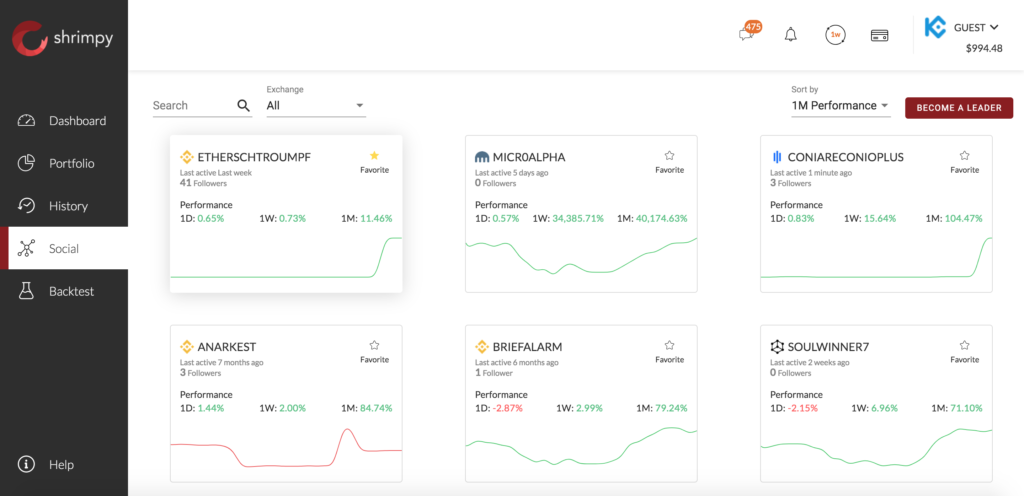 Shrimpy Pricing
So, now that you know about all the features packed into Shrimpy, you're probably wondering how much it costs to have the privilege of using the system.
Shrimpy costs $19/month if you pay monthly, $16/month if you pay bi-annually (every 3 months) and only $13/month if you pay annually.
| | |
| --- | --- |
| 1 Month | $19 USD |
| 6 Months | $96 (16% OFF) |
| 1 Year | $156 (32% OFF) |
I think that Shrimpy's pricing is pretty fair for what it is. It's a good tool packed with features and at less $0.50 per day, it's a steal in my opinion.
Exchanges
Shrimpy supports 16 different cryptocurrency exchanges and seems to be adding more and more as time goes on. Here is a list of all the currently supported exchanges on Shrimpy:
Binance
Binance US
Kraken
Huobi Global
KuCoin
Bittrex
Bittrex International
Gemini
Bibox
BitMart
HitBTC
OKEx
Bitstamp
Bitfinex
Poloniex
Coinbase Pro
I have to say; I was shocked by the sheer amount of exchanges that are supported on Shrimpy – it's incredible really and makes it very accessible for people all over the globe.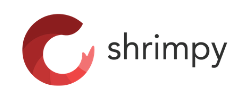 30% Shrimpy Discount
Save 30% on Shriompy when you register with the 'Claim' button and buy an annual plan
Currencies
You can trade with any of the currencies supported by the exchanges that work with Shrimpy, this includes crypto-crypto and crypto-fiat pairs. In terms of display currencies (what you see your portfolio in on the dashboard), there are a total of 9 different currencies, these are USD, GBP, EUR, AUD, CAD, INR, CNY, JPY & BTC. You can change the display currency of your Shrimpy account by going to 'Settings' and then clicking on the drop-down currency menu as shown below.
Security
When it comes to trading cryptocurrencies, high-security measure are paramount to ensure that your funds are kept safe. A lot of people are hesitant about giving bots like Shrimpy the ability to trade automatically since they aren't sure how secure it really is. This is a very legitimate concern and something that everyone should consider when using any automated crypto trading system. In order to fully understand how secure these platforms are, I need to tell you a bit about how they work.
Shrimpy (and other bots) use something called an API to automate your trades. This is essentially a secure link to your exchange account which can only be used to make trades & view balances. You don't have to give Shrimpy your account login details or anything like that and you can remove their access to your account through the API at any time.
So, is Shrimpy safe & secure?
Yes, Shrimpy is safe to use as it employs the best security features such as API encryption and 2FA.
To further that point; Shrimpy encrypts every API key that gets used, so no one can intercept and find out your data, it's deemed very secure in this sense. In addition to the encrypted API keys, Shrimpy also has the option to secure your account with 2FA (2 Factor Authentication) – this restricts people from accessing your account remotely and causing havoc. Also, as you'd expect Shrimp is fully HTTPS secured (SSL).
Register on Shrimpy now by clicking here to check out the platform for free and get 30% off when you upgrade to an annual subscription.
To summarise in regards to security, Shrimpy is very safe to use by my personal standards and you shouldn't have to worry too much about the service being hacked as no one would be able to withdraw funds from your exchange account, they could only change your balances – that's IF someone was ever able to hack it (I highly doubt they would since there is no real incentive).
Support
In this part of the review, I'll be taking a look at Shrimpy's support as I feel like this is an extremely vital part of any service.
Shrimpy has a dedicated support team on hand to answer any questions you might have about the platform. You can contact them in several different ways including through live chat and email.
I've reached out to the Shrimpy support to test it out and I was happy to see that they replied within a couple of hours and managed to resolve my issue quickly. I didn't notice at first, but I was speaking directly with the CEO which shows just how invested in the project Shrimpy's team is.
Register on Shrimpy now by clicking here to check out the platform for free and get 30% off when you upgrade to an annual subscription.
Referral Program
Getting social followers on Shrimpy isn't the only way you can earn on the platform. They also have a referral program which is accessible through any standard Shrimpy account, all you need to get started promoting is an email address and a password, you'll then be able to get your referral link instantly.
Now I know, most people reading this right now will be dying to know how much you can earn by promoting Shrimpy. The answer is a maximum $30 USD per person you refer, which is 50% of the subscription cost for the first three months of the user's account. I personally think that is very fair, although they could extend the commissions to a longer period and reduce the percentage earned as I feel that this would incentivise more people to promote the service, although it is still very decent.
Shrimpy Review: Conclusion
Overall, we think Shrimpy is a great crypto trading bot for those looking to manage their portfolio in a professional and well-thought-out manner. You should give Shrimpy a try if you are looking to automate your crypto portfolio.
To finish off this review of Shrimpy, I'm going to answer the questions from the introduction and give a broad overview of the positives and negatives of the platform.
What can Shrimpy do? Shrimpy can automate your cryptocurrency portfolio rebalancing, create a custom crypto index and follow other people's strategies.
Is it any good? Yes! Shrimpy is a quality platform that has good security and a wide range of intuitive features.
Should you be using Shrimpy? I think so. Shrimpy is the perfect tool for pretty much anyone that owns cryptocurrencies.
Pros
Inexpensive
Easy-to-use
Secure
Well designed
Cons
Referral program could be longer
Backtesting could be improved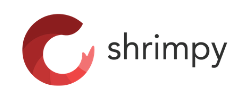 30% Shrimpy Discount
Save 30% on Shriompy when you register with the 'Claim' button and buy an annual plan