Spot is an app which lets you buy and store Bitcoins in a secure mobile wallet. The app aims to make investing in Bitcoin simple and fast, by providing a user-friendly experience.
The Spot Bitcoin App crowdfunded $1.2M on Angel.co in 2018 and received backing from people such as Thomas France, the cofounder of one of the world's most popular cryptocurrency hardware wallets; Ledger.
Based in Paris, France, this app provides people all over the world with a secure method in which to buy Bitcoin instantly. Hold up, there's more up Spot's sleeve which I will get into later in the review!
Main Features
Spot isn't just an app for buying and holding Bitcoin, they've also added a few different cool features which make the app one of the go-to apps for Bitcoin investors. On the Spot Bitcoin App, you can:
Buy Bitcoin with Credit/Debit Cards
Receive, Store and Send Bitcoin
Produce Bitcoin Gift Cards
Earn Bitcoin
Send BTC to people via SMS and social apps
Track crypto prices
Get price notifications
Keep up-to-date with the latest crypto news
Connect all exchange accounts
Pros & Cons
Nothing is perfect, let's take a look at some of the pros and cons of the Spot Bitcoin App.
Pros
Great design
Accepts VISA, Mastercard & Apple Pay
Transparent
Non-custodial (you have control over your funds)
24/7 support
Free instant wallet with backups
Cons
Uses third parties to process transactions
Quite expensive for buying
Download Spot Bitcoin App
Downloading the app and creating your account is relatively simple and should only take you a few moments. To get started with the Spot Bitcoin app, use the download links below and make sure to use the invite code 667M4 to get a $1 free Bitcoin welcome bonus.
Download Spot Bitcoin Wallet App on IOS
Download Spot Bitcoin Wallet App on Google Play
How to buy Bitcoin with the Spot App
In order to buy BTC on the Spot Bitcoin App, follow the instructions below carefully. Before I show you how to do it, it's important to note that the Spot App uses a third-party service called MoonPay to process Bitcoin buys on the app, just to avoid any confusion on your end.
Step 1: Download App
Before you can buy Bitcoin, you'll need to download the Spot app on your mobile device. It's available on both IOS & Google Play so you can download it on pretty much any phone like iPhones, Samsung etc.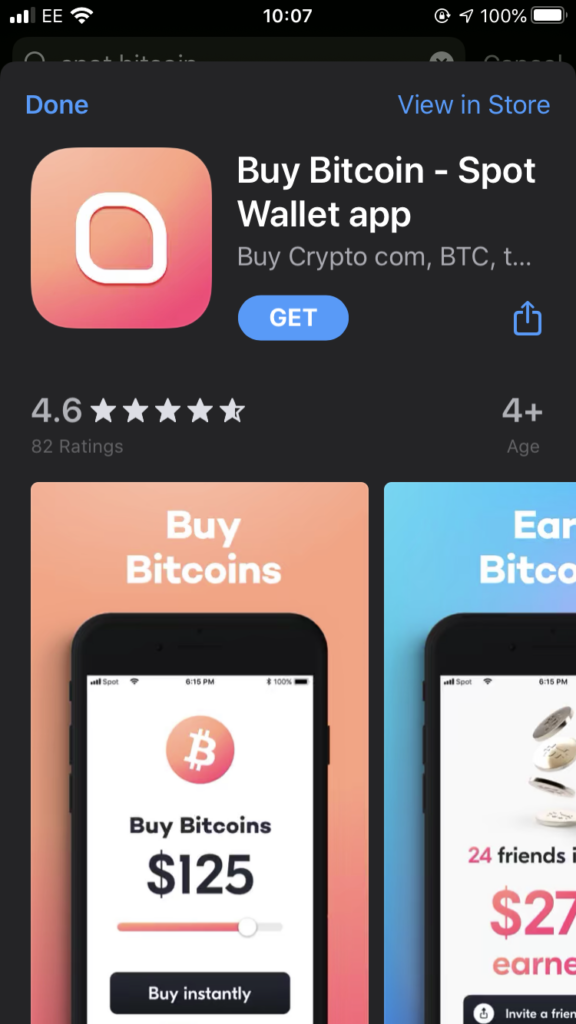 Step 2: Create your wallet
Once you've downloaded the Spot Bitcoin App, open it on your device, read the terms and accept them. Your wallet will then be created instantly. On the page where it asks you if you want to buy Bitcoin right away, click 'Not Now' – there's something you need to do first to make sure you get an extra $1 free Bitcoin.
Step 3: Redeem invite code
Before you buy Bitcoin, you'll need to redeem an invite code in order to claim a free $1 Bitcoin bonus. To do this, go to the 'Earn' tab in the bottom menu, click on the three dots in the top right-hand corner, select 'Enter invite code' and then redeem the invite code 667M4 – this will credit $1 worth of free Bitcoin to your account when you buy Bitcoin on the spot app.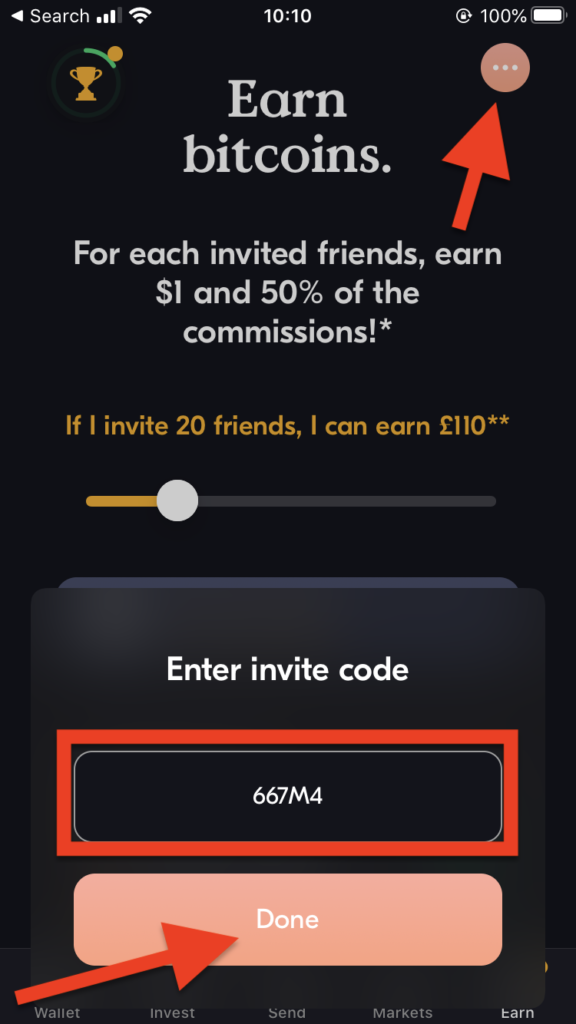 Step 4: Buy Bitcoin
Now that you've set up your wallet, you're ready to buy Bitcoin. To do this on the Spot Bitcoin App:
Go to the 'Invest' tab, enter how much you want to buy and click 'Continue'
Now enter your email address (this is so you can keep track of your purchase) and hit 'Next'
Check your email for a verification code and enter that code on the screen which pops up.
Proceed to enter your details as prompted
Add your payment method (Bank Card or Apple Pay) and confirm your purchase (you'll see your exact fee breakdown on this part of the process)
Wait for a few seconds
Your Bitcoin will be credited to your Spot Wallet – you've just bought some Bitcoin on Spot, congrats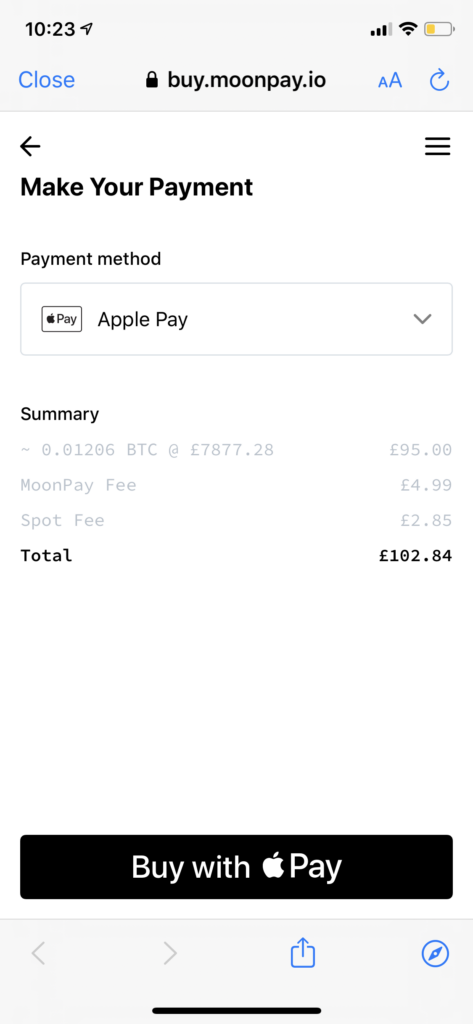 It really is that simple to buy BTC on the Spot Bitcoin Wallet App.
Security: Is the Spot Bitcoin App Safe?
Using Bitcoin can be daunting at first due to its decentralised nature, and for that reason, you have to be careful when you're starting out so that you don't lose any money to scams (they do exist). In this part of the review, I'm going to help you by giving you information on the security of the Spot Bitcoin Wallet App so that you can make an informed decision on whether or not you should use it.
Yes, the Spot Bitcoin App is a safe app for buying, storing and sending Bitcoin as it uses high-level security methods in order to secure your funds and keep them safe from hackers.
Here are a few of the (technical) ways Spot protects your precious Bitcoins:
The seed phrase is generated locally on your device and fully encrypted
Manual and iCloud backups
Pin code protected & Face ID support
I would like to see the option to add 2FA, but overall, it's a very secure wallet in my opinion.
Company
The Spot Bitcoin Wallet App is owned and run by Spot SAS, a legally registered company with registration number 838 695 021 and address: 163 Quai du Docteur Dervaux, 92600 Asnières-sur-Seine, France.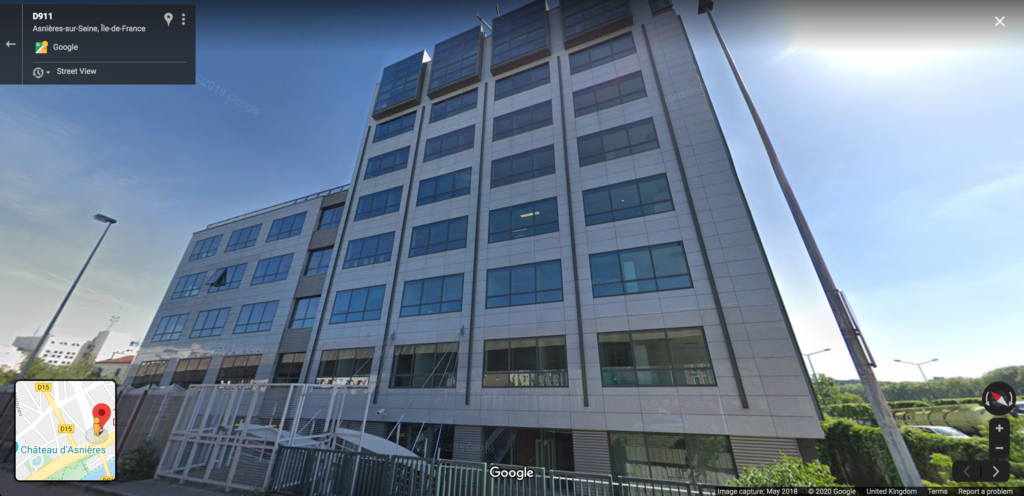 I did some research into the company and was able to find their official registration documents online, so I feel comfortable about using the app since I know exactly who is behind it.
Fees
There are no fees for using the Spot Bitcoin Wallet App directly to store, send or gift Bitcoin, but if you use the app to buy Bitcoin, you will have to pay some purchasing fees which are as follows.
To buy Bitcoin on the Spot Bitcoin Wallet App, it costs 6.5% or if the transaction is under $142, it's $4.99 + 3% which is slightly on the high side for buying crypto.
The fee is broken down into two main parts, Spot charges you 3% on the purchase and the third party, MoonPay charges 3.5% which totals a 6.5% fee.
These fees are quite high for buying Bitcoin and honestly, you are better off using a service like Luno or Coinbase to buy Bitcoin rather than the Spot App – don't get me wrong though, the Spot App is brilliant as a Bitcoin wallet and price tracking app as it is 100% free to use if you don't buy Bitcoin on it.
Receiving Bitcoin on Spot
To receive Bitcoins on the Spot Wallet app, click on the 'Wallet' tab on the bottom app menu and then tap the downward arrow button. You'll then see your Spot Bitcoin wallet address along with a QR code. Send Bitcoins to this address and they'll appear in your wallet, it's as simple as that. There are no minimums or maximum amounts you can deposit on the Spot Bitcoin Wallet.
As you can see from the screenshot above, I did a test transaction of 10 GBP worth of Bitcoin onto the Spot App. My BTC transaction showed instantly in the Spot Bitcoin Wallet app after I sent the Bitcoin to the address provided. I really like the design of the app, it's super clean, simple and very intuitive (much nicer than wallets like Blockchain).
Sending Bitcoin on Spot
Sending BTC on the Spot App is just as easy as depositing it.
Once you've opened the app, go to the 'Send' tab, enter the amount you want to send in fiat or BTC and hit the 'Send' button.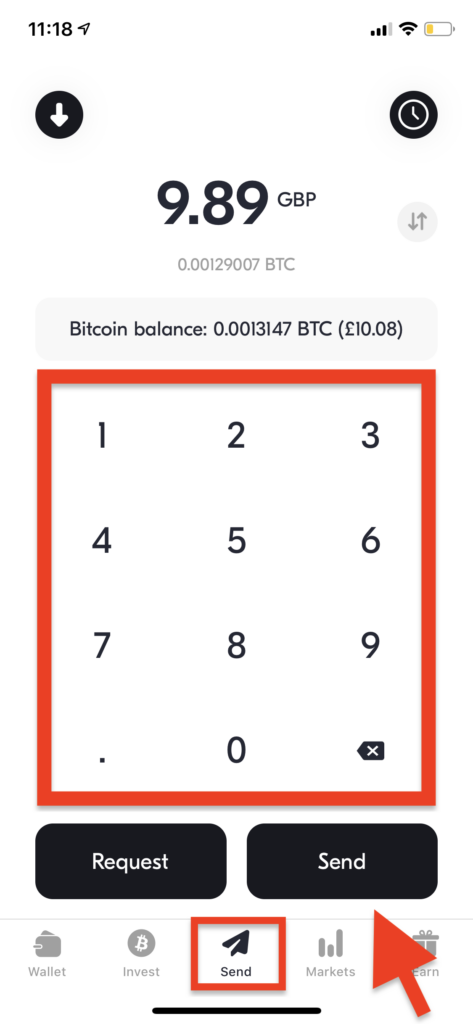 Next, you have to choose how you want to send the Bitcoin, the two options are sending to a contact (super cool feature IMO) or sending to an external Bitcoin address (the method I chose).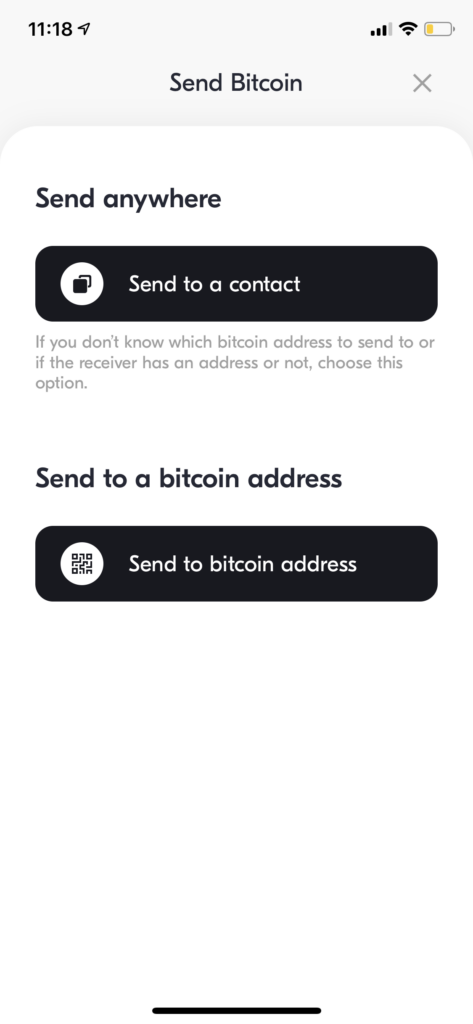 Now, enter the Bitcoin address you want to send the BTC to (or choose the contact if you selected the other option) and click 'Preview Transaction'.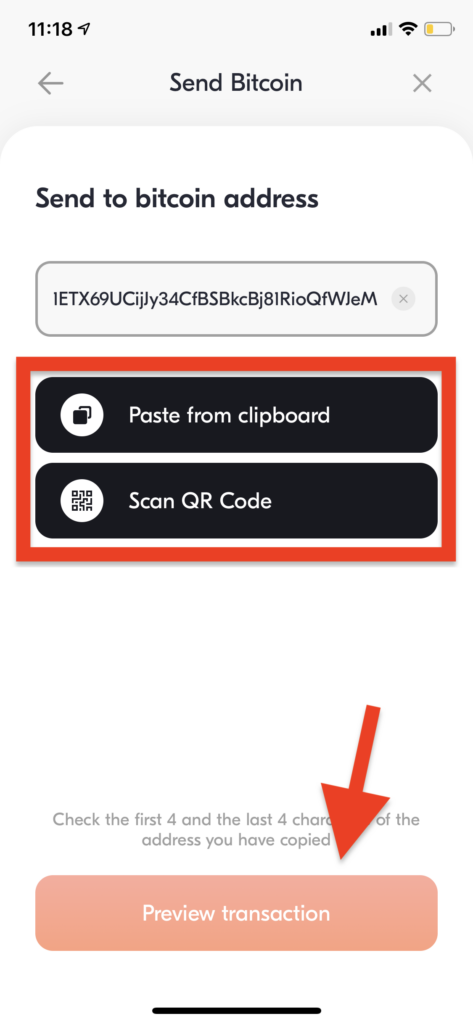 Don't worry, this process isn't as long as it sounds, I'm just covering each step in detail for those who are new to using Bitcoin (after all, it should be accessible to everyone right?).
Now, the final part of the process you need to do before you send Bitcoin from the Spot App is reviewing the transaction details and selecting a network fee. Network fees are paid to miners for processing the transaction, not to Spot.
Anyway, you have two main option of network fees on the Spot Bitcoin Wallet App; 'Fast' & 'Eco'. As you probably guessed, one is faster than the other. The only other difference apart from the time it takes to process your transaction on the blockchain is the amount it costs.
If you need to send BTC quickly, you're best off using Fast mode and if you're not worried, choose Eco (I did and it was still fast). Eco costs around 1 cent to send, whereas Fast costs around 20 cents, so there's a big difference there.
It's still cheap whichever option you select. Here's a small table which compares the network fee options on Spot:
| Mode | Time | Cost |
| --- | --- | --- |
| Fast | 0-30 mins | $0.20 |
| Eco | 2 hours | $0.01 |
Once you've picked a network fee option, it's finally time to make the transaction by pressing on 'Confirm Transaction'.
Tip: Make sure you double-check that the address and amount are correct because there's no going back once you've sent the transaction.
That's it, you've sent BTC on Spot, nice one.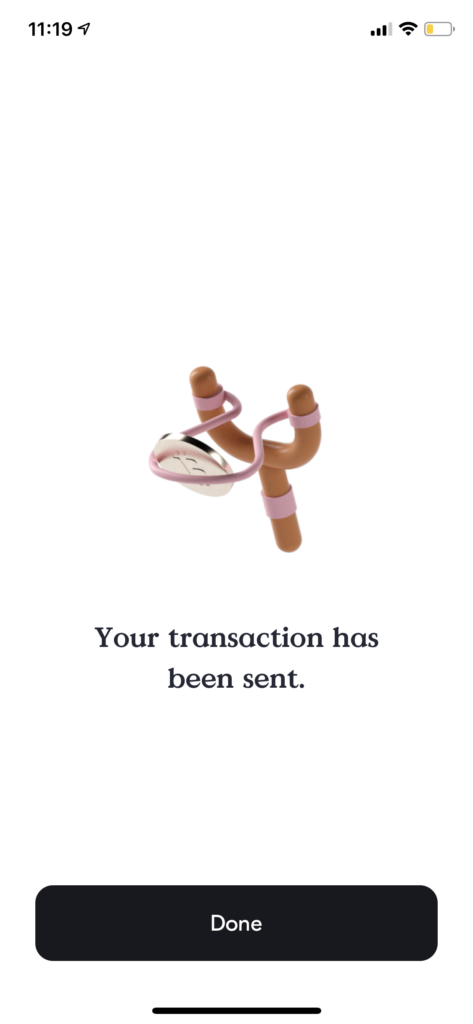 Referral Program: Earn Free Bitcoin
Earning Bitcoin while you sleep sounds like a dream right? Not for people who use Bitcoin affiliate programs like the Spot Bitcoin App. By sharing your unique invite code/link which you get when you download the app, you will earn $1 in BTC + 50% commissions (for life) for everyone who redeems your code and purchases some Bitcoin using the app.
To earn Bitcoin on the Spot Bitcoin Wallet App, go to the 'Earn' tab, copy your invite code or link and share it with people on your social media account or blog for example.
On your referral dashboard, you're able to track your earnings as well as spy on the top earners on the app. When I checked, the top referrer had earned well over $1,000 – not bad hey?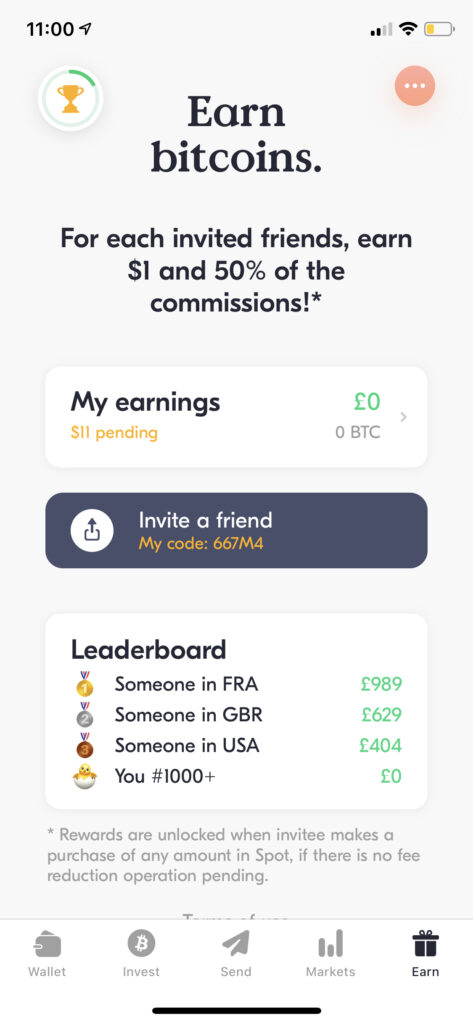 As far as Bitcoin affiliate programs go, the Spot Bitcoin Wallet App is pretty good.
Support
As the Spot Bitcoin App is fully controlled by you, and not the Spot company, you shouldn't need to contact support but naturally, there are times that you will need help with using the app or understanding how it works. You can get in touch with the Spot Bitcoin Wallet App support team at any time of the day, 7 days per week, 365 days a year by their live chat on the website or by emailing hello@spot-bitcoin.com.
You can also access all of the support documentation for the Spot App by going to their help centre.
During the time I've been using the Spot App, I haven't had to contact support as I didn't come into any problems. Have you used Spot's support? Please share your experience in the comments section below!
Spot Bitcoin App Review: Final Verdict
Spot is a brilliant Bitcoin wallet app with an amazing, easy-to-use modern interface. I personally love the way you can send Bitcoin gift cards. For new Bitcoin investors, it's a simple way to get started with BTC, but buying Bitcoin can be slightly costly on large transactions. On the other hand, if you're in Bitcoin for the long run, it shouldn't affect your investing that much. It's great that the wallet is non-custodial as it rings true with Bitcoin's decentralised nature, and keeps the idea of a permissionless, liberal currency alive. If you want to give the Spot Bitcoin App a go, download the app by clicking here today and use invite code 667M4 to get $1 worth of free Bitcoin when you make your first purchase on the app!
Have you had any experience with the app and want to share your thoughts? Write a comment below, I'd love to hear what you have to say.