StormGain is a crypto trading platform which aims to make trading accessible and easy for everyone. StormGain.com was founded in 2019 and has an exclusive partnership with Newcastle FC, a UK-based Football Club.
Register on StormGain.com by clicking here to claim an exclusive $25 welcome bonus.
The exchange has a nice interface and in my opinion, has a good chance of bringing crypto trading to a mainstream audience. Expanding on this a little, I'd like to point out that people new to the crypto industry sometimes find it difficult to use a lot of exchanges (like BitMEX for example) as they can be bulky and complex, but StormGain has put user experience at the forefront of their operations in order to change this.
In this review, I'll be showing you everything there is to know about StormGain. I've personally tested out the exchange with my own money as I know how difficult it can be to trust a crypto exchange at first, so I put my money where my mouth is to give you a full, unbiased review of the trading platform. The core areas I'll be covering are; safety, trading experience, deposit & withdrawals & customer support. Anyway, enough of the introduction, let's get into the review.
Is StormGain Safe?
Before you use any crypto margin exchange, it's vital that you take steps to asses it's safety/legitimacy in order to ensure that your funds will be secure if you decide to use the exchange. Not only do you have to look at the company behind the exchange, but also the security features offered on the exchange itself. So, is StormGain legit?
StormGain is regarded as a safe cryptocurrency exchange due to moderate levels of transparency and range of in-exchange security features.
On the other hand, the company behind the StormGain is private for whatever reason. This can be an issue for some people although I have personally spoken to members of the team and know them by name, so I feel confident trading there as there is always a line of contact available. In addition to this, StormGain's CEO; Alex Althausen is transparent and active on social media which makes me more confident that the exchange is safe to use.
Register on StormGain.com by clicking here to claim an exclusive $25 welcome bonus.
Moving onto direct account security features, there are all the basic things I look for in a crypto exchange. This includes 2FA for both SMS and Google Authenticator as well as data encryption and cold fund storage for StormGain's built-in crypto wallets. I also like the fact that StormGain provides basic account security advice on its website to help new users secure their accounts.
In terms of areas of improvement for the safety of users on StormGain, I would like to see login notifications by email and more transparency with the company behind the exchange.
Overall, I am comfortable in saying that StormGain is a safe exchange to use, although I recommend checking it out for yourself and making your own decision on the matter – it's your money, not mine! I don't want to sound too harsh though and would like to point out here that I have made successful deposits, withdrawals, and trades on the exchange, so you can use that information as you will.
StormGain Review: Products
StormGain offers four main products on its web and mobile apps. These are an instant exchange, regular exchange, margin exchange (trading with leverage/multiplier) and a multi-currency crypto wallet. You can access all of these products from one main standard account which is free to sign up for.
Instant exchange is for swapping cryptocurrencies instantly at market price
Regular exchange is for trading cryptocurrencies with more advanced tools and order types
Trading with multiplier (margin exchange) is for trading cryptocurrencies with leverage up to 150x
Crypto wallet is for storing, sending and receiving cryptocurrencies online
I like the fact that StormGain offers multiple products for one account rather than just focussing on one area like other crypto exchanges. It makes the trading platform suitable for a wider audience as it suits beginners right through to advanced traders.
Register on StormGain.com by clicking here to claim an exclusive $25 welcome bonus.
Registration
Signing up for a StormGain account is super simple and can be done in (literally) seconds. I don't want to sound like I'm overselling the exchange, but it is one of the fastest registration processes I've ever used.
Is KYC required?
No, you do not have to perform KYC (Know Your Customer) checks on StormGain. Not having to verify your identity means that you can start trading instantly with no restrictions. This is possible since the crypto trading industry is fairly new and lacks regulation (so give it a go while you can!).
How to Register on StormGain
As I said before, registering on StormGain is a really easy process; all you need is an email address and password. To get started with a free StormGain account, follow these steps:
Go to stormgain.com/register
Enter your email address
Choose a password
Enter promo code PROMO25 to get a $25 USD welcome bonus
Accept the terms and confirm that you are not a US citizen
Click 'Create Account'
Confirm your email address by clicking on the link sent to your email
Once you've registered your account, you're going to need to deposit before you can make a live trade. Keep reading if you'd like to learn about getting funds on and off the StormGain exchange.
Banking
Now, onto what some would say the most important part of the review; how to get your money in and out of the trading platform (deposit & withdrawal). In this section, I'll be looking at the deposit methods available as well as any fees that are charged, showing you exactly how long it takes and letting you know about any minimum or maximum limits on the platform.
Methods
The deposit and withdrawal methods on StormGain are the same apart from the fact that you can't withdraw to credit/debit cards but you can deposit with them. You can deposit and withdraw on StormGain with the following cryptocurrencies:
Bitcoin (BTC)
Ethereum (ETH)
Litecoin (LTC)
XRP (XRP)
Bitcoin Cash (BCH)
Tether (USDT)
Credit/Debit Cards (deposits only)
Making a deposit
Adhering to the true nature of the exchange; it is very simple to deposit onto StormGain and you can do it on both the web and mobile app. To make a deposit:
Login to your account
Select the crypto you want to deposit (e.g. Bitcoin) from the 'Wallets' section
Copy the deposit address (or use QR code)
Send crypto to the address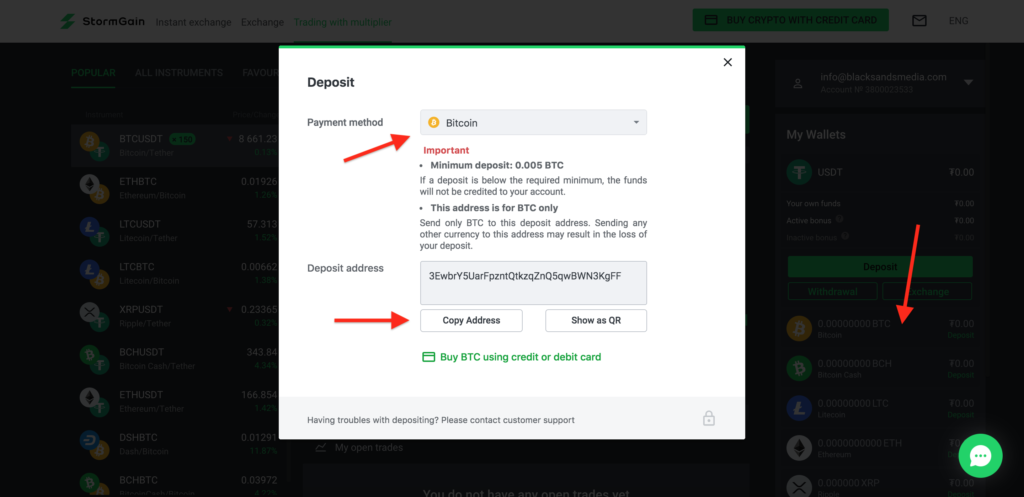 Alternatively, you can use credit/debit cards to deposit on StormGain, although there are higher fees associated with this due to the processing fees, so I recommend buying crypto elsewhere like Coinbase and then sending to the exchange. Nevertheless, if you would like to use credit/debit to deposit on StormGain, just click the 'Buy Crypto With Credit Card Button' and follow the instructions.
Register on StormGain.com by clicking here to claim an exclusive $25 welcome bonus.
In terms of fees, as expected, there are no deposit fees on StormGain as with most other crypto exchanges.
Is there a minimum/maximum deposit?
Yes, there is a minimum deposit on StormGain which varies by the coin you are using to deposit onto the exchange with. As a general rule, the minimum deposit on StormGain is around $30-$50 USD. I put together a table below for you with the minimum deposits by each cryptocurrency offered on the exchange.
| | |
| --- | --- |
| Cryptocurrency | Min. Deposit |
| Bitcoin (BTC) | 0.005 BTC |
| Ethereum (ETH) | 0.2 ETH |
| USDT | 50 USDT |
| Litecoin (LTC) | 0.55 LTC |
| Bitcoin Cash (BCH) | 0.16 BCH |
There is no maximum amount you can deposit on StormGain for crypto deposits, although, there is a maximum limit of 20 000 EUR/20 000 USD for credit and debit card deposits.
How long do deposits take?
This is one of the burning questions people ask about crypto exchanges; how long does it take for the deposit to clear? Well, fear not, I tested this out for you to see how long it would take to get my money onto my StormGain account.
Deposits on StormGain take around 1-2 hours to credit on your account. The amount of time it takes for a deposit to clear depends on which deposit method you use.
To test it out, I sent 50 USDT to StormGain and it took 1 hour, 27 minutes to land in my account.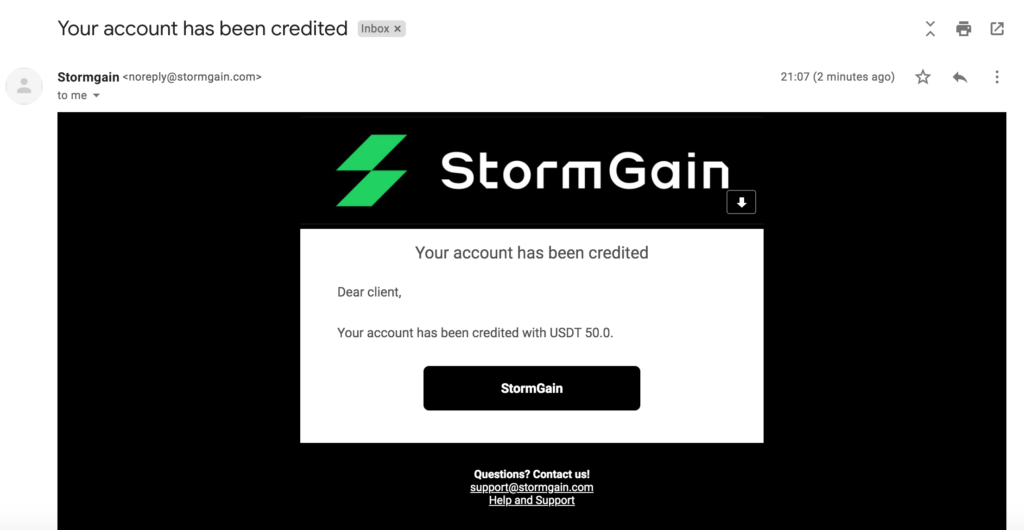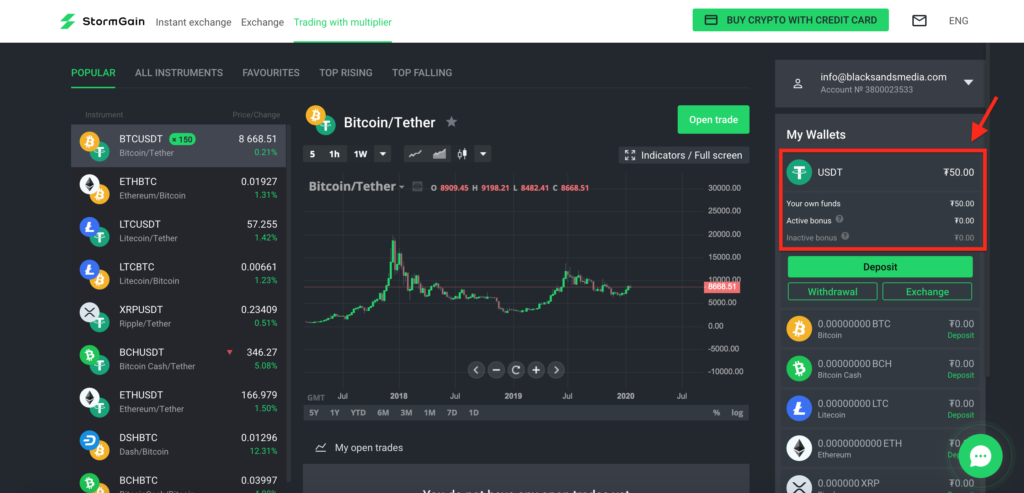 In regards to the entire deposit experience, I thought it was smooth and quick, although, I would like to see a tab for pending deposits so that you know that your money is on the way into your account – apart from that, it was all good!
Register on StormGain.com by clicking here to claim an exclusive $25 welcome bonus.
Withdrawing from StormGain
Convenient and fast withdrawals can improve a trader's experience on a crypto exchange vastly. With this in mind, let's dive into making a withdrawal on StormGain. As I said earlier in this review, the withdrawal methods available are identical to the deposit methods (except you cannot withdraw to bank cards).
To make a withdrawal from StormGain, just head over to your wallet with the balance you want to withdraw and press the 'Withdrawal' button. Then, enter the desired destination address for the withdrawal and the amount you want to send. Once you've completed those steps, you should see a dynamic fee showing you exactly how much the withdrawal will cost you. If you are happy with the withdrawal details, click the 'Withdraw' button and confirm the withdrawal from your email address. Now all you have to do is wait for it to go through.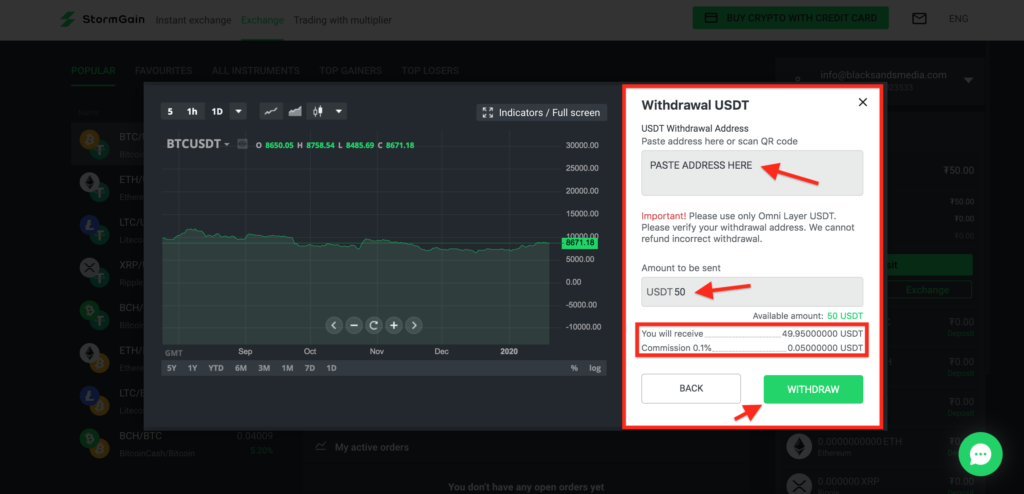 Withdrawal Fees
Naturally, there are fees to take your funds of the exchange, as with the majority of other crypto trading platforms out there. I don't mind paying this if its reasonable, and StormGain charges industry-standard fees, so I don't have any issues there.
The withdrawal fee (commission) on StormGain is 0.1% of the withdrawal amount. For example, if you withdraw 1,000 USD, you will pay a 1 USD withdrawal fee which I think is pretty decent.
This dynamic withdrawal fee makes StormGain perfect for beginners as you don't have to pay a high withdrawal fee for small withdrawals like some other crypto exchanges which charge a standard fee no matter the amount you withdraw – little or big.
Minimum Withdrawal Amounts
Now you may be wondering what the minimum amount of funds you can withdraw from StormGain is. The answer is that it depends on the crypto you are withdrawing. Here's a handy table with the minimum withdrawal amount by asset:
| Coin | Min. Withdrawal |
| --- | --- |
| Tether (USDT) | 20 USDT |
| Bitcoin (BTC) | 0.0025 BTC |
| Bitcoin Cash (BCH) | 0.0888 BCH |
| Ethereum (ETH) | 0.11 ETH |
| Litecoin (LTC) | 0.35 LTC |
| XRP (XRP) | 100.0 XRP |
How long do withdrawals take?
Withdrawals on StormGain are processed instantly after being submitted. The amount of time it takes for your withdrawal to clear in your destination wallet hinges on which cryptocurrency you withdraw from StormGain. The quickest is usually XRP, followed by Ethereum and Litecoin. The slowest withdrawal method is Bitcoin. On average, withdrawals on StormGain take 1-2 hours.
Trading on StormGain
In this part of the review, I'll be showing you how you can trade on StormGain and make the most of what the trading platform has to offer. I'll be covering StormGain's main product; 'Trading with multiplier' which is essentially leverage crypto trading.
Leverage (Multiplier)
As a brief explainer, leverage trading means that you can increase the amount you are trading with without having to have a larger balance. This allows you to profit from smaller price movements and profit extremely well from large price movements. Be aware though, it also works the other way; if the trade doesn't go in your favour, you can lose more (profits and losses are multiplied with leverage) and even lose your entire balance. StormGain offers up to 150x leverage. To change leverage on StormGain, press the 'Multiplier' bo and use the slider or enter the amount of leverage you want for the trade.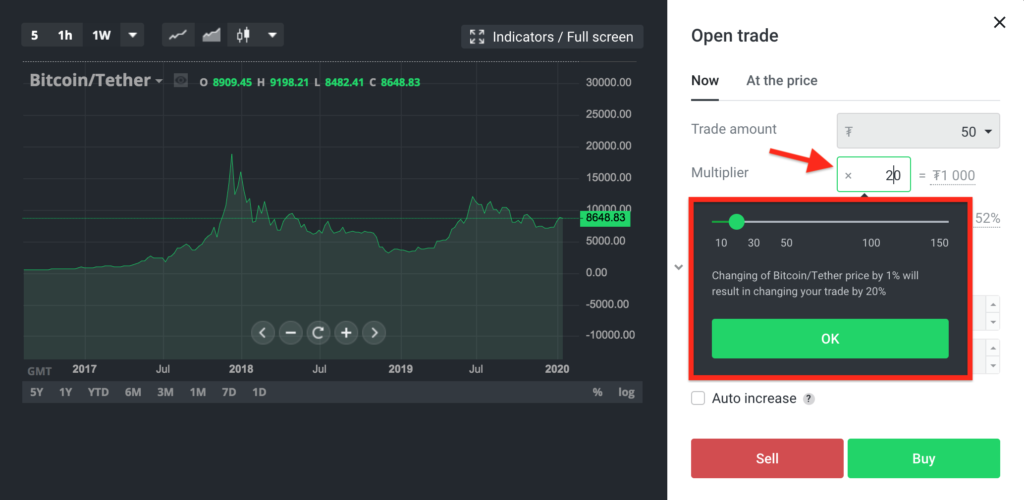 As I said above, the maximum possible leverage you can use on StormGain is 150x, but this is only for the BTC/USDT pair. All other coins on StormGain have a maximum leverage of 50x.
Before we jump into the steps to make a trade, I'm going to give you some important information that you need to know before trading.
Register on StormGain.com by clicking here to claim an exclusive $25 welcome bonus.
Order Types
StormGain offers four main order types. First up, we have market orders (Now) which are the default on the trading platform. Market orders are orders which execute instantly at market price. Market orders are good for taking opportunities in the market and for those who don't have patience to wait for orders to fill. The second order type on StormGain is limit orders (At the price). Limit orders are saying that if the price goes to x, buy/sell z amount of the asset. Limit orders usually take longer to complete but can have lower fees. StormGain also has stop-limit orders for stop losses & take profit orders, these order types let you limit the loss of a trade or secure profit if it is going in your direction. To re-cap, the order types on StormGain are:
Market (Now)
Limit (At the price)
Stop Loss
Limit Profit
What can you trade on StormGain?
Here is a list of the supported Cryptocurrencies (coins) on StormGain:
Bitcoin (BTC)
XRP (XRP)
Ethereum (ETH)
Litecoin (LTC)
Bitcoin Cash (BTC)
Nem (XEM)
Ethereum Classic (ETC)
QTUM (QTUM)
OmiseGO (OMG)
NEO (NEO)
EOS (EOS)
Tron (TRX)
IOTA (IOTA)
Cardano (ADA)
Zcash (ZEC)
Stellar Lumens (XLM)
Dash (DASH)
Monero (XMR)
Bitcoin Gold (BTG)
Each coin has both a USDT and BTC pair, which is really good to see. Also, I'm impressed with the sheer amount of altcoins you can trade on StormGain, it's much more than with other margin exchanges, so if you are looking for somewhere to margin trade smaller coins as well as large caps (eg Bitcoin & Ethereum), then StormGain might be just right for you.
Register on StormGain.com by clicking here to claim an exclusive $25 welcome bonus.
How to trade on StormGain
To trade on StormGain with multiplier (leverage), use the following steps:
1. Deposit into your account
As I stated earlier in this review, you're going to have to deposit some cryptocurrency before you can start trading.
2. Open a trade
Click on the 'Trading with multiplier' tab, select the pair you want to trade (for example BTC/USDT) and then click 'Open trade'. You will then see a box pop up; now select which order type (as described above) you want to use from the two tabs.
Once you've decided on which order type, enter how much you want to trade and which amount of leverage (multiplier) you would like to use. If you're new to leverage crypto trading, I suggest that you use low leverage (around 10-20x) until you get the feel of things. Once you've entered your trade info, click 'Buy' or 'Sell' depending on which trade you would like to make. I like the fact that they tell you exactly what the commission for your trade will be before you make it.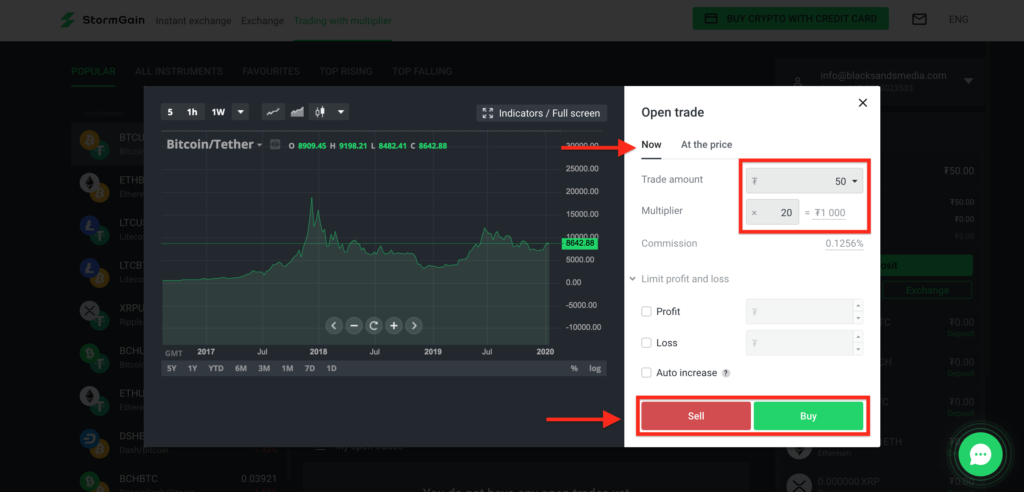 Tip: You can also enter a stop loss or take profit if you would like, this means that you can automatically close your trade-in profit or loss of your choice.
StormGain also has a feature called 'Auto-increase' which is similar to Bybit's Auto Margin Replenishment (AMR) which adds to your trade if it is losing to ensure that you do not get liquidated.
3. Monitor trade
You can monitor the status of your live trade on StormGain by looking at the 'My open trades' section. This is a nice feature as you can see your current profit/loss on the trade and see details on when you opened it. This is also the place where you will close the trade from when you are ready. I would like to see the percentage profit/loss as well as just the Tether amount here, just something to think about.
4. Close the trade
Now that you've (hopefully) made some profit from the market, you probably want to lock it in right? Well closing a trade is pretty simple, all you have to do is go to the 'My open trades' section, hover over the trade and click 'CLOSE OUT'. A box will pop-up asking you to confirm that you would like to close the trade, you can also see all the details of the trade here before terminating it. If you want to continue to close, click 'Yes, close' and if you don't want to anymore, click 'Cancel'.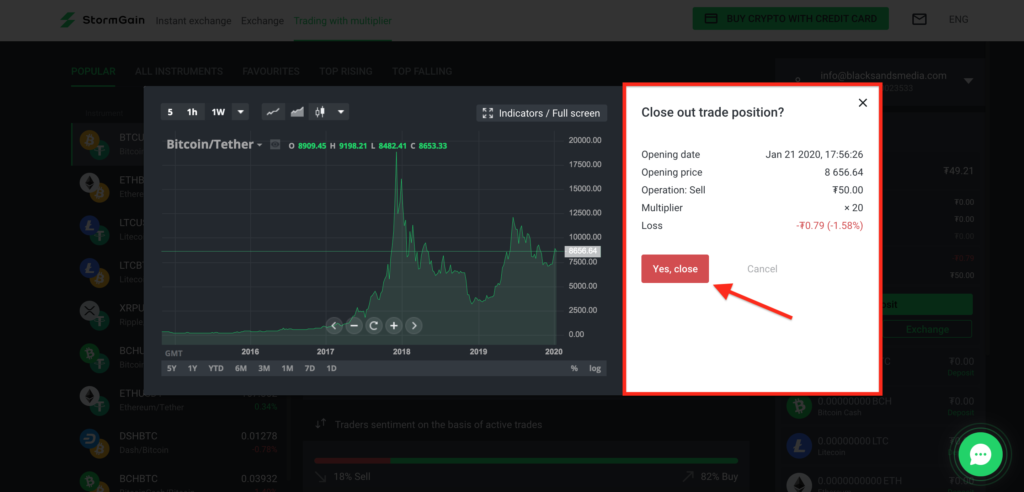 All done, you've successfully made a trade on StormGain!
Charts
StormGain has built-in interactive charts which you can use to track historical price movements in order to make better trade decisions. The charts are native to the StormGain platform and there is currently no integration with TradingView which we would like to see at some point in the future. However, the charts look really nice and are easy to use in my opinion. The charts offer a range of different time frames, types and indicators to suit any trader. This includes the most popular chart types like Candles, Line, Area, Heiken Ashi and bars. With regards to available time frames, you can choose between; 1 minute, 5 minutes, 15 minutes, 30 minutes, 1 hour, 4 hours, 1 day, 1 week and 1 month, so there's plenty of options there for you.
I also like the fact that you can make the chart full-screen as well as draw on the charts with all the usual tools and indicators, similarly to TradingView.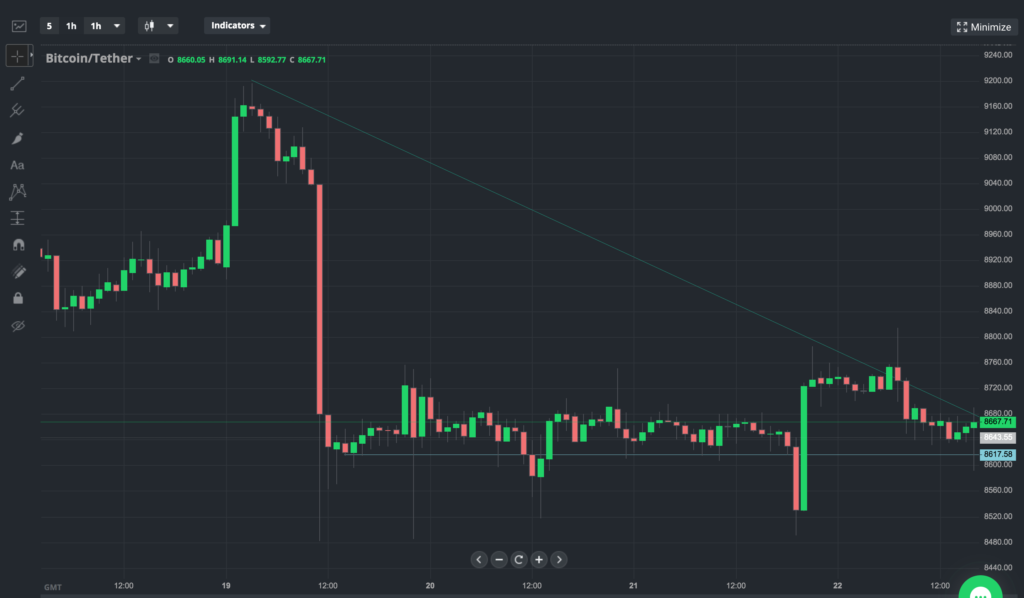 I would like to note here that I would like to see the option to change from dark mode to a normal, light mode as it can be hard on the eyes during the day for me, although this probably doesn't bother too many people as many enjoy using dark mode all the time!
Fees
This is one of the most important parts of this StormGain review, how much does it cost to trade on the platform? I'm going to cut to the chase here and say that the fees on StormGain are slightly higher than what I'm used to but I think that this is acceptable since they make it easier to use than other crypto leverage exchanges, so you pay the price for the ease-of-use.
Trading fees on StormGain range from 0.15% to 0.25% per trade in addition to open-position fees of up to -0.04% per day.

Most exchanges usually offer lower fees for maker orders, but StormGain charges the same fee for any order type, which makes it easier to understand, but not ideal for advanced traders. For these reasons, I think that StormGain is ideal for new crypto traders, although if you have some experience, you're better off using an exchange like Bybit which has much lower fees.
To read more about StormGain's fees, visit stormgain.com/fees-and-limits.
Demo Account
The StormGain exchange offers a demo of $50,000 USDT (Tether) which you can use completely for free to test out the exchange's features. Demo accounts and regular accounts are both accessed from one account. To use StormGain demo, use these instructions:
Visit stormgain.com and register for a free account
Login to your account
Click on your account name (email address)
Toggle the 'Demo account' button
Click 'Yes'
You can now use your $50K StormGain demo and when you're ready, you can switch back to a regular account by toggling the 'Demo account' button again
I've put together a few images below which explain the process in further detail: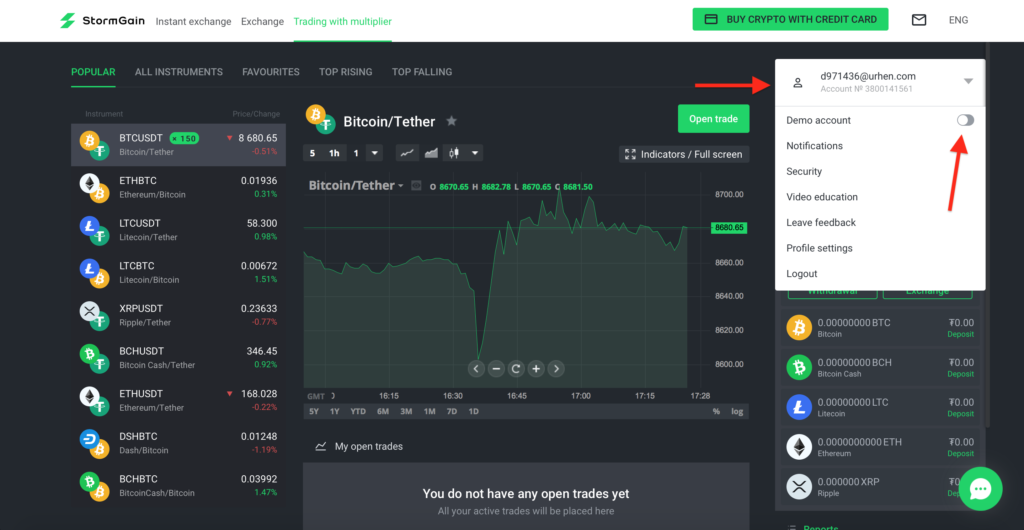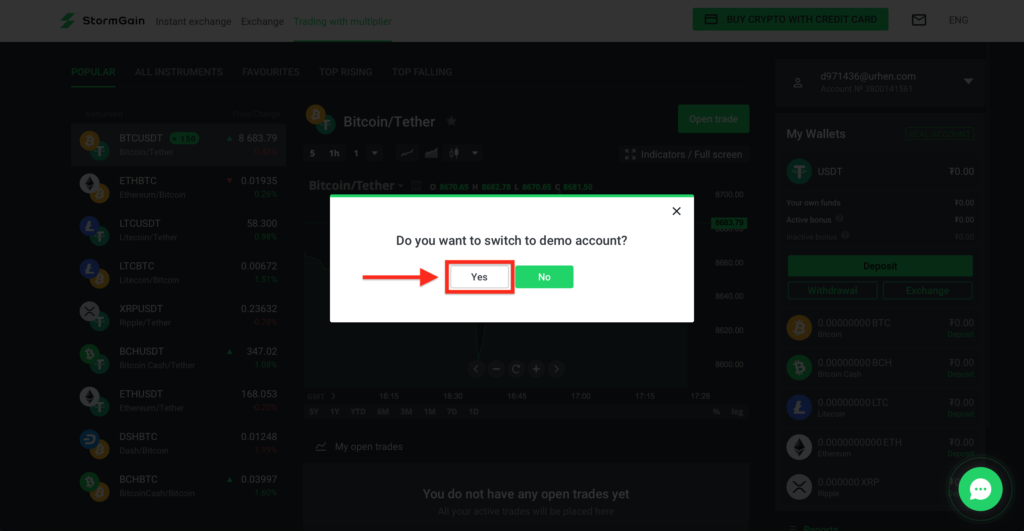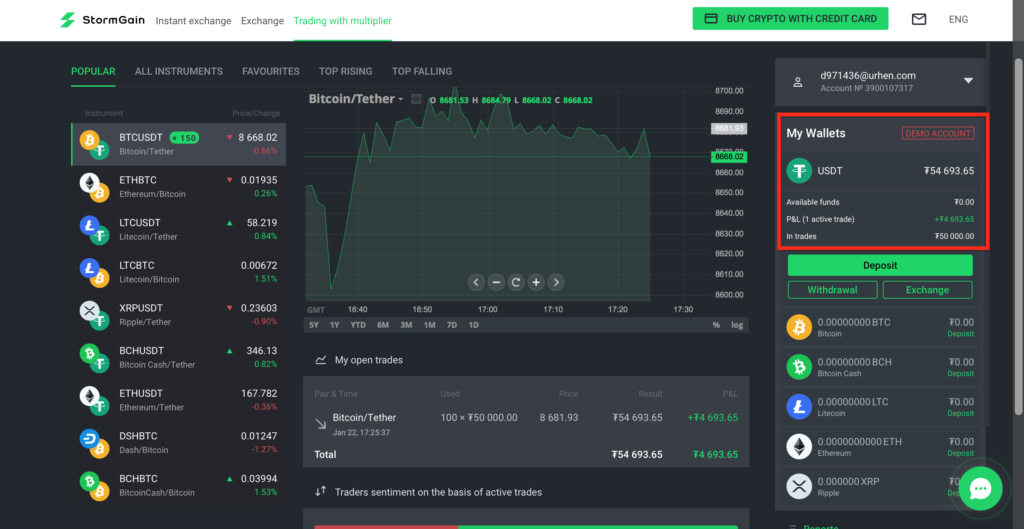 Register on StormGain.com by clicking here to claim an exclusive $25 welcome bonus.
Mobile App
One of the major benefits of StormGain over other crypto margin trading platforms, in my opinion, is the fact that they offer a mobile app for both IOS & Android (Google Play Devices). The mobile app has all the main features of the web platform, all compressed into a well-designed and fast mobile-ready application.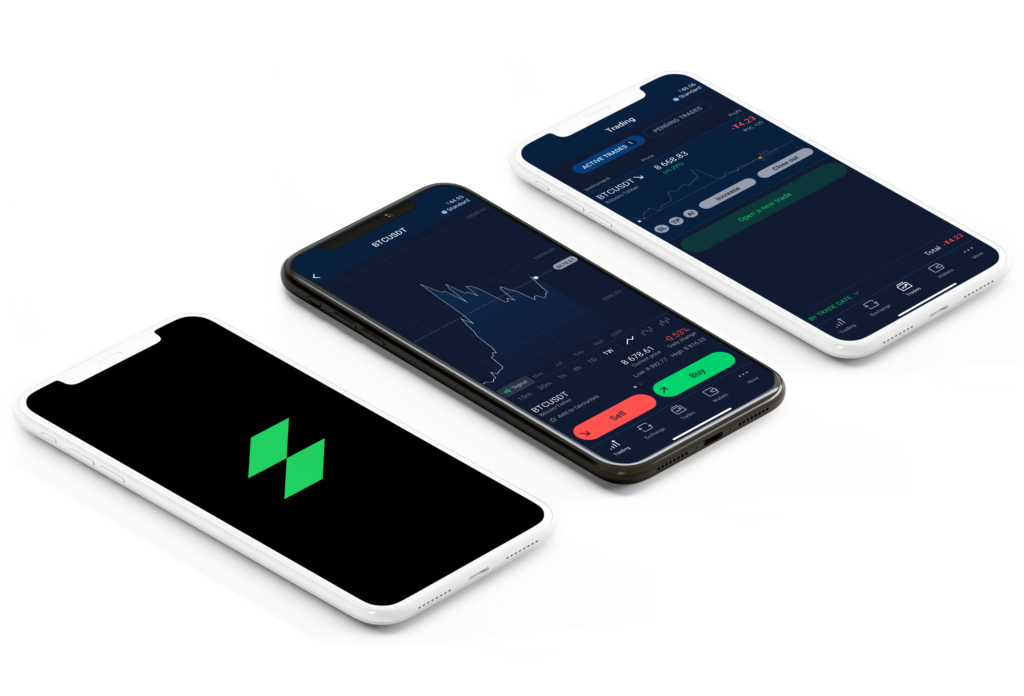 The StormGain mobile app also offers features which you can't get on the web version, such as price alerts for cryptocurrencies, this is a nice little feature which improves the overall experience for the trader – I always like to know what's going on in the market, and push notifications to your phone is a must for me.
StormGain's app is available to download on the Apple App Store (IOS) and the Google Play Store (Android). Use the links below to download the mobile app.

Bonuses
StormGain is well known for offering attractive bonuses and offers as you can probably tell from the loyalty program which I discussed above. The bonuses on StormGain change from time to time. Here are the latest bonuses you can get on StormGain:
You can also check out all the latest promo codes for StormGain on our StormGain promo code page.
Countries & Languages
Now you might be wondering if StormGain is supported in your country and language, so in this part of the review, I'm going to be showing you all of the accepted StormGain countries and highlighting exactly which languages are supported on the exchange.
StormGain is open to all countries accept "in the USA, its territories or possessions or in the Countries identified by the FATF as high risk or non-cooperative jurisdictions".
Basically, so long as you are from a country which/where it is A) not the USA, B) not high-risk and C) not illegal to trade cryptocurrencies, then you should be okay trading on StormGain, although it is always best to check with your local laws first.
Anyway, here is a list of some of the countries which are accepted by StormGain:
United Kingdom, France, Germany, Russia, Brazil, Australia, Netherlands, Austria, Switzerland, Japan, Italy, Mexico, South-Africa, Sweden, Barbados, Bahamas, Northern Ireland, Spain, Belgium, Poland, Romania, Hungary, Canada, Turkey, Ukraine, Indonesia, Malaysia, Slovakia, Czech Republic, Vietnam.
If you are in any doubts about whether or not you can trade on StormGain, reach out to their customer support team here.
I have to say, I was amazed by the sheer number of languages that StormGain has, you can tell that they have focussed on making the user experience as easy as possible. Here is a list of the fully supported languages on StormGain:
English
Chinese
Czech
Danish
Dutch
French
German
Hungarian
Indonesian
Italian
Malay
Polish
Portuguese
Romanian
Russian
Slovakian
Spanish
Swedish
Turkish
Ukranian
Vietnamese
Affiliate Program
If you have a group of friends, reach or social media following, it's time to listen up. I'm now going to show you StormGain's affiliate program which lets you earn by referring people to trade on the platform. StormGain's affiliate/referral program is separate to your main StormGain account, so you'll need to use the link below to register as an affiliate (it's free and doesn't require KYC).
StormGain Affiliate Signup: go.stormgain.com/signup
We've personally been using the StormGain affiliate program for a while and so have a pretty good grasp on what it's like and if it is a good option for you. Below you will find all the information you need to know about the program. If you are not interested in reading about the affiliate program, scroll down to 'Customer Support' to continue with the rest of the review.
Commissions & Payment Plans
StormGain offers its affiliates 2 main commission plans; CPA & Revenue Share. You get to decide which one you want to use, some people prefer one over the other.
CPA
CPA, or 'Cost Per Acquisition' means that you get paid a one-off amount for getting people to sign up on StormGain. The amount you get all depends on the location of the person who signed up through your affiliate link. Here are the amounts you get per 1 sign up with StormGain's CPA plan:
| Countries | Payout |
| --- | --- |
| Belarus, Uzbekistan, Ukraine, Kazakhstan, Russia | $200 |
| China, Hong Kong, Taiwan, Indonesia, Malaysia, Vietnam | $200 |
| Chile, Peru, Mexico, Colombia, Argentina, Venezuela, Guatemala, Ecuador, Bolivia, Paraguay, El Salvador, Nicaragua, Costa Rica, Panama, Uruguay | $200 |
| Estonia, Poland, Bulgaria, Croatia, Czech Republic, Hungary, Latvia, Lithuania, Romania, Slovakia, Slovenia, Greece, Portugal, Austria, Denmark, Finland, France, Ireland, Luxembourg, Malta, Netherlands, Sweden, United Kingdom, Spain, Germany, Italy, Norway | $300 |
| Rest of the world | $150 |
I have to say, these CPA rates are very attractive. Say you can get 10 people to signup on StormGain per month from a standard country, you could earn $2,000/month – that's a full-time income for some people. Click here to start earning with the StormGain affiliate program.
Revenue Share
This payment plan is the most popular in crypto affiliate programs. It means that you split the revenue with StormGain from people you refer to trade on the platform.
StormGain's revenue share plan is 30%, meaning that you will earn 30% of the trading commissions paid by your referrals when they trade on StormGain for the first 3 months of their account.
Let's say that someone clicks on your referral link, trades $10,000 of crypto and pays a trading commission of $20. You would then earn $6 (30%) of that commission, paid instantly into your StormGain affiliate account.
So, you have to decide whether or not you can generate more than $200 commission from one trader in 3 months on average in order to decide which payment plan (CPA or Rev share) is best for you on the StormGain affiliate program. With the payment plans out of the way, let's take a deeper dive into the affiliate dashboard and other important info that you need to know. Register with StormGain affiliates here instantly.
Affiliate Dashboard
Affiliate software comes in all different shapes and sizes; some are really easy to use and well, some just aren't. StormGain uses the cellxpert software for their affiliate program, which is basically a turn-key white label solution used by thousands of companies worldwide. I find the software easy to use since I'm familiar with it, and I've never really had any issues. Here's a look at StormGain's affiliate dashboard: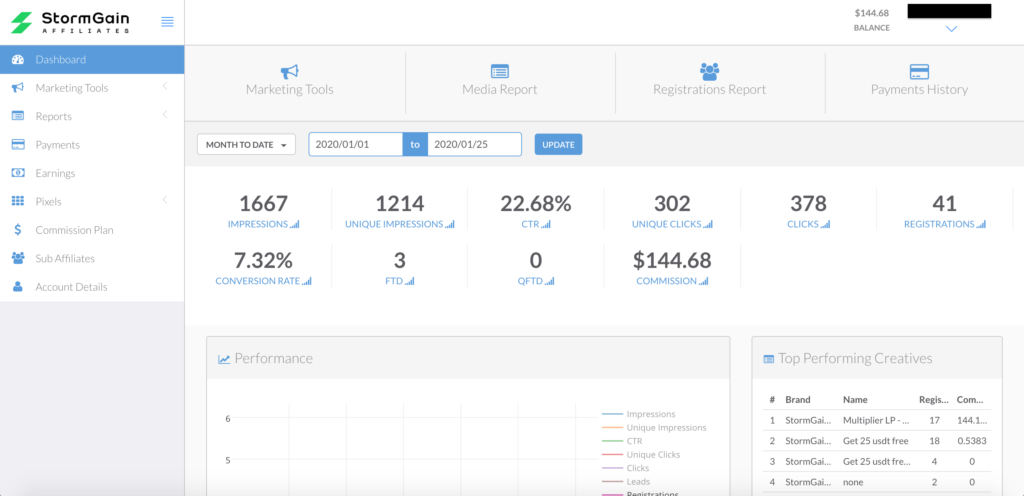 On the homepage of the dashboard, you can see that all the important statistics are shown in real-time including the number of registrations through your links in the set time period, the amount of those who deposited (FTD – First Time Depositors), how much commission your referrals generated and the standard conversion rate figures like CTR and impressions. I also like how your total account balance is shown in the top right-hand corner of the dashboard, it's a nice way of keeping track.
Once you've signed up to StormGain's affiliate program here and your account is verified by the team, you can go ahead, get your referral link and start earning immediately. To get your unique affiliate link on the StormGain affiliate program; go to 'Marketing Tools', select the filters like Language and Landing Page, then copy the link for the landing page you want to share. This link has your affiliate code already in it, so anyone that signs up right after clicking on it will be credited to your affiliate account.
Payouts
So how can you get paid out from the StormGain affiliate program? Unlike many other exchange referral programs, StormGain offers multiple choices when it comes to payouts. You can choose between the following payment methods under 'Account Details' > 'Payment Details'.
PayPal
WebMoney
Skrill
Yandex
QIWI
Bitcoin
Wire Transfer

StormGain affiliate commissions are paid out between the 1st and the 15th of every month for the previous month's commissions to the payment details you provided in your account settings on the affiliate dashboard.
So, that's pretty much everything there is to StormGain's affiliate program, let's get on with the rest of this review!
Customer Support
Customer support on crypto exchanges can make it extremely popular, or alternatively, make it a ghost town. As I've mentioned in my other exchange reviews, it remains one of the most important aspects of crypto exchanges which needs to be done right.
StormGain offers 24/7 live support via live chat, telegram, email and phone.
I love the fact that there is a live chat from the main trading screen, it saves tons of time spent sending emails back and forth. To use the live chat, just log in to your StormGain account, click on the chat button and start your conversation.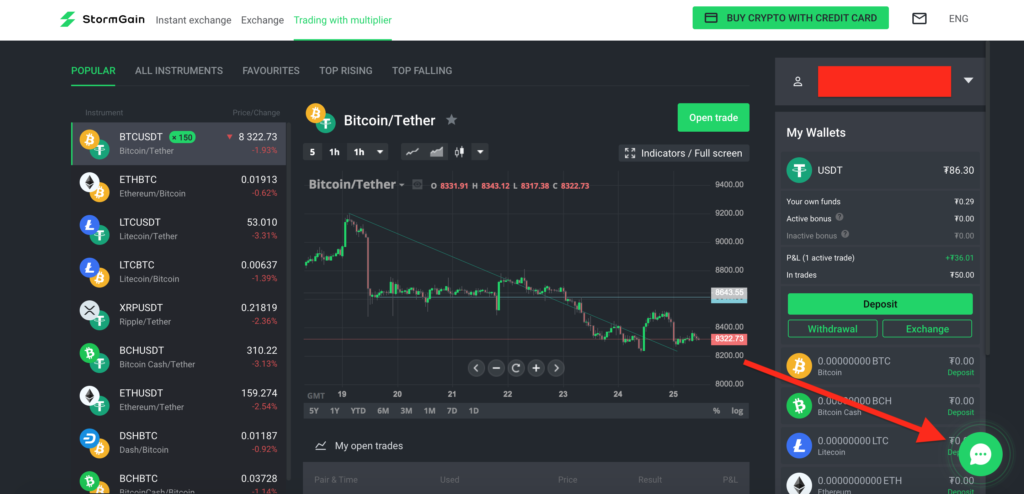 Register on StormGain.com by clicking here to claim an exclusive $25 welcome bonus.
Alternatively, you can use the email, telegram and phone support channels as shown below.
I was truly shocked to see that they offer phone support, I'm not sure I've ever seen an exchange provide this level of support before. Overall, I'm impressed with the support aspect of the exchange and found it easy to get a response about any issues I had on the exchange.
StormGain Review: Conclusion
Overall, I think that StormGain is a great crypto exchange for the majority of crypto investors, although it is perfect for beginners and intermediates. It is very easy to use, and you can tell that they've thought a lot about user experience.
In this review, I have covered almost every aspect of the StormGain exchange to help you make an informed decision on whether or not you would like to trade on the exchange. To finish it off, I'm going to outline my favorite and not-so-favorite parts of StormGain.
There are, of course, some areas of improvement which include; the addition of more details for the trades like percentage profit & loss, lower fees and I would like to see an order book as there currently isn't one which you can view.
As you can see, I'm a big fan of the StormGain exchange and think it really has a chance of making a dent in the crypto exchange market as one of the leading exchanges. If you would like to share your experience with StormGain, feel free to leave a comment below, I'd love to hear what you have to say, and I'm sure everyone else would too.
Register on StormGain.com by clicking here to claim an exclusive $25 welcome bonus.
What is StormGain?
StormGain is a cryptocurrency trading platform which offers leveraged trading.
How do you use StormGain?
To use StormGain; register for a free account on stormgain.com, make a deposit then open a trade.