Switchere is an instant cryptocurrency exchange which offers instant fiat to crypto trading with all major credit and debit cards including Visa and Mastercard. Switchere's main focus is on making it easy and quick to buy Bitcoin and other cryptocurrencies by providing a simple and intuitive platform on which you can use credit/debit cards to buy crypto instantly.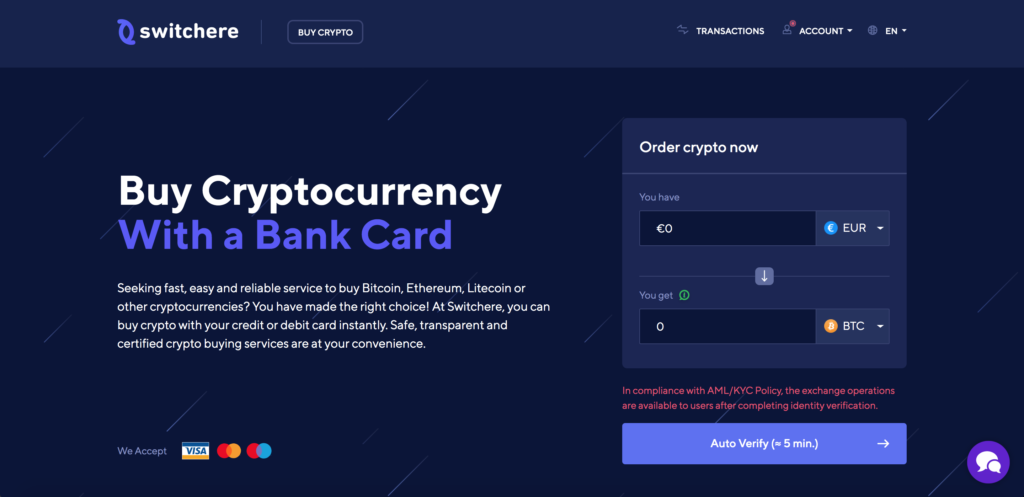 In this comprehensive Switchere review, I'm going to be taking a deeper look at the Switchere crypto exchange and showing you exactly what it's all about.
Is Switchere safe?
Switchere is a fully licenced cryptocurrency exchange owned and operated by
FITEUM OÜ in Estonia. According to CrunchBase, Switchere was founded on Oct 3, 2019. I like how open the company is with regards to licencing and legalities, it gives me good faith and trust in the exchange since they are so transparent.
Yes, Switchere is a safe cryptocurrency exchange which is fully licenced and compliant. You can trust that Switchere is a legit way to buy crypto instantly with bank cards.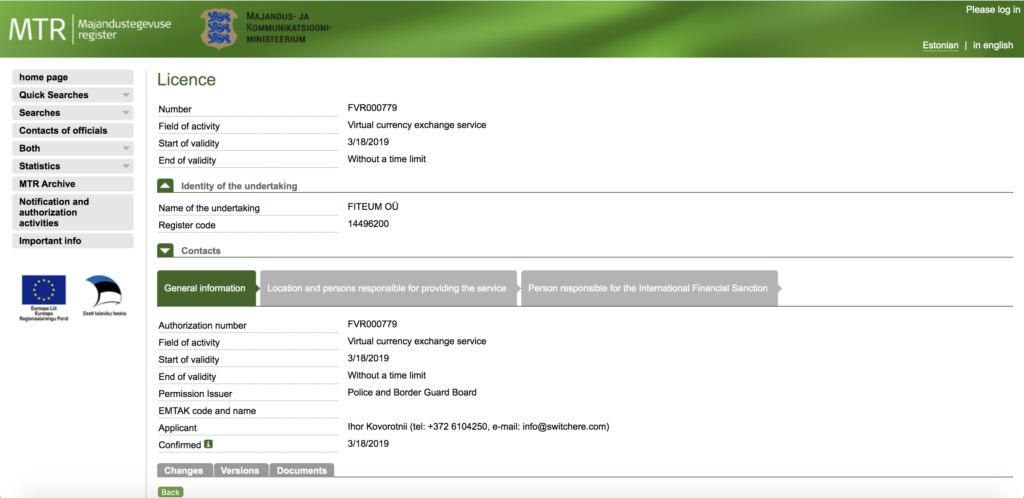 Switchere Fees
Buying cryptocurrency instantly with cards usually comes with a cost, which you pay for the ability to get hold of it so quickly. So, what are Switchere's fees and how do they compare to the competition?
Surprisingly, I couldn't actually find any information on the Switchere website about fees, so I reached out to their customer service who told me that there isn't a set fee on Switchere. They went on to explain that, due to the volatile nature of cryptocurrencies, the fee changes depending on the market. They said that what you are quoted is what you get and that there are no additional fees on top of that.
I find this quite annoying to be honest since it isn't very transparent. So to check out how much it would cost to buy Bitcoin on Switchere, I did a test transaction and was quoted almost 18% over the market price! That's horrendous and possibly the worst fees I've ever seen. Here's a preview of my chat with their support about this issue: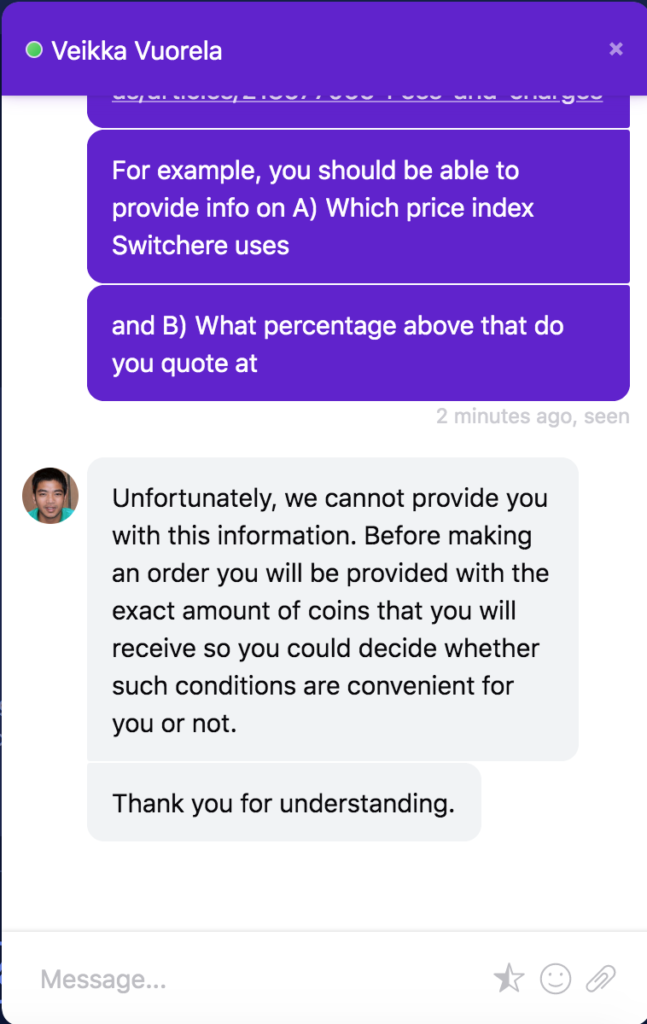 Now you may be thinking that Switchere is no different to other crypto exchanges in this fee structure, but that isn't the case at all. Most crypto exchanges tell you exactly how much you'll pay in fees, take Bitit for example (one of the main Switchere alternatives), they have a page dedicated to telling you about their fees/pricing.
This comes as a real shame to me because everything else about the exchange is perfect; it's clean, easy to use, safe but the fees are just a killer! If they can reduce their fees, I'd be happy to change my opinion on the exchange, but they really do ruin it, it's pretty much theft.
So if you're thinking of using Switchere to buy crypto, don't – use an exchange like Bitit instead, the fees are SO much lower. To put this in perspective, below are quotes to buy 1 BTC from Switchere and Bitit at exactly the same time. The difference in price was over €1,000, that's right, it costs you over 15% more to buy Bitcoin on Switchere rather than Bitit. There is literally no reason to use Switchere, you may as well throw your money down a drain.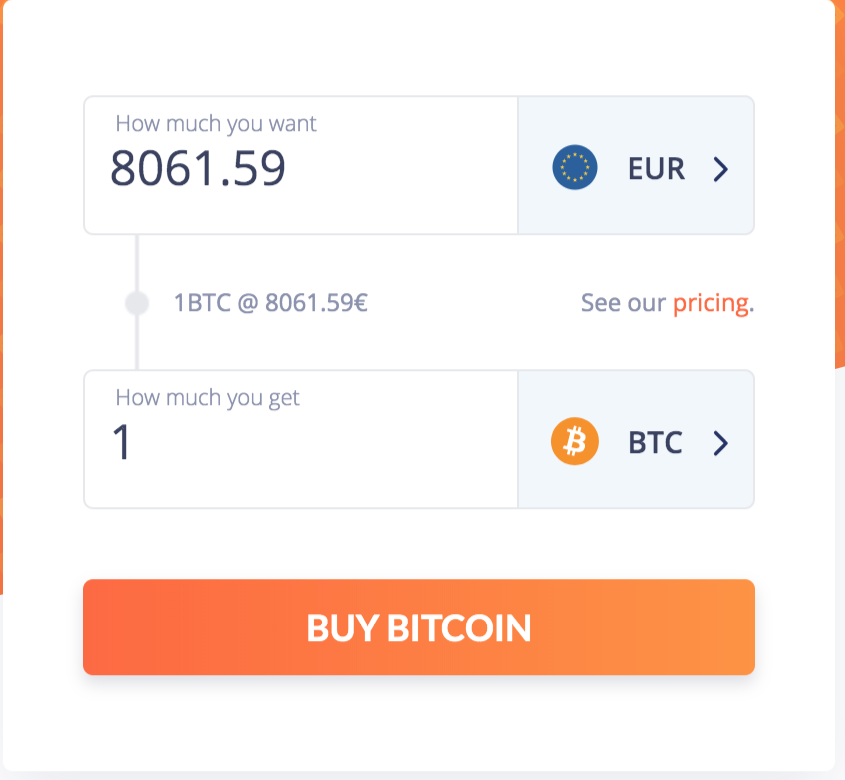 In addition, I was surprised to see that all the other reviews of Switchere failed to mention just how high the fees were, there seems to be a lack of unbiased information on the internet!
Anyway, enough of the rant about fees, let's take a look at some of the other aspects of the exchange.
Currencies
You can buy cryptocurrencies on Switchere with two currencies: US Dollar (USD) and Euros (EUR). If you don't have any of these currencies, you should still be able to use the exchange but your local bank might charge you exchange fees (I use Revolut for things like this as there are no fees for exchanging currencies). I would like to see more options like GBP, CAD and AUD added to Switchere in the future to make it easier for people all over the globe to use the exchange.
Available Cryptocurrencies
Switchere currently supports 6 main cryptocurrencies, which are as follows:
Bitcoin (BTC)
Ethereum (ETH)
Litecoin (LTC)
Bitcoin Cash (BCH)
XRP (XRP)
Dash (DASH)
Again, comparing this to other exchanges, it is a very small amount of cryptos to have listed and available to buy. Nevertheless, all the major ones I would expect to see are there, so it fits the bill in that regard. Also, a lot of people only want to buy Bitcoin only, and therefore wouldn't have any issues with the lack of coins available.
Verification
In order to use Switchere to buy cryptocurrencies, like any regulated exchange, you have to verify your identity before you can buy any amount of crypto with your bank card. Switchere offers multiple different levels of verification which increase the amount of crypto you can buy on the exchange. The basic identity verification lets you buy €500 worth of crypto, which isn't that much. In order to bump that up to €5000, you'll need to verify your address with the company, and then to make your account unlimited, you need to provide proof of income. I'm not surprised by this since the exchange is licenced, and it isn't too much of an issue for me although I am slightly hesitant about giving Switchere sensitive information after finding out about their lack of transparency earlier in the review. Here is a full list of the verification limits as per Switchere.com.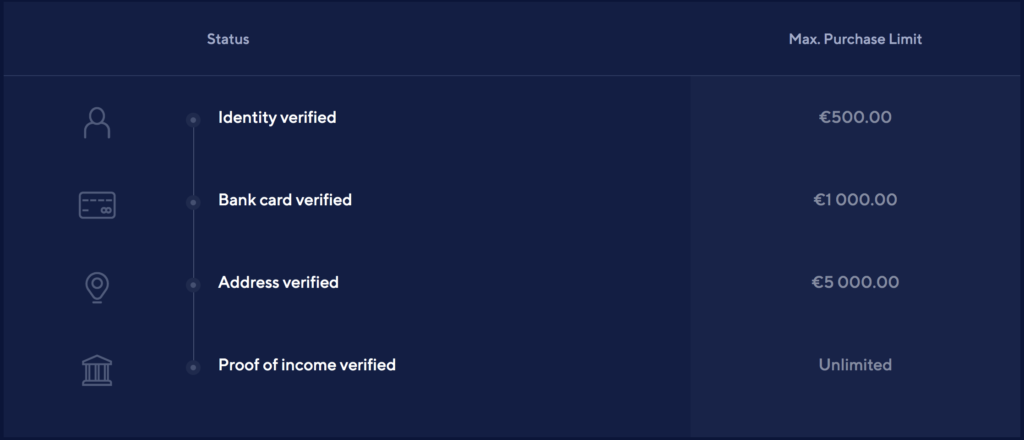 How to use Switchere
Even though I highly recommend that you don't use Switchere, this review wouldn't be complete a tutorial on how to use it. I didn't want to complete the verification on the exchange for the aforementioned lack of trust in the exchange, therefore I can't show you how to use it completely, but the video below gives well-detailed instructions on how to use Switchere to buy crypto with credit/debit cards:
So if you do decide to use the exchange, as you can see, it's pretty fool-proof and there's no doubt that it is a quick way to buy crypto, but you will pay the price for doing so. I do have to give it to them, they've made crypto easy to get into, but you're much better off using an exchange like Bitit.
Referral Program
It's pretty commonplace for crypto exchanges to offer a referral/affiliate program whereby you can earn crypto by referring people to their service. Switchere offers a pretty enticing 2-level referral program – meaning that you not only earn by referring people to use the exchange but also from people that they refer (MLM).
The commission on the Switchere referral program is a huge 80%, which is by far one of the highest commission rates for a crypto referral program that I've ever seen.
You can signup for the referral program and start earning instantly by registering for a regular account on switchere.com and going to 'Referral Program' from the main menu. Switchere provides affiliates with some nice banner ads and a unique referral link.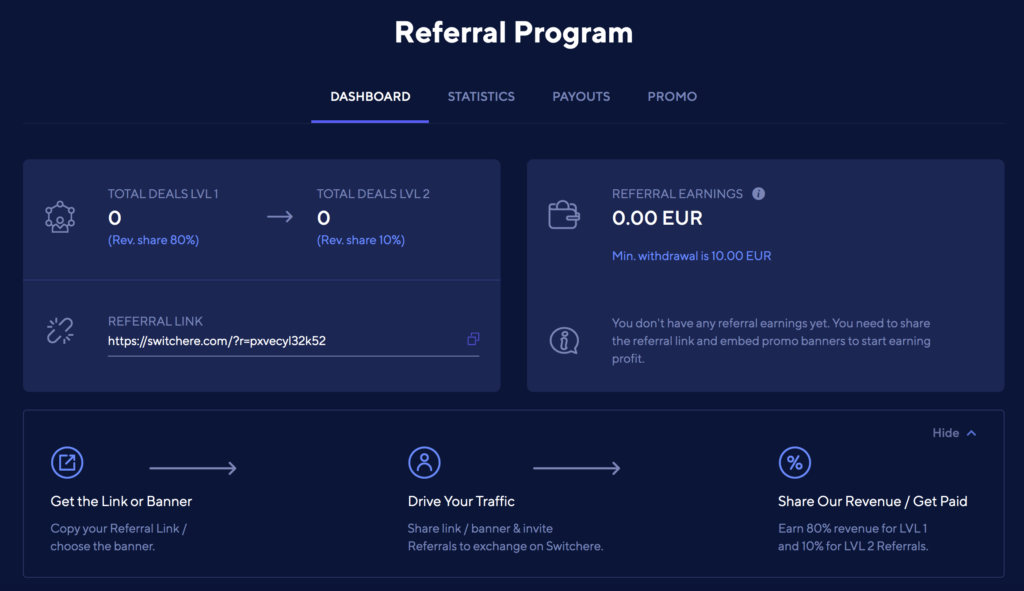 That's everything you need to know about the Switchere referral program basically. It looks like it could be a great earner, but I'm not happy shilling exchanges with super high fees like this one. Even so, I have used our referral link in this review so that we can continue producing more content like this for everyone.
Languages
Switchere is pretty bare when it comes to languages offered on the exchange. There are only two languages on Switchere; English & Spanish. I hope that they add more in the future, as it isn't very good for a global exchange to only offer these two languages.
Support
Now this is one aspect of the exchange that I am really impressed with, even if it is lacking in a few other areas. Switchere offers 3 main support channels:
I was really surprised to see that they offer phone support, that's pretty unheard of when it comes to crypto exchanges but is a really nice touch which helps you to trust it – a lot of people like to have someone that they can talk to if they run into any issues.
Mobile App
Unfortunately, there currently isn't a Switchere mobile app, although I did test it out on a mobile browser and it was responsive, so you can use it on your smartphone, but I would like to see them release a proper mobile app to make it that bit easier to buy crypto on the go instantly.
Conclusion
So, to sum things up; Switchere is a modern exchange which charges insanely high fees of up to 20% making it virtually unusable. The exchange looks and feels great and has great support, but these aspects would never make it worth using for me if the fees stay the same. My advice is to stay away from Switchere and use an alternative instant exchange like Bitit which is also very easy to use but charges a fraction of the fees that Switchere does.
Have you personally used Switchere? If so, I'd love to hear your comments so please leave them below.